By Cole Cusumano, Staff Writer
A quarter of the way through the 2023 NASCAR Cup Series season, things had not been going according to plan for the newly branded LEGACY MOTOR CLUB entering the GEICO 500 at Talladega Superspeedway.
When it was announced late last year seven-time Champion Jimmie Johnson would join the team formerly known as Petty GMS Racing as a co-owner, on top of securing the young and talented Noah Gragson for the No. 42, there seemed to be a positive buzz surrounding the middle-of-the-pack team.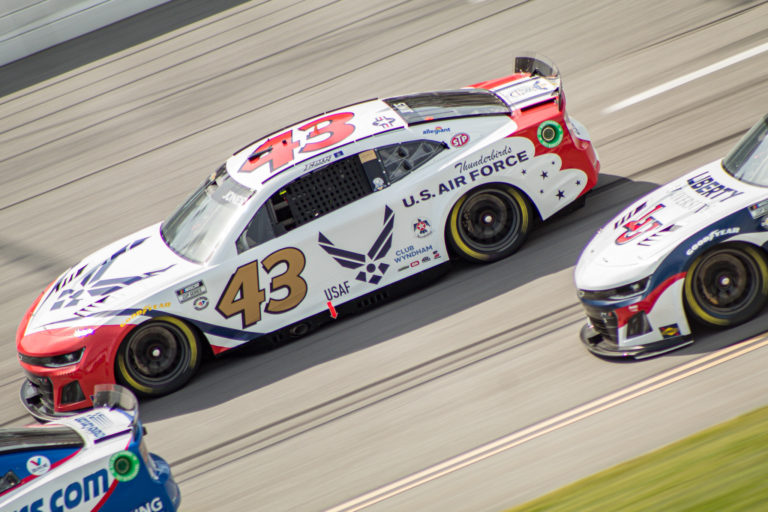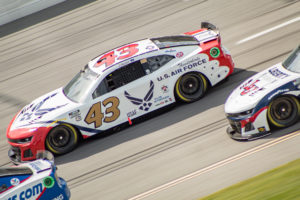 Following a rough season opener, which found the highest finishing driver from the Chevrolet stable in 24th, all of the wind was seemingly taken from the sails. Over nine races, the full-time drivers Erik Jones and Gragson combined for one top-10 and sat no higher than 27th in the standings.
Desperately in need of a great organizational showing, LEGACY M.C. made their presence known in Talladega.
Jones entered the GEICO 500 as the driver with the longest standing top-10 streak at Talladega with three. Once the yellow and checkered flags waved in the second overtime attempt, the 26-year-old extended his streak with a third consecutive sixth-place finish at the 2.66-mile superspeedway.
Although Jones was mainly a benefactor of two late cautions, there was evident speed under the hood of his Camaro ZL1. Loop data will tell you he had an average running position of 20th through the 521-mile event, but the No. 43 was responsible for assembling and leading a third drafting lane on many occasions.
"It was kind of an up and down day," Jones said. "We weren't really running how we wanted to during the day. But obviously there at the end some attrition got us toward the front. I felt like our car was good and that the No. 43 Air Force Chevy had speed. We just weren't up there to show it.
"We'll take it, though. A (top-six) is obviously a strong run. I was hoping to come here and have a good day for us and get us rolling with some momentum to Dover and forward. We're on to some good tracks for us, so hopefully we can repeat the same next week – bring a good car and kind of keep this momentum rolling."
While Jones was the one who came home with the best finish, it was Gragson who made the most noise. The Sunoco Rookie of the Year easily ran his most competitive and efficient race, even though results will show he placed 32nd.
Gragson was a mainstay at the front of the pack in the final stage of the race, putting himself in perfect position for a quality finish sitting third in line behind second-place finisher Ryan Blaney and Aric Almirola.
After a wreck in the back of the pack forced overtime with three to go, Gragson opted to go from pusher to leader by choosing the outside lane for the restart. Heading off into Turn 2, he was unable to collect himself from numerous bumps courtesy of Ross Chastain and Kyle Larson, and ended up triggering a seven-car pileup.
Regardless, Gragson had his No. 42 atop the leaderboard and racked up five stage points while leading his first lap in the Cup Series.
"This No. 42 team was really on top of it today," Gragson said. "Good pit stops and a fast car there in the race. I felt like we were in a good position restarting on the front row on a green-white-checkered.
"I got kind of shoved out there and bobbled a little bit by the No. 1. I have look back and see what I could do better … Overall it was a good day until it wasn't. The results have been bad here lately, but we've been running strong. We ran in the top-five, the top-10 all day and I'm really proud of that.
"We're close. We'll get there one day."
LEGACY M.C. will look to keep momentum rolling into Dover Motor Speedway, where Jones placed top-10 last year and Gragson has finished as high as fourth in the NASCAR Xfinity Series. Whether speed from Talladega can translate to the one-mile concrete track remains to be seen, but this was a great step in the right direction for the organization.