By Jerry Jordan, Editor
DARLINGTON, S.C. – Gambling used to be taboo in auto racing but with NASCAR now having sponsorship arrangements with multiple big-name sportsbooks and even though it's something added to the fan experience many drivers don't care what the oddsmakers think about their chances.
"Who makes the odds," asked Chris Buescher, the three-time winner was told he is 16-to-1. "Experts in Vegas? That sentence doesn't even make sense to me. So, expert gamblers? Who are these experts? No, no, it doesn't matter. The gambling side of our sport has been a lot of fun for a lot of people.
"I can't tell you how many people will come up to me at the racetrack and probably this week, too, and say, 'Yeah, you made me fifty bucks' or 'thank you, you made me three grand here.' That's awesome. I am happy for you but I have no clue how that happened. Good for you. Proud to do it but it doesn't matter. We measure internally what we are doing, what we car capable of, what we need to improve on. We know all these things and no expert oddsmaker living in Las Vegas is going to change how we approach our races."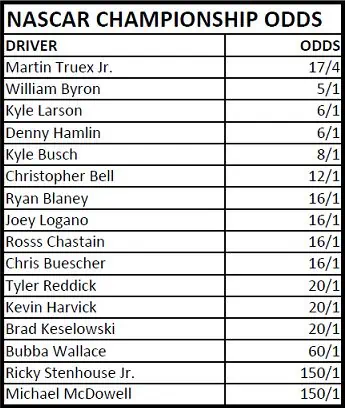 Since NASCAR drivers are forbidden from betting on themselves, or anything involved in motorsports, that may play into their answers about what the oddsmakers think of winning the Cup Series championship.
At first, Joey Logano acted like he was interested, asking "where am I at" but then quickly corrected himself saying, "I don't care." It's a topic that most of the drivers don't seem to be concerned about because as Buescher explained, it doesn't affect how they run on the track.
"I've never looked," Logano followed up, as he continued laughing. "I guess that shows you how much I care. I just now where we are at. I don't have to have someone from Vegas, who is not on my race team, make a guess of where we should stack up. I feel like I should know better than him or her. All this is news to me."
Coincidentally, despite Logano being the defending champion and having two overall titles, he is also a 16-to-1 shot to win the championship.
Tyler Reddick thought his odds were 16-to-1 also but lines change. When he was asked about his thoughts, he was 18-to-1 but a day later, the oddsmakers at Kickin' the Tires' partner – BetMGM – his odds had increased to 20-to-1.
"Oh, okay," I was only 16-to-1, how does that work," Reddick said. "I'm not a gambler, right … I am not too good at it. I would rather go to the blackjack table or the roulette table and donate money that way."
Not surprisingly, Michael McDowell said he isn't aware of his odds of winning the championship. Although he is a numbers guy, gambling is not in his wheelhouse. So, even though he looks at stats and trends, he didn't know he was a 150-to-1 longshot, according to Las Vegas oddsmakers.
"I am not a betting guy," McDowell said. "I have never gambled, so I don't know how sports odds work and I don't know the algorithm that does it. But I imagine the odds weren't very good for us winning at Indy (road course). So, odds are meant to be broken, as far as all that stuff goes."
Prior to his victory at Indianapolis, McDowell was behind Bubba Wallace in points but they were relatively close in racing terms. Another playoff berth would be huge for McDowell his Front Row Motorsports team but it wasn't just Wallace he was up against. Chase Elliott would be a favorite to win at Watkins Glen and any non-winning driver to that point in the regular season would make his playoffs hopes even harder if they made it to Victory Lane.
"I don't look at them (Las Vegas odds) but they are quite interesting," McDowell said. "I don't know how they compute them. For me, when I am looking at stuff, let's just take before the playoffs, I looked at Pocono, Richmond and Michigan. Bubba is going to have a shot at the pole a Pocono and probably going to run Top 5. He's going to have a shot at the pole at Michigan and probably going to run Top 5. I don't know what the odds were of that but I just look at statistically where he is at, where is team is at, where the Toyotas are at, how they are performing, their speed and knew he was going to score a lot of points at those, right.
"So, I don't know if that is how they do the odds, or not, but then I looked at the road courses, I looked at Daytona and I looked at the races beyond that and I am like, well, we are going to finish in the Top 4 or 5 of every stage and we are going to score points. We will be able to finish in the Top 5 in every race, so I need to be within 20 points of Bubba going into this. I don't know if that is how they do the odds but that is, kind of, how I look at it, not just based on historical performance but based on where their teams are at currently and where they have been strong. I think it is moving in our sport. You used to say that Martin Truex wasn't good at short tracks, right? But then he wins a few Martinsvilles, he wins all the short tracks and we say, 'well, how could you bet against him?' I just don't know if the odds do it justice. You just pay attention to what teams and drivers and momentum is big in this sport, you wouldn't bet against Chris Buescher right now but statistically, you might."
Worth noting, McDowell's odds to win at Indy were 30-to1 but the following week at Watkins Glen, he wis odds had dropped at one point to 10-to-1.
"So, it moves quickly," said an enlightened McDowell. "Alright, gotcha."