By Jerry Jordan, Editor
PHOENIX, AZ. – It's been 960-plus days since the decision was announced to move NASCAR's Championship Weekend from Homestead-Miami Speedway to the Arizona desert but when COVID-19 changed the world in 2020, it hampered the celebrations and fan festivities planned at NASCAR's jewel in the desert – Phoenix Raceway.
But that's all changed, now.
Standing in the shadow of the Arizona State Capitol, Phoenix Raceway's Track President, Julie Giese, held court and officially kicked off the Championship 4 Weekend that she envisioned for 2020. With the Bill France Cup over her shoulder being flanked by the haulers of the four championship contenders – Kyle Larson, Chase Elliott, Denny Hamlin and Martin Truex Jr. – explained how the entire Sun Valley area, not just Phoenix had come together to embrace NASCAR's season finale festivities.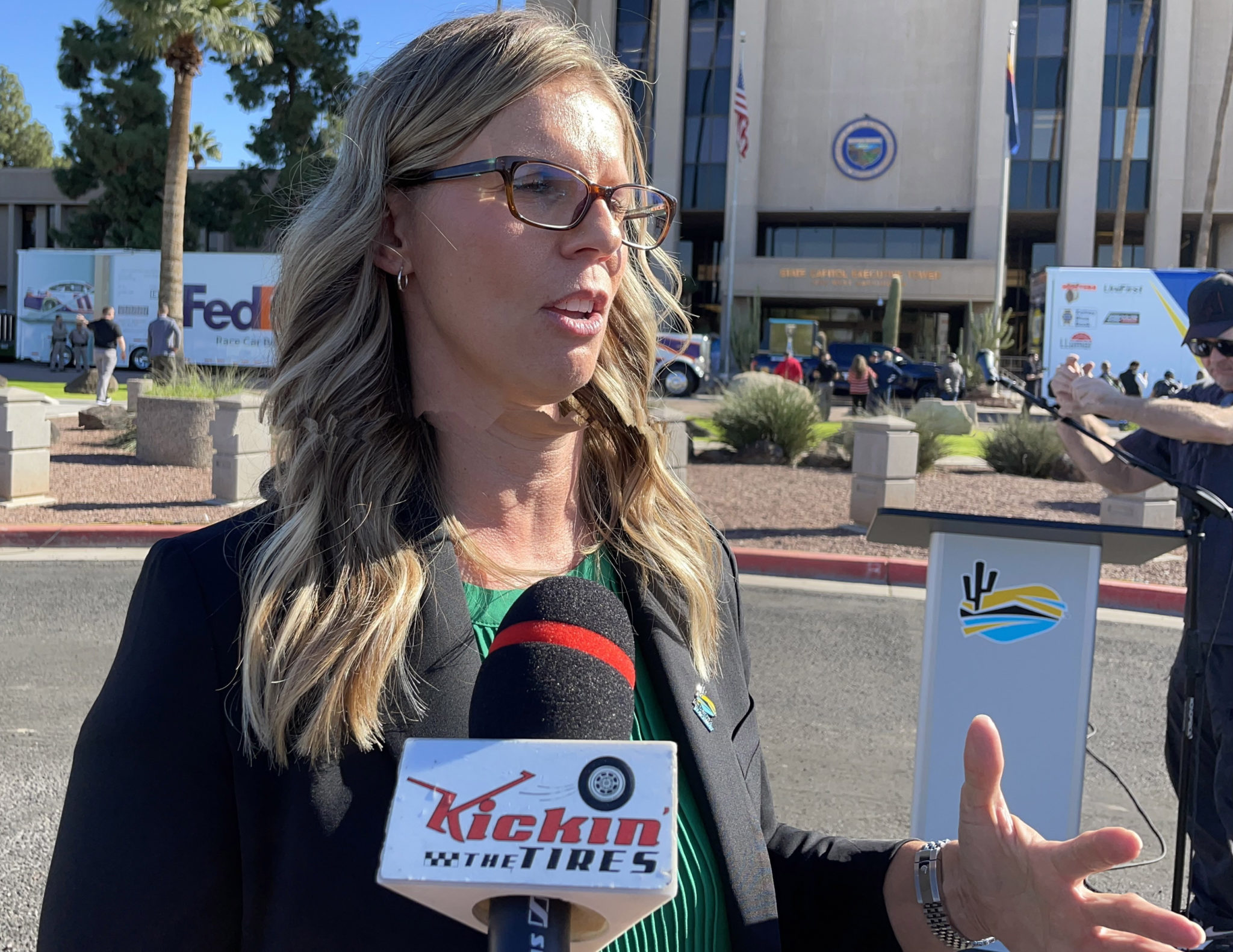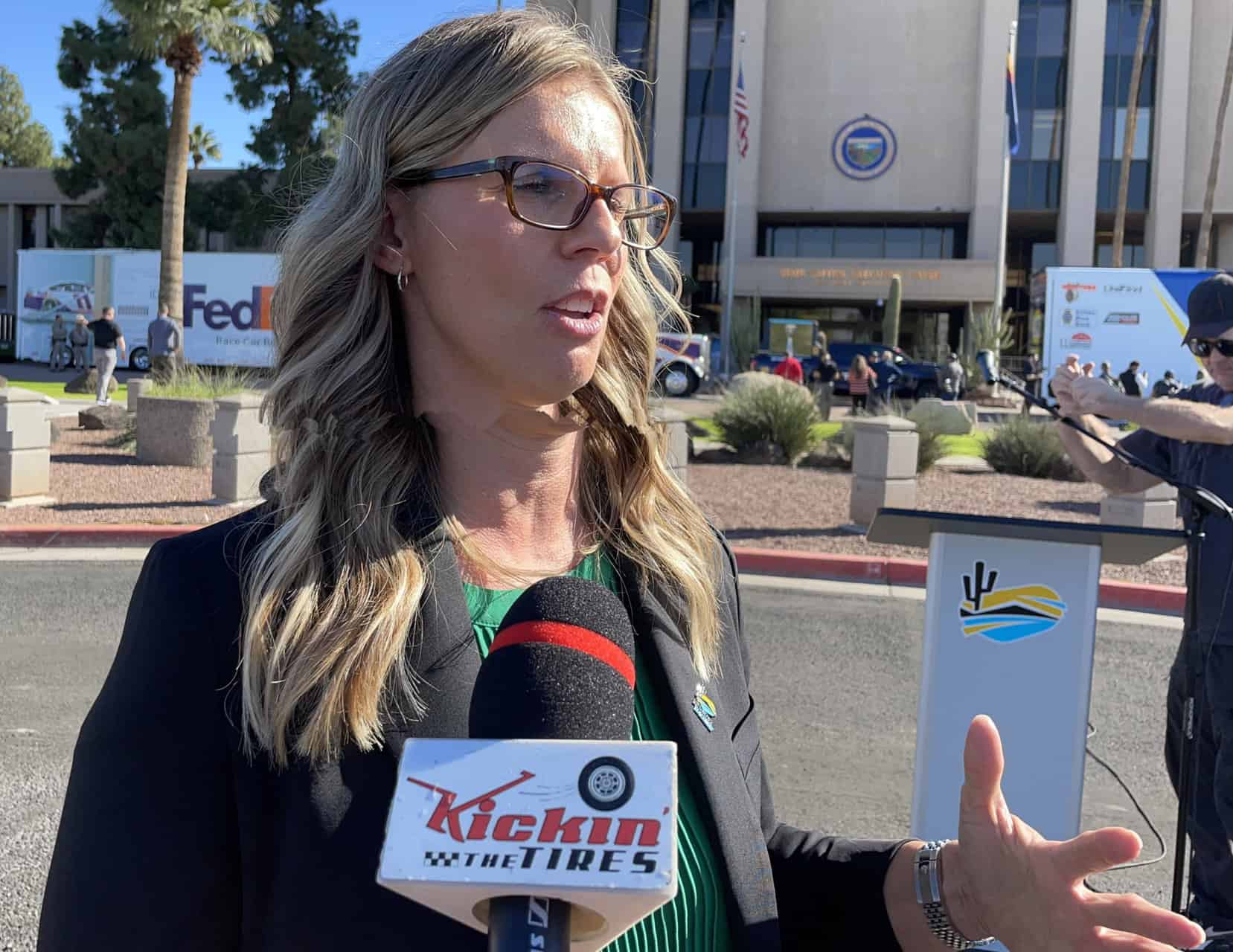 From billboards blasting the NASCAR message to passersby and local businesses showing their support through signboards and Sky Harbor International Airport displaying murals on the floors in baggage claims showing burnouts and the Championship 4 logo, it would be a near impossibility to not know that NASCAR was in town. Tucked behind the Arizona Republic Newspaper headquarters and towering over the convention center where media members from around the nation gathered to interview the drivers vying for the title in the Camping World Truck Series, the Xfinity Series and the NASCAR Cup Series; there's even a building wrapped in 160-foot vinyl wrap showing defending Cup Series Champion Chase Elliott hoisting his 2020 championship trophy.
Giese said the city of Phoenix went all-in on NASCAR's championship weekend and even repainted several key crosswalks in the city to resemble the Phoenix Raceway start/finish line.
"We asked them (city of Phoenix) what we could do at the airport and they just said, 'go,'" Giese said. "And I can't underscore the support we have from the west valley, as well. When you get to the west valley, you'll see billboards from all of our west valley cities welcoming people to NASCAR Championship Weekend. You'll see signs at businesses and there are businesses that made shirts welcoming people to NASCAR Championship Weekend. They did all of that themselves. They are rallying around this event and we are in a community that knows how to put on big events and it has been a lot of fun because have learned from the (NFL) Super Bowl and we have learned from (NBA) Final Fours and there's a lot more things that we can learn from as we move forward.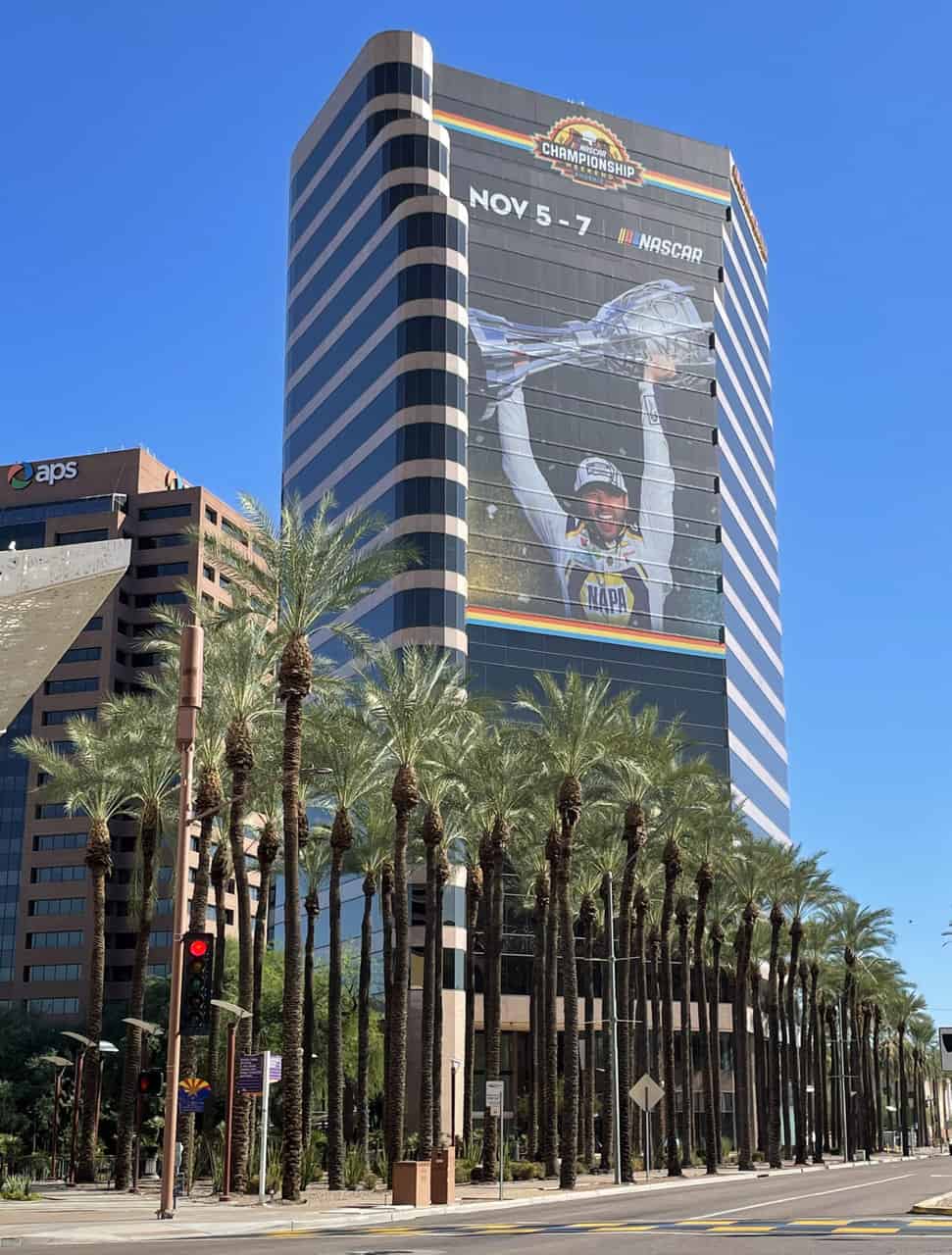 "Not that we were counting but we are so excited now at the racetrack, as a community and as a state to finally celebrate the NASCAR Championship Weekend that we had intended when we made that announcement in March of 2019. The race is sold out, there is nothing left for us to sell on Sunday and it is going to be a packed house. The campground is full and we are getting ready to experience three great days of racing.
Giese explained that 2020 wasn't what she hoped for and even though the track was able to pull off a safe championship weekend with limited fans, this weekend allows her to show off some of what she had originally planned, and she wants to build up 2022 even more.
"We tried really hard (last year) to still capture that championship moment because for a lot of our fans and season ticket holders it was their first championship," Giese said. "So, we wanted to make sure we could make it as special as possible given the restrictions and protocols that were in place. We learned a lot, honestly, and it helped us understand some different ways that we can celebrate, and this event that we are having this weekend we started planning this in March of 2019. We are able to take a lot of those ideas and now finally bring them to light this weekend."
Giese said that it was important for her, the track and NASCAR to have a hauler parade and to kick off the weekend in a special way. That's why the ceremony at the state capitol took place before NASCAR Championship 4 Media Day began. There are lots of other things that are possible, especially when a community supports the endeavor and that is what she loves about this weekend – she knows it will continue to grow.
"Being able to have the haulers and have some sort of a parade in downtown Phoenix is important to us. I think this is something we want to continue to grow," she said. "I've been around the sport a long time and I want to keep raising the bar. I don't want it to ever settle and I don't want anyone to ever think, 'well, we did this already' or 'this looks the same as last year.' Hopefully, our fans will notice that when they go out to the racetrack and our community notices it. I want to grow it bigger and better and do more throughout the valley."