By Vincent Delforge, special to KickinTheTires.net
That's it, we are there! This Saturday, November 6, at noon MT. (3 p.m. ET) will be held the Arizona Lottery 100, the 2021 season finale in the ARCA Menards West Series at the Phoenix Raceway at Avondale, Arizona.
This ninth and final race of the season will also be the 993rd in the history of the series since its inception in 1954. The milestone of 1000 races will therefore be reached next year.
The battle for the 2021 championship has been beautiful throughout the season but the last race in Roseville, CA further accentuated it by consolidating the top five in the drivers' standings into a handful of points. And with an entry list of 36 cars, there are seven who can mathematically obtain the 2021 title.
The youngest champion in history at 15-years-old in 2020, Jesse Love enters the final with the possibility of doubling the stake and giving Bill McAnally Racing an eleventh championship! But he's just one point ahead of P.J. Pedroncelli. Who would have imagined for a moment that P.J., owner-driver, would be a candidate for the title at the start of the season? It's definitely one of the best stories of the year.
In third, three points behind, we find Jake Drew, the rookie of Bruncati Racing. It's not really a surprise because this team has since its inception allowed many rookies to showcase themselves. Jason Bowles, Luis Martinez, Jr., Austin Dyne, Dylan Lupton, James Bickford and Jagger Jones all secured the ROTY title with Bruncati Racing. But Jake may become the first to win both championships in the same year.
Next is young Joey Iest just five points behind the leader. He and Naake-Klauer Motorsports finally got rid of the black cat that had gripped them last year. Six points behind, another rookie, Cole Moore, can also grab the bet. The BMR driver would like to succeed in integrating the ROTY-champion club of the Roseville, CA team. In this club, we find Todd Gilliland, and of course his teammate Jesse Love. Moore and the other rookie Drew have another common point, neither have won a race yet this year.
A little further on we find the 'veterans' of the series. Trevor Huddleston for Bruncati Racing for his fourth full-time season. He has been gaining momentum since the last two races. With 15-points to fill, he is better placed than Todd Souza, CCR owner-driver, 26-points behind, who has had a season of ups and downs. Mathematically in contention for the crown, he will also have to rely on his luck or the misfortunes of his opponents.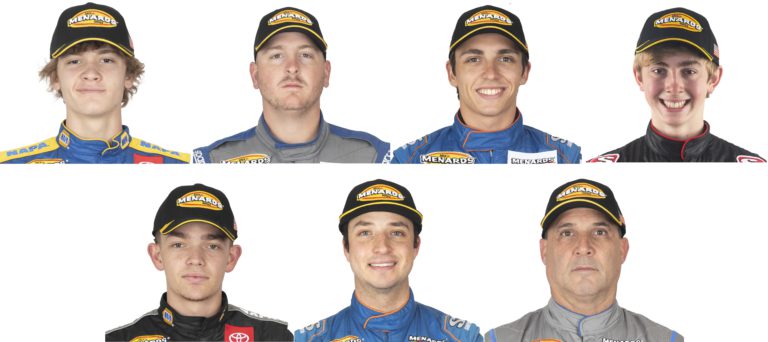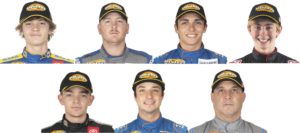 To sum up, we have almost a NASCAR National Series Playoffs Championship 4 situation. The highest ranked under the checkered flag of the first five drivers has every chance of becoming the champion. Even if with the bonus points it is a bit more indecisive.
What is most important? Victory in Phoenix or the title of champion? Because in addition to the usual West Series competitors, around fifteen other drivers from the East Series or the ARCA National Series will be at the start of the race. Among them we find the champion of the East Series Sammy Smith and Ty Gibbs, 2021 champion of the national series.
In total there will be 36. Absolute record for an ARCA series race in 2021. Daytona last February currently holding this record with 34 drivers. Last year in the final in Phoenix they were 27. The West Series has come back to life this year after three or four more difficult seasons. You have to go back to Sonoma in 2015 to find more cars with 38 in the field at the time.
Among the 36 drivers, several will make their debut in either the West Series or more generally in one of the three ARCA series. We will see all of this in the entry list detailed below.
But before that, as always, a little history.
Track History
Phoenix Raceway is a 1.0-mile, low banked tri-oval opened in 1964 and located around the Estrella Mountains with various banking. Start / Finish: 3°; Dogleg: 10-11° (progressive); Straightaway from Dogleg to Turn 1: 10°; Turn 1: 8°; Turn 2: 8-9° (progressive); Backstretch: 3°; Turns 3 and 4: 10-11° (progressive).
This will be the 48th race of the West Series in Phoenix. Indeed, the series has been on this oval since 1977. Cale Yarborough having won this first race. Between 1988 and 1996, nine times, the West and the Cup Series have been a common race. At the time, the technical regulations were identical for both series. Then the West raced there continuously in standalone between 1998 and 2015. A small hiatus of three seasons before returning to the calendar in 2019. This year Phoenix had the honor to open the season and also to close it.
Note that the last four races have been won by a Gibbs or a Gilliland. Todd, the son, won the race in 2015 and his father David won the 2020 race. Ty Gibbs won the race of 2019 and the first of 2021. Will he do the sweep? If he succeeds, he will join in the club of the triple winners in Phoenix with Richard Petty (three), Greg Pursley (three) and Ken Schrader, record holder with four successes.
Among the teams still active, Bill McAnally Racing leads the way with five victories ahead of Joe Gibbs Racing (three), Bruncati Racing, MMI-McGowan Racing and David Gilliland Racing one victory each.
Get to know Ryan Roulette
He'll be one of the newcomers in Phoenix, let's learn more about Ryan 'Gamble' Roulette. A native of Minot, ND, this USAF B-52 Bomber pilot was born on March 8, 1986.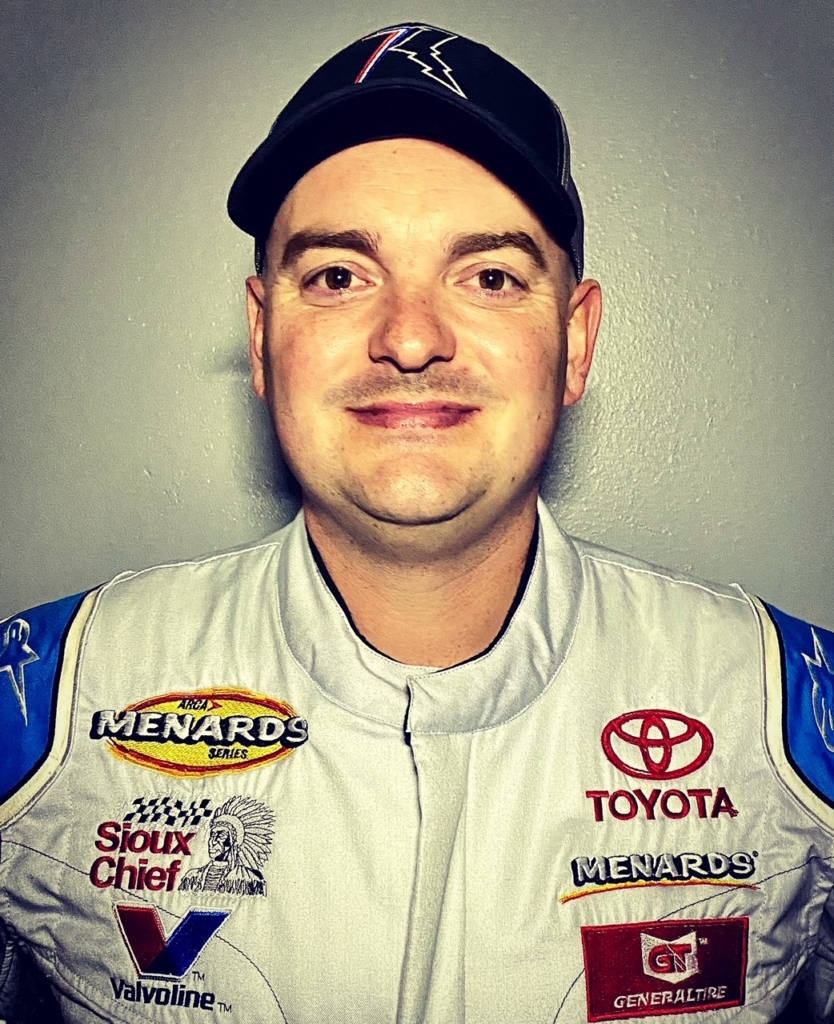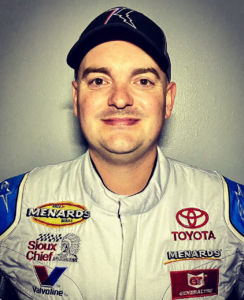 Vincent Delforge: Ryan, for those who don't know you, can you introduce yourself, where are you from, what is your background in motorsport?
Ryan Roulette: "First and foremost Vincent, thanks for taking the time to reach out to me before this exciting race. My name is Ryan "Gamble" Roulette and I'm from Minot, North Dakota. I have been racing for over 15 years now. I have run mini stocks, stock cars, A-Mods, Midgets, Legends, and Sprint Cars; with the majority of my racing being in Sprint Cars on dirt.
"I also had the opportunity to spend a year in Germany running in a BMW sports class at the Nürburgring. More recently I made the transition to asphalt running Pro Late Models out in California. Outside of being a driver, I'm a US Air Force Pilot."
VD: You're going to make your ARCA Menards West Series debut in Phoenix. Getting into the West Series, have you been thinking about it for a long time?
RR: "Yes sir I have. I have run dirt for so long that I almost felt like I forgot about the other discipline of oval track racing here in the states. My good friend, and mentor Jesse Iwuji, has been talking to me for a few years now about making this transition. I can't thank him enough for helping me get to this opportunity."
VD: You join the Performance P1 Motorsports team, an experienced team, how did this opportunity come about? According to my information, you made inquiries with the folks at ARCA who directed you to Joe Nava's team.
RR: "I had been working with Brett Bodine and Joe Wells for a few weeks back in January of this year in regards to gaining licensing in either the (NASCAR Camping World) Truck Series or ARCA.
"One of the things I really wanted was to be affiliated with a team that had many years of experience working with green drivers. I wanted a team that would be willing to take me on and help develop my driving style on asphalt. I'm not as young as many of the drivers out here, but I do bring many years of experience both on the track racing and off the track wrenching on my own cars.
"PP1M was one of the teams that was brought to my attention, and after talking to Joe Nava and meeting him at his shop; I knew this is where I wanted to be. Mr. Nava has years of experience in the west coast circuit, and I believe we make a great match. I look forward to learning and gaining experience from these legends and working with this world class organization."
VD: There will be 36 cars in Phoenix, a record this year. As a beginner, a rookie, what will your goals be?
RR: "I've read over the entry list, and I know what talent has showed up from the East. Talk about an amazing opportunity to get out on the track and run with some of the hottest drivers out there right now. My goal is to run a clean race, finish all the laps, and being home a car in one piece. I think if we do that, and with a little bit of creativity and strategy; we are going to put the No. 77 Bellator Recruiting Academy Toyota Camry in a good spot."
VD: Is this first race a one shot or preparation for a partial or full program in the ARCA West Series next year?
RR: "My intent with the race is to gain that experience and get an opportunity to take my racing to the next level. 2022 I'm looking at splitting time in both ARCA and in Sprint Cars in the Midwest. I would love to go full time in ARCA West next season and go for the rookie of the year, but for now I'm going to focus on the race this weekend and do everything I can to show ARCA, PP1M, and my sponsors who I am and am why I'm here."
A Detailed look at the entry list:
No. 08 Caleb Costner (Circle Track Racing)
After having succeeded in finalizing a deal with Innovative Tiny Houses and West End Hardware, Caleb "The Lawman" Costner changes team, from PP1M to Circle Track Racing, that of John Wood. Mike Holleran will be his crew chief. 14th in Roseville, he hopes to gain experience in preparation for the 2022 season.
No. 2 Nick Sanchez (REV Racing)
21st after an accident at the start of the season in Phoenix, the recent winner of the ARCA finale in Kansas hopes to ride the game and aim for another victory. He will be racing part-time in the NASCAR Xfinity Series next year with the B.J. McLeod Motorsports team. Steve Plattenberger will be his crew chief.
No. 4 Eric Nascimento (Nascimento Racing)
Absent in Roseville, he returns for the final with great ambitions. It will be his first race in Phoenix. With its crew chief Mike Nascimento, the family team will have a good car in their hands, a Toyota. The car is a former Velocity Racing car that was once driven Jack Wood.
No. 6 Trevor Huddleston (Bruncati Racing)
Eighth, seventh and 10th respectively of his three races in Phoenix, Trevor will have to raise his level to stay in the title race. Bill Sedgwick, his crew chief, knows this track to perfection even as a pilot. And he once drove a driver on Victory Lane in Phoenix. It was Jason Bowles in 2009.
No. 7 Takuma Koga (Pitts Racing)
23rd in his last two races in Phoenix, Takuma has had a lot of setbacks in Arizona. Yet at the start of the season, he was well established in the top 10 when he had an accident. His best result in seven races in Phoenix is ​​15th position in 2019. But Jerry Pitts, his crew chief, and he seems to have found the right pace at this end of the season with four top-10s, including a fifth position in Portland out of the four last races.
No. 8 Johnny Borneman, III (Borneman Racing)
Even though he only races a few races a year, often the ones at Irwindale, Johnny Borneman, III is familiar with the Phoenix Oval. He competed in 21 races there between 2000 and 2014 with six top-10s. His best result being a third position in 2004! It is a blast from the past! Tony Caputo will be his crew chief.
No. 9 Jake Drew (Bruncati Racing)
No victory this season and yet Jake has come close on several occasions. Regardless of the outcome, his rookie season has been remarkably efficient. Constantly in the battle for the top positions. He has shown to be very fast with three poles but also very consistent.
Already twice second this season, he would really like to get his first victory. His only result outside the top-10 was precisely here in Phoenix early in the season for his very first race in a West Series car. Jeff Schrader would like to get his 16th victory as crew chief.
No. 11 Andrew Tuttle (Kart Idaho Racing)
Substituting Chris Lowden at the last minute at Roseville, Andrew is offered a second chance to show off this year. Because under the circumstances, he had a good race in California. He will make his debut in Phoenix. Mike Holleran will be his crew chief.
No. 13 Todd Souza (Central Coast Racing)
The problems encountered in Portland and Las Vegas will undoubtedly have destroyed Todd's hopes of becoming champion. Mathematically it is possible, but he will have to cross his fingers in the hope that his opponents will suffer. But above all, he must rely on himself and his crew chief Michael Munoz.
A car prepared with the technical help of DGR like in the season opener here in Phoenix. And he had been very quick. With 10 races in Phoenix including four top-10s, he can feed some hopes.
No. 15 Drew Dollar (Venturini Motorsports)
This will be his fourth race at Phoenix in the West Series. In fact, he only rode on this oval in the West Series but rather well with two top-10s. His best result was fifth in the 2020 final. He just completed a partial season in the ARCA National Series. Billy Venturini will be its crew chief.
No. 16 Jesse Love (Bill McAnally Racing)
12th in Roseville, he involuntarily gave this 2021 final an additional flavor of suspense. We talked about this at the beginning of the article. Jesse is a great driver. He made history last year when he became the youngest champion in West Series history at 15. He could become the youngest back-to-back champion.
If he wins his second consecutive title with his crew chief Travis Sharpe, he will join a club made up until now of Todd Gilliland, Mike Duncan, Brendan Gaughan, Bill Sedgwick, Bill Schmitt, Jim Robinson, Roy Smith, Ray Elder, Scotty Cain, Ron Hornaday, Eddie Gray and Lloyd Dane. All among the biggest stars of the West series. He has already run two races in Phoenix with the 14th and sixth position respectively.
No. 17 Conner Jones (Cook-McGowan Racing)
A fourth position in Nashville and a 10th in Bristol in the East Series. Conner will be making his West Series debut. Sean Samuels will be his crew chief as in Bristol. He replaces in the 17 his former crew chief Amber Slagle who finished 10th as a driver at Roseville. However, Steve McGowan's team has already won a race at Phoenix with David Mayhew in 2012.
No. 18 Ty Gibbs (Joe Gibbs Racing)
A true phenomenon in 2021, the brand-new champion in the ARCA National Series with 10 wins, 11 poles and 19 top-5s in 20 races has also been dazzling in his races in the Xfinity Series. Four victories including the first on the Daytona RC for his very first race in the NASCAR National second Division. With two wins and a runner-up from three races in Phoenix in the West Series, he will be the overwhelming favorite in the race! With his crew chief Mark McFarland, they form a hell of a duo!
No. 19 Sebastian Arias (Bill McAnally Racing)
New chance for the young Colombian in the West Series. Following an accident during qualifying at Irwindale he had to forfeit. He changed his number from No. 5 to No. 19 while staying at BMR. John Camilleri will be his crew chief. It will be a good test to know the real potential of Sebastian. Indeed, it will have the same car that Derek Kraus led to fifth here in Phoenix last March.
No. 20 Gracie Trotter (Venturini Motorsports)
A partial season In the ARCA Menards Series this year for Trotter. With good races. Accident on the first lap in Phoenix in March, she had secured a fine ninth position the year before as a rookie while driving for BMR. Dave Leiner will be her crew chief.
No. 21 Josh Fanopoulos (Kart Idaho Racing)
After a good race in Las Vegas, Josh decided to race Roseville with the long chassis and the Ilmor engine as well. It had to be a full-scale practice session to get everything ready. Unfortunately, he was going to hit Taylor Gray when Gray spun at the start of the race. Car heavily damaged, its front part has been rebuilt. His friend Dennis Wurtz will be his crew chief as in previous races. This chassis being fairwell for big tracks like Phoenix, Josh could get a good result.
No. 22 Daniel Dye (GMS Racing)
Daniel will start in the West Series but with eight races between the East and the National Series this year including a victory in Berlin, he has shown to be a solid bet. In fact, he'll be full-time in the ARCA Menards Series next year. Chad Bryant will be his crew chief.
No. 25 Parker Chase (Venturini Motorsports)
The third driver entered in Phoenix by Venturini Motorsports; Parker Chase will make his West Series debut. But he knows his car well, having already done four races with four top-10s including a fourth position in Charlotte for his debut! Kevin Reed will be his crew chief as in three of his four races in 2021.
No. 27 Bobby Hillis, Jr. (Fierce Creature Racing)
With the Old Kamree now parked for good, it is with his new car (an old one from Levin Racing), the neon yellow, that Bobby will try to improve his 10th position in the championship. Mathematically he can consider the eighth position. Only 24th in Phoenix earlier in the year, he suffered a deflated tire when he was on a good pace. The top-10 was even possible.
In total Bobby has 16 starts in Phoenix with an 11th position as the best result in 2004. For family reasons, Ed Ash will be replaced as crew chief by… TBD
No. 30 Max Gutierrez (Rette-Jones Racing)
Another driver who will make his debut in the West Series, Gutierrez is no newcomer to an ARCA car, however. He has already done 10 races in the East and one in the national series. His best result being his victory earlier this year in New Smyrna. Mark Rette is both owner and crew chief.
No. 31 Paul Pedroncelli (P.J. Pedroncelli Racing)
He will be there in support of his son P.J. To help him obtain the Holy Grail! He's going to discover the Phoenix Oval. Rodd Kneeland will be his crew chief. The further he goes in the race, the more points he can take from his son's opponents if they experience problems.
No. 33 Paul "P.J." Pedroncelli (P.J. Pedroncelli Racing)
If he wins the championship, it will be both a heist and well deserved as P.J.'s 2021 season has been remarkable. He constantly improved to finally win his first victory in Roseville. His only career lap led! Together with his crew chief Ty Joiner, they took 11th place at the start of the year in Phoenix. But since Pedroncelli has changed status. From a pure outsider, he is now one of the favorites! This will be his third race on the Arizona Oval.
No. 38 TBD (Kart Idaho Racing)
Initially Stafford Smith would have been behind the wheel, but he will be in Europe this weekend for professional reasons. At the moment the replacement driver has not yet been named.
No. 45 Jake Garcia (David Gilliland Racing)
At 16, 2021 Southern Super Series champion Jake Garcia from Monroe, GA will make his West Series debut. He has just joined the DGR team's young driver development program. His crew chief will be Mike Hillman, Jr., current Hailie Deegan crew chief in the NASCAR Camping World Truck Series.
No. 46 JP Bergeron (David Gilliland Racing)
The young Quebec driver Jean Philippe "Bergy" Bergeron will make his West Series debut. He has already done two races in the ARCA Menards Series. Eighth in Salem and fifth in Kansas! Not bad for a beginner. Derek Smith will once again be his crew chief.
No. 51 Dean Thompson (High Point Racing with Bruncati Racing)
Dean Thompson will have made a quick stint in the West Series. He started this season, made good races but suffered from several mechanical problems. He also missed two because of the Covid for one and to get the championship on his hometrack for the other. Next year he will be a full-time driver at Niece Motorsports in NCWTS. With Travis Thirkettle, his crew chief, he hopes to leave the West with a victory.
No. 54 Joey Iest (Naake-Klauer Motorsports)
What an impressive season in 2021 performed by Joey Iest. The first two races had been disastrous, however … Full of bad luck as in 2020. And since Irwindale at the beginning of July he has never been lower than fourth! Getting his first victory in Colorado. He is only five points behind. NKM has a technical alliance with DGR. Mike Naake, his crew chief, therefore, puts the best material in Joey's hands.
No. 55 Toni Breidinger (Venturini Motorsports)
Venturini enters four cars in Phoenix. Toni Breidinger will make her second start in the West Series at Phoenix. Victim of the accident at the start in March, she hopes to do better with her crew chief Shannon Rursch. Note that she had two top-10s in the ARCA Menards Series this year on both dirt tracks. In the event of a sandstorm in the Arizona desert, she could take the opportunity to get out of the game!
No. 66 Rajah Caruth (REV Racing)
The young driver from Washington, DC will start in the West Series but his rookie season in the East was successful. He will also be full time with his team in the national series in 2022. Glenn Parker will be the his crew chief.
Caruth will also run part-time in the NASCAR Xfinity Series for Alpha Prime Racing in 2022.
No. 71 Taylor Gray (David Gilliland Racing)
Other than the number change from 17 to 71, there is nothing different about Taylor Gray. He will have the same car and the same crew chief Chad Johnston. Together they did wonders in 2021 with two wins in four West Series races. They also amassed 10 top-10s in 11 races in the National Series! Taylor will be a big favorite for the win.
No. 77 Ryan Roulette (Performance P-1 Motorsports)
See his interview at the beginning of the article. Dave McKenzie will be his crew chief. The latter will have really spent the 2021 season in the role of the teacher for several rookies in the West Series (Caleb Costner and Mariah Boudrieau).
No. 78 Travis Milburn (Velocity Racing)
Blazing fast on his return to the West Series at Roseville after more than a year and a half of absence, Milburn could claim at least a top-five but suffered an accident for which he was not responsible.
With the experienced crew chief Roger Bracken and a great car from Velocity Racing, the team of current NCWTS driver Jack Wood, he should be able to play an important role in the race. He already has eight starts in Phoenix, but this is the first time he will have a really good car in his hands.
No. 80 Brian Kamisky (Dereck Copeland Racing)
Obviously Kamisky has taken a liking to racing on the ovals. He will debut in Phoenix. Dereck Copeland, owner of the car, will also be its crew chief.
No. 81 Sammy Smith (Joe Gibbs Racing)
Champion of the East Series 2021 with three wins and seven top-five in eight races, he will debut in Phoenix and in the West Series. Jacob Canter will be his crew chief for the second time after Dover's race. He is naturally among the favorites for the victory.
No. 88 Bridget Burgess (BMI Racing)
Only 22nd in Phoenix at the start of the year… Yet Bridget had a good pace. In fact, that's a perfect summary of our Australian's season. Fast but unlucky. Note that in 2020 she had already finished 22nd in Phoenix. But if in 2020 she was there to learn with an old rental car from BMR. In 2021, the Burgess family, her mother Sarah is her crew chief, had placed their ambitions much higher. With a new car, ending the season on a positive note will be important.
No. 99 Cole Moore (Bill McAnally Racing)
Cole Moore, six points behind the leader, his teammate Jesse Love, can logically hope to win the 2021 championship. He has an excellent car and is very consistent in the top positions. In the end, all he needs is one victory. But the rookie should not be disappointed with his season. In March he had secured the 12th position for his Phoenix debut. Mario Isola will obviously be his crew chief.
Final notes:
The Arizona Lottery 100 is scheduled for Saturday, Nov. 6, with a start time of noon p.m. MT / 3 p.m. ET. The race will be shown live on NBC Sports Gold's TrackPass with a live audio feed available on ARCARacing.com. A delayed broadcast of the event will air on NBCSN on Nov. 11, starting at 5 p.m. ET.
Three hours before the race, there will be a unique and combined practice and qualifying session to determine the starting grid. The race will be under ARCA West regulations with the break pitting procedure. Break at or near the conclusion of Lap 50. No adding or moving tires to or from pit box once race has started.
Now it's time for the final show!
All results here: www.racing-reference.info/entrylist/2021-09/AW/
Featured Photo Credit: Photo by NKP / NKP Photo