By Vincent Delforge, Special to Kickin' the Tires
This new series of articles will highlight the men and women behind the scenes working in the ARCA Menards West Series. Because if we all have eyes drawn to the drivers, we have to realize that without their team, they simply could not participate in the races. Because a racing team is like an iceberg.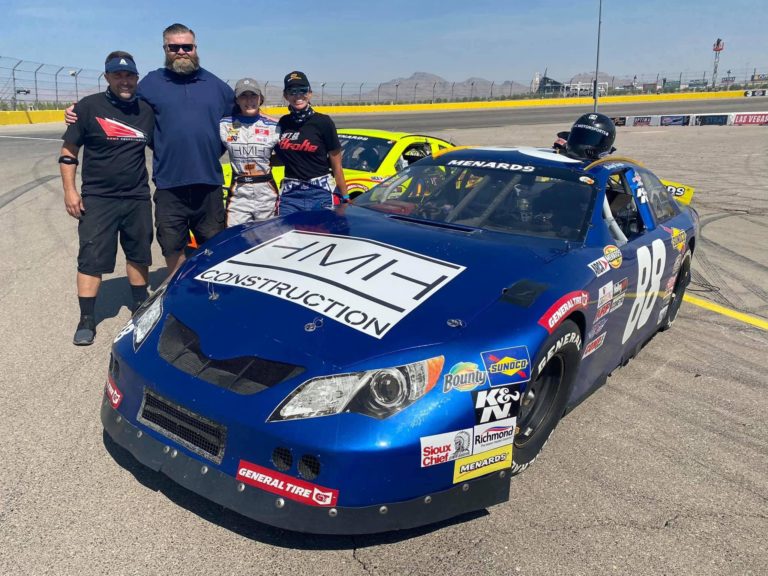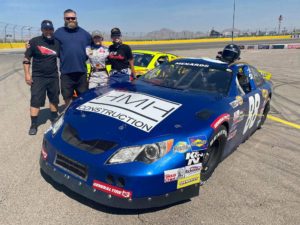 What emerges from the water is the smallest part. It is made up of the driver as well as the owner and the crew chief. And then there is the biggest part, the submerged part that you don't see much. This is made up of mechanics, hauler driver, scorer, engineers… and the spotter. It is the latter that we are going to talk about today.
The spotter is the driver's eyes. Perched at the very top of the main grandstand or above the suites on a spotters stand, they provide crucial information on what is happening around the driver during the race.
Often at the beginning of a career in the local series, the position of spotter is occupied by a member of the family. Then the higher you go in the categories, the more this position is occupied by a specialized person, sometimes even a former driver. This is how we find for example former West Series drivers who have become spotters in the NASCAR Cup Series, such as Brandon McReynolds, spotter for Ross Chastain, or Rick Carelli, spotter for Erik Jones.
So what exactly does a spotter do? How does he call, live, and breathe the race? These are questions that Ryan Hale, of Santee, CA, ARCA Menards West Series spotter for the Fierce Creature Racing team answered. It is hard not to spot him at the track. He is a very tall guy with a full beard. But behind his bear looks, he's above all a super nice guy and the icing on the cake, a great friend.
VD: How did you find yourself one day at the top of the grandstand with headphones on ears and a microphone in front of your mouth?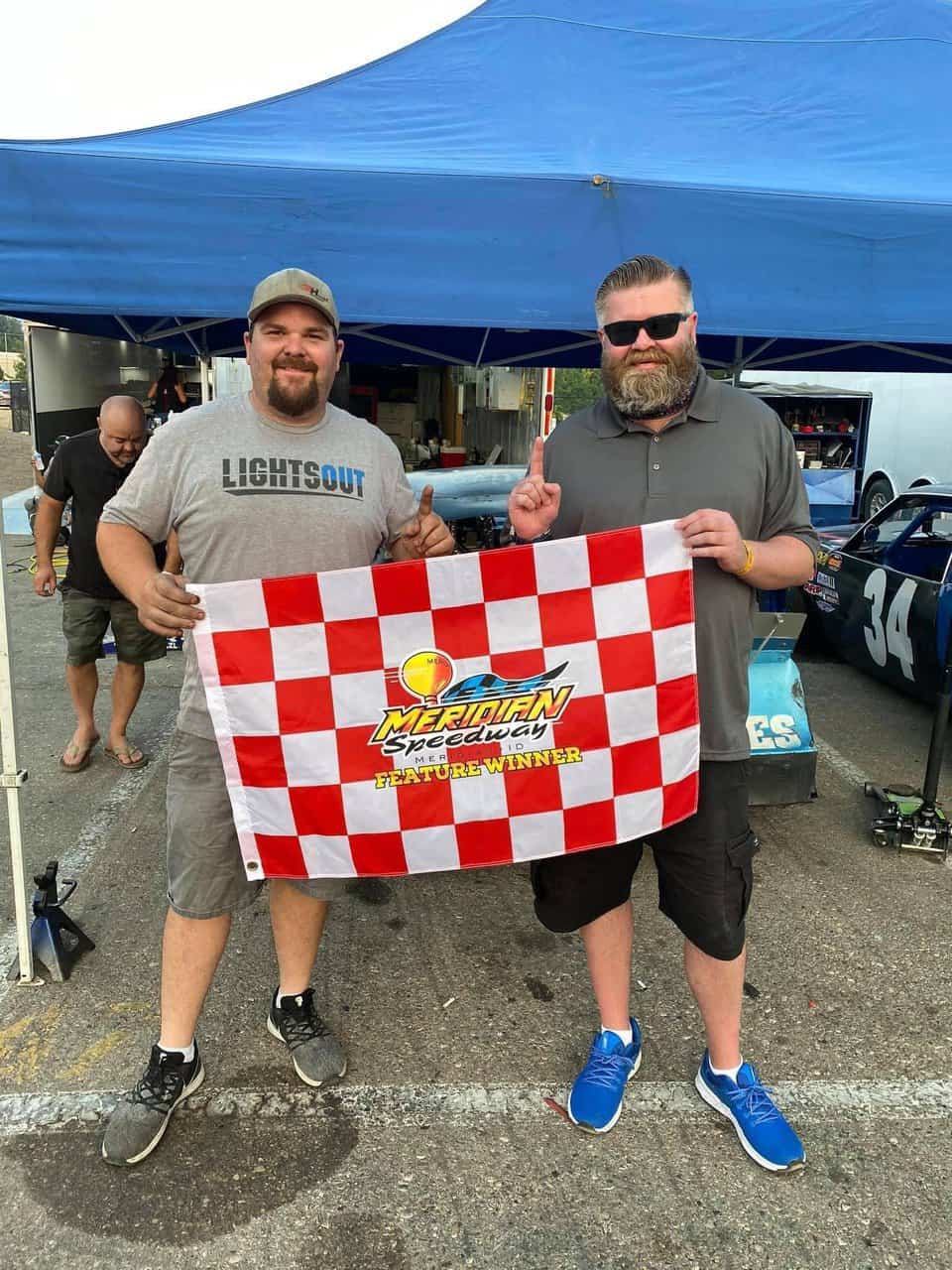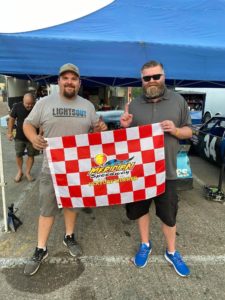 RH: "I met Tony Cosentino while at Evergreen in 2019 and he literally was his own crew. We started talking and I helped him that day with little things. After talking more I started handling his social media, marketing, etc. We were able to put together sponsorship for the race at Meridian and later Phoenix.
"We had big plans for 2020 and nearly signed a larger sponsor until the pandemic hit. We ended up running in the Carolina Pro Late Model Series back East in 2020 and he asked me to spot for him."
VD: What is being a spotter? Can you define your role with the driver?
RH: "Being a spotter is all about safety. Our job is to provide the driver with information, everything that is going on and around them. We are that extra set of eyes from above to guide our driver thru wrecks, any debris that may be in the racing line, etc.
"We also provide our drivers with lap times, general advice, and being a cheerleader for them during the race. Being that positive, reassuring voice on the radio can have good results if the race isn't exactly going to plan."
VD: You are in contact with the driver but also the crew chief, the race direction. How does this happen exactly?
RH: "During the race it is mainly the spotter and driver communicating the most. Some drivers like a lot of information while others just want basic information of what's happening on the track. The crew chief will usually jump in if they see something, maybe suggest a different entry line, etc. to help improve lap times.
"Obviously they have a different view, perspective than the spotter does. Typically if we have a halfway break the crew chief will ask the driver about any adjustments they may want before we hit pit road. The spotter may suggest a specific adjustment as well. But typically that is left up to the crew chief."
VD: You are the spotter for Bobby Hillis, Jr. but you also held this role for other pilots or in other series. Who have you been a spotter with?
RH: "Yes, I worked with Tony Cosentino in ARCA West and CPLMS, Scott Sanchez in SRL, and Bridget Burgess as a secondary spotter in the West."
VD: Do you have to adapt to each driver? Some like to have a lot of information in their ears or on the contrary some prefer to have only short messages?
RH: "You absolutely have to adapt to each driver. Every driver is different, some like a lot of information and some prefer short answers, simple lap times, where the leader is, etc. it's important to get your rhythm, communication style down. The driver will usually tell you what they like and don't like and you take notes for future races."
VD: Is it easy to stay outside in the wind, in the sun, when it's cold or eating dust on a dirt track? Because a race can be long with yellow flags, red flags, and you have to stay focused non-stop.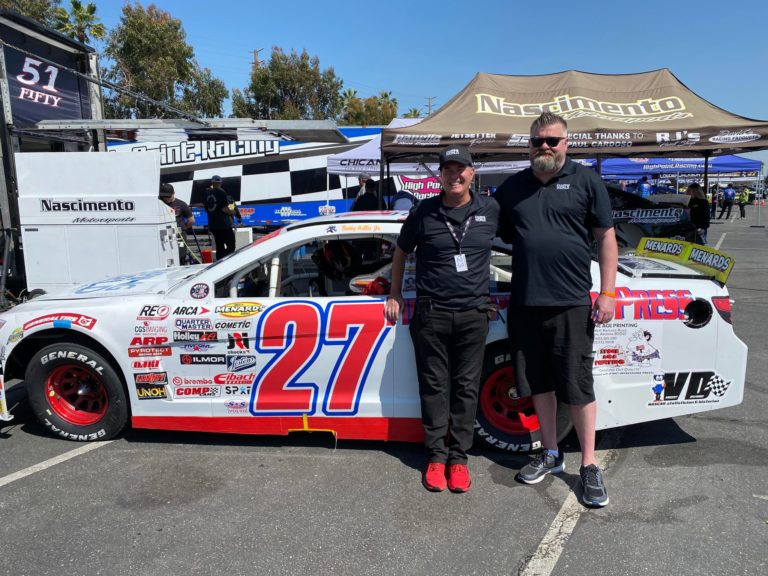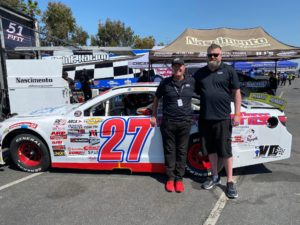 RH: "It can be grueling, mentally exhausting during a race. Typically you bring a jacket up there with you as it can be 10-15 degrees cooler up top (with the wind), especially on the larger tracks. It's your job to know what is going on at all times. We have a separate radio for race control, who will provide us line up information for restarts, etc.
"We have officials up there with us who do a great job at relying information from the tower as well. It's important you stay hydrated, bring some snacks up there with you if it's a longer race. Usually if we get a long caution or red flag you take a few to get a drink and regroup. Usually I'll remind the driver to get a drink of water, ask them how they're feeling, how the car is, etc."
VD: You sometimes hear people say that if the driver had an accident with another car, it's the spotter's fault. How do you respond to that? Do you feel guilty if you give a wrong indication? What if it is the driver who has not followed the advice given?
RH: "Everyone will eventually make a mistake. If you know it's your fault, you go talk to the spotter of the driver, the driver and let them know. Own your error and move on. If it's the driver who made the error then you will have a private chat with them, get their point of view, etc."
VD: In addition to having a clear language, to articulate well when speaking. What are the essential keywords during a race? Which ones do you say most often?
RH: "'No pressure out back.' 'Leader at the line now.' 'Inside tight' '3-wide you're on the bottom.'
"You usually try to keep it short so they can focus on driving and just provide them with some basic information. I'll usually provide Bobby (Hillis) with information on where a driver is at on the track he's on the same lap with or someone we are in a close points battle with."
VD: What is the most stressful moment in a race?
RH: "Restarts late in a race can be chaotic. Especially at a track like Phoenix where everyone is going 3-4, sometimes 5-wide. The start of the race you're obviously pumped up and ready to go, it's important to just settle in, see where you are at, remind the driver we have 100, 150 laps to go and just give and take and most importantly be smart."
VD: You have to have an eye on your driver but also an eye on what is happening elsewhere on the track, how do you do it?
RH: "Just be totally focused. You just kind of go into this zen mode of being focused. It's not for everyone. I spot next to some of the best in the business."
VD: In ARCA Menards West Series, the spotter often does other things/jobs for his team. What do you do between the practice/qualifying sessions or the race when you are not on the lookout tower?
RH: "I'll help out with most stuff. Unloading and loading hauler, changing tires, buying and preparing food for the crew, keeping the driver on schedule. I usually do the social media stuff of a driver I'm working with. So I'll try and take photos, videos, update with how the day is progressing."
VD: Can you tell us a particular anecdote, an incredible and/or unforgettable moment that you experienced during a race as a spotter?
RH: "Irwindale July 2021, hot day, we were short handed, and we ended up with a top-10 and awarded the K&N Hard Charger award. Another one, not so great, spinning off Turn 2 at Phoenix in 2021 and nearly being t-boned (Both with Hillis, Jr.). Luckily, we have some of the best spotters in the business who navigated everyone around safely."
"In closing, I just want to thank every driver and team who took a chance on me, just a fan who got lucky. Tony Cosentino, Josh Fanopoulos, The Burgess family, Scott Sanchez and Bobby Hillis, Jr. It's an honor and privilege to be apart of this sport."
Thanks to Ryan Hale for answering the questions. See you soon with another "Racing jobs."