By Seth Eggert, Associate Editor
Joe Gibbs Racing's Bobby Zalenski went to victory lane as the eNASCAR Coca-Cola iRacing Series made history with their first international race in series history at the Autodromo Nazionale Monza.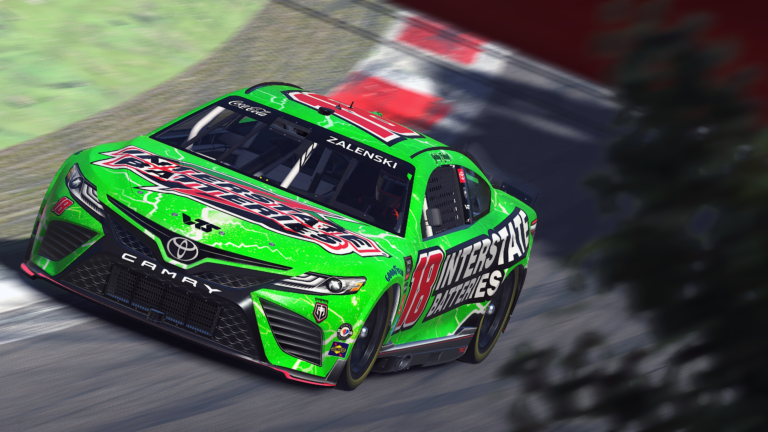 The perennial threat on road courses, Zalenski scored the motorsports equivalent of a 'grand slam.' First, he put the virtual No. 18 Interstate Batteries Toyota Camry on pole. By breaking the draft and having a perfect pit stop, Zalenski led every lap of the race and ran the fastest lap of the race.
It marked his second consecutive win in the 2023 eNASCAR season. It was also Zalenski's first road course win since 2021.
"I don't know how much I believe in momentum, but it's really great to be this fortunate to have an amazing car two races in a row," Zalenski admitted. "It's wonderful to get Interstate Batteries and Joe Gibbs Racing a couple wins in a row early. I'm just focusing on trying to go for wins rather than points, trying to get bonus points for the playoffs, make it to the (championship) four, and get it done."
With domination of Zalenski, the race became a battle for second. 23XI Racing's Keegan Leahy struggled to keep Tucker Minter at bay. Opting to make lap time instead of fall into the clutches of those behind them, Leahy ultimately let Minter go.
Over four seconds behind Zalenski, Minter tried to undercut the road racing ace. Though the Team Dillon eSports driver cut the gap down by over a second, he still finished 3.618 seconds behind with Leahy in tow.
Zalenski's drought on road courses in part was due to Mitchell deJong's dominance over the past two years. deJong's departure from eNASCAR competition opened the door back up for Zalenski.
"Mitchell always had that half-tenth to tenth on me," Zalenski explained. "He had so much road racing championship pedigree, done it more than me at a lot higher level in (Porsche eSports Super Cup) in terms of results. Either way it was going to be a tough challenge. Practicing with him, watching him made me a lot better."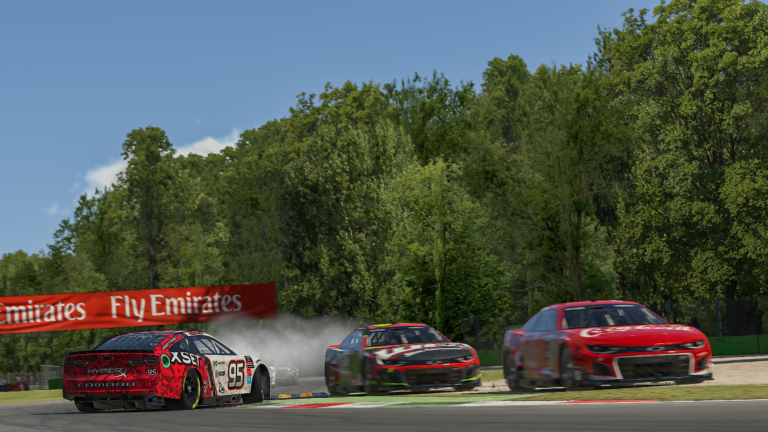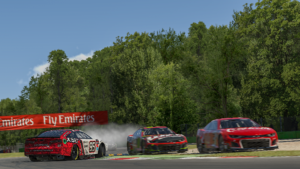 Defending eNASCAR champion Casey Kirwan recovered to a fourth-place finish after an early spin. Rookie Jordy Lopez Jr. rounded out the top-five. Graham Bowlin, Parker White, Garrett Manes, Steven Wilson, and Dylan Ault completed the top-10.
The caution-free race was not without incident. A multi-car pileup in Turn 1 on the opening lap collected about a quarter of the 39-car field. The 'big one' ultimately ended the day for both Kollin Keister and Vicente Salas.
Ascari also proved to be difficult for the eNASCAR drivers. Michael Conti, Kirwan, and Garrett Lowe all went for a ride in the legendary chicane. Kirwan was the first to spin, breaking loose after hitting a curb before Lopez, with nowhere to go, completed the job. Conti and Lowe spun later in the race and had less time to recover.
Next for the eNASCAR Coca-Cola iRacing Series is Talladega Superspeedway on Tuesday, April 18 at 9:00 p.m. ET. All eNASCAR races are streamed live on enascar.com/live.
The results:
1. 18-Bobby Zalenski [1], 2. 33-Tucker Minter [3], 3. 23-Keegan Leahy [2], 4. 95-Casey Kirwan [4], 5. 3-Jordy Lopez Jr. [3], 6. 48-Graham Bowlin [7], 7. 11-Parker White [11], 8. 12-Garrett Manes [15], 9. 10-Steven Wilson [9], 10. 40-Dylan Ault [13], 11. 8-Michael Conti [6], 12. 38-Michael Cosey Jr. [19], 13. 7-Malik Ray [17], 14. 88-Kevin King [14], 15. 6-Timmy Holmes [12], 16. 97-Matt Bussa [16], 17. 2-Corey Vincent [21], 18. 51-Donovan Strauss [22], 19. 25-Nick Ottinger [23], 20. 46-Jimmy Mullis [20], 21. 41-Dylan Duval [27], 22. 15-Garrett Lowe [8], 23. 54-Daniel Faulkingham [33], 24. 27-Cody Byus [10], 25. 34-Allen Boes [18], 26. 66-Tyler Garey [28], 27. 75-Zack Novak [29], 28. 14-Joey Brown [28], 29. 20-Wyatt Tinsley [26], 30. 77-Ryan Doucette [31], 31. 4-Ryan Luza [34], 32. 17-Kaden Honeycutt [36], 33. 45-Michael Guest [39], 34. 43-Femi Olatunbosun [25], 35. 36-Brandon McKissic [32], 36. 31-Derek Justis [38], 37. 69-Collin Bowden [35], 38. 42-Kollin Keister [37], 39. 55-Vicente Salas [30].
Lead Changes: None.
Lap Leader(s): Bobby Zalenski 1-30.
Laps Led: Bobby Zalenski 30.
Hard Charger(s): 54-Daniel Faulkingham, Joe Gibbs Racing (+10).
Rookie of the Race: 33-Tucker Minter, Team Dillon eSports, Second.
Caution Flags: None.
Margin of Victory: 3.618 seconds.
Time of Race: 47 minutes, 19.209 seconds.
Average Speed: 133.1023 MPH.
Pole Winner: 18-Bobby Zalenski, Joe Gibbs Racing, 1:32.534 seconds, 136.116 MPH.
Fastest Lap: 18-Bobby Zalenski, Joe Gibbs Racing, Lap 2, 1:33.121 seconds, 135.308 MPH.