By Seth Eggert, Associate Editor
Joe Gibbs Racing's Bobby Zalenski dominated Tuesday night's eNASCAR Coca-Cola iRacing Series race at the virtual Richmond Raceway, though repeated incidents marred the series' short track return.
For a time, it appeared that Zalenski's virtual No. 18 Interstate Batteries Toyota Camry was going to lead every lap, a feat only accomplished by Vicente Salas on an oval. However, a caution for an incident between Atlanta winner Steven Wilson and eNASCAR Contender iRacing Series champion Joey Brown brought the field to pit road.
During the caution Nick Ottinger snuck by Zalenski for the lead during pit stops. The 2020 eNASCAR champion led for the next 20 laps before the perennial Championship Four driver recaptured the lead. That is until chaos broke out.
A caution for a wreck involving Dylan Duval and Brandon McKissic saw most of the field return to pit road. Collin Bowden assumed the lead by staying on track. Michael Guest and Tyler Garey also stayed on track.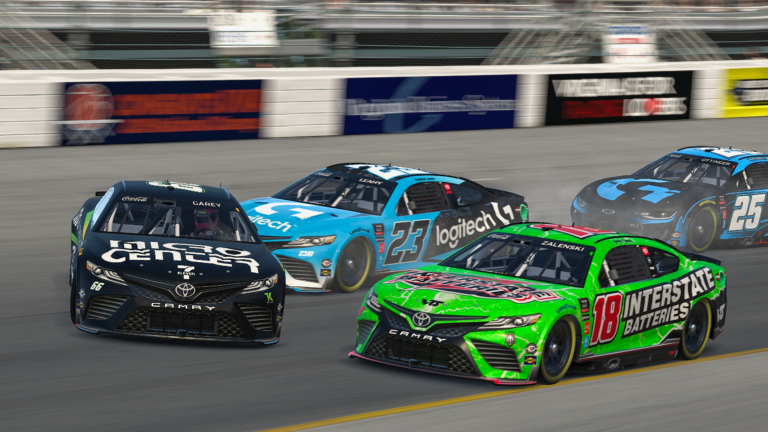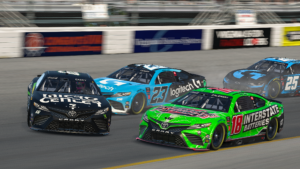 What then ensued was a cascade of cautions. A combination of mistakes, dirty air, respect issues, and the durability of the laser-scanned NASCAR Next Gen car brought about multiple cautions. The string of cautions began when Zalenski caught Garey at a faster rate than anticipated.
The difference in tire life gave Zalenski, and others, a huge advantage over those that stayed out. The veteran driver accidentally tagged Garey's No. 66 Kanaan eSports Toyota, sending the eNASCAR rookie spinning.
The speed for Zalenski continued, despite the repeated cautions. He recaptured the lead with 58 laps to go, just before another caution waved. Zalenski fought off challenges from Michael Conti and Jimmy Mullis as eNASCAR officials opted for the second time this season to switch from double-file to single-file restarts.
Despite the added obstacle, no one could catch Zalenski's rocket ship of a racecar. He took the checkered flag about a second ahead of Conti. Mullis, Ottinger, and Keegan Leahy rounded out the top-five.
"The car was a rocket, so I got to thank everybody at my team for all that hard work," Zalenski said. "I put in a lot of work this week. I had pretty high expectations. I didn't want to get ahead of myself, but this felt like Phoenix speed and I'm glad we were able to seal the deal today. Anytime we're braking a lot, I feel like I have an advantage. Finally, one of these goes through."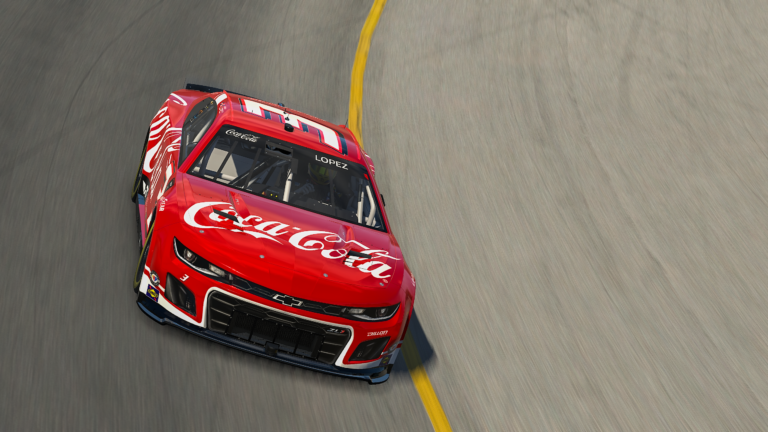 Garrett Lowe, Donovan Strauss, Ryan Doucette, rookie Michael Cosey Jr., and Matt Bussa completed the top-10. Jordy Lopez Jr. ran the fastest lap of the race despite finishing 15th.
The racing at 'The Action Track' was slowed a total of nine times for a total of 40 laps by cautions. The dirty air that the NASCAR Next Gen car produces forced many drivers to throw blocks to protect their position. That snowballed as some competitors' tempers got the better of them.
While some struggled with the aerodynamic package iRacing utilized, others thrived. William Byron eSports driver Bussa started 25th after a poor qualifying effort. Instead of using the traditional inside lane, he jumped to the third lane. Bussa gained around 20 positions, knocking on the door of the top-five before ultimately finishing 10th.
Next for the eNASCAR Coca-Cola iRacing Series is a little bit of history being made. NASCAR's esports division will make its' inaugural trip to Europe to compete at the virtual Autodromo Nazionale Monza, without chicanes, on Tuesday, April 11. All eNASCAR broadcasts are streamed live at enascar.com/live.
The results:
1. 18-Bobby Zalenski [1], 2. 8-Michael Conti [9], 3. 46-Jimmy Mullis [10], 4. 25-Nick Ottinger [3], 5. 23-Keegan Leahy [2], 6. 15-Garrett Lowe [12], 7. 51-Donovan Strauss [28], 8. 77-Ryan Doucette [14], 9. 38-Michael Cosey Jr. [18], 10. 97-Matt Bussa [25], 11. 33-Tucker Minter [33], 12. 2-Corey Vincent [34], 13. 75-Zack Novak [38], 14. 40-Dylan Ault [7], 15. 3-Jordy Lopez Jr. [4], 16. 48-Graham Bowlin [5], 17. 95-Casey Kirwan [17], 18. 42-Kollin Keister [8], 19. 88-Kevin King [29], 20. 10-Steven Wilson [13], 21. 11-Parker White [31], 22. 6-Timmy Holmes [23], 23. 20-Wyatt Tinsley [27], 24. 12-Garrett Manes [19], 25. 1-Darik Bourdeau [39], 26. 45-Michael Guest [24], 27. 41-Dylan Duval [6], 28. 7-Malik Ray [15], 29. 34-Allen Boes [22], 30. 55-Vicente Salas [37], 31. 27-Cody Byus [20], 32. 36-Brandon McKissic [21], 33. 66-Tyler Garey [35], 34. 14-Joey Brown [11], 35. 31-Derek Justis [36], 36. 69-Kollin Bowden [40], 37. 43-Femi Olatunbosun [16], 38. 54-Daniel Faulkingham [32], 39. 17-Kaden Honeycutt [36], 40. 4-Ryan Luza [30].
Lead Changes: Four among three drivers.
Lap Leader(s): Bobby Zalenski 1-35, Nick Ottinger 36-58, Bobby Zalenski 59-60, Collin Bowden 61-72, Bobby Zalenski 73-130.
Laps Led: Bobby Zalenski 95, Nick Ottinger 23, Collin Bowden 12.
Hard Charger(s): 75-Zack Novak, Rise eSports, (+25).
Rookie of the Race: 38-Michael Cosey Jr., Front Row Motorsports, Ninth.
Caution Flags: Nine for 40 Laps.
Margin of Victory: 0.904 seconds.
Time of Race: One hour, seven minutes, 43.798 seconds.
Average Speed: 86.372 MPH.
Pole Winner: 18-Bobby Zalenski, Joe Gibbs Racing, 21.669 seconds, 124.602 MPH.
Fastest Lap: 3-Jordy Lopez Jr., Team Dillon eSports, Lap 103, 21.953 seconds, 122.990 MPH.