By Seth Eggert, Associate Editor
The career path for every NASCAR driver is unique. A part of that path is the 'ascension up the ladder' from ARCA to the Craftsman Truck Series, Xfinity Series, and ultimately the Cup Series. Though the differences from car to car, or car to truck, sometimes suits some drivers better than others.
Choosing a Career Path
Recently, drivers such as Ty Gibbs, Sammy Smith, and Ryan Vargas made the jump directly up from the ARCA Menards Series and its' Eastern division straight into the Xfinity Series. The trio, along with Nick Sanchez and Rajah Caruth all made starts 'where names are made.'
Gibbs ultimately won the 2022 Xfinity Series championship. Smith scored his first win earlier this season at Phoenix Raceway. Meanwhile Caruth, Sanchez, and Vargas each founding varying degrees of success, and sometimes struggles through no fault of their own.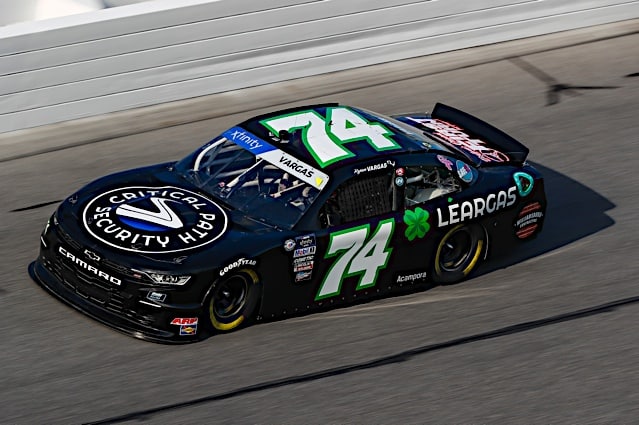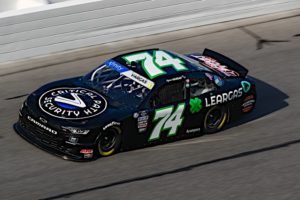 The three graduates from NASCAR's Drive for Diversity program now find themselves in the Craftsman Truck Series. Caruth and Sanchez are full-time with GMS Racing and Rev Racing respectively. Vargas, with the most Xfinity starts, 67, of the drivers listed, is part-time with On Point Motorsports.
"It really just depends on what your plan, I went straight from the K&N East Series (now ARCA East) to the Xfinity series because it made sense for me," Vargas admitted. "You're not going to have opportunities to hop into a truck. Honestly, the way you have to race in a truck is a lot different than you have to race in anything else. You race a Xfinity car a lot different than you race a truck.
"You have to have a lot of maturity to be there. You have to have patience. It is a longer race. You're racing against a lot more veterans. The Truck Series, there's a lot more younger guys lot and these races, they're short races. Texas this weekend is 250 miles, and that's one of their longest races. Heck, that was a short thing for us (in Xfinity). It's about mindsets and that's one of the things that I've learned."
Differences Between Series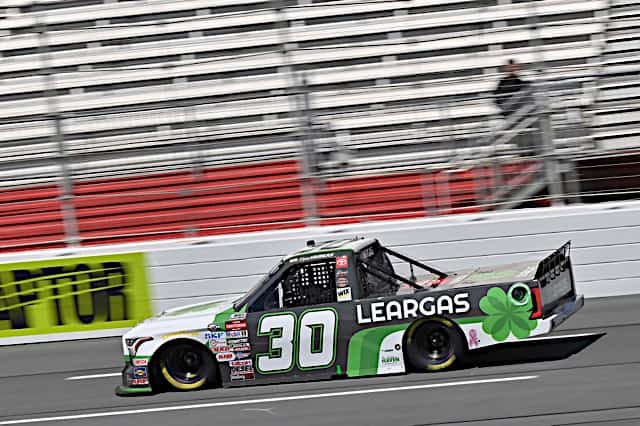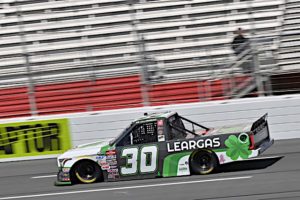 While the aerodynamic forces acting upon a Xfinity car are similar to an ARCA car, depending on the driver's plan, some haven't skipped the Craftsman Truck Series. Hailie Deegan, Sam Mayer, Ben Rhodes all drove a Truck before ever climbing behind the wheel of the Xfinity car.
The aerodynamic forces are not the only difference between the two series. In the Xfinity Series manufacturers build motors and the series uses composite bodies. In the Craftsman Truck Series, teams use the Ilmor motor but are able to build the trucks.
Each of these differences are on display at tracks like Texas Motor Speedway. In qualifying last year, most Xfinity Series drivers had to lift to make it through the corners. By contrast, nearly all of the Truck Series drivers were flat out. Of course, the driver's skill is also a big factor in the success as well as Vargas explained.
"(Whether the Truck or the Xfinity car suits one driver or another) depends," Vargas stated. "Obviously the guys who are just good are going to be good. There's a reason Kyle Busch is good in the truck, the Xfinity car, whatever you put him in, he's going to be good. But then you see guys like John Hunter Nemechek.
"He spent a couple of years going from ride to ride. He went into the Cup Series with Front Row and did okay, but then he dropped the trucks, and he was lights out. That tells me that the truck really fits his driving style.
"For me, when I look at how I felt in the truck, I felt very comfortable right away, but that also is because I've been so used to a car that really just gets hung out like it does, a car that's so yawed out. Now you have something that has a lot of right side, a lot of downforce, a lot of grip. That's where there's going to be some change."
Learning on the Fly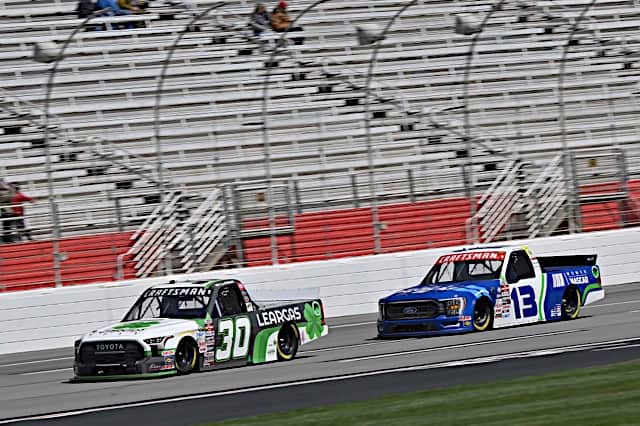 Those different aerodynamic forces are what Caruth and Sanchez have experienced after they made their NASCAR Craftsman Truck Series debuts. Caruth's debut came at World Wide Technology Raceway at Gateway with a top-15 finish. Meanwhile Sanchez made his Truck Series debut at Daytona Int'l Speedway.
Seemingly splitting the difference, Vargas made his Truck Series at the mini-superspeedway that is Atlanta Motor Speedway. The driver of the No. 30 Rangeline Toyota Tundra TRD had zero practice entering his first race in the series with none scheduled and qualifying rained out.
With no practice and experiencing the different ways air affects the trucks, Vargas had a major save in his No. 30 Leargas Security Toyota at Atlanta. However, the La Mirada, Calif. native learned quite a bit following Matt Crafton and Timmy Hill on track before finishing 14th.
"That's definitely something I'm anticipating with the way the trucks are so right side, aerodynamically heavy," Vargas explained. "They're so flat on that right side to where you need to lean on it, and I've been watching a lot of footage for Texas. It's just pretty interesting to me seeing (that) because the trucks are a little slower and they have all that right-side side-force and downforce.
"They handle through the corner is a lot easier. That being said, you're on that edge of speed and loss of traction, versus the Xfinity car. You're just hanging out, yawed out. It's hard for it to snap because you're already hung out versus the truck. You're on that limit and once that limit is crossed, you're going to go sideways.
"That happened to me in Atlanta in the truck. I keyed up I got so sideways to where my centerline (of the wheel) probably went about 95 to 100 degrees to the right and I saved it and I asked that (when) I talked with the team about why that would happen and they said, 'well, we did a lot of work to try and trim the truck out between runs.'
"Once I finally got into the pack, the truck finally snapped. That means you went a little too far for where we were trying to run. Then they told me that the only reason why I saved the truck was because of the side-force. If that was the Xfinity car, I would have been spun."
Recognizing the Aerodynamic Effects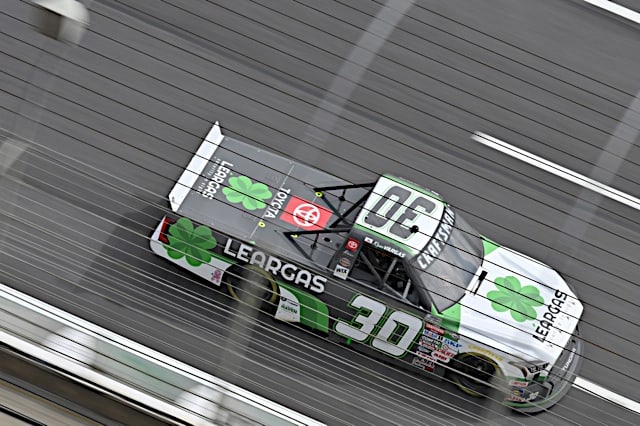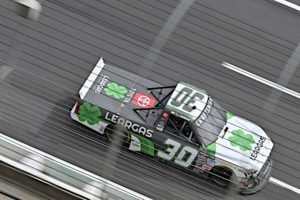 While both the ARCA cars and Craftsman Trucks are heavily dependent on the aerodynamics on the right side, it is more dramatic in Trucks. In Xfinity, and to a lesser degree in ARCA, drivers can bounce off the wall and still be competitive. In the Truck Series, the moment someone tags the wall, they're struggling for the rest of the race.
"The ARCA cars are very right-side heavy (aerodynamically) and they have a big spoiler, a lot of downforce, side-force," Vargas explained. "But the Truck Series, they've got big old splitter they have a big spoiler, and that right side is so dramatic in the trucks. In Xfinity you can hit the wall and still have a good day. In trucks the minute you touch the wall, you're done.
"But I think that one thing about the Truck Series that's good in that sense is that it teaches you to have a clean race because if you go out there every week and right side it and you're not going to finish good, plain and simple. It's so incredibly hard to come back from scraping the wall in the Truck Series because you have to lean so much on that right side versus in Xfinity.
"Yes, you lean on the right side, but it's got that composite body. The bodies aren't very flat and straight. That was another big thing for me. It was just kind of seeing how you protect that."
Looking Ahead
Recognizing that he's still learning, Vargas has picked up on quite a bit about the Truck Series. Incidents in the Truck Series are often wrong place, wrong time, especially with the heavily dependent right-side aerodynamics. He's also seen how momentum based the series is.
Only time will tell just how fast Vargas will acclimate to his Toyota Tundra TRD after several years of competition in the Xfinity Series. His next test is the SpeedyCash.com 250 at Texas Motor Speedway on Saturday, April 1 at 4:30 p.m. ET.
Vargas has four starts in the Xfinity Series at Texas including his first career top-10 finish in NASCAR's National Touring Series.
The SpeedyCash.com will be broadcast on Fox Sports 1, the Motor Racing Network, and SiriusXM NASCAR Radio, channel 90.