By Jerry Jordan, Editor
JUSTIN, TX – The unexpected inclusion of rain on Lap 52, which has now delayed racing for 21 hours, will definitely have an impact on how teams and drivers compete when the action resumes at Texas Motor Speedway.
For drivers, it's all about finding a line with the best grip and making their way to the front. But for crew chiefs, it's a little more complicated. Matt McCall, crew chief on Kurt Busch's No. 1 Monster Energy Chevrolet for Chip Ganassi Racing, said he has been going over a number of different scenarios in his head.
"We texted back and forth this morning, talking about the weather and when we think we might get back going. He's ready to go, he's a racer no matter what time of day it is or what the conditions are, he's sitting on go," McCall said. "Obviously, the track getting rained on it for a while changes it, for sure. We're just going through the scenarios like you mentioned to make sure aren't missing anything that's obvious and continue to push forward in the right direction."
One of the biggest differences will be the grip level with the cars. Not only will there be changes with the asphalt but the PJ1 traction compound gets very slick when it's wet, as evidenced when Kevin Harvick got loose and hit the wall before NASCAR red-flagged the race on Sunday.
"As far as track grip level, it's going to start really low," McCall said. "The PJ1, once it rains it takes a while for it to get activated again and, obviously, it takes some temperature for that to happen again. As cool as it is, it's even cooler than it was yesterday – over 20-degrees right now – so, to give you a number I would say it's probably a couple percent less grip, for sure, in the track to start today.
"I think you saw a couple of guys get out of the groove there and either get into the fence or get pretty close to getting into the fence there. It is definitely changing as far as how the drivers are going to attack and I think that is the biggest thing."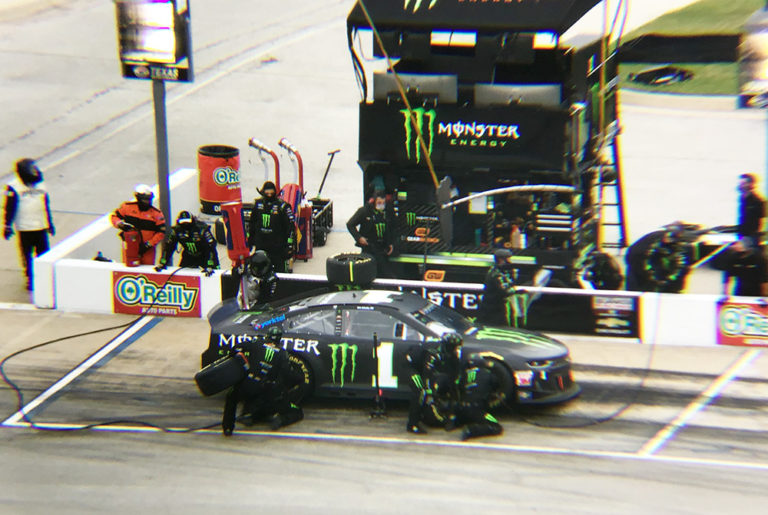 McCall said he thinks drivers will play it safe for a while but there is a bright side.
"There is a potential with these conditions the lap times will be even better once everything gets heated up, assuming the PJ1 is still an option, which I'm sure it will be, and being able to run during the race as far as getting heated up and getting the lap times back."
The teams won't really have a chance to make any changes to the car before they go back racing other than checking the air pressure in the tires. However, once they are back underway there is always the option to pit for adjustments that could make the car faster.
"It's up in the air whether the green track will make a difference on the wear of the tires, so the strategy will probably get flip-flopped here once we get back going today and it will start, hopefully, somewhat getting normal towards the end of the race."
As for the logistics of having to stay an extra day, or possibly even longer, to get the Autotrader 500 in McCall said his guys are always prepared. Even though the race was supposed to be a one-day show, NASCAR crews know they can't control the weather and there is always a chance that plans will change.
"Most of the people that do this every week, especially the guys on my team, as much experience as they have, you just plan on staying for a couple of days every week no matter what," McCall said. "The travel lady at our shop, she does a great job making sure that we have somewhere to stay, so it was just a matter of getting there, taking a little rest and coming on back to the track."
When the field goes back to green for the final 282 laps, Clint Bowyer, will lead them with Jimmie Johnson to his right. The Top 10 consists of Erik Jones, Joey Logano, Martin Truex Jr., Chase Elliott, Ryan Blaney, Austin Dillon, Brad Keselowski and Kyle Busch, respectively.