By Jerry Jordan, Editor
The same downpour that delayed the Coca-Cola 600 at Charlotte Motor Speedway also impacted seven-time NASCAR Cup Series Champion Jimmie Johnson's trip to race the No. 24 Hendrick Motorsports Garage 56 car in the 24 Hours of Le Mans.
As the rains fell Sunday, Johnson told Kickin' the Tires that he was "standing in front of my closet" contemplating what he was going to wear for the next couple of weeks in France. His travel plans were much like any of the NASCAR fans traveling to a major stock car race – he was flying commercial and would then be driving to the Circuit de la Sarthe, home to perhaps the most prestigious automobile race in the world.
"I started packing today and I'm gone a while so I've been staring at my closet for a good hour, or so, just wondering what I am going to take because, hopefully, Monday evening I am on a flight over," Johnson said. As fate would have it, Johnson missed his Monday evening flight because of the weather in Charlotte.
Still, as he discussed plans for the upcoming two-week stint in France, Johnson explained it was a little different than making the NASCAR West Coast Swing when it came to getting everything together. For one, he was going to France without his family and two, the drivers have a lot of different responsibilities leading up to the race.
"It is a little different and then we're going to bounce around a little bit and do some content creation," he said. "I think the drivers are planning to go out of the French Open, so I think Monday the (June) 5th we're gonna shoot over there for that.
"Once I'm at the track, it's pretty easy and I'll wear my fire suit most of the time or team apparel but I was looking at the schedule to understand what media obligations, what dinners and there's a fair amount of entertainment that's taking place with all the parties involved. And I've got, I think, four days in Paris before I head down to Le Mans, so it's going to take a variety of clothing to get through these two weeks."
Johnson does have a few things he has to do for the Automobile Club de l'Ouest (ACO), which is the largest auto club in France and serves in a role similar to NASCAR as a sanctioning body. One of the requirements set out by the ACO was that Johnson had to get in their simulator and he will also have to make laps in the Hendrick Motorsports Camaro before the race.
"The first few days I have a SIM session that I need to drive the ACO SIM and understand their procedures and protocols around the track and there can be a virtual caution, there are slow zones, and there are a variety of differences between IMSA and the 24 Hours of Le Mans, ACO and FIA regulations," Johnson said so that he can familiarize himself with braking distances, passing and other nuances of Le Mans. "Unfortunately, that SIM time for me, I think I have to be there Wednesday morning at 8 a.m., so to be safe and make sure if I have a canceled flight, I am leaving Monday."
That didn't happen. Johnson ended up leaving for France on Tuesday but Kickin' the Tires confirmed he was able to get in the ACO simulator and would be in the racecar over the next few days.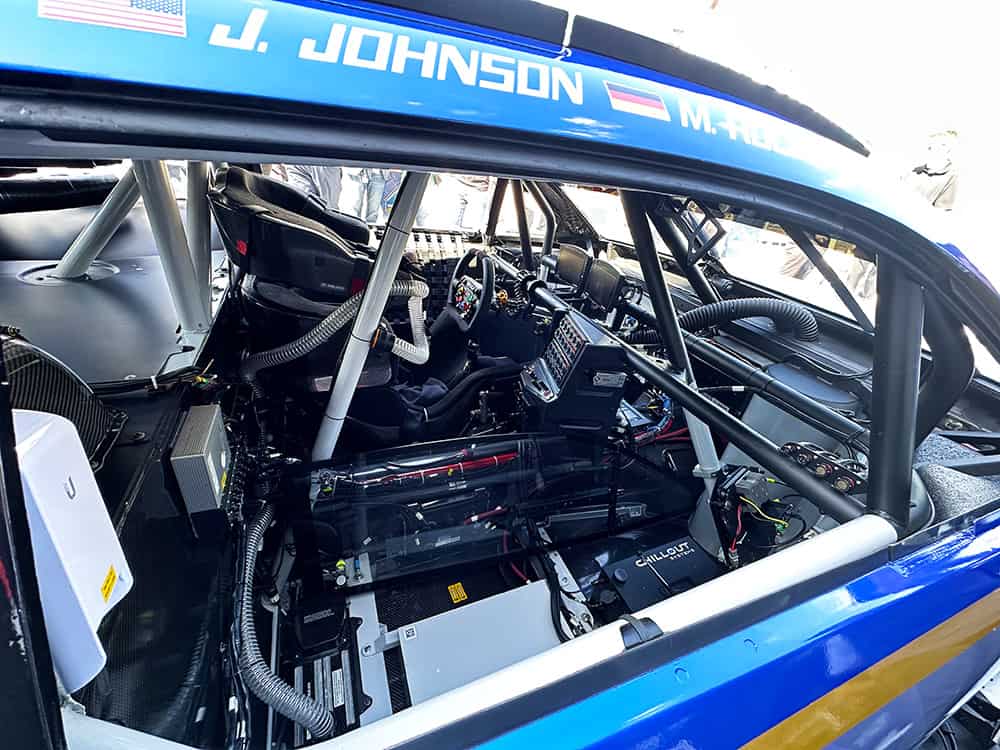 "I need to be down in Le Mans on Saturday, so I will hang out in Paris for a few days. Unfortunately, I'll be by myself. I think I'll have a couple of folks with me from my office but, you know, I'll just keep the training ramped up."
He joked that with all of the dinners and fine French food, he would likely have to train and work out even harder before the race.
"Really, my training has ramped up as it should for a 24-hour race, so I will try to stay sharp there and try not to overeat," he said.
Because the No. 24 car is entered as the "Innovation Entry." It is a race category that was created by the ACO in 2012 to allow for the experimentation with a vehicle using new technology, ecological or innovative measures without taking away from the car count of the 24 Hours of Le Mans. Only once has a Garage 56 entry finished the 24 Hours of Le Mans and that car was actually a Le Mans Prototype modified for adaptive driving by paraplegic racers. The NASCAR entry by Hendrick Motorsports is a purpose-built racecar based on the Next-Gen platform.
And there is a strong possibility that the No. 24 Camaro could be a factor in the race. Earlier this year, the team of Johnson, Mike Rockenfeller and Jenson Button ran over 758 miles at Sebring International Raceway in Florida. The trio ran 216 laps in one of two modified Chevrolet Camaro ZL-1 racecars. According to Hendrick Motorsports, the backup car was used for most of the runs and overall the two cars have been driven more than 6,834 miles in advance of next weekend's spectacle.
When asked about what benefits NASCAR, Chevrolet and Hendrick Motorsports – which is sharing its data with Toyota Racing Development and Ford Performance – were getting from the Garage 56 endeavor, Johnson said, "There has been a ton of innovation trying to adapt an oval vehicle to proper road racing. There has been a lot of innovation in place to help this car create lap times in similar areas as the cars we will race on the track. And there has been a lot of thought, for us, around where we are fast. Our cars can top out at 215 mph or 220 mph but they are not going to corner or stop anything like a prototype does or GT car. So, there is a flow on track that hope to maintain and have really worked hard to maintain.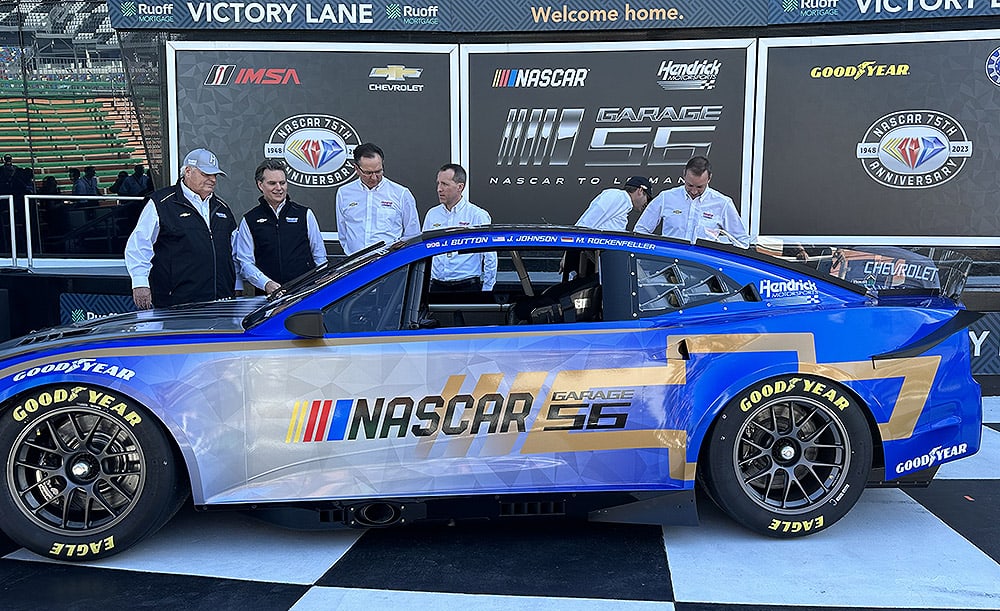 "From an innovation standpoint, the amount of downforce we've put on a stock car, the amount of weight that's been taken out of it, the way we are creating downforce through the bottom of the car and the way the bottom of the car interfaces with the road and the tunnel that's under the car is innovative for us from a NASCAR standpoint. I think from the overall spectrum of motorsport, maybe not as much, but certainly for the world of NASCAR, it is quite innovative. Carbon fiber breaks can't forget that and a ton of electronics that are involved in the car. We have traction control which you don't have in NASCAR. You know, there are a lot of things that are certainly innovative for NASCAR that are on this vehicle heading over."
Johnson said he is hopeful the team will get a chance to qualify the car, which he said he is happy about.
"I think I heard we will have a shot to qualify," he said. "It would be nice if we had pace and we could qualify somewhere respectable inside the GT field, that would be a huge coup for us."
Johnson also explained that all drivers will get a turn behind the wheel before the race. And just because Johnson has two runner-up finishes in the Rolex 24 at Daytona, was rookie of the year in the 2022 Indy 500, has seven NASCAR Cup Series championships and 83 race wins, he doesn't get a pass on proving his ability behind the wheel. He is a new driver at Le Mans and the ACO has rules that require him to prove that he is capable in the racecar.
"I have to get in the car as a new driver and complete 10 green-flag laps," Johnson said. "The other two drivers and maybe even Jordan (Taylor) have a certain amount of laps that they need to complete in the day and then when we go to the night, we all have the same amount of laps to run at night to then be deemed eligible to run.
"There is a ton of on-track time and our first goal is to go out and, of course, get a balance check on the vehicle, but to check all the boxes, so every driver has a certain amount of green flag laps they need to take, in order to be deemed eligible to race. And that's daytime and at night. So, based on the run schedule I've seen so far, you know there's an opening run for Rockefeller to shake the car down."
Although he wasn't 100 percent sure about Taylor's requirements to get on the track, he said, with Taylor being the designated backup driver, he would think he also had to make a lap, or two, in the car. He said that is something NASCAR does, which came into play when he was on "baby watch" and had to line up Aric Almirola as a substitute driver to have on standby.
"Right now, Jordan is not scheduled to run in the race but he is going as our backup driver," Johnson said.
There were two things Johnson stressed. He isn't nervous, at least, not yet and he isn't in a hurry for the race to get underway. But he really is.
"I am so excited for it," he said. "It really is a dream come true and it's not that I want it to hurry up and get here because I want to savor every minute of it that I get to experience while there and while in the car but I am ready to get going.
"It really is a dream opportunity."
EDITOR'S NOTE: The Kickin' the Tires team will provide daily updates and coverage from the 24 Hours of Le Mans, both from the U.S. and in France, so be sure to click the Le Mans tab to follow along and subscribe to our YouTube Channel for edited feature videos and live streaming throughout the week leading into and after the race.