By Sarah Handy, Staff Writer
NASCAR Cup Series team StarCom Racing, and their driver Quin Houff have teamed up with SungateKids to help fight child abuse nationwide.
The relationship, courtesy of Creek Enterprises an integrated information services company located in Michigan has adorned the No. 00 Chevrolet five times this season heading into Texas Motor Speedway this weekend.
StarCom Racing is asking for help in spreading the word via social media to help the team raise donations for SungateKids. Those wanting to donate can text "SUNGATEKIDS" to 243725 to make a donation.
To support this, StarCom Racing has launched a campaign filled with incentives. For those who donate to support SungateKids and children in need, you are eligible for prizes based on the amount donated.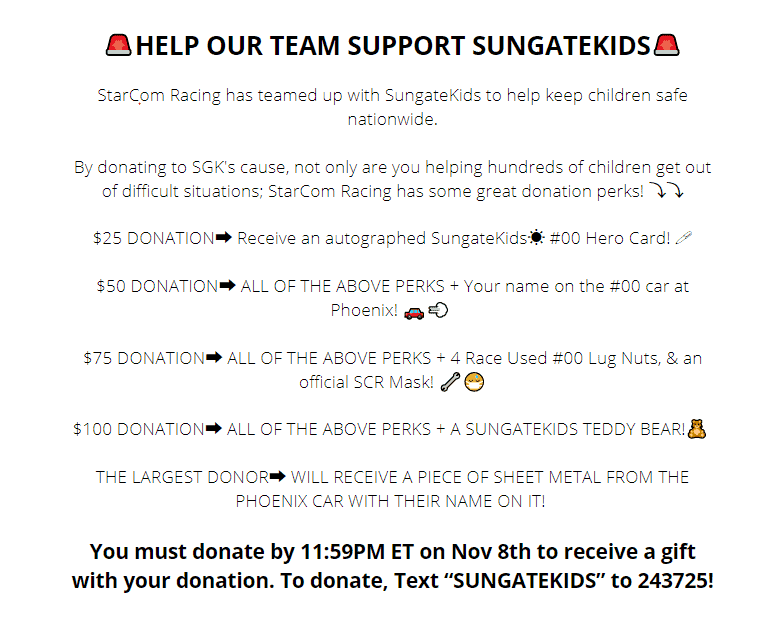 SungateKids, created by former District Attorney Bob Gallagher to help better serve children victims of sexual assault and other crimes. Overall, they have been helping children for 25 years and counting.
For more information on SungateKids you can visit their official website at: https://sungatekids.org/
Don't forget! All you have to do is text 243725 to donate! #ForTheKids #z00m pic.twitter.com/XByvNo3sb0

— Quin Houff (@P1_Houff) October 18, 2020
Photo Credit: Courtesy of StarCom Racing