By Seth Eggert, Staff Writer
eNASCAR's trip to Kansas Speedway looked to be Keegan Leahy's playground until late cautions handed the race to Nick Ottinger.
Early Race
Denny Hamlin Racing's Leahy dominated the first 120 laps of the second round of the eNASCAR Coca-Cola iRacing Series Playoffs. The driver of the virtual No. 32 Drive Force Pro Toyota Camry led 85 of the first 120 laps. Leahy had over two seconds on Ottinger until the caution waved with seven laps to go.
Clint Bowyer Racing drivers Brian Schoenburg and Brandon Kettelle collided sending the No. 14 spinning on the backstretch. The duo were battling for 27th when they brought out the caution.
Leahy brought almost the entire field onto pit road. Michael Guariglia, Phillip Diaz, and Jarl Teien stayed out on old tires. As the field took the green with two laps to go in the 134-lap scheduled distance, Corey Vincent clipped Bob Bryant. The contact results in Bryant, Graham Bowlin, Brad Davies, Blake Reynolds, and Kettelle crashing in turn one.
Overtime
In overtime, the three drivers on old tires lined up ahead of eNASCAR Playoff drivers Leahy, Ottinger, and Michael Conti. In turn three, Leahy was clipped by Chris Shearburn. The contact sent him down into Ottinger before he spun back up the track, collecting several other drivers including Garrett Lowe.
When the field lined up for the second attempt at overtime, William Byron eSports driver Ottinger pounced. He made quick work of Diaz and Teien before jumping to Guariglia's outside in turn 3. Ottinger cleared Guariglia off turn three before taking the white flag.
Immediately after the white flag, a bold move by Logan Clampitt set off a massive wreck. Contact between the Burton Kligerman eSports driver and Team Dillon Management's Michael Guest sent the No. 33 spinning. Guest collected Diaz, Teien, Conti, and others. Meanwhile Ottinger cruised in his virtual No. 25 Logitech G Chevrolet Camaro ZL1 1LE to a 0.436 second victory over Clampitt.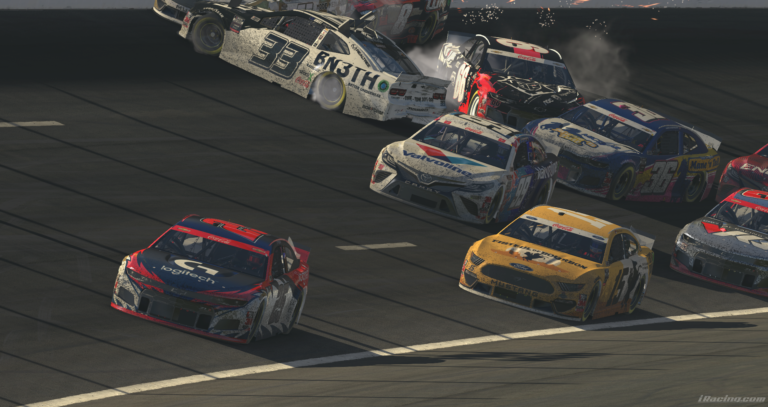 "That was just about the grip in the tires," Ottinger explained about the move for the win. "I knew they were on old tires and that they were hot. One we got past 20 laps on the tires that they'd be difficult if they did anything remotely in turns one and two.
"This was a lot of hard work for my team. I'm so excited to have a shot for it with William Byron eSports. We're going to Homestead! I'm so excited! To get to the final four, it was tough this year. This is the toughest it's been for me and I think we've been rising to the occasion and bringing really good cars."
Notables
eNASCAR Playoff drivers Bobby Zalenski and Ryan Luza finished third and fourth. Guariglia crossed the line in fifth with three more Playoff drivers, Jimmy Mullis, Ray Alfalla, and Lowe taking sixth through eighth. Nathan Lyon and Malik Ray completed the top-10. Conti limped to the line in 12th while Leahy was out of the race in 32nd.
Runner-up finish Clampitt and 14th-place Schoenburg were the hard chargers of the race. Both drivers gained 24 spots from where they started.
Leahy in 32nd and Davies in 35th both earned the tough break of the race. Both drivers ended up a distant 30 positions behind their starting positions.
While Leahy led the most laps, 85, Lowe ran the fastest lap of the race on lap 88, 29.179 seconds (185.065 MPH).
Championship Opportunity
Ottinger has three finishes in the top-four in points in eNASCAR competition, from 2012 through 2014. However, that was before the introduction in 2017 of the Championship 4, winner-take-all format that is modeled after the real-life NASCAR counterpart. 2020 marks Ottinger's first chance at the eNASCAR Championship.
"The growth is extraordinary," admitted Ottinger. "We've got so many partners and real-world drivers invested in the eSports world. I think the sky's the limit. It'll just keep growing and growing."
Points
With both Ottinger and Zalenski locked into the Champion 4 at Homestead-Miami Speedway, two spots remain. Mullis and Luza currently hold those two spots with Mullis four points ahead of the cut line.
Lowe is eight points below the cutline while Leahy dropped to 19 markers behind. Alfalla is 21-points behind Luza, now in a must-win situation. Conti is also in a must-win position, 43-points behind the cutline.
The Finish
1. 25-Nick Ottinger [1], 2. 99-Logan Clampitt [26], 3. 83-Bobby Zalenski [8], 4. 53-Ryan Luza [27], 5. 15-Michael Guariglia [20], 6. 46-Jimmy Mullis [16], 7. 2-Ray Alfalla [11], 8. 21-Garrett Lowe [24], 9. 6-Nathan Lyon [18], 10. 51-Malik Ray [13], 11. 4-Santiago Tirres [19], 12. 8-Michael Conti [10], 13. 37-Christian Challiner [29], 14. 79-Brian Schoenburg [38], 15. 47-Steve Sheehan [35], 16. 27-Corey Vincent [15], 17. 14-Brandon Kettelle [17], 18. 10-Justin Bolton [30], 19. 18-Graham Bowlin [4], 20. Eric J. Smith [20], 21. 97-John Gorlinsky [6], 22. 55-Caine Cook [12], 23. 3-Blake Reynolds [28], 24. 41-Dylan Duval [33], 25. 66-Jarl Teien [37], 26. 77-Bob Bryant [3], 27. Chris Overland [31], 28. 5-Matt Bussa [7], 29. 24-Jake Nichols [32], 30. 33-Michael Guest [21], 31. 75-Phillip Diaz [36], 32. 32-Keegan Leahy [2], 33. 90-Zack Novak [22], 34. 36-Chris Shearburn [9], 35. 88-Brad Davies [5], 36. 23-Casey Kirwan [23], 37. 17-Kollin Keister [14], 38. Alex McCollum [34].
Lead Changes: 16 among eight drivers.
Lap Leader(s): Nick Ottinger 1-5, Keegan Leahy 6-7, Nick Ottinger 8, Keegan Leahy 9-47, Ray Alfalla 48, Nathan Lyon 49, Michael Guariglia 50-58, Nick Ottinger 59-60, Keegan Leahy 61-90, Nick Ottinger 91-94, Brandon Kettelle 95, Michael Guariglia 96-109, Jarl Teien 110-113, Phillip Diaz 114-115, Keegan Leahy 116-129, Michael Guariglia 130-142, Nick Ottinger 143-144.
Laps Led: Keegan Leahy 85, Michael Guariglia 36, Nick Ottinger 14, Jarl Teien 4, Phillip Diaz 2, Ray Alfalla 1, Nathan Lyon 1, Brandon Kettelle 1.
Hard Charger(s): 99-Logan Clampitt and 79-Brian Schoenburg (+24).
Tough Break(s): 32-Keegan Leahy and 88-Brad Davies (-30).
Cautions: Three for 12 Laps.
Margin of Victory: 0.436 seconds.
Time of Race: One hour, 25 minutes, 10.725 seconds.
Average Speed: 152.151 MPH.
Pole Winner: 25-Nick Ottinger, 28.941 seconds (186.587 MPH).
Fastest Lap: 21-Garrett Lowe, Lap 88, 29.179 seconds (185.065 MPH).
Strength of Field: 6,779 average iRating.
Photo by Seth Eggert / Kickin' the Tires