By Seth Eggert, Associate Editor
The Rackley Roofing 200 proved to be a career night for Niece Motorsports driver Bayley Currey.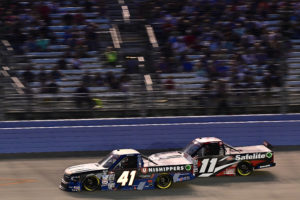 Friday night's NASCAR Craftsman Truck Series race at Nashville Superspeedway marked several firsts for the Driftwood, TX native. Currey scored his first front row starting spot. The 26-year-old translated that into his first career lap led in the Truck Series.
Currey's No. 41 Unishippers Chevrolet Silverado was inside the top-10 throughout the 200-mile race. He often found himself in the thick of the fight for the lead with Corey Heim, Zane Smith, and teammate Carson Hocevar. Repeated cautions in both the second Stage and final Stage dropped Currey out of the top-five for a time.
A late-race caution setup a three-lap run to the finish. Currey used the chaotic nature of Truck Series restarts to slip by fellow Team Chevy drivers Matt DiBenedetto and Chase Purdy. Currey held the duo off to take the checkered flag in fifth.
"Today was just what this team needed," Currey explained. "The WWEXRacing/ Unishippers Silverado was incredibly fast and that showed with how well we qualified and ran in the race. I've never had a race like that where we battled up front for the entirety of the race.
"I'm so proud of this team because this is the kind of finish they deserve. I'm just blessed with the opportunity to drive these trucks and thankful for everybody who makes it possible."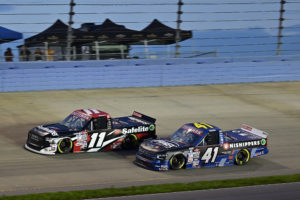 Currey finished the first two Stages in third and seventh respectively.
The fifth-place finish was Currey's second top-five this season and the second in his Truck Series career. It was also the first top-five for the No. 41 Chevrolet since Currey's runner-up finish at Atlanta Motor Speedway earlier this season.
Though he's not competing for the Truck Series championship, the points Currey earned aid Niece Motorsports' efforts in the owner points battle. The top-five finish moved the No. 41 Chevrolet up from 16th to 14th in owner points. Currently the team is 30-points below the owner points playoff cutline, currently held by the ThorSport Racing No. 88 Ford F-150.
Next for the Truck Series is the O'Reilly Auto Parts 150 at the Mid-Ohio Sports Car Course at 1:30 p.m. ET on Saturday, July 8 on Fox Sports 1. Conor Daly will drive the No. 41 Chevrolet on the road course.
The O'Reilly Auto Parts 150 will also be broadcast on the Motor Racing Network and SiriusXM NASCAR Radio, channel 90.