By Christian Koelle, Staff Writer
The victory at Las Vegas last season meant a lot to Eckes at the time but today, that victory helped pave the way for a full-time effort with ThorSport Racing in 2022.
After losing his ride following the 2020 season at Kyle Busch Motorsports, the 2019 ARCA Menards Series champion stepped back and ran part-time with ThorSport Racing sharing a ride with Grant Enfinger. Eckes earned his first career victory at Las Vegas Motor Speedway and tallied two top-five and five top-10 finishes.
2022 will be Eckes second full-time schedule, first with ThorSport Racing. As noted above, Eckes raced full-time with Kyle Busch Motorsports in 2020. He earned seven top-five and 11 top-10 finishes with the organization with the best finish of second three times (Texas, Kansas, and Michigan). He finished eighth in Truck Series points but was released by KBM after the season concluded.
"I am extremely excited to be back with ThorSport Racing and ready to kick the year off at Daytona with AHI Facility Services on the No. 98 Toyota Tundra TRD Pro," Eckes said in the release. 'This is an amazing opportunity and I'm more than ready to show that I belong."'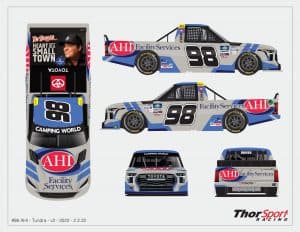 With Grant Enfinger moving to GMS Racing in 2022, Eckes will take over the No. 98 Toyota Tundra. Matt Crafton and Ben Rhodes will also both return to the organization in 2022 while Johnny Sauter moves to G2G Racing for the season opener and 12 other races.
Eckes will have backing from AHI Facility Services in the season opener at Daytona.
"We are thrilled to continue our partnership with ThorSport Racing this season," said Todd Haddock, President of AHI Facility Services, Inc. 'I am excited to see the AHI Facility Services Toyota Tundra TRD Pro hit the track at Daytona with Christian Eckes."
Photo: Nigel Kinrade Photography