By Christian Koelle, Staff writer and
Jerry Jordan, Editor
Current ARCA Menards Series points leader Corey Heim will make his NASCAR Camping World Truck Series debut on May 7 at Darlington Raceway piloting the No. 51 JBL Toyota Tundra for Kyle Busch Motorsports, Kickin' the Tires has confirmed.
An official announcement is expected later this week but Kyle Busch confirmed the move Monday at Circuit of the America's in Austin, TX during a question and answer session with members of the media. Busch said he was excited to see Heim get behind the wheel because he has been on a run of recent success and he'd like to see what he can do.
"I have watched Corey for the last couple of years in Super Late Model competition and he was getting better, doing better, getting more upfront and running up front and winning races and such," Busch told Kickin' the Tires. "He got a chance to be in some ARCA stuff and was able to be victorious in that, so that's been fun to watch and all of that is within the Toyota system so it's neat to see that growth. It's no different than an Erik Jones or Christopher Bell or William Byron of whatever, John Hunter (Nemechek) missed out on all that but now he is getting a taste for it now."
Nemechek, fresh off a win this past weekend at Richmond Raceway was also on-hand for a Toyota announcement involving an entitlement sponsorship for the upcoming Camping World Truck Series race at COTA and to name Toyota as the official track vehicle. When Busch mentioned his return, Nemechek said, "It's good to be home."
When asked if Busch saw Heim as another weapon in his arsenal of young drivers that he has brought to the NASCAR ranks, he said it wasn't technically his drivers but it was all about Toyota's driver development program.
"I wouldn't call him my young gun but certainly Toyota is involved with that," Busch said. "So, you know, Corey is just another one that is on the list that could be a future star in our sport, who knows. But, you know, John Hunter is doing a good job of keeping the equipment up front and giving it a good run for its money. And hopefully, with Drew Dollar and Corey Heim and a couple of the others with Parker Chase, he ran really good at the Daytona Road Course before he ran into some trouble. So, it's cool to see guys getting some good runs in and I look forward to seeing Corey do the same thing."
Heim, an 18-year old Marietta, Georgia native already has two career ARCA Menards Series victories in 18 starts. He kicked off the 2021 campaign with a victory at Daytona in his superspeedway debut. Then he followed it up with a runner-up finish at Phoenix this past month. Heim currently has a two-point lead over Ty Gibbs in the ARCA Menards Series points standings.
Koelle: Corey Heim Wins at Daytona in One Lap Shootout; 1-2 Finish for Venturini Motorsports
Koelle: Derrick Lancaster and Corey Heim Lead ARCA Preseason Testing at Daytona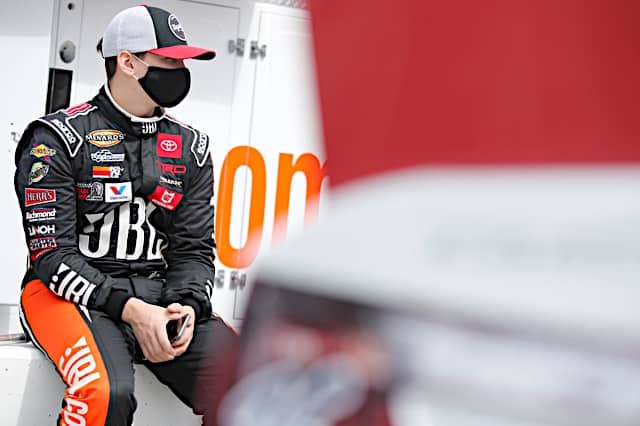 Heim was first seen in the CARS Super Late Model Tour in 2018. He ran a full season with his father's team and improved over time debuting at Myrtle Beach. By the end of that season, Heim found victory lane at South Boston leading 51 laps and ending the season second in the points standings to Jared Fryar.
He has started in all three ARCA Menards Series divisions, making his debut in the main ARCA Series at Five Flags Speedway in 2019. Before joining Venturini Motorsports in 2020, Heim spent his time with Chad Bryant Racing tallying eight top-five and 12 top-10 finishes. The breakthrough came in 2020 where Heim made his debut at Kansas in July with Venturini where he finished fourth, when he returned to Kansas in October he led 82 laps en route to his first career victory.
Following that victory, Venturini Motorsports gave Heim the opportunity to run full-time in the ARCA Menards Series. He will now receive the opportunity in the NASCAR Camping World Truck Series with help from JBL.