By Seth Eggert, Staff Writer
Devon Rouse's surreal journey from racing Sprint Cars to the NASCAR Camping World Truck Series. He was recognized by NASCAR's Drive for Diversity program in a video during their 2021 Awards Ceremony which highlighted his career, possibly raising it to new heights.
Prior to his NASCAR debut and a test in the ARCA Menards Series at Daytona International Speedway, Rouse was competing on dirt at 34 Raceway in West Burlington, IA. His best career finish in the track standings was third in the 2016 season.
A test for Reaume Brothers Racing at Myrtle Beach Speedway led to plans for a Truck Series debut at Eldora Speedway in 2020. Those plans were sidelined by COVID-19 and the realignment of the Eldora Truck race.
"I look back to where I was even a year ago and knowing that I had the potential to do my first truck race at Eldora coming from the dirt world and then to have, COVID-19 shut everything down," explained Rouse. "So, I guess we could go back to two years ago to see where I've come (from).
"Two years ago, at this point I didn't have any [contacts] in NASCAR. Wasn't doing anything with NASCAR. About a couple of weeks from now where we are two years ago was when everything started just out of nowhere. It's crazy to think, here I am at my first, Drive for Diversity NASCAR awards banquet. What I've accomplished this year and what I've done with my career, it's so surreal and to see where we can keep going."
About a month before the date of the scheduled Truck race at Eldora, NASCAR announced a partnership with You Can Play Team in support of Pride Month. The announcement was one of many steps NASCAR took to be more inclusive.
We are a diverse team whose identities, backgrounds & talents allow us to go faster & farther in our offices, at the track & in the stands.

We've joined @YouCanPlayTeam to ensure safety & inclusion of LGBTQ athletes, coaches & fans. #PrideMonth

Details: https://t.co/rOJi422X4P pic.twitter.com/pHAQxUgZQT

— NASCAR (@NASCAR) June 9, 2020
NASCAR's partnership, and its' Tweet, caught the attention of Rouse. He used the opportunity to publicly come out. The response from most of the NASCAR community was supportive. Prior to his Truck Series debut at Knoxville Raceway, Rouse was interviewed by NASCAR on FOX's Shannon Spake.
"Gay. Straight. You are who you are. I am going to be able to help so many other people overcome what I went through." @NASCAR driver Devon Rouse (@MrRouse16) shares his journey with @ShannonSpake.#PrideMonth | #RaceHub pic.twitter.com/BFYoiLEIPW

— FOX: NASCAR (@NASCARONFOX) June 30, 2021
"As I said, in my coming out episode with NASCAR, when I came out publicly to everybody on (NASCAR on Fox's) Race Hub, my biggest thing was coming out in the racing world," admitted Rouse. "I was so worried about altering any future sponsorships, any future driving opportunities. We're getting into a more accepting world, but there's some people that just aren't there yet.
"I wasn't okay, me still living that double life (at the time, before coming out), to continue to try and catch my dream career. But to know how accepting everybody has been here, NASCAR and their partners have been, I couldn't ask for honestly, anything better. They have been so great to me."
Knoxville ultimately was 'third time's the charm' for Rouse. Following the cancellation of the Eldora race, he turned his attention to the Pinty's Truck Race on Dirt at the Bristol Motor Speedway Dirt track. However, sponsorship issues changed those plans. Fans on social media stepped in and both they and Rouse caught the attention of Camping World CEO Marcus Lemonis.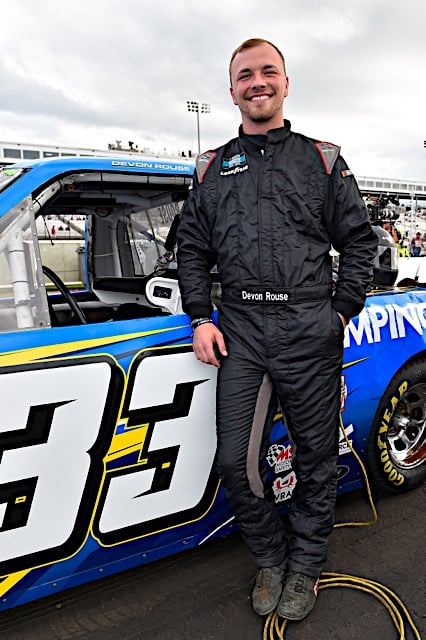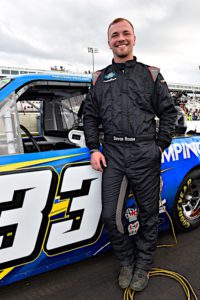 "I haven't heard anything negative from anyone within NASCAR," stated Rouse. "Negative fans and stuff, that's different. Everybody's got their haters, but NASCAR as a whole and people working within NASCAR team-wise I haven't had anything. Garage has been great. Media has been great. It's really reassuring."
When Rouse made his debut at Knoxville, he was in the No. 33 Camping World Chevrolet Silverado for the Reaume Brothers. With an 18th-place finish, he became the first openly LGBTQ driver to finish inside the top-20. Rouse is just the second to compete in the Truck Series. Stephen Rhodes was the first LGBTQ driver to compete in NASCAR, earning a best career finish of 21st at Martinsville Speedway.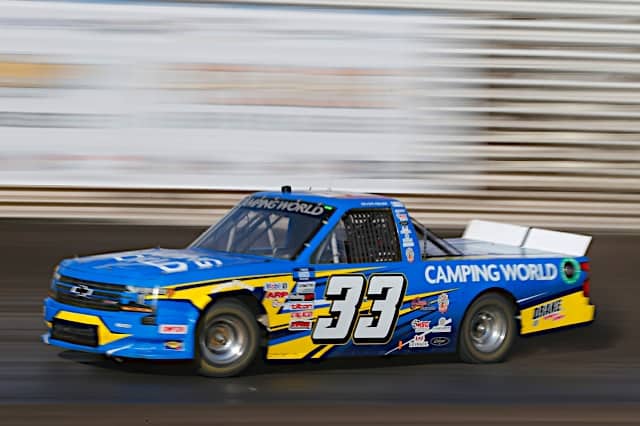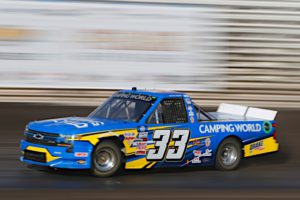 Although not a Drive for Diversity participant, Rouse has been working with the program to expand NASCAR's inclusion. Currently, he is the only openly LGBTQ driver on the NASCAR grid. LGBTQ representation in motorsports can be seen in endurance racing, open wheel racing, including the W Series, and sports car racing.
"I've been working very, very closely with the Drive for Diversity team and NASCAR as a whole. The Drive for Diversity team brought me in as one of their own," explained Rouse.
"They were one of the first people to reach out to me when all this started. They've been absolutely great to me. Working with them has been great. I was telling somebody earlier, 'I walked into this awards banquet today and they're (NASCAR's President, CEO, and COO) greeting me, calling me by name.' I'm like, 'oh my gosh, like you know who I am?'
"And to tell me that what I'm doing for the sport, that kind of hit. Listening to Bubba Wallace's speech today and knowing what he's done for NASCAR. I was sitting there listening to him, I'm like he has done so much for NASCAR, and I can't wait to see what I can do for NASCAR."
As for Rouse's future in NASCAR, the outlook is bright. He hopes to announce future plans by the end of the year.
Featured Photo Credit: Photo by NKP / NKP Photo.