By Reid Spencer
NASCAR Wire Service
MADISON, Ill. – Taking advantage of Ty Majeski's and Zane Smith's wreck at the front of the field, Grant Enfinger grabbed his second NASCAR Craftsman Truck Series victory of the season in Saturday's Toyota 200 at World Wide Technology Raceway.
During a two-lap overtime that took the race two laps past its scheduled distance of 160 laps, Enfinger held off Christian Eckes to claim his first win at WWT Raceway and the ninth of his career.
Enfinger crossed the finish line .256 seconds ahead of Eckes and collected a $50,000 bonus for winning the second event in the Triple Truck Challenge.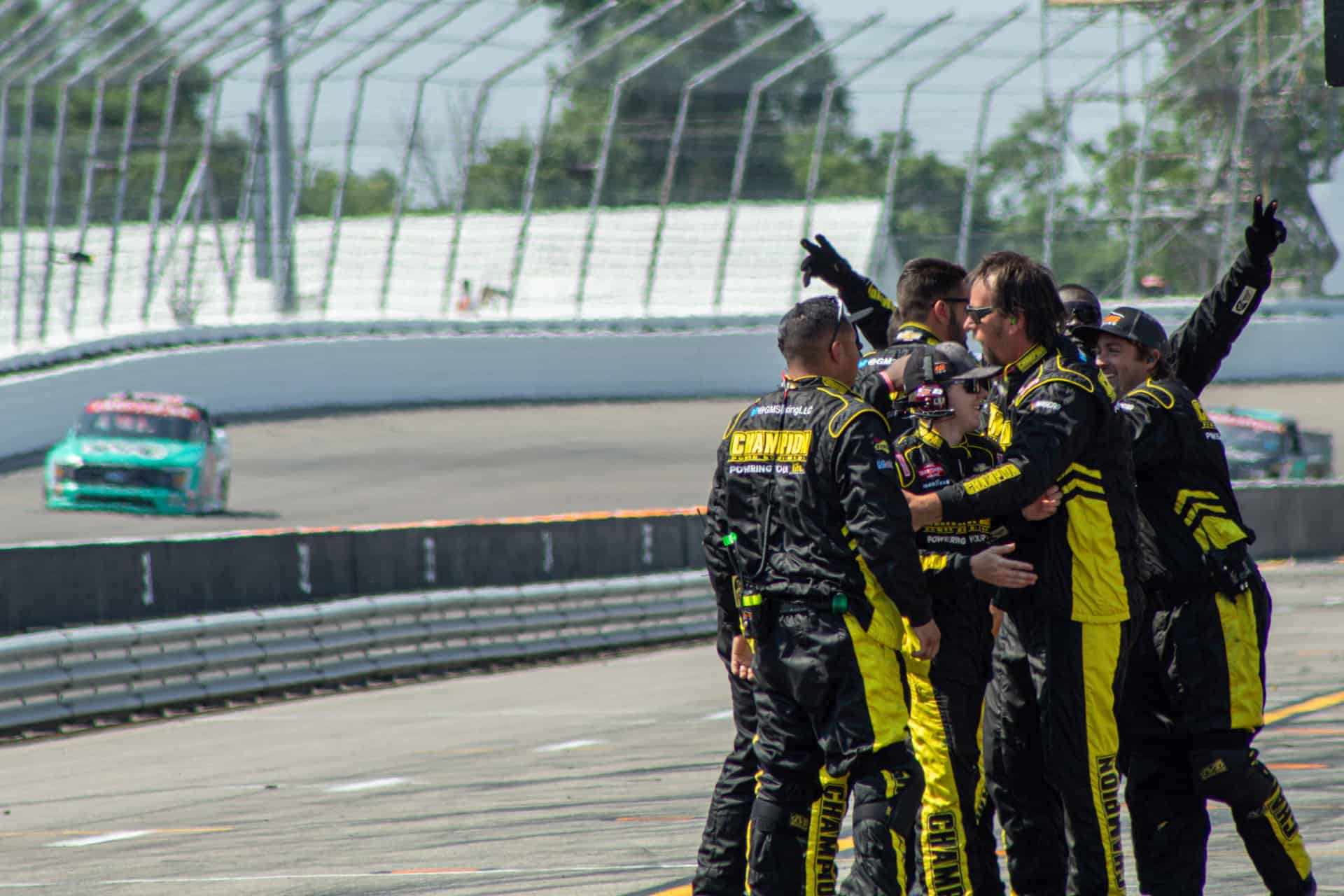 "I forgot about that, to be honest with you right now," Enfinger said of the Triple Truck Challenge bonus. "It's just so hard to win these races. And if it was about money, we'd have quit a long time ago… It's been a rocky year. But these last five races, I feel like we've come to our own.
"(Crew chief) Jeff Hensley made great calls and overall just a just a great day, and the stars aligned."
Enfinger likely would have settled for third place, had Majeski and Smith not wiped out in front on him on Lap 155. Smith held the lead at that point, even though he had made his last pit stop on Lap 90.
On older tires, Smith held an advantage of nearly 1.5 seconds when Lawless Alan's spin on Lap 150 necessitated the 10th caution of the race.
After the subsequent restart on Lap 155, Majeski, the pole winner, charged into second place and ran side by side with Smith until Majeski spun sideways in Turn 2, destroyed his own truck and knocked Smith into the wall in the process.
The wreck sent the race to the overtime, with Enfinger in the lead and Eckes beside him for a restart on Lap 161. Enfinger cleared Eckes on the first overtime lap and pulled away to win by a truck-length.
"I don't know if we were just kind of living right there the end or whatever, but Ty kind of did what I did last year… and Ty just got loose underneath him. It's hard to make those moves here. But I'm just so proud of these guys…
"It's as good as time as they need to announce that we're expecting another baby, so I'll be home tonight to see (my wife), so life is good."
Stewart Friesen ran third, followed by Carson Hocevar and Chase Purdy. Matt DiBenedetto, Ben Rhodes, Nick Sanchez, Jesse Love and Jake Garcia completed the top 10.
Love was making his first start in the series, substituting for Corey Heim, who was sidelined by illness.
---
NASCAR CRAFTSMAN Truck Series Race – Toyota 200
World Wide Technology Raceway
Madison, Illinois
Saturday, June 3, 2023
(10) Grant Enfinger, Chevrolet, 162.
(3) Christian Eckes, Chevrolet, 162.
(5) Stewart Friesen, Toyota, 162.
(4) Carson Hocevar, Chevrolet, 162.
(8) Chase Purdy, Chevrolet, 162.
(15) Matt DiBenedetto, Chevrolet, 162.
(2) Ben Rhodes, Ford, 162.
(9) Nick Sanchez #, Chevrolet, 162.
(20) Jesse Love, Toyota, 162.
(7) Jake Garcia #, Chevrolet, 162.
(17) Daniel Dye #, Chevrolet, 162.
(22) Colby Howard, Chevrolet, 162.
(13) Taylor Gray #, Toyota, 162.
(25) Bret Holmes #, Chevrolet, 162.
(35) Rajah Caruth #, Chevrolet, 162.
(12) Tyler Ankrum, Toyota, 162.
(11) Bayley Currey, Chevrolet, 162.
(27) Timmy Hill, Toyota, 162.
(29) Matt Mills, Chevrolet, 162.
(6) Zane Smith, Ford, 162.
(14) Tanner Gray, Toyota, 162.
(23) Lawless Alan, Chevrolet, 162.
(32) Josh Reaume, Ford, 161.
(18) Toni Breidinger, Toyota, 161.
(34) Matt Crafton, Ford, 160.
(28) Spencer Boyd, Chevrolet, 160.
(26) Chris Hacker, Chevrolet, 159.
(33) Norm Benning, Chevrolet, 159.
(21) Jack Wood, Chevrolet, 158.
(1) Ty Majeski, Ford, Accident, 155.
(30) Stephen Mallozzi, Ford, 146.
(19) Hailie Deegan, Ford, Accident, 86.
(24) Conner Jones, Ford, Accident, 66.
(16) Dean Thompson, Toyota, Engine, 20.
(31) Clay Greenfield, Chevrolet, Accident, 0.
Average Speed of Race Winner: 80.74 mph.
Time of Race: 2 Hrs, 30 Mins, 29 Secs. Margin of Victory: 0.256 Seconds.
Caution Flags: 11 for 61 laps.
Lead Changes: 11 among 4 drivers.
Lap Leaders: T. Majeski 1-32;G. Enfinger 33-37;T. Majeski 38-43;Z. Smith 44-45;T. Majeski 46-61;S. Friesen 62-71;G. Enfinger 72-85;Z. Smith 86-89;G. Enfinger 90-127;T. Majeski 128;Z. Smith 129-154;G. Enfinger 155-162.
Leaders Summary (Driver, Times Lead, Laps Led): Grant Enfinger 4 times for 65 laps; Ty Majeski 4 times for 55 laps; Zane Smith 3 times for 32 laps; Stewart Friesen 1 time for 10 laps.
Stage #1 Top Ten: 23,98,99,38,25,15,19,4,42,52
Stage #2 Top Ten: 52,98,2,19,99,88,23,15,43,17