By Seth Eggert, Staff Writer
Rajah Caruth's climb up the racing ladder continues as he will make his NASCAR Camping World Truck Series debut at World Wide Technology Raceway at Gateway.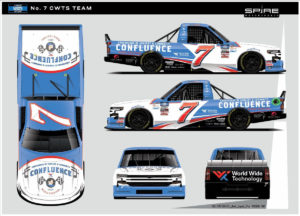 Caruth will drive the No. 7 Confluence Music Festival Chevrolet Silverado for Spire Motorsports in the Toyota 200. The start will mark the first for the 19-year-old at the 1.250-mile oval in Madison, IL.
Though the race at World Wide Technology Raceway at Gateway will be Caruth's first in the Truck Series, it is not his first in NASCAR. The Washington, D.C. native made his NASCAR Xfinity Series debut at Richmond Raceway earlier this season. In Caruth's debut he finished 24th in the Alpha Prime Racing No. 44 Chevrolet Camaro SS.
"I'm thrilled to make my NASCAR Camping World Truck Series debut this weekend at World Wide Technology Raceway with Spire Motorsports and Chevrolet," stated Caruth. "To drive the Confluence Music Festival Chevrolet Silverado and represent the Steward family and World Wide Technology is truly an honor. I'm grateful to represent them on and off the racetrack. This is the big break I've been striving for and I'm going to make it count."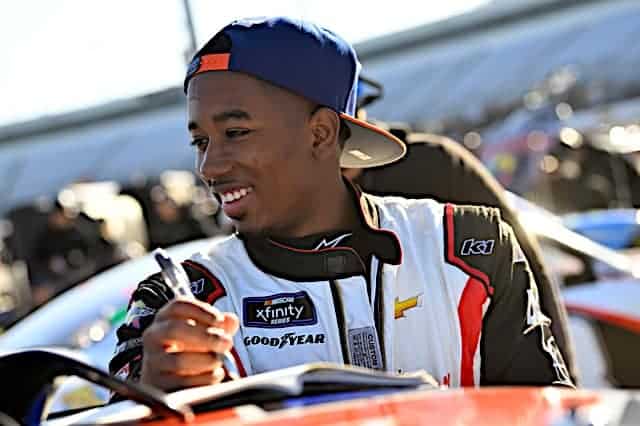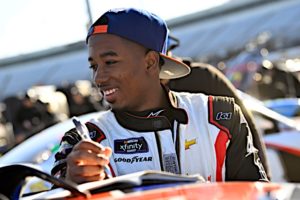 Caruth entered the NASCAR Drive for Diversity program in 2019 after showcasing his skills in the eNASCAR iRacing Ignite Series in 2018. Since then the Caribbean-American has earned multiple Late Model wins in the NASCAR Advance Auto Parts Weekly Series, at Greenville-Pickens Speedway, Hickory Motor Speedway, and Tri-County Speedway. In 2021 Caruth was the winner of the Wendell Scott Trailblazer Award.
"Raj Caruth is a rising star in the world of motor racing, and the Steward Family and World Wide Technology are thrilled to sponsor Raj in his St. Louis debut, June 4, in the NASCAR Camping World Truck Series," said David L. Steward, Founder and Chairman of World Wide Technology, the largest Black-owned company in the United States.
"St. Louis is also making its debut with the NASCAR Cup Race on Sunday, and we have a wonderful package of top-tier racing, music and science, engineering, technology and math activities for students. Friday, Saturday and Sunday will be a celebration of all that is possible in racing, music and community."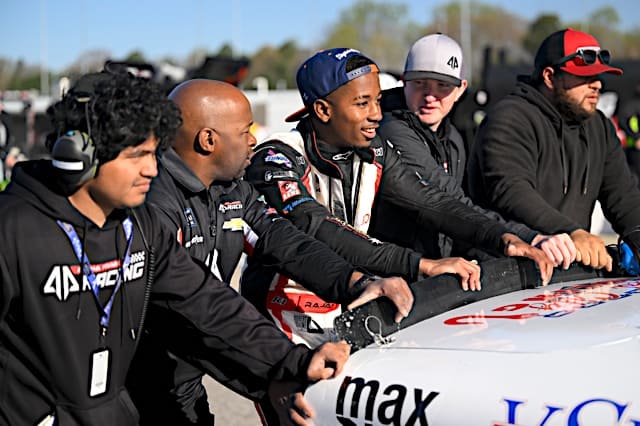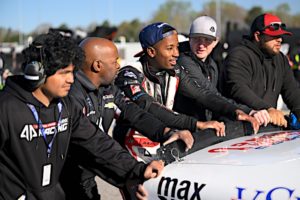 In addition to his part-time Xfinity Series schedule this season, Caruth is competing full-time in the ARCA Menards Series for Rev Racing. After five races he is currently leading the points standings by five points over his teammate Nick Sanchez. In those five starts Caruth has four top-five finishes with a career best of second at Kansas Speedway.
To date Caruth has 10 career starts in the National ARCA tour with four top-five and eight top-10 finishes. In nine ARCA Menards Series East starts he has three top-five and six top-10 finishes. Caruth finished third in the ARCA East standings in 2021.
"Rajah Caruth is a rising star and we're thrilled the help him take the next logical step in his career this weekend at World Wide Technology Raceway," said Spire Motorsports co-owner Jeff Dickerson. "Rajah has a tremendous upside and he's proven that on multiple occasions in the ARCA Menards Series.
"He has the kind of talent Spire Motorsports looks for and this type of opportunity is exactly what my partner T.J. Puchyr and I had in mind when we decided to field a NASCAR Camping World Truck Series team. We're grateful to our friends with the Confluence Festival and World Wide Technology for helping us pull it all together so Rajah can make his first Truck Series start this weekend."
Caruth's start for Spire Motorsports marks the fifth race of the season for the team. In the four previous starts the organization has earned one win with William Byron at Martinsville Speedway. The team also earned a top-10 finish with Chase Elliott on the dirt at Bristol Motor Speedway. A cut tire on the final restart left Alex Bowman 25th at Circuit of the Americas after battling for the lead in the Spire Motorsports Chevrolet Silverado.
With 39 entries for 36 spots in the Toyota 200 presented by CK Power, Caruth will have to qualify on time. Of those entered, the Spire Motorsports No. 7 Chevrolet Silverado is 30th in owner points.
Caruth's next ARCA race is the Calypso Lemonade 150 at Iowa Speedway on Saturday, June 11. His next scheduled Xfinity start is at Pocono Raceway on Saturday, July 23.
Featured Photo Credit: Photo by NKP / NKP Photo.