By Seth Eggert, Staff Writer
The final scheduled NASCAR start for veteran driver Todd Bodine was cut short by a crash early in the CRC Brakleen 150.
Opening Laps
Bodine battled with Blaine Perkins, Hailie Deegan, and others for a spot inside the top-25 in Stage 1 at Pocono Raceway. The NASCAR Camping World Truck Series race at 'The Tricky Triangle,' was the 800th start across NASCAR's three National Touring Series for the Chemung, NY native. Bodine's No. 62 Camping World Toyota Tundra TRD Pro followed Tate Fogleman and Kaden Honeycutt through the back of the pack.
With practice and qualifying rained out, Bodine, like others in the field, were out of position at the start of the race. The 58-year-old avoided the first two incidents of the race with ease. However, on Lap 12, Bodine's luck finally ran out.
Crashing End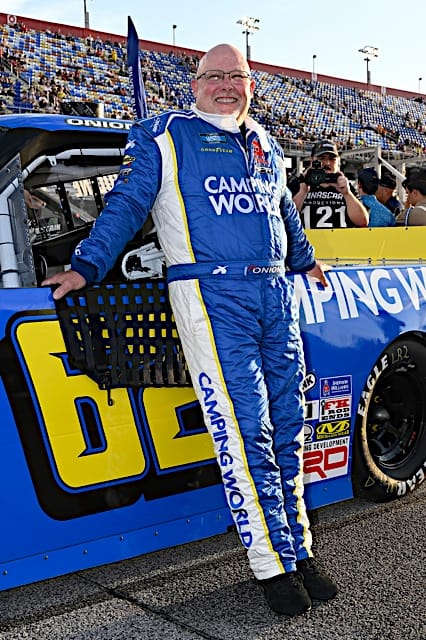 The two-time Truck Series champion attempted to pass Perkins on the outside in Turn 1. At the same time, Deegan moved down the track, clipping the right-front of Bodine's truck. Both drivers went into a slide. While Deegan regained control, the Halmar Friesen Racing driver backed into the outside wall. Adding insult to injury, Tyler Hill and Jack Wood spun into Bodine's stationary truck moments after the caution waved.
Bodine limped his damaged truck back to pit road to the attention of his Tripp Bruce (crew chief)-led team. However, the damage was too severe. Faced with the Damaged Vehicle Policy and the severe damage to the truck, Bodine drove back to the NASCAR Camping World Truck Series garage, out of the race.
"That's definitely not how we wanted this to go. I've been so blessed to be able to do what I love to do 800 times," admitted Bodine. "I've made so many good friends, had so many good people involved in my life. It's a pretty blessed life to have. It's racing. I've been here before, I've been wrecked before, it's just part of the game."
Milestone Achieved
The push for Bodine to reach 800 career starts in NASCAR began on Twitter last year. It caught the attention of Camping World CEO Marcus Lemonis. The entrepreneur challenged Bodine and his fans to reach 800 Retweets. After completing the goal, Lemonis kept his word and aided the NASCAR veteran's drive to reach a career milestone.
"Just thankful for Chris Larsen, Stewart Friesen for letting me do this and have this much fun," reflected Bodine. "Marcus Lemonis and Camping World, Marcus stepped up. Nobody thought he would, and he did. I appreciate it, Marcus. Thank you to all of the fans that have supported me all of these years. It's truly meant the world to me, and I appreciate it. I'll see you on TV."
Career Statistics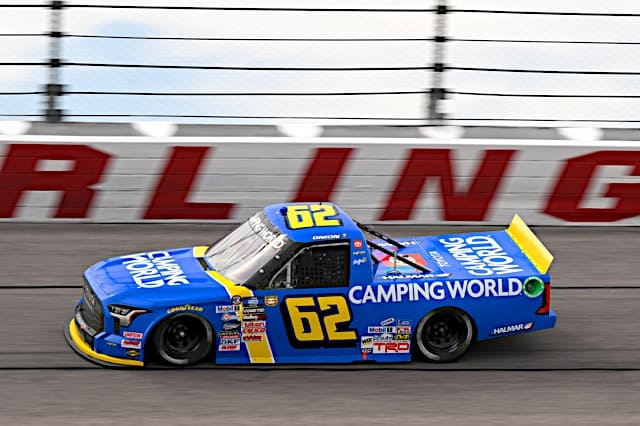 The 2022 NASCAR Camping World Truck Series season saw Bodine make six starts to reach a combined 800 career NASCAR starts. In those six races he earned one top-10 finish at Darlington Raceway. Bodine finished four of the six races on the lead lap, finishing two laps down at Nashville Superspeedway.
Should this be the final career start for Bodine, he'll be hanging up the helmet with 22 Truck Series victories. His Truck Series stats, likely NASCAR Hall of Fame worthy, also include two championships in 2006 and 2010, as well as 92 top-fives, 125 top-10s, and seven pole positions in 226 starts.
In the NASCAR Xfinity Series, Bodine had 15 victories, 90 top-fives, 160 top-10s, and seven pole positions in 333 starts. The NASCAR Cup Series was the veteran's only winless series in the three National Touring Series. In 241 career Cup starts, Bodine earned seven top-fives, 21 top-10s, and five pole positions.
With the disappointment in an early crash in a career send-off race, Bodine left open the possibility of one more final start.
"Heck, maybe I'll have to make it 801," joked Bodine.
Featured Photo Credit: Photo by NKP / NKP Photo.