By Seth Eggert, Staff Writer
DARLINGTON, S.C. – Despite contact that put him into the outside wall, A.J. Allmendinger respects Ty Gibbs and considers the incident just hard battling.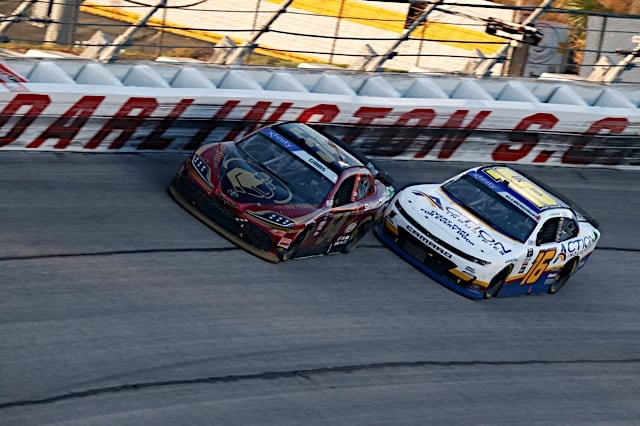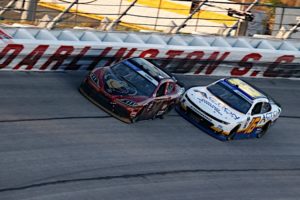 On lap 83 of the Sport Clips Haircuts VFW Help a Hero 200 at Darlington Raceway, Gibbs attempted to pass Allmendinger for a spot inside the top-10. When the No. 54 Shriner's Children's 100th Anniversary Toyota Supra tried clear the No. 16 Action Industries Chevrolet Camaro SS, Allmendinger was sent into the outside wall. Gibbs' rear bumper clipped the front fender of the Kaulig Racing driver's car.
A few laps later, Allmendinger sent a message, proving that he wasn't going to take it. Though he didn't have the speed, the veteran NASCAR Xfinity Series driver was frustrated he got run into. Allmendinger clipped Gibbs' left rear bumper in Turn 4. The contact sent Gibbs' drifting through the corner, clipping the outside wall. Afterwards the duo moved on.
"It's one of those things where he was under me and he tried to clear himself and I was still there," explained Allmendinger. "I was pissed off about it because it shoved me in the wall and he didn't touch the wall, so I felt like we needed to even that out. I made sure he hit the wall and then after that it was fine again, like he could have easily ran into me when he was behind me and didn't.
"Then when I was back in front of him there, I was next to him and never touched him. It was just one of those things I was frustrated because I know (Kaulig Racing) struggling and I'm a little bit in the way sometimes trying to maximize everything. But I was just like, man, he could have waited one more corner to finish clearing me. I just had to prove a point that I wasn't going to take it and we moved on."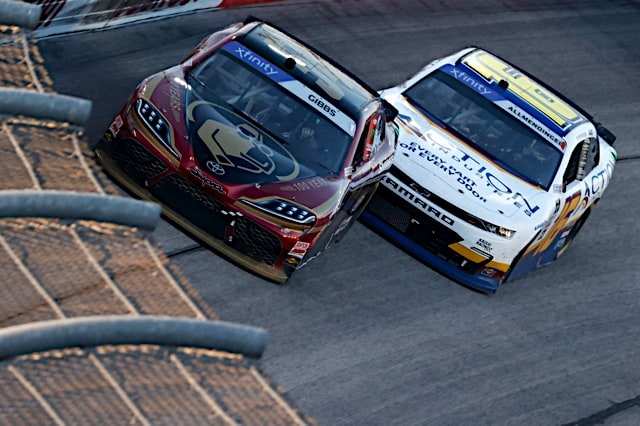 In the end, Allmendinger considered the racing between himself and Gibbs clean. The Los Gatos, Calif. native has observed Gibbs' development on and off the track. The two drivers are battling for the regular season championship. Gibbs gained seven points via the Stage finishes on Allmendinger at Darlington, despite the Chevy Racing driver's third-place finish.
"At the end of the day I felt like we raced each other clean right after that," admitted Allmendinger. "I have respect for Ty, the way he's developed, obviously he's super-fast, but the way he's developed from last year to early this year to where he is now, I love racing against him. (The contact) was just hard battling."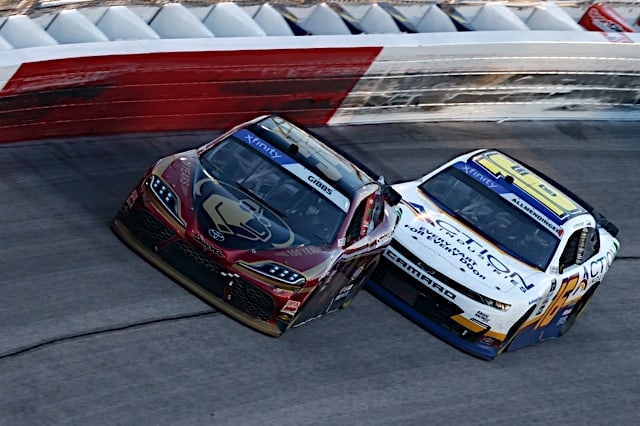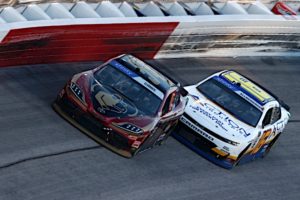 The third-place finish is Allmendinger's 12th top-five this season. It is the 41st top-five of his NASCAR Xfinity Series career.
Allmendinger continues to hold the points leader. He has a 51-point gap over Gibbs with two races remaining in the regular season. Allmendinger is locked into the Xfinity Series Playoffs by virtue of his three victories so far this season.
The next race for the Xfinity Series is the Kansas Lottery 300 at Kansas Speedway on Saturday, September 10 at 3:00 p.m. ET on USA Network. The race will also be broadcasted on the Motor Racing Network and SiriusXM NASCAR Radio Channel 90.
Featured Photo Credit: Photo by NKP / NKP Photo.