AVONDALE, Ariz. – There's a reason almost everyone wants to be Noah Gragson's friend: the guy knows how to have a great time.
Often labeled a kid at heart, the 24-year-old Las Vegas native embraced his inner child with a visit to the Bob Bove Branch of the Boys & Girls Clubs of the Valley this week, promoting the NASCAR Xfinity Series championship race at Phoenix Raceway on Nov. 5 before making his way back to his hometown for Saturday's Alsco Uniforms 302 at Las Vegas Motor Speedway.
In vintage Gragson fashion, the Xfinity Series points leader arrived at the childrens' center dressed in a black hat, shirt and shorts, complete with cow-print Nikes and a wide smile as a complementary contrast. He leisurely strolled up to the complex and greeted the few media members on hand with verbal salutations and fist bumps.
He took notice of the hand-made signs welcoming him with a continued smile and nod. However, he couldn't help but be drawn to the plethora of festival rides sitting dormant on the establishment's lawn.
"Is this all for me?" Gragson half-jokingly questioned.
Senior Director of Business Development for Boys & Girls Clubs of the Valley, Jill Johnson, introduced herself to Gragson and the media, then ushered everyone into the facility. Although schools were observing fall break this week, there were nearly 100 children on site, as the Bob Bove Branch remains one of the largest Boys & Girls Clubs among the 30 across Arizona.
Upon entering the facility, muffled screams of joy and laughter were heard almost immediately from every corner of the children's center before the tour began. A young boy darted to the window of a room labeled "Teen Center," and after taking notice of Gragson, made a giddy jump before moving away to notify the other kids.
"The kids have been preparing for the entire week, so this is a big treat for them to have Noah come," Johnson told Kickin' The Tires. "Not only do they get the chance to see him in person, they can possibly see themselves within him. You can tell he's obviously a kid at heart."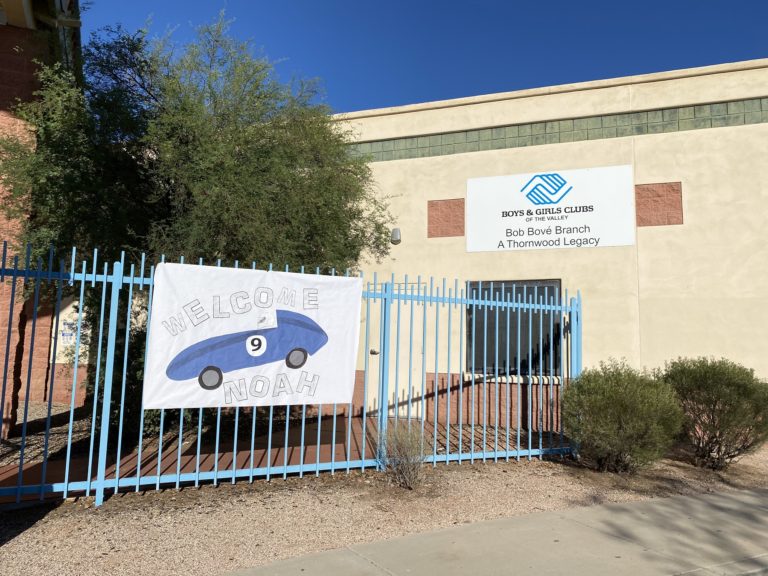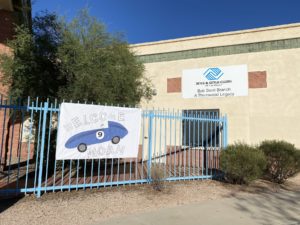 The first stop on the tour was the Innovation Lab, which houses a variety of computer monitors and a projection screen at the head of the room. That is also where kids get the chance to practice for the GamerThon: an eSports tournament that will be held at Phoenix Raceway during championship weekend, during which children will be able to play Rocket League for prizes.
Next up was the Art Room. Holding true to its name, Halloween drawings of Ghostface from "Scream" and Jason Voorhees from "Friday the 13th" decorated the well-lit room. However, the most striking aspect was a NASCAR-related tribute spanning nearly half of the room.
A cardboard-constructed track proudly sat on the floor, complete with tissue box garage areas and a black-and-white print-out of Gragson in victory lane. As children streamed into the room, they were quick to grab their wooden painted race cars and show Gragson what they created.
No one was as ecstatic as a young girl dressed in a black "Goosebumps" shirt, who provided Gragson with all the intricate details of the hand-made track, while sending multiple race cars down a ramp to the finish line.
"I just love seeing the smiles on all the kid's faces," Gragson told Kickin' the Tires. "It's really cool: they made some cars and painted them up. They probably have never gotten to paint a wooden race car before, so to see the creativity on all of them and just the joy on their faces – asking questions, having fun, letting loose, being kids – they like to have a lot of fun and you can tell."
From there, all of the children were corralled into a gym, where they uniformly sat cross-legged on the polished hardwood floors, fidgeting with excitement ahead of a Q&A session with Gragson.
Phoenix Raceway Track President Julie Giese kicked off the session by asking the kids how many wins Gragson has this season. Although it may not be the "ten-thousand" or even "13" that many shouted, seven still sounds pretty great when considering that's Gragson's single-season record and that he won four-straight, tying a record set by Sam Ard in 1983 for consecutive wins in the Xfinity Series.
As Giese opened the floor for questions, dozens of hands shot up and children anxiously flailed their arms around in hopes of being called on. Gragson answered questions about preparation, what he'd do if he wasn't racing, how fast he's gone, and even why he throws up so much after a race.
At the conclusion of the friendly interrogation, Gragson and the children huddled up for a group photo. Once the youngsters vacated the gym, the driver of the No. 9 Chevrolet couldn't help himself from grabbing a basketball, shooting hoops and even throwing down some slam dunks (on a lowered rim, of course).
"I just try to be me at the end of the day and have as much fun as possible," Gragson said. "It's a privilege to be able to come and talk to them. I'm glad to put a smile on their faces."
After doing his best Michael Jordan impression, Gragson made his way outside, where he sat in a Chevrolet Camaro SS pace car decorated in Phoenix Raceway decals. Groups of children began moving toward the sound of the 455-horsepower, 6.2-liter LT1 V8 engine.
After a few jumps by the kids and many mouths left dropped open in surprise, Gragson ran back over to the Innovation Lab, where a few lucky kids got to play Rocket League with their new friend as they trained for the GamerThon.
Right on brand, Gragson shouted, joked and had a blast playing the game which blends soccer and racing.
"When you get to see someone in person that actually participates in that sport, that gives kids an opportunity to think that 'maybe I can do something like that,'" Johnson said. "They might start on a video game, they might start with the GamerThon; then they get to go see the track, then they get to see the driver, then they get to see the car: that's when the possibilities build for them."
In a fitting end to the day, Gragson and the children gathered for one more group photo – this time, under the setting sun and in front of a vibrant NASCAR Championship Weekend mural created by local artist Bacpac in 2020.
Before parting ways, the kids gifted Gragson a hand-made sign featuring his Bass Pro Shops No. 9 Camaro, accompanied by signatures from his new friends. He then, of course, had to return the favor.
The children formed an orderly, single-file line as Gragson handed out NASCAR Championship Weekend flags, signed hero cards and cactus-shaped cups – which many eagerly rushed to the water fountain to fill up.
Against the backdrop of an Avondale sunset, Gragson said his goodbyes in the form of high fives, fist bumps and hugs, sending the children home with a once-in-a-lifetime experience and a new friend.
"I really appreciate them making signs and making me feel welcome,' Gragson noted. "I definitely enjoyed my experience and I can't wait to come back."
Gragson will return to the one-mile Phoenix Raceway oval for the Xfinity Series finale on Nov. 5, where he'll look to sweep both Arizona races this season while also seeking his maiden series championship. He finished second to JR Motorsports teammate Josh Berry during Saturday's Las Vegas Xfinity Series race, the first of three races in the penultimate round of the playoffs.
Fans can purchase tickets for the Xfinity Series championship race for $105 via the "Noah Gragson Package," which includes one adult and junior ticket with infield access and the opportunity to hang out with the driver of the No. 9 Chevrolet in the Gamer Garage before the race.