By Jacob Seelman, Special Contributor
DAYTONA BEACH, Fla. – In a wild finish under the lights at Daytona Int'l Speedway Saturday night, Austin Hill completed a rally from the rear for his second straight win in the NASCAR Xfinity Series season opener.
After earning the pole and then having to start from the back due to radio issues on the pace laps, Hill carved his way through the field and used a dominant Bennett Transportation Chevrolet to largely control the closing laps of the Beef. It's What's For Dinner. 300.
The Winston, Ga., native led five times for a race-high 39 circuits, but it was the final lap in overtime that left everyone in attendance – including Hill – on the edge of their respective seats.
Hill found himself lined up on the front row for an overtime restart, set up after JR Motorsports teammates Josh Berry and Brandon Jones made contact while trying to make a run for the lead.
Berry bumped Jones into a long, smoky spin, leading to a caution with a lap and a half remaining that forced extra distance at the World Center of Racing and created fuel mileage concerns for much of the field.
With a lot of drivers in the lead draft having topped off their gas tanks with 45 to go, chaos was expected, and the drama came to fruition almost immediately when Berry's Chevrolet began sputtering under the final yellow of the night.
Allgaier's No. 7 began losing fuel pressure as well, he reported on the one-to-green lap, but the longtime veteran was able to line up alongside Hill on the inside when the green flag waved to begin lap 124.
At first, it appeared that Allgaier had a path to victory lane, as he shot out to the lead and was in front at the white flag thanks to a push from his 19-year-old teammate Sam Mayer.
Unfortunately for Allgaier, that lead didn't last, in part because he was several car lengths out in front of the rest of the field.
Because of the separation, coming off turn two, Mayer got a run that allowed him to shoot to Allgaier's outside in an attempt to grab the top spot and a potential win.
However, when Mayer moved down to side-draft Allgaier and further slow his momentum, Mayer's Chevrolet got sucked around as the nose of Hill's car came up to the rear corner of the No. 1.
The end result saw Mayer flip upside down, skidding down the backstretch on his roof as Hill, Allgaier and a surging John Hunter Nemechek raced toward turn three for the win before NASCAR officials called the caution for an eighth time – freezing the field at that moment and ending the race.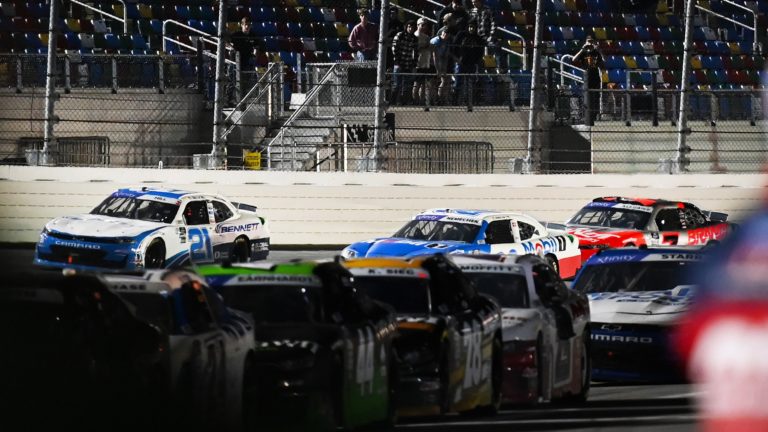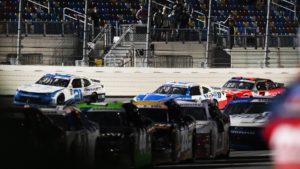 After a video review that took several minutes, Hill was declared the winner, as the nose of his machine was just ahead of Nemechek's when the yellow came out.
It marked the second year in a row that Hill won the Daytona Xfinity Series opener, as well as the third win of the 28-year-old's career.
"I have no idea [how we won that]. I don't honestly know," Hill admitted after climbing from his car. "When I chose the outside line, I just – I didn't feel like the inside line was that great all day. I just wanted to choose the top. I knew the 78 [Anthony Alfredo] would stay with me. He was pretty committed. When I saw the 1 [Mayer] and the 7 [Allgaier] get together, I just went to go squeeze them, and Sam came down and started getting loose. You can't lift at that point. It's the last lap.
"I'm glad Sam is okay, man; that was a heck of a flip there. But as soon as the caution lights came on, I thought I had it," Hill "It was so close. To get back-to-back [wins] here at Daytona, it's really special. That's three wins for me now [here]: two in Xfinity and one in the truck, and I can't thank everyone at RCR enough. Our Bennett Chevrolet was so good. … We came from the back two different times.
"I hope everyone enjoyed it. It was such a blast. I had so much fun. We won at Daytona! Let's go!"
Notably for Hill's team, Richard Childress Racing, Saturday's victory came 22 years to the day after the sport lost seven-time NASCAR Cup Series champion Dale Earnhardt – who won six of his seven titles and the 1998 Daytona 500 for team owner Richard Childress.
"That's wild," Hill reflected when told of the correlation by Kickin' the Tires after the race. "I didn't realize … but it adds a layer. It makes it even more special for the team, what we did here tonight."
With a push from behind by Myatt Snider on the final lap, John Hunter Nemechek came up a bumper short of his first Daytona win, finishing second following the official review of the last-lap video.
After leading seven times for 36 laps, second most on the day, Allgaier found himself third at the end in his 25th try to win an Xfinity Series race at Daytona Int'l Speedway.
"I've been short my whole life, so I guess it's just fitting," Allgaier quipped of just missing out on a Daytona victory yet again. "But I'm really proud of everybody at JR Motorsports. Our Chevy Camaros tonight were absolutely blazing fast. Obviously, I'm glad Sam is okay. He had a heck of a run there at the end, and I hated that Josh [Berry] ran out of gas.
"It's crazy how fast our car was tonight and how good we were in traffic. [New crew chief] Jim Pohlman has done a fantastic job with this whole 7 team. Just disappointed at the outcome," Allgaier continued. "I just got too far out there, and that was really all it came down to. But I'm proud of our team … and the effort that we put in, and I think we've got a lot to walk out of here proud of."
Parker Retzlaff came home a career-best fourth in his debut with Jordan Anderson Racing, followed by Snider, running the first race of a limited schedule with Joe Gibbs Racing this season.
Riley Herbst, Joe Graf Jr., Ryan Sieg, Cole Custer and Justin Haley closed the top 10.
Jones came back to 14th after his late spin, while Berry was scored 26th due to his fuel pickup issues and Mayer was credited with 27th place after his final-lap flip.
Though a win at Daytona was exactly what Hill came to Florida to achieve, Saturday's result came with a bittersweet taste as well, given that he failed to make the field for Sunday's 65th annual Daytona 500.
"As confident as I am on these speedways, it does burn that we won't be in the [Daytona] 500," Hill admitted. "I do think we could go race up front with those guys and have a shot to compete, but we unfortunately don't have that chance this time around.
"It stings a bit, for sure, but we'll celebrate this one and then move on to the next one."
The NASCAR Xfinity Series returns to action Feb. 25 for the final race weekend on the current two-mile layout at California's Auto Club Speedway.