By Briar Starr, NHRA Staff Writer
The NHRA Countdown to the Championship continued Sunday in Madison, Ill., for the third race of the playoff format, with four diverse winners coming out of the weekend.
With just four races left on the schedule, the action began heating up last weekend in Concord, N.C., during the Carolina Nationals, where Antron Brown, Ron Capps, and Aaron Stanfield collected the victories.
All three gained momentum and hoped it would carry over to the Midwest Nationals, but unfortunately for Brown, Capps, and Stanfield, they'll have to wait until the Texas FallNationals to try and hoist another Wally trophy.
Sunday, it was Robert Hight (Funny Car), Steve Torrence (Top Fuel), Erica Enders (Pro Stock), and Matt Smith (Pro Stock Motorcycle) all returning to the winner's circle once again.
The newsworthy driver out of the winners was Torrence, who silenced his doubters with a win over Josh Hart in the Top Fuel final to put himself back in championship contention.
Meanwhile, Hight, Enders, and Matt Smith had big points days to improve their respective point tallies. Below, Kickin' the Tires takes a look back at this week's 26th Midwest Nationals.
Hight Reigns In Funny Car
After losing out to Ron Capps last week, Hight and John Force Racing snapped a long winless streak at World Wide Technology Raceway on Sunday afternoon, eliminating Capps in the Funny Car final in what was a rematch from the Carolina Nationals.
This time, however, the victory went to Hight as he bounced back with a 3.911 and 331.61 mph pass over Capps in the final to score his 61st career victory and his fist at the track since 2010.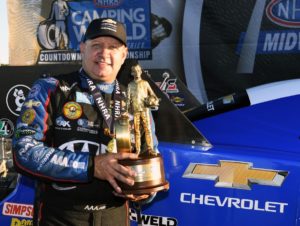 Hight qualified No. 1 for the fifth time this season with an impressive 3.853 and 336.32 mph. Thanks to a low car count on the Funny Car property with just 15 cars, Hight ran a bye in the first round. He moved on to face Tim Wilkerson in the quarterfinals. Even though Hight had a slower reaction time of .100 over Wilkerson's .073, Hight moved past him and won with a 3.903 and 330.72 mph pass.
As for the semis, Hight faced Tony Stewart Racing's Matt Hagan.
Both have had meetings over the years, with Hight carrying the advantage at a 5-1 record. Hight again improved that record with a 3.945 and 330.31 mph pass to advance to the final round and face Capps.
Capps had victories over Dan Wilkerson, Cruz Pedregon, and John Force to move to the final.
Hight was off the starting line first with a .041 to Capps .059. Capps began firing back, but the NAPA driver began skidding around and lost ground to Hight. As the two crossed the line, Hight scored his eighth win of the season.
"It doesn't get any better than this. This was a 40-point swing in the finals, so it was a good job by my guys," Hight said. "They keep digging every round and getting it done. You definitely can't be racing defensively. You've got to be on offense out here, even if you're the points leader and I knew I had to pull out a good reaction time in the final round.
"To say we've got eight wins, that makes me very proud, but here's the hard truth: if I don't have more than eight, I probably won't win the championship. So we've got to stay focused and work hard, and this team is up for it. We don't need to leave anything on the table."
Torrence Back In Winning Form
The 2022 Top Fuel season has been uncharacteristic for Torrence and his Texas-based CAPCO team, after coming off a championship season one year ago. Entering the season, Torrence and his team had high hopes of repeating and scoring a fifth championship, but things got unusual throughout the season.
By the end of the season last year, Torrence had won 11 races and scored four career No. 1 qualifiers. Prior to the Midwest Nationals, Torrence only had one win, which came this summer in Brainerd, Minn., when he defeated Tony Schumacher in the finals.
Since then, however, the Texas native has had a pair of rough races. He suffered quarterfinal losses to Antron Brown in Indy and Austin Prock at Reading, and another last week at Charlotte to Justin Ashley. That lit a fire under Torrence, as he qualified No. 1 following the three rounds of qualifying with a 3.655 and 327.43 mph pass to face No. 16 qualifier, Buddy Hull in the first round.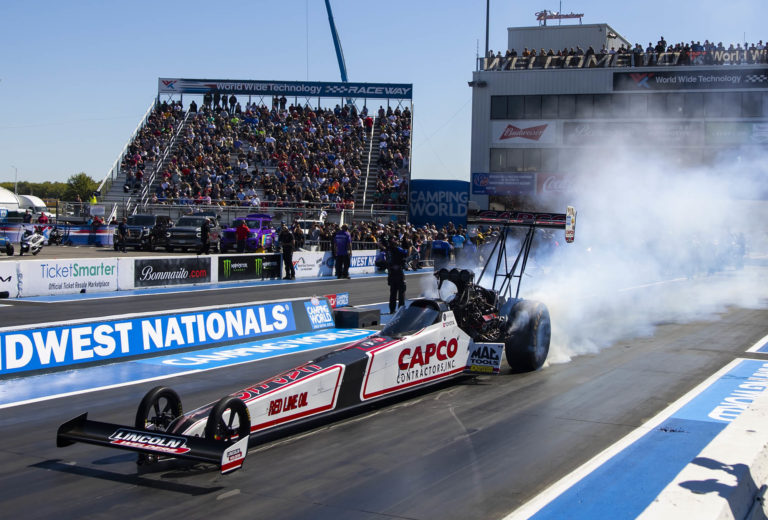 Torrence was 3-0 against Hull and improved that to 4-0 with a win of 3.715 and 330.15 mph over Hull's 3.910 and 316.01 mph. Even though Hull lost, it was a career-best E/T for Hull, as well as speed in qualifying.
Torrence then moved to face Rick Ware Racing's Clay Millican in the quarterfinals. Millican also has been gaining momentum lately after going rounds last week in Charlotte and defeating Antron Brown in the first round.
Unfortunately for Millican, his bid came up short this time, as Torrence was again the victor with a 3.763 pass. The victory wasn't easy for Torrence though as Millican got off the starting first with a .074 to Torrence's .098.
However, Millican's car shut off at 800 feet, which allowed Torrence to go around him.
Speaking of drivers who have been going rounds lately, one could say the same for Kalitta Motorsports driver Doug Kalitta. Kalitta won over Doug Foley in round one, before eliminating a big contender in Brittany Force in the second round.
Kalitta looked like he would have another one, getting off the starting line over Torrence, but Torrence bounced back as Kalitta's car went up in smoke. With the win, Torrence moved to his fifth final in 2022 and the 81st of his Top Fuel career, where he would face Hart.
Hart got impressive round wins over Scott Palmer, Team Scrappers Mike Salinas, and Shawn Langdon to get to the final and his matchup with Torrence. It was a close drag race, with Torrence scoring his 53rd career victory and second of the season by 14 feet.
Torrence's E/T was 3.741 and 328.70 mph. The reaction time was also his best of the day with a .027.
"I know there were a lot of doubters out there," Torrence said of a season in which he and his Capco Boys opted to make big changes to an engine-clutch set- up that had dominated the tour the previous five seasons, "but we're a family and we always believed in ourselves. This was a great weekend but, to be honest, it took all we had to get around Josh in the final.
"There's still work to do (in order to win the championship)," he added, "but we've got ourselves back in the hunt and we'll have some momentum going home to Dallas (where the Countdown resumes Oct. 14-16 with the 37th annual Texas Fall Nationals).
"Every round was a big round for us," Torrence said of his fourth win in six years at WWTR. "Going up there against Clay (in round two), I thought I lost. I felt like he was ahead of me. I watched him the whole way. I knew I was late (at the start) and I was thinking, 'I lost on a holeshot and now I'm going to have explain it (to a national TV audience)'. Clay had to tell me I won and then I got kinda happy about it.
"That .027 (reaction time), I was proud of that one," he said of a final round performance that gave him a .021 of a second advantage over Hart. "None of us is Justin Ashley (the point leader and the tour leader in reaction time average), so for my old butt to do that, especially in the final, felt pretty good."
Enders Picks Up Win No. 8
After an uncharacteristic semi-final loss last week at zMAX Dragway to Matt Hartford, Enders and her Elite Motorsports team sought redemption this week at the Midwest Nationals, looking to get their fifth track victory.
Enders won at Gateway last year, as well, with a victory over Dallas Glenn in the final round. As for this year, the No. 1 qualifier went to Kyle Koretsky who qualified with a 6.510 and 211.00 mph pass to get a bye in round one, while Enders qualified in the fourth spot with a 6.511 and 210.34 mph to face No. 13 qualifier Chris McGaha in round one.
McGaha had the upper hand at the start with a .015 reaction time over Ender's .022. While McGaha was off first, Enders came rolling back with a 6.520 over McGaha's 6.573. The run was the second quickest pass of the day for the victory.
That round win saw her face her teammate Troy Coughlin Jr in the quarterfinals, which gave her lane choice.
The two competitors squared off in the second round and again, Enders's opponent was off first on the starting line, as Coughlin Jr. cut an impressive light of .011 to Ender's .024. However, it was a close sprint between the two, as Enders rallied back by three feet to move to the semis to face Koretsky. Koretsky won over Deric Kramer in round two.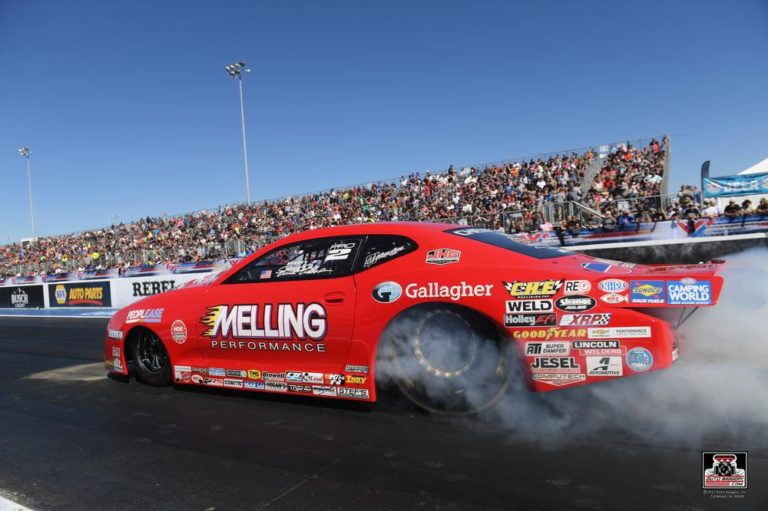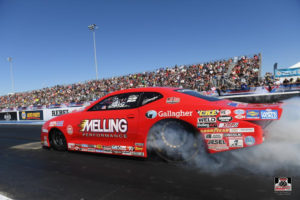 Enders and the Elite team got off the starting line first and won in another close race, by seven feet and with an E/T of 6.533 over Koretsky's 6.541. She advanced to her 10th final in 2022 and the 71st of her career.
She lined up to face Glenn, a rematch of last year's race. Enders continued her winning ways at the St. Louis track by scoring victory No. 5 over Glenn, with a pass of 6.535 and 210.28 mph after Glenn left the starting line too early (-0.075).
"This track has been really great to us," said Enders. "I've been racing here since I was 15 racing in Super Comp. This is super meaningful because it's my Crew Chief Mark Ingersoll's home track. His whole family is here this weekend and it's always fun to win in front of a hometown crowd. Qualifying didn't go the way we wanted but we made up some ground today. We've got our work cut out for us, but I'm hoping to keep the drive for five alive."
Matt Smith Scores Season Win No. 4
Following a disappointing quarterfinal loss at Reading a few weeks ago to previous Pro Stock Motorcycle points leader Joey Gladstone, Smith and the DENSO bike team was also seeking his fifth St. Louis victory and his first since 2020.
The weekend started out right for Smith, as he qualified No. 1 for the fourth time this season and the 51st of his career. Like Pro Stock's Kyle Koretsky, Smith had a bye run in the first round and lined up against Kelly Clontz in the quarterfinals. She won over longtime veteran Steve Johnson in her first round.
As Clontz and Smith matched up, the light (reaction time) wasn't pretty for Smith, with a .100 compared to Clontz's .030. Despite that, Smith was clean down the track after Clontz's bike began moving off the line. Smith moved his win-loss record over Clontz to 6-0.
Race fans at World Wide Technology Raceway saw a fairly intense matchup in the semis, as Smith faced Gladstone. After not cutting a good light in the second round, the North Carolina native had a better reaction time of .019 to Gladstone's .023 and eliminated Gladstone.
Smith then rolled into the finals to a semi-final rematch from the U.S. Nationals with 2016 Pro Stock Motorcycle champion Jerry Savoie. Savoie won over Karen Stoffer and Angie Smith in previous rounds.
For the finals, Smith was barely off the line first by a couple of thousands over Savoie. The two stayed side-by-side near the sixty-foot mark, but Smith and his DENSO bike started getting away from Savoie and Smith went on to score his 36th career victory.
"It was a big weekend for this whole team," Smith said. "Leaving here No. 1 and (Angie Smith) No. 3 in points was huge for the team. This whole class is tough and we're looking forward to going to Dallas. I had my opportunity second round in Reading against Joey and messed up, so it was good to make up for that here today. What a weekend here. I love the track and the fans here, and I just love the atmosphere."
News and Notes: Brittany Force Resets Track Record
In what was a crazy first round of Top Fuel, there was a new national record set by a familiar face. Brittany Force and her Monster Energy/John Force Racing team were able to set a new national speed record of 338.43 mph in front of the St. Louis crowd.
Cristian Cuadra was out sick this weekend after coming down with COVID. Replacing him was Sportsman racer Mike DePalma. DePalma lost in the first round to Glenn, who eventually lost to Enders in the finals.
After coming off a hot streak, Brown lost to Clay Millican and Justin Ashley lost to Mike Salinas. Also of note, while Force was able to reset the new national speed record in Top Fuel, she, unfortunately, lost to Doug Kalitta in the second round.
Additionally, Dan Wilkerson made a brief return to Funny Car competition this weekend in replace of Chad Green. He went up in smoke over Ron Capps in the first round.
The NHRA Camping World Series is off next weekend before returning to action at the Texas NHRA FallNationals, Oct 13-16.
NHRA Camping World Series Results from World Wide Technology Raceway
Top Fuel
Steve Torrence
Josh Hart
Shawn Langdon
Doug Kalitta
Mike Salinas
Clay Millican
Brittany Force
Tony Schumacher
Leah Pruett
Kyle Wurtzel
Buddy Hull
Justin Ashley
Austin Prock
Doug Foley
Antron Brown
Scott Palmer
Funny Car
Robert Hight
Ron Capps
Matt Hagan
John Force
Cruz Pedregon
J.R. Todd
Bob Tasca III
Tim Wilkerson
Alexis DeJoria
Daniel Wilkerson
Blake Alexander
Jim Campbell
Dale Creasy Jr
Bobby Bode
Terry Haddock
Pro Stock
Erica Enders
Dallas Glenn
Kyle Koretsky
Matt Hartford
Greg Anderson
Troy Coughlin Jr
Deric Kramer
Aaron Stanfield
Mike DePalma
Camrie Caruso
Fernando Cuadra Jr
Chris McGaha
Mason McGaha
Bo Butner
Fernando Cuadra Sr
Pro Stock Motorcycle
Matt Smith
Jerry Savoie
Eddie Krawiec
Joey Gladstone
Angelle Sampey
Angie Smith
Kelly Clontz
Ron Tornow
Marc Ingwersen
Ryan Oehler
Karen Stoffer
Jianna Evaristo
Gaige Herrera
Malcolm Phillips Jr
Steve Johnson
NHRA Camping World Series Points Standings
Top Fuel
Justin Ashley, 2,305 points
Steve Torrence, -14
Brittany Force, -30
Mike Salinas, -35
Antron Brown, -43
Funny Car
Robert Hight, 2,404 points
Ron Capps, -46
Matt Hagan, -103
John Force, -114
Bob Tasca III, – 170
Pro Stock
Erica Enders, 2,427 points
Aaron Stanfield, -120
Kyle Koretsky, -153
Troy Coughlin Jr, -157
Greg Anderson, -160
Pro Stock Motorcycle
Matt Smith, 2,290 points
Joey Gladstone, -21
Angie Smith, -90
Eddie Krawiec, -106
Steve Johnson, -107