By Jacob Seelman, Kickin' the Tires
TALLADEGA, Ala. – Evoking memories of his father's dominance at Talladega Superspeedway in the mid-1980s, Chase Elliott used a last-lap pass of Ryan Blaney to steal the win in Sunday's YellaWood 500.
Elliott, who matched his Hall of Fame father Bill with a second win at the 2.66-mile Alabama oval, moved up in front of Erik Jones following the final restart with two laps left and used a push from Jones just before the tri-oval to hold off Blaney's Ford at the flagstand.
Nipping Blaney by .046 seconds, Elliott's 18th career NASCAR Cup Series victory gave him a guaranteed berth into the third round of the premier series playoffs. He became the first playoff driver to win a postseason race this year.
The four-time Most Popular Driver took his Chevrolet to the start/finish line to celebrate after the checkered flag, exiting his car to a huge roar from the assembled crowd.
"How about these fans, man? It's unreal," said Elliott, whose previous Talladega win came in April of 2019. "Moments like this … you have to really cherish. They're what makes this special to me.
"It was a wild last couple of laps," he added. "Fortunately, I was able to get just clear enough off of turn two [after the restart] to get up in front of Erik."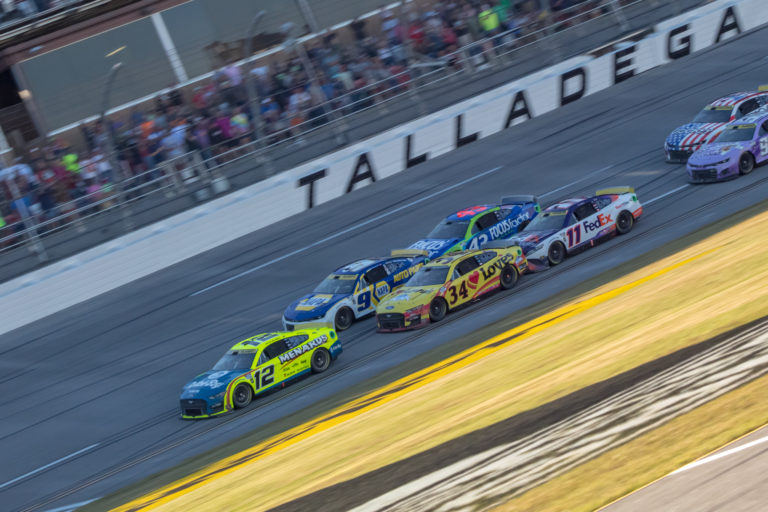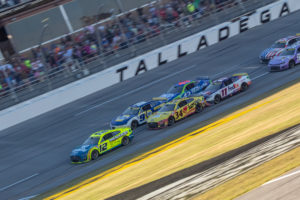 A clean final stage, following the second stage break on lap 120, looked like it might devolve into chaos when the yellow flag waved with six to go after Daniel Hemric stalled at the end of pit road with engine trouble.
It set up a late restart where many onlookers predicted the proverbial "Big One" would break out and lead to one or more overtime attempts – with many of the frontrunners already close on fuel.
However, the final two laps ran without incident and Elliott made his winning move off turn four, when he shifted to the far outside to block Blaney and Michael McDowell's momentum in the tri-oval.
After restarting fifth, Elliott tipped that he "didn't want" to be in the bottom lane for the final laps, feeling that getting to the top was his only real shot at reaching the winner's circle.
"I wasn't super crazy about being on the bottom," Elliott noted. "Erik gave me some great shoves, though, once I got upstairs. We had a good enough run to get out front, and then was able to stay far enough in front of Ryan at the line to get it done.
"These things are so, so hard to win. You've got to enjoy them and I just appreciate everyone's effort."
Blaney fell a half car length short of his third career Talladega trophy, struggling after the race to circle anything that he could have done differently in pursuit of the win.
"I thought about [throwing the block on Elliott]," Blaney admitted. "The second lane was the strongest, though, the second half of the race. When you go there and don't have a teammate … your chances of getting split are so high, and as much as I trust Chase, I didn't trust him not to take me three-wide.
"I just stayed down in front of Michael [McDowell], who was awesome at pushing me [after] the last restart and gave me great shots, and was a little bit too late [getting to the finish line]," he continued. "Maybe I could have gone straight to the top and crossed to the bottom on the frontstretch, but I'm not sure I would have gotten there anyway.
"I'm probably going to replay in my head about five things I could have done differently, but overall, this wasn't a bad day."
Past Daytona 500 champion McDowell drove Front Row Motorsports to a third-place finish, while Ross Chastain and Denny Hamlin crossed the stripe fourth and fifth, respectively.
Jones faded to sixth after pushing Elliott to the lead, followed by Todd Gilliland, Daniel Suarez, Austin Cindric and Chase Briscoe.
Landon Cassill posted a banner day for Spire Motorsports, finishing just outside the top 10 in 11th.
The biggest incident of the afternoon occurred on lap 24, when a bump from Ricky Stenhouse Jr. sent Harrison Burton's Ford spinning into the pack in turn one, triggering a nine-car melee that was the only multi-car crash all day.
Burton and Ty Gibbs were eliminated at that point, while Justin Allgaier suffered heavy damage in his fill-in drive for Beard Motorsports, after Noah Gragson was tabbed to replace Alex Bowman in the No. 48 Chevrolet due to concussion-like symptoms that ruled Bowman out on Thursday.
Gragson drove to a 19th place finish for Hendrick Motorsports, running in the lead pack at the finish.
With one race remaining in the second round of the playoffs, Cindric, William Byron, Christopher Bell and Bowman sit below the elimination line heading to the Charlotte Motor Speedway ROVAL on Oct. 9.
Defending Cup Series champion Kyle Larson was last year's winner of the Bank of America ROVAL 400.