By Sarah Handy, Staff Writer
David Ragan stepped away from the full-time grind of NASCAR racing following the 2019 season. However he has returned every year since to compete in the Daytona 500. This year will be no different.
2022 will mark the 16th consecutive year that Ragan will compete in The Great American Race. Despite stepping away from the constant traveling and other commitments, Ragan said, he wasn't 'really tired of the driving part'.
"When I retired from full-time racing a couple of years ago, I [really wasn't] tired of the driving part. That was the fun part and kind of the easy part on the course of the weekends. But I was just tired of the travel and the commitments from the sponsors and the manufacturers and really, the grind of the schedule.
2022 Daytona 500
Ragan will pilot the No. 15 Select Blinds Ford Mustang for Rick Ware Racing this Sunday. Following a 17th place finish in Duel 2 on Thursday, the Georgia native will roll off from the 34th starting position for Sunday's Daytona 500.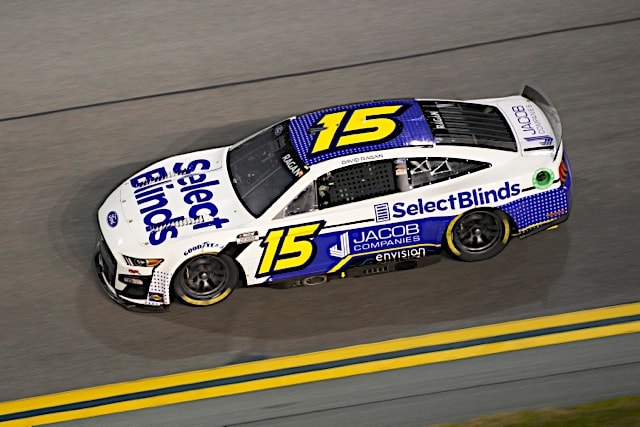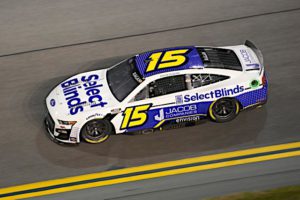 "I love going down to Daytona in February and everything just came together. We had a partner with Select Blinds that has been a partner of ours for the last couple of years; so that makes it a lot easier to do when you have a sponsor that you already have a relationship with.
Then with my relationship with Ford, it needed to be in a Ford Mustang. Rick Ware Racing had that open car that was locked in, that had a charter. He was going to rotate some drivers throughout the year; so, it was really just a perfect set of circumstances, that allowed me to scratch the itch of going back to the racetrack again; in something that's going to be competitive."
A Great Track for Ragan
The famed Daytona International Speedway has been a track where Ragan has seen very solid finishes over the years. With 28 starts heading into this weekend, he has earned one win (July 2011), four top-five and six top-10 finishes.
Ragan told the media that once the duels were over, he would go back and watch some past races to see what else he could learn.
"The racing does continue to evolve, and the drivers evolve. The drivers you're racing with now, some are different than what we had 10 years ago, so I will watch some racing just to kind of get my mind start thinking about different situations and how I will react, but with this car there will be a lot of unknowns," said Ragan.
"The Duels will be extremely important, so I absolutely plan on going back on that Friday and Saturday after the Duels are over and certainly watch some of those races again and see what I can learn."
Other Races in 2022
When Ragan stepped aside from full-time competition, he indicated that when the time and situation was right, he would love to run a race here and there. And he has.
He has continued to compete in the Daytona 500, and he even ran two NASCAR Camping World Truck Series events for David Gilliland Racing in 2020. Ragan would finish 22nd and 7th respectively in those two events.
Will there be any other races on his schedule this season? Both Daytona races seem a given, and Ragan has hinted at possibly two more, but nothing is confirmed yet.
"We're [definitely gonna] run both Daytona races and maybe one or two more. I would love to run a short track. I'm thinking about maybe the Atlanta race. That's my hometown track. We don't have anything confirmed yet, but after we get through the Daytona 500, we're gonna look at the schedule and see what makes sense.
For my schedule, I've got to get approval from my family and make sure it works with Rick Ware and his driver rotation going through. Three or four races would be ideal for me to have a little bit of fun, get a little bit or experience racing this new car, but not take away from my normal duties with Ford Performance."
Sunday's Daytona 500 from Daytona International Speedway is scheduled for 2:30 PM Eastern on Fox.
Feature Photo Credit: Nigel Kinrade Photography / NKP Photo