By Cole Cusumano, Staff Writer
AVONDALE, Ariz. – Strange things are afoot at Phoenix Raceway. Driving down Avondale Boulevard, booming bass and muffled melodies can be heard as beams of light shoot to the stars with an accompaniment of colors radiating from the base of the one-mile track.
For the second-straight year, the site of NASCAR's Championship Weekend continues its partnership with Relentless Beats – Arizona's leading dance music promoter – and kicked off their season by hosting Phoenix Lights: a multi-stage electronic dance music festival which pays homage to the inexplicable phenomenon that took place 26 years ago.
In 2022, Relentless Beats moved from their long-standing home of Rawhide Event Center in Chandler, Arizona, and introduced partygoers to a multitude of events at Phoenix Raceway beginning with Phoenix Lights. However, their experiences only extended to the fan midway.
During this time, events were specifically held on the outskirts of the track due to a 200-foot wide "superstructure" main stage, which was allowed to be kept behind the Bobby Allison grandstands for an extended period of time due to the high volume of shows being scheduled by Relentless Beats.
This year, courtesy of spread-out scheduling and production alterations, as well as fan feedback – which was overwhelmingly positive – Phoenix Raceway allowed thousands of eccentric festival goers to invade its state-of-the-art infield April 7 and 8.
"No matter where you are at the raceway, it's all incredible," track president Latasha Causey told Kickin' the Tires. "But when you get closer to the infield and you're in different spaces here at the race track, it gives us an opportunity to highlight what the raceway really is and our amazing facility."
After snaking your way through security lines, you enter through gate three right between the Barn and orange-colored staircase sponsored by Desert Diamond Casino. The desolate and dim-lit midway serves as a stark contrast to the Relentless Beats events held at the track last year.
As eager patrons make their way past the stairs and down the ramp to access the infield, they're greeted by a larger-than-life mural of 2022 NASCAR Cup Series Champion Joey Logano. From there, it's difficult not to get lost in the Tunnel of Triumph, as echoes of live music from the main stage consume the narrow hall lined with plaques of previous winners at Phoenix Raceway.
Once exiting the tunnel, there's one more climb to the promised lands. The music grows louder with each step as you make your way up the escalator and stairs reading "Home of NASCAR Championship Weekend."
And then it hits you.
A kaleidoscope of colors blind unsuspecting festival goers as they reach the infield grounds, creatively emulating an alien abduction into another galaxy.
The Phoenix Raceway infield as you know it is completely transformed.
Two giant inflatable astronauts tower next to the guest services building and garage three while vibrant lights and electronically-produced sounds entrance masses of humans their way.
The scoring pylon which William Byron sat atop one month prior now serves as an informative beacon telling ravers who's performing at the main stage. Standing across a gated off and vacant victory lane, the track's infamous LED-lit cactus flagstand glows green, simultaneously providing an apt aesthetic while signifying it's time to party.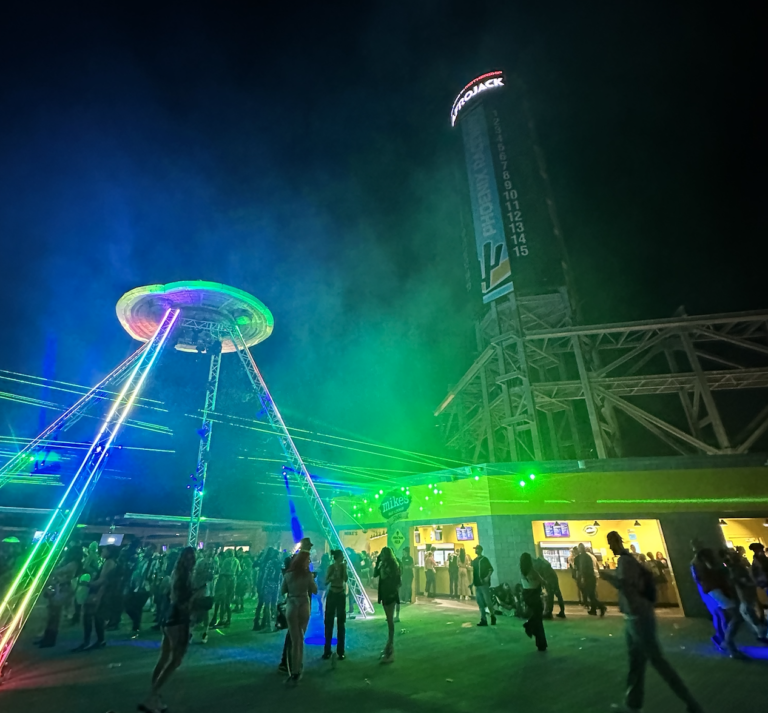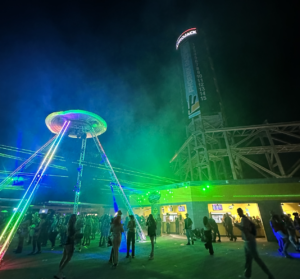 As you peer from beyond the winner's circle, the Busch Light Beer Garden looks like the place to be.
While the area's main purpose is still to accommodate guests in need of rest, it's impossible to ignore the BeatBox Invasion Stage raging right beside it. Where drivers would normally make appearances throughout a race weekend behind victory lane, artists supply crowds upwards of 100 people with predominantly hardstyle EDM beneath a hand-made UFO being supported by color-changing beams.
Conveniently, the stage is positioned right in front of a concessions building – which hardly had lines the entire evening – and to the left of the restrooms.
This pair of preexisting buildings part of the $178 million renovation done in 2018 are just two examples of the structures Relentless Beats was able to make use of in the infield to enhance the fan experience; contrasted to the midway, where porta potties and pop-up tents were used to provide such amenities.
"There's a lot of modern amenities and features at the raceway, and we're just beginning to really start utilizing those this weekend as we move into the infield," founder and CEO of Relentless Beat Thomas Turner said. "There's a lot more structure to build upon to really pack the base around within the infield. This allows us to use a lot of the spaces NASCAR uses to operate their races."
One of the biggest culture shocks of the event for race fans would have to be the garage stalls. These confined spaces, which are normally reserved for Cup teams working on their race cars, are virtually unrecognizable.
Garage three has been renamed "The Playground," where dodgeball, cornhole, Twister and shuffling classes are being offered; garage two doubles as the "Aeriz Starlight Studio" art exhibit and vendor alley; garage one features vintage arcade games and a lounge; and garage four is occupied by the event staff.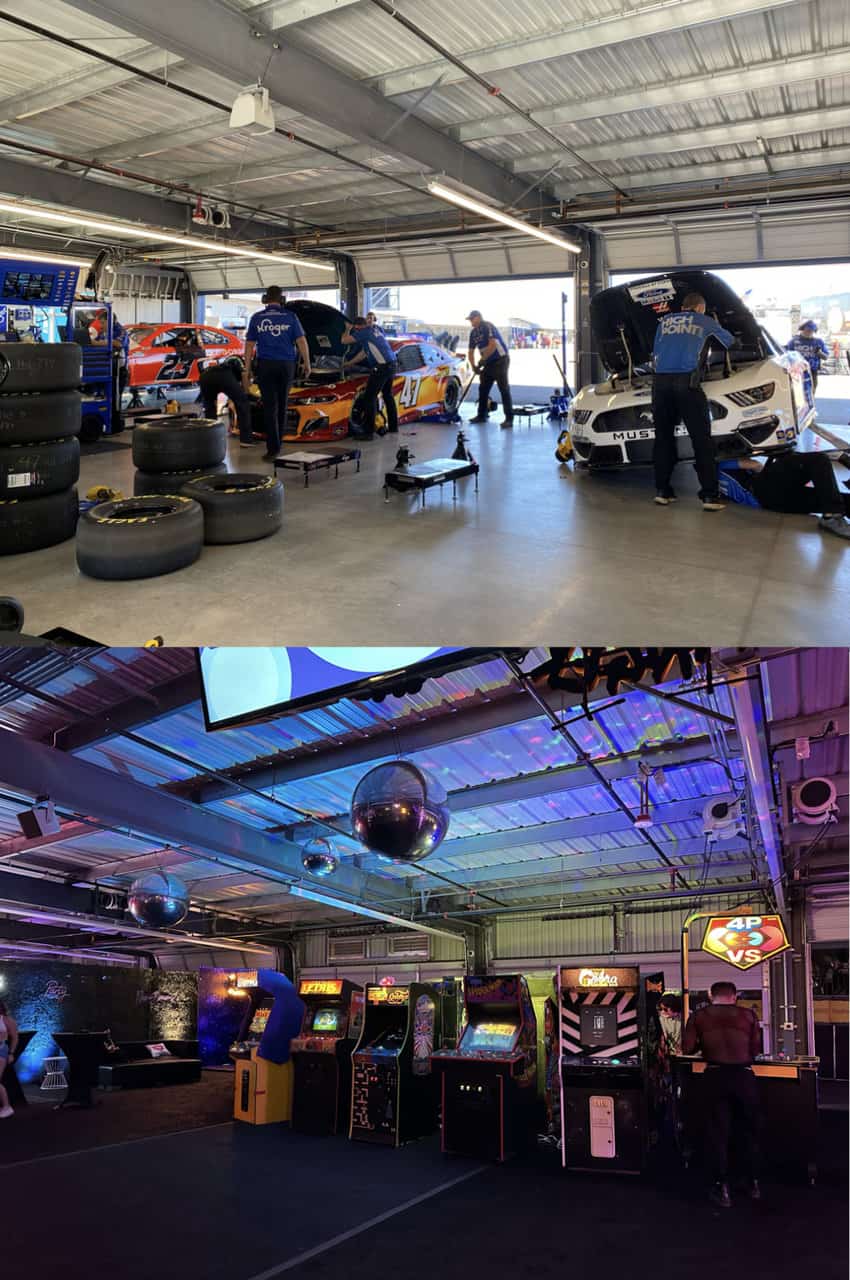 However, all serve as a portal to another dimension – the main stage.
On a normal race weekend, garage access is nearly as restricted as Area 51. Whereas for Phoenix Lights, general admission gets you where you want to be – and there's clearly no dress code.
Where crews would be scrambling frantically to work on their cars, thousands of fresh-faced festival goers glide across the hardly recognizable garage area to the music blasting from the "Mothership" main stage, which blocks the pit road entrance to the garage.
A near-full moon hovers above the hill beyond the dogleg, eerily weaving through the haze emitting from the garage area. Not only are fans embracing Relentless Beats' new home by sporting racing-themed attire, artists are as well.
Sam Dobkin (also known as Trivecta) got on the mic during his set and praised Phoenix Raceway as the "crown jewel of the southwest."
Infield transformation aside, the most noteworthy upgrade from a production standpoint has to be the little to no sound-bleed between the stages – unlike events held last year in the midway.
"One downside to being on the midway is it's just so wide open," festival director Ryan Auhl said. "In the infield, the buildings actually allow us to create more defined spaces that are going to contain their sounds.
"Your experience walking from one stage, through the garages, to the main stage – the space is totally transformed and blocked off a little more, so you'll just feel more enveloped in the space you're in."
The next question from inquiring minds would likely be, "did it feel like EDC (Electric Daisy Carnival)?" In short: no.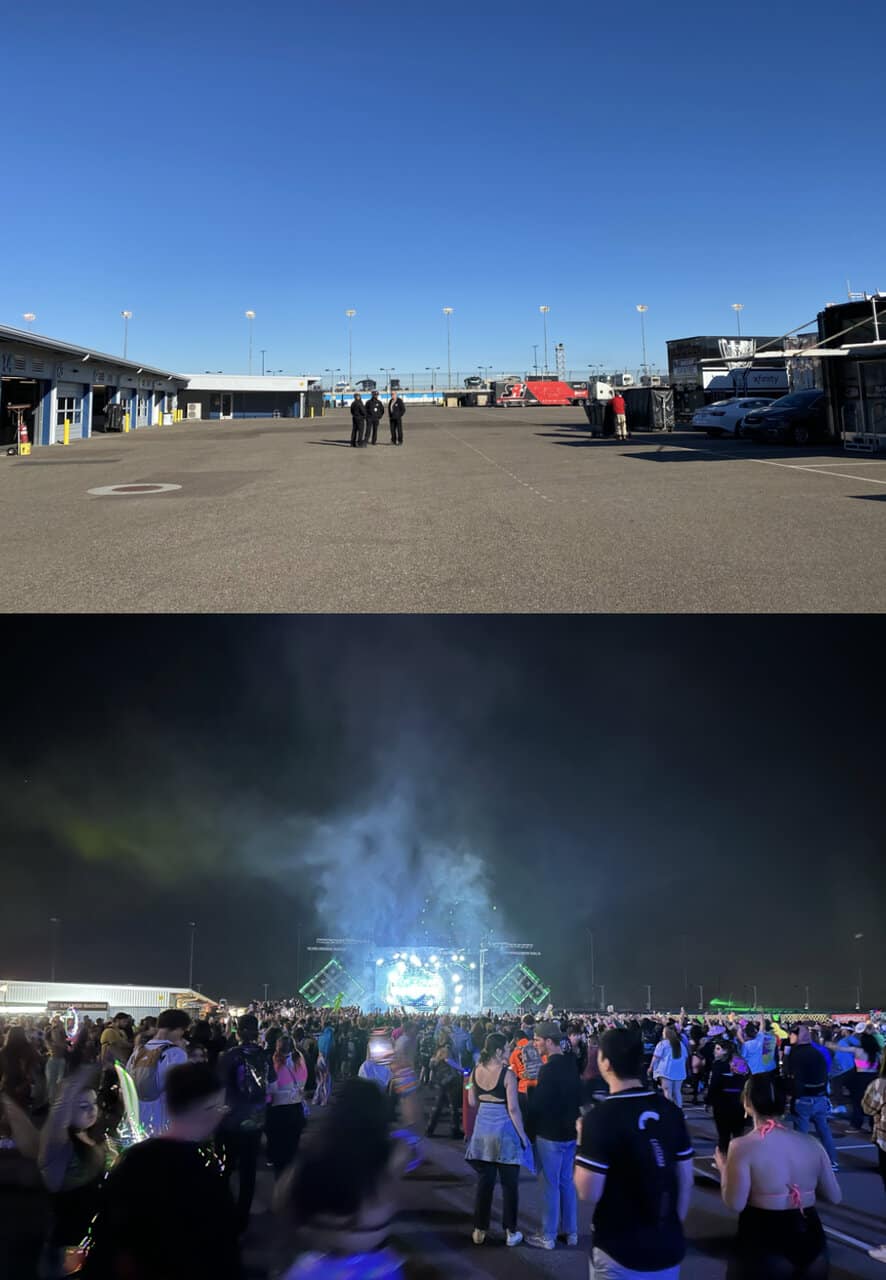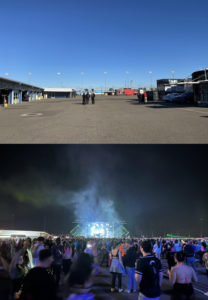 Perimeter fencing and other obstacles prevented a full-fledged neon paradise from being created – but it also wasn't necessary.
Phoenix Lights hosted a combined 20,000 guests between the two day event, and made excellent use of the space made available in their first go-around in the track's infield.
Turner believes Relentless Beats can realistically populate the entire track like Las Vegas Motor Speedway, but the demand isn't quite that high right now. You're talking close to 500,000 at the 1.5-mile track compared to Phoenix, which hosted about 4% of that.
Instead of burning through their budget and resources, they chose to focus on delivering a quality fan experience – the core value of Phoenix Raceway – with an emphasis on improving for future shows. But Turner did say he can "visualize" doing something similar to EDC in the future.
We're going to produce some events in the future now that we've gotten comfortable [with Phoenix Raceway] and understand that we've got an opportunity to create together," Turner said. "I think we planted a seed this weekend and we're going to see a lot more enthusiasm surrounding events there."
In the end, the move to the infield for Relentless Beats with Phoenix Lights marked the beginning of what's sure to be a revolutionary change for the EDM event promoter and Phoenix Raceway.
Smaller shows will continue to be held in the fan midway – the next being Subtronics on April 29 – but it's now clear Relentless Beats has found a new home for multi-stage festivals in the heart of the track.
"We want to be known as someone who is available to the community and open to all," Casuey concluded. It's such a great place with a lot of flexibility. We want to be able to leverage that and use it in its right outside of our NASCAR weekends."