By Seth Eggert, Staff Writer
CONCORD, N.C. – Continuing his ascension up the stock car racing ladder, Rajah Caruth will run full-time in the NASCAR Craftsman Truck Series in 2023.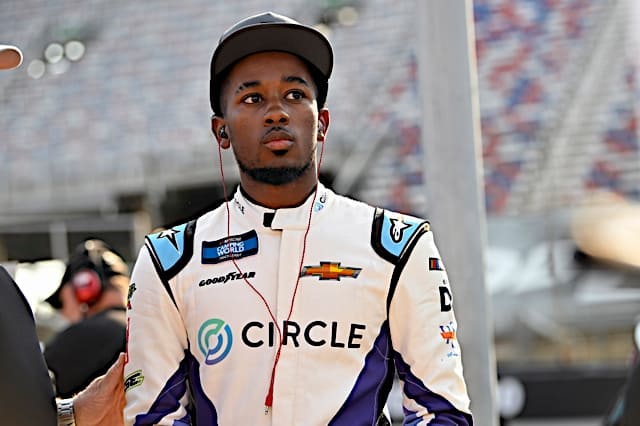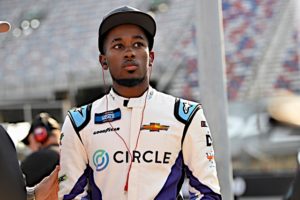 The Washington, D.C. native joins GMS Racing in a third entry for the 2023 season. Caruth will drive the No. 24 Wendell Scott Foundation Chevrolet Silverado RST.
By the 20-year-old's estimation, he has less than 100 career starts in stock cars. Of those estimated 100 starts, 40 have been in the ARCA Menards Series, NASCAR Camping World Truck Series, and Xfinity Series.
While some may see pressure with that rapid ascension and having the prestigious Wendell Scott Foundation as a primary sponsor, Caruth sees opportunity.
"I'll be honest, this is not pressure," Caruth said. "Pressure is like having to pay rent. This is a privilege to be in a situation with the Wendell Scott Foundation and with all the partners that have been with me since day one from back home in DC. The people that I've grown with over the last couple of years in the racing industry.
"I don't see this pressure here. I see this opportunity like it'd be different if we were trying to get to this point and it was uncertain if I would be racing full-time or racing period, but we have this chance, so I don't see any pressure. I just see a very big opportunity."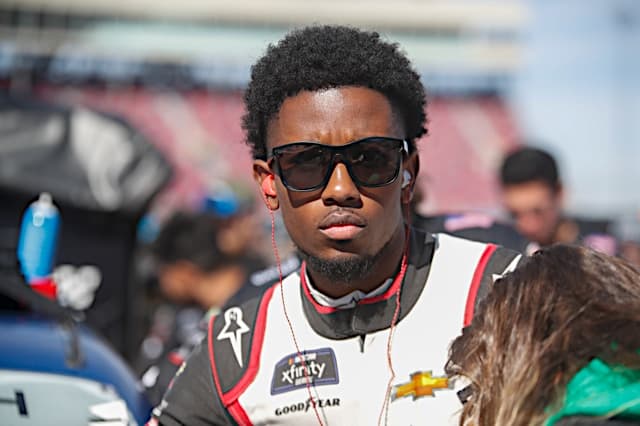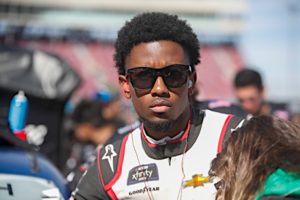 The opportunity for Caruth is evident by the history of GMS Racing. The team has two Truck Series championships, one with Johnny Sauter in 2016 and the other with Sheldon Creed in 2020. The Maury Gallagher-owned organization has nine Championship Four appearances across its' multiple teams.
Another factor in Caruth's opportunity is the crew chief that he will work with. Veteran crew chief Chad Walter re-joins GMS Racing to serve has his crew chief. In 2022 Walter served as Jeb Burton's Xfinity Series crew chief at Our Motorsports. The 51-year-old has five wins as a crew chief in the Xfinity Series.
The NASCAR Drive for Diversity alum has four starts in the Truck Series. He turned heads with an 11th-place finish in his debut at World Wide Technology Raceway at Gateway. Caruth also improved with each start, evidenced by his 12th-place finish at Martinsville Speedway in his sixth career Xfinity start.
While Caruth was slowly improving, during a tough run of finishes in ARCA, Truck, and Xfinity competition, he was hard on himself.
"It's hard to put into words," Caruth said. "I was very hard on myself when a lot of stuff really wasn't out of my control and my growth I think as a driver and as a young man. I feel like I've learned to kind of be more forgiving and understand that I know that I'm putting in the work and the time and the effort, and that everything will sort itself out."
To continue his growth, Caruth plans to work with GMS Racing as much as possible. He also plans to keep himself familiar with each track by using his personal iRacing rig.
"That is how you capitalize on this opportunity, working everyday man that's the only way I can capitalize on it," Caruth admitted. "That's getting the workouts on time, which I'd sometimes struggle with, but I get there every day to going to sleep on time, eating the right foods in the offseason, being on my rig as much as I can, and being available to the race team.
"Whether it's time to be at the center or at the race shop and being able to go karting whenever I have the opportunity tojust all the little things that you can do as a driver and as an athlete, just to make yourself better. That's how I can capitalize on this opportunity."
Caruth's first race with GMS Racing will be the 2023 NASCAR Craftsman Truck Series season opener, the NextEra Energy 250, at Daytona International Speedway on Friday, February 17, 2023.
The race will be broadcast at 7:30 p.m. ET on Fox Sports 1, the Motor Racing Network, and SiriusXM NASCAR Radio Channel 90.