By Seth Eggert, Staff Writer
MOORESVILLE, N.C. – For the 33rd time the North Carolina Auto Racing Hall of Fame hosted the Stocks for Tots charity event to benefit children in Iredell County.
On a night reminiscent of Stocks for Tots events of years past, an estimated 300 race fans turned out to support local survivors of child abuse. Race fans stood in line for autographs from NASCAR Hall of Famers, up and coming drivers, media personalities, as well as current IndyCar, NASCAR, and NHRA drivers.
One NASCAR Hall of Famer, multi-time NASCAR Craftsman Truck Series champion Ron Hornaday Jr reminisced with his friends and former competitors. He also watched over as his Team Hornaday Development drivers also greeted fans, signed autographs and took pictures.
"We had such a blast back in the day when it was down in Lakeside Park and closed the park off and see everybody bring them presents in for their kids that were unable to get to the store or can't afford them and stuff," Hornaday said. "What the Stocks for Tots did for the kids is just unbelievable, and it's just a good way to see all my old racing buddies. I'm retired now, but I get to see everybody and talk old stories."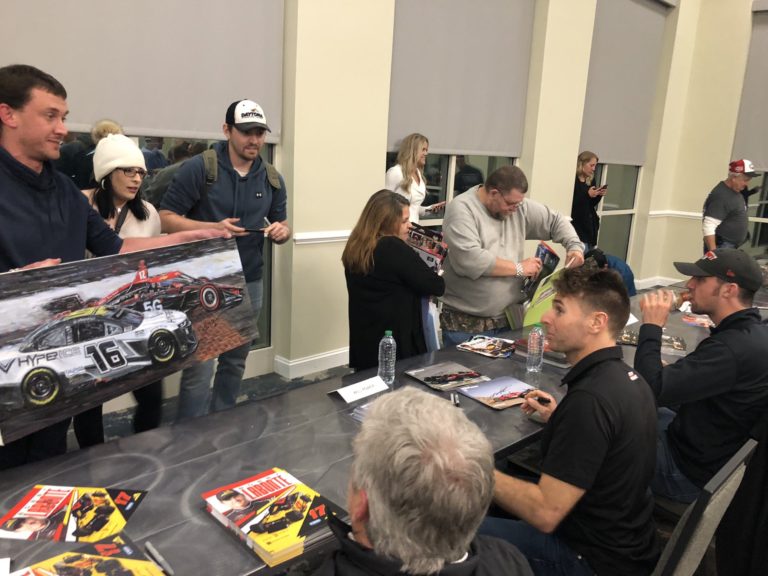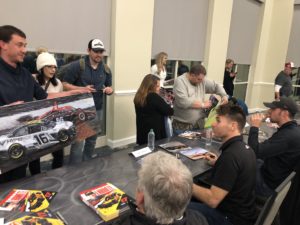 With tickets ranging from $20 to $100 each, race fans had the opportunity to get three autographs from each driver and personality in attendance. Every year race fans have brought unique items for the drivers sign.
One couple brought a painting by Warrick Roger. The painting was of A.J. Allmendinger and Will Power's respective wins at the Indianapolis Motor Speedway Road Course during the first-ever NTT IndyCar Series and NASCAR Cup Series combination weekend.
The painting was already autographed by Allmendinger. Power was surprised when he was presented with the painting to sign. The two-time IndyCar champion autographed the painting as 2022 Daytona 500 champion Austin Cindric, who was seated next to him, noticed the painting.
"Hey, you're missing the car from Saturday!" Cindric joked.
The painting included two of the three winning cars from that 2021 race weekend. Cindric's No. 22 Ford Mustang was not featured in the painting.
Seated next to Cindric were Brandon Brown, Noah Gragson, Ryan Newman, Martin Truex Jr., and the President of the North Carolina Auto Racing Hall of Fame, Don Miller.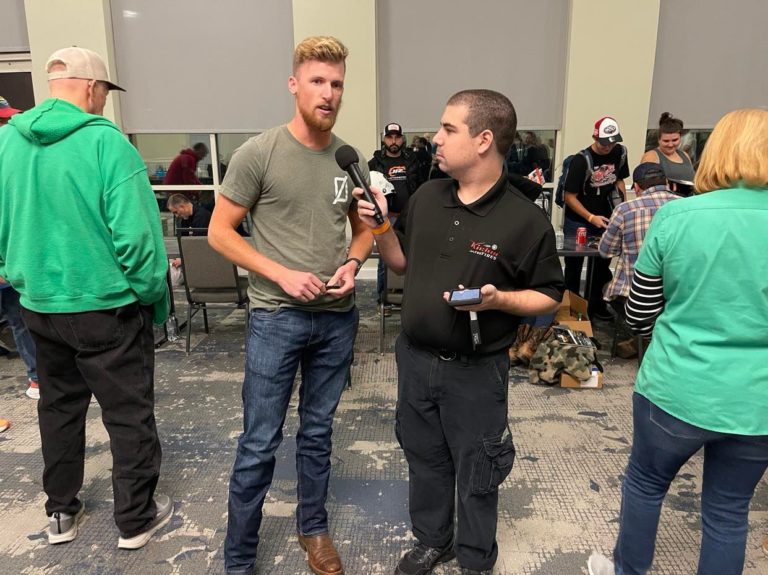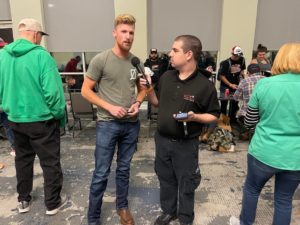 Like the painting, some fans brought unique items for Brown to sign. In addition to his first NASCAR Xfinity Series diecast, one fan brought a hero card from his 2010 days in Late Model competition. The sight of that hero card surprised the Xfinity Series veteran.
The sheer number of fans also surprised Brown. It seemed like an never-ending line of fans walking through the Charles Mack Citizen Center in downtown Mooresville, N.C.
"Well, it looks like the line is never going to end," Brown joked, "so a lot of people here, which is really great. Not a whole lot going on through the offseason, so it's always great to interact with fans and not many events that you get to.It's great to see a big turn out here knowing that this is for charity.
"It's always important to be, you know, active in the community and especially in the Stocks for Tots charity. Just awesome to see this stout lineup of people. You've got the greats from all generations here, so it's really cool to be a part of and just to have my name associated with is really cool.
"I might have to jump in line with a few fans and just ask some questions, but no, the only one I poked on the shoulder was Donnie Allison and get a picture."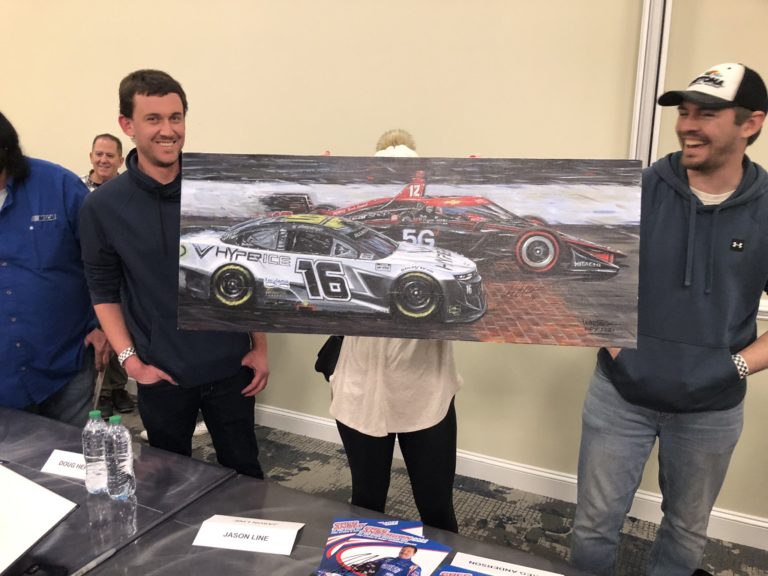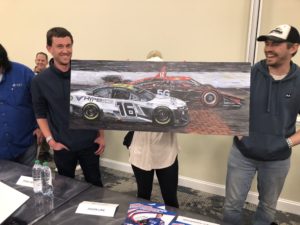 Some of the younger drivers, like Brown, like Ryan Vargas, and others marveled at the legends that were in attendance. Channeling his own fandom for a moment, Brown asked NASCAR legend Donnie Allison for a photo.
Others in attendance included Motor Racing Network's Kim Coon, NASCAR on FOX's Bob Pockrass and Larry McReynolds (Larry Mac), The Pace Lap's Jessie Punch, and Flo Racing's Matthew Dillner. 2022 marked the biggest contingent of NASCAR and racing media members to take part in the Stocks for Tots charity event.
"There's so many people here it's really cool," Vargas explained. "I stayed an extra hour after just to make sure I got everybody. It's really cool to see how many people show up. Obviously, it's all for a great cause, and the amount of drivers too. I don't think there's really any place you can go where you're going to meet this many drivers, which is very cool. There's just so many different people here from all over, Larry Mac, the Allison's, I'd love to hear what they had to say. "
Overall, the event was for the fans, but more importantly, for the kids. As with previous years, the 2022 installment of Stocks for Tots raised thousands for the children of Iredell County and the surrounding area.
"Events like this are an important part of being present for the race fans and showing that you care," Vargas said.
The 2023 Stocks for Tots charity event is tentatively scheduled for Tuesday, December 5, 2023.