By Jerry Jordan, Editor
After three races, Ryan Newman heads into the fourth Camping World SRX Racing Series event – this week at the Nashville Fairgrounds Speedway – with the championship lead and he intends to hold onto no matter who comes in as a local ringer or a hot shoe to shake up the field.
This week, Matt Kenseth joins the SRX party and plans to race next week at I-55 Speedway and the season-finale at Sharon Speedway the following week. The former NASCAR Cup Series champion is an old nemesis of Newman's and they've had epic battles through the NASCAR careers, like the 2004 All-Star Race and the Coca-Cola 600 in 2015.
"It has a lot of similarities to the old IROC series, which I always really enjoyed racing in because you could race against a lot of guys that you weren't on track with," said Kenseth, the 2004 IROC Series champion. "So yeah, it's fun to go back and write race with, you know Greg (Biffle) and Ryan (Newman) and Tony (Stewart) and the guys that you're familiar with, but it's also really fun to go race against people that you're not familiar with that have had, you know, a lot of success in different forms of motorsports?
"I'm not looking for a seat to be a professional racecar driver, again. That's, kind of, that ship is sailed, but this is definitely intriguing. I think it'll be a lot of fun. I think it'll be very competitive then you're going to have to bring your A-game to be able to compete with all these guys. You can see when you watch on TV, they always race extremely hard and it's definitely nothing staged about it, they're racing, really, really hard. So, I know that it's going to be very competitive and that'll be fun for me to get in there and challenge myself and see how I can do?"
Last week, the series was at Stafford Speedway and Newman took the win further securing his points lead over second-place Stewart and third place, Bobby Labonte. Given what he has been through, winning the SRX Championship would mean a lot to Newman, he said.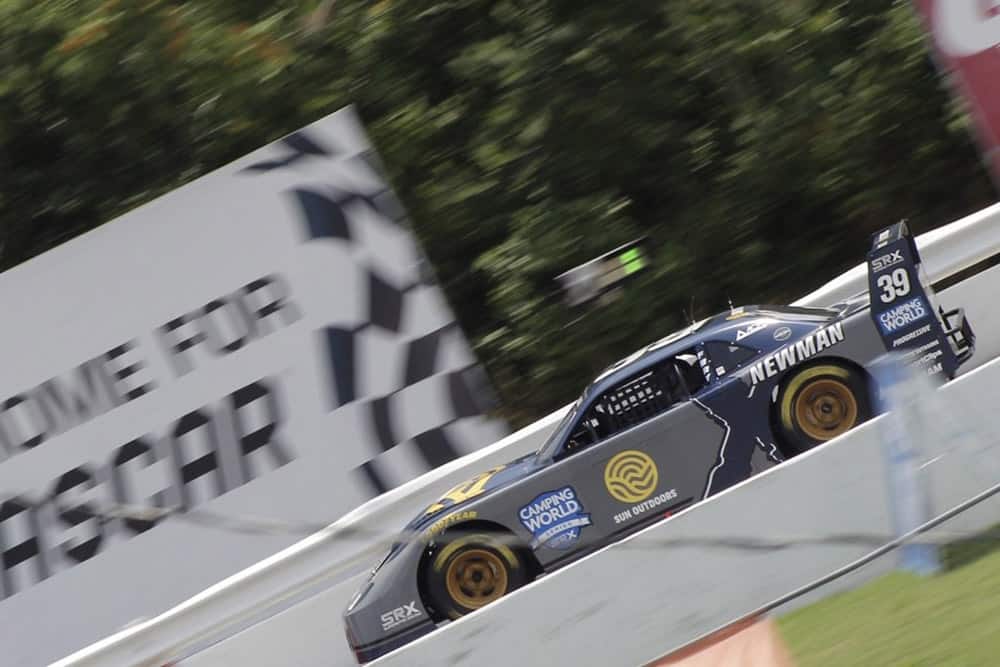 "A really special night to win here tonight at Stafford," Newman said, as he stood in Victory Lane. "Amazing night for me in the SRX Series. I've got to thank Camping World, Sun Outdoors, and everybody that makes this whole deal happen. I'm just really proud of everybody's efforts collectively. To have my daughters here was so special. To beat the best between Marco (Andretti) and Paul (Tracy), Tony and all the guys that are a part of this deal, it's so special to be a part of and then to beat them. I'm so honored to be a part of it and look forward to three more."
Following the win, Newman recognized the late Bryan Clauson, who was killed in a racing crash in 2016 and Bruton Smith, NASCAR Hall of Fame inductee and founder of Speedway Motorsports Inc., who passed away the previous week.
For Kenseth, it's his first race since being named for induction into the NASCAR Hall of Fame. Shortly after the announcement, he went on a six-week vacation with his family and didn't really focus on racing. He said he is truly honored but wasn't sure if he was deserving.
"I mean, I don't know, they announced it in May, or whatever it was and yeah, certainly that was a really neat and you know a big honor, especially when I look at the list of all the people that were nominated," Kenseth said. "There's, in my opinion, people on that list, they're probably more deserving than me, you know? So, it is, it's a big honor to be in there. I mean obviously. Yeah, if the sport that you're involved in has a Hall of Fame, that's where you want to end up someday. So, it's neat. I'm looking forward to all the festivities and I guess January and be part of that pretty elite group."
The Camping World SRX Racing Series goes green from the Nashville Fairgrounds Speedway, Saturday at 7 p.m. CST on CBS Primetime and will be streamed on Paramount+, as well.
For Previous SRX Racing Coverage, Click Here.
Ryan Newman's Racing Resume: Click Here.
Matt Kenseth's Racing Resume: Click Here.