By Kickin' the Tires Staff
SOUTH BOSTON, Va. — The Camping World SRX Racing Series made its second tour stop this past Saturday and after another grueling hot day, it was the series founder and three-time NASCAR champion, Tony Stewart, who drove away with the victory.
"Seeing these fans cheer when we got the lead every time, that's what kept the motivation going," Stewart said, after the race. "Not like I need much motivation, but when you've got fans of South Boston cheering like that every time you get the lead, you aren't going to let them down. I was worried we would get a caution late, so I just tried to take care of it there, but I think backing my pace off actually hurt me versus helping me. I thought I was trying to take care of it and I think I was making some problems a little bit worse by not running as hard as earlier.
"This car was really good. When we practiced today, it rolled the corner really nice, it was a little loose off. I was worried about it. I haven't been to South Boston since I ran a midget clear back in 2000, 2001, 2002 or something like that. Didn't know, couldn't remember the characteristics of what this track does when it cools off. I was hoping it would tighten up and it did a little, just not as much as we needed."
Finishing second was former NASCAR Cup Series driver Greg Biffle, followed by former NASCAR Cup Series Champion, Bobby Labonte.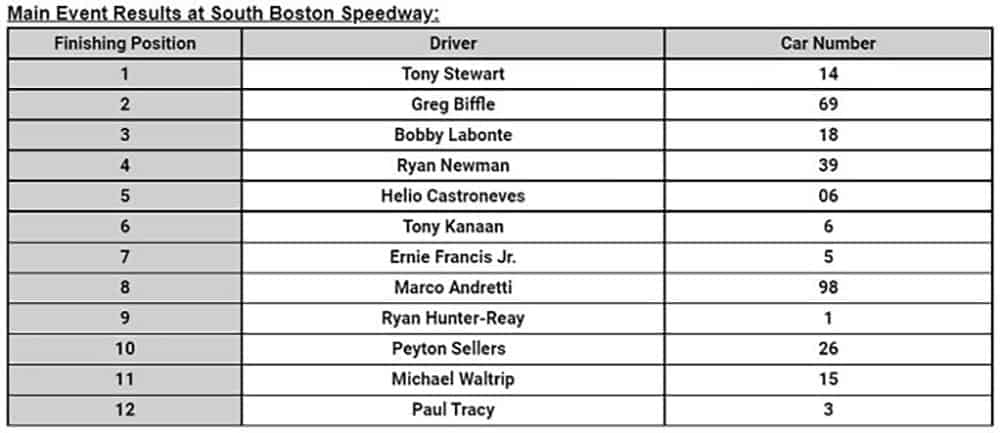 FOR ADDITIONAL SRX RACING SERIES COVERAGE:
CLICK HERE