By Justin Schuoler, Staff Writer
Cooper Webb was able to use lapped traffic to his advantage and get by Ken Roczen on the final lap to win Houston 3 at NRG Stadium in the 450SX 2021 Monster Energy AMA Supercross season.
"It was a close race the whole time and Kenny [Roczen] rode a solid race with not many mistakes," Webb said after his win. "The track was really tricky, easy to over-ride and get impatient. I've really got to give it up to my team, they're amazing."
Webb grabbed the holeshot and led the opening two laps before Roczen passed him to lead the next 23 laps.
But on the white flag lap, Roczen was held up by then 12th place rider Dean Wilson at the wall jump. Wilson's slower pace knocked Roczen off the pegs, which opened the door for Webb to get around in the next corner. Wilson then rode off away from the leaders, but Roczen was not able to get back around Webb by the checkered flag. It was the Red Bull KTM team's first win of the 2021 season.
"The lappers there at the end were a bummer," Webb continued. "I felt like we were going to have a really good battle, and obviously we did, but the lappers were really tough tonight. I hung in there and I pounced on that last lap and made it happen."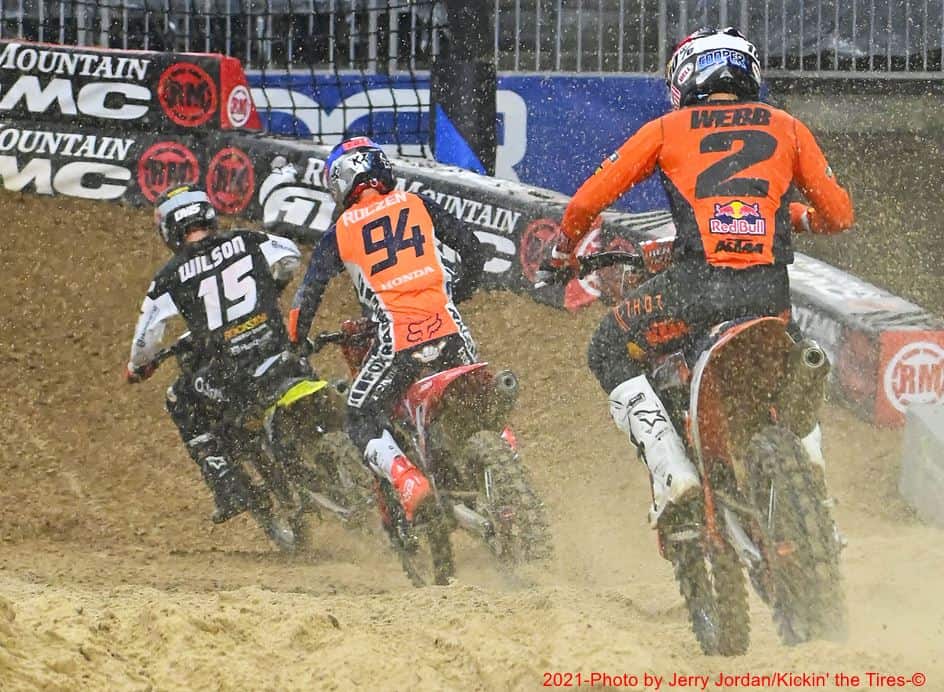 As for Wilson, he immediately posted an apology after receiving a warning from the AMA sanctioning body.
"First off, I (expletive) up. I fully own this," Wilson stated. "I never knew it was the leaders behind me. Kenny, I'm sorry and sincerely apologize. I ruined your race and I wish I could take it back. I know the fans and team are pissed, which I would be too. I hate that I was that guy in the way and ruined a win and a race. I should have been more aware of who was behind me. I just got locked in on the guys ahead. You guys can tear me apart in the comments; do what you gotta do.
"But I can't apologize enough for pretty much being the idiot of the race."
The Team Honda HRC rider currently leads the championship by one point, but after a four-point penalty from Tuesday night's Houston 2 round and a three-point swing in the final lap of Saturday night's Houston 3 round, Roczen is starting to see how valuable every point is.
"It is extra big because these points are valuable," Roczen declared in response to Wilson's apology. "And this was mine if you weren't in front of me for 3/4 of a lap. Three points here, four points last weekend… As if it isn't already difficult enough to lead the championship. Then I get seven points taken away from me.
"What makes me even more mad is that you got a warning, which is fine. But last week instead of giving me a warning or a fine, they (the AMA sanctioning body) take my points."
Adam Cianciarulo stood on the final step of the podium, his first podium of the year. Justin Barcia fell twice in the sand section, but held on to finish fourth with Tuesday night's winner Eli Tomac in fifth. Marvin Musquin, who had a solid start to the season, fell and finished in 12th, one spot behind rookie Dylan Ferrandis.
The AMA Supercross schedule now moves to Indianapolis for three races starting on Saturday, January 30th at Lucas Oil Stadium.