By Seth Eggert, Staff Writer
The stars aligned for Cody Harris to steal a win in the eRacr Roval Racing Series at the virtual Auto Club Speedway Road Course.
Class A
Harris spent the first half of the one-hour race just inside the top-five. Pit stops at the halfway break provided the opportunity that the driver of the virtual and unsponsored No. 95 Chevrolet Camaro ZL1 1LE he needed. Harris had the best pit stop and leap-frogged ahead of his competition to the lead. Matt Danson exited pit road second but dropped to the rear for a pit road speeding penalty.
With the most dominant A Class driver of the series starting at the rear, the race was wide-open between Harris and both Seth DeMerchant and Christian Pedersen. DeMerchant, the winner of the Fake 500 earlier this year, struggled to keep his car on track. Slowdown penalties ultimately took him out of contention.
That left Pedersen to run down Harris for the lead. The Logitech G Altus eSports driver caught Harris with two laps to go. However, hot tires and lapped traffic worked in the leader's favor. Pedersen struggled to find his way by Harris. The duo raced hard throughout the final laps. Pedersen briefly pulled alongside before taking the checkered flag 0.123 seconds behind Harris. Danson completed the podium and clinched the Class A division championship.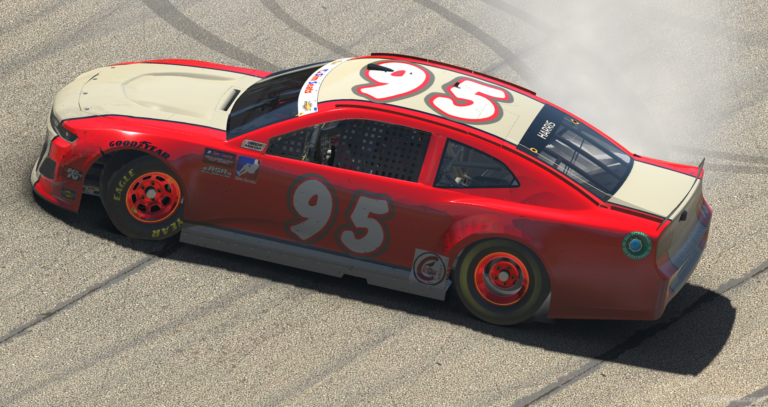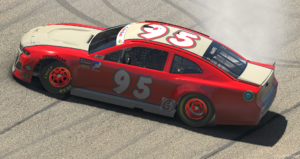 "That was a good race all the way around," admitted Harris. "I think I burnt my tires up a little too much when I got out to that lead, but I was glad I was able to hold out for the win. I learned this (road course) on the go; didn't start any practice until after the NASCAR Xfinity Series race (Pennzoil 150 at the Brickyard) finished. Guess I'm just a quick learner for road courses.
"It was mainly just trying to take care of the tires on the exit. Over the course of that first run when I was riding in the back of the A cars, I was just watching what everyone else was doing. I was just practicing taking care of my tires. I think in that second half I was second quickest to Danson there. It was tough to pass, and I didn't want to damage my car in the first run.
"It's hard when you're leading at (Auto Club) because there's not many reference points for the braking points. So, I feel that the car behind always has an advantage."
Class B
In the B Class, circumstances and previous track experience handed the win to Brian Szabelski. The driver of the virtual No. 85 NihonTiger Chevrolet Camaro SS was well behind the most dominant B Class driver in the eRacr Roval Racing Series, Matt Taylor. However, before the halfway break, Taylor's virtual No. 8 eRacr Chevrolet Camaro SS slowed to a crawl on the frontstretch. His Oculus Virtual Reality headset failed.
With Taylor out of contention, the B Class race shifted to a battle between Szabelski, Gary Weaver, and Cade McKee. The trio traded the lead back and forth as one would overdrive a corner or receive a slowdown penalty. However, all three drivers kept the racing clean amongst themselves.
Szabelski ran the Auto Club Road Course in a Mazda MX-5 league previously. He used that experience to ultimately keep Weaver and McKee at bay and narrow the points gap to championship leader Taylor.
"I am tired because I have to say that Gary Weaver and Cade McKee absolutely kept it on me," explained Szabelski. "They were nothing but respectful and clean, so first and foremost, thank you to those two. I feel gutted for Matt because he had a tech failure. He was gone. I wouldn't have been able to catch him. It kind of fell into my lap and I was able to take advantage of it today."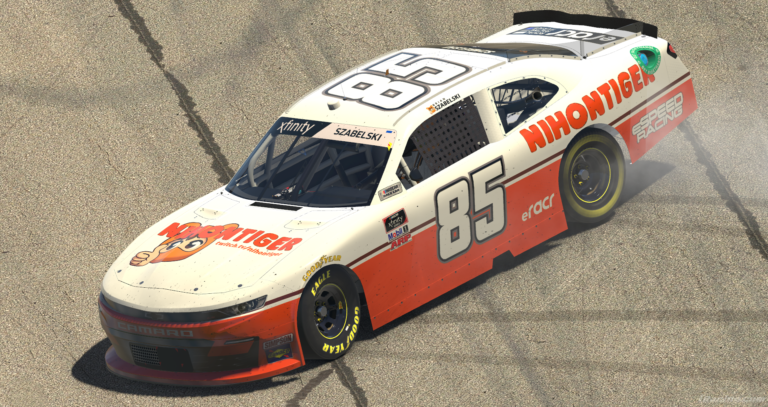 Class C
Another unforced error plagued David Grantham in the Ballistipax C Class. The driver of the virtual No. 6 Morchuck Chevrolet Silverado failed to complete a lap in qualifying. That relegated the championship contender to starting 24th overall. However, it didn't take long for Grantham to climb through the field.
"I joked on Twitter after New Hampshire that I would be happy to trade being fastest in practice and qualifying for another win," stated Grantham. "Qualifying wasn't what I had in mind, but, fortunately, the draft and the passing zones really helped get me back up front. What happened was that I was caught speeding twice exiting pit road and lollygagged around a bit too much on my warmup lap. I missed posting a time by about 5 feet before the session ended."
In just five laps, he moved into 12th overall and was three seconds behind C Class leader Brandon Paunetto. Slowdown penalties and multi-class traffic allowed Grantham to snatch the lead in the first half of the race. Grantham never looked back and took the checkered flag with Paunetto and Dustin Ping completing the Ballistipax C Class podium.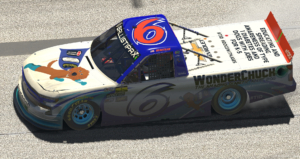 "After the disappointment of being unable to recover from an unforced error while leading at New Hampshire, preparation for Auto Club was more intense," continued Grantham. "I ran laps at the Nürburgring, made a few climbs up Mt. Washington, and focused on long run speed during testing. Along with the car/track combination for the Slide Job 300, the collective experience helped me to get a handle on managing wheel spin and weight transfer.
"I was also finally able to replicate parts of the mindset I had at Texas and drove my own race. I was "patiently aggressive" and didn't use up my tires in the first few laps when I gained five positions, mostly thanks to the draft and some give and take mid-pack.
"Once I worked up to second and had clean air, I was able to build up to setting the fastest lap. I was content to ride until after the mid-race caution, but Brandon missed a couple of turns and I let the long run speed do the rest. After that, it was a matter of hitting my marks, not speeding on pit road, and staying clean after the restart."
Next for the eRacr Roval Racing Series is a 90-minute season finale on the Homestead-Miami Speedway Roval on Saturday, August 21, at 7:00 p.m. ET on eRacr's Twitch channel.
The results:
1. 95-Cody Harris (A) [4], 2. 23-Christian Pedersen (A) [6], 3. 30-Matt Danson (A) [1], 4. 58-Michael P. Frisch (A) [3], 5. 57-Seth DeMerchant (A) [5], 6. 7-Andy Trupiano (A) [2], 7. 85-Brian Szabelski (B) [10], 8. 07-Gary Weaver (B) [15], 9. 27-Cade McKee (B) [13], 10. 6-David Grantham (C) [24], 11. 5-Brandon Paunetto (C) [17], 12. 53-Justin Melillo (B) [12], 13. 1-Dustin Ping (C) [20], 14. 044-Hunter Reeve (C) [21], 15. 13-Phillip Bupp (B) [9], 16. 999-Joseph Selby (B) [11], 17. 36-Tyler Stilwell (C) [18], 18. 77-Riley Dunn (C) [19], 19. 74-Jeremy Breault (C) [22], 20. 49-Arthur Rymer (B) [14], 21. 26-DG Swiss (C) [23], 22. 8-Matt Taylor (B) [8], 23. 16-Evan Pienta (B) [16], 24. 87-Clint Roberts (C) [25], 25. 82-James D. Gibson (A) [7].
Lead Changes: Four among three drivers.
Lap Leader(s): Matt Danson 1-3, Seth DeMerchant 4-8, Matt Danson 9-18, Seth DeMerchant 19, Cody Harris 20-32.
Laps Led: Cody Harris 13, Matt Danson 12, Seth DeMerchant 7.
Caution Flags: One for two laps.
Margin of Victory: 0.123 seconds.
Time of Race: One hour, 2.647 seconds.
Average Speed: 89.534 MPH
Pole Winner: 30-Matt Danson (A), One minute, 38.200 seconds (102.648 MPH).
Class Designation: A (NASCAR Cup Cars), B (NASCAR Xfinity Cars) C (NASCAR Camping World Trucks).
Featured Photo Credit: Photo by Seth Eggert / Kickin' the Tires.