By Sarah Handy, Staff Writer
Last Sunday, Quin Houff and his StarCom Racing team rallied to finish 22nd in a wild NASCAR Cup Series race at Indianapolis Motor Speedway's Road Course. Our Sarah Handy recently caught up with the driver to recap Indy and discuss this weekend's race at Michigan.
Verizon 200 from Indy
It was a wild NASCAR Cup Series Verizon 200 from the Indianapolis Motor Speedway Road Course with the curb in turns 5-6 causing havoc for drivers most of the afternoon. After starting the 24th event of the season in 38th, Houff and his No. 00 Sherfick Companies Chevrolet for StarCom Racing were able to avoid the chaos that ended so many drivers' day.
The result when the checkered flag waved was a 22nd place finish for the Virginia native, his second Top-25 of the season. Houff spoke to Kickin' the Tires and recapped his day at Indy.
"The Indy Road Course race [definitely] turned out to be a wild one. It was seemingly calm for most the race which allowed us to run our own race and adjust the car as I found my rhythm," said Houff. "Then that late caution came out and things got crazy. Thankfully we missed most of the havoc and were there inside the Top-20 on the last lap before being spun coming out of turn nine. I hated we didn't get a Top-20 but we will take a Top-25!"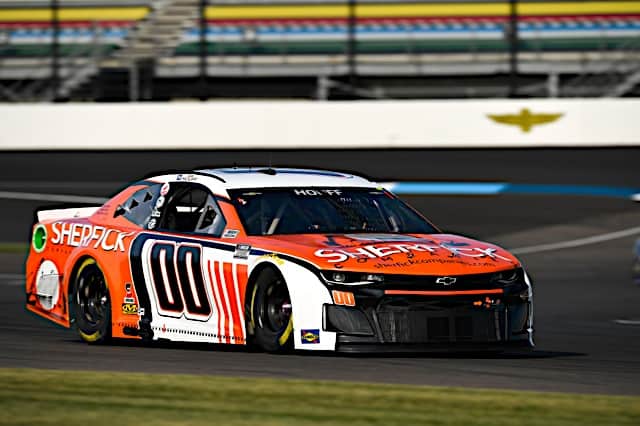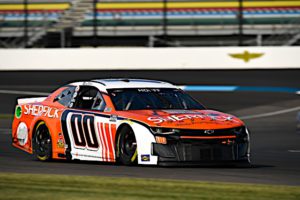 With the curb in turns 5 and 6 causing so many issues for drivers; Houff spoke about that and also how thankful he was that his No.00 didn't have issues getting through there.
"It was very interesting to see all the cars have [so much] trouble and damage with the curbing in turns 5/6," expressed Houff. "I never had any issues thankfully through there. But it was definitely a high-speed corner that we were using all the curb we could. The curb didn't seem to be able to withstand it."
With all that said, would Houff prefer the oval configuration over the Road Course? Does he find them comparable at all? As a driver he touched based on both of those.
"Obviously running anything at Indy is very special. I don't think [running] the oval is comparable at all to the road course," expressed Houff. "They present two [very] different styles of racing, which is neat considering it's at the same facility. I honestly would like to add a race and run the oval and the road [course] there during our race season."
2021 Season
The NASCAR Cup Series has seen some new tracks added to the schedule this season and others modified slightly. Speaking of modified tracks, back in March we saw Bristol Motor Speedway but with added dirt, it proved to be a good finish for Houff who brought home his No. 00 Mane 'n Tail Chevrolet 25th.
Then we have the Indianapolis Road Course this past weekend, another challenging track that drivers had yet to experience in the series. So, what is it about these couple tracks for example that seem to suit Houff's driving style?
"The new venues this year have presented a lot of opportunity for our small team," said Houff. "As a driver I am used to going and having to learn on my feet. Having to run a lot of places for the first time the past two years. So, when we go somewhere no drivers have experience, I feel it evens the playing field some and creates more mistakes by others."
The road courses; including Indianapolis this past weekend and the Bristol Dirt race in March, saw smaller teams running more towards the front. More so then we would normally see. It provided what many of those teams would consider a win in their book. Houff provided his point of view, saying in part, more mistakes will happen at venues that the series has never been too.
"I think the fact you see some smaller teams getting good finishes at road courses is because they just create [more] mistakes by teams and drivers that don't normally have any. Especially at the new venues we have never been to," said Houff.
"If you look back at Watkins Glen or Sonoma, I feel like those races ran a little more normal; being that the series has gone to those places many years. But when you go to a Bristol dirt, COTA, or Indy, places no one has any experience at; it creates opportunity through the field as teams and drivers try to be the best at adjusting quickly."
Michigan
Next up the NASCAR Cup Series heads to Michigan International Speedway for Sunday's Firekeepers Casino 400. Houff and his No. 00 StarCom Racing Chevrolet will run a special scheme as long-time sponsor Creek Enterprise has teamed up with their local YMCA which will also adorn the car.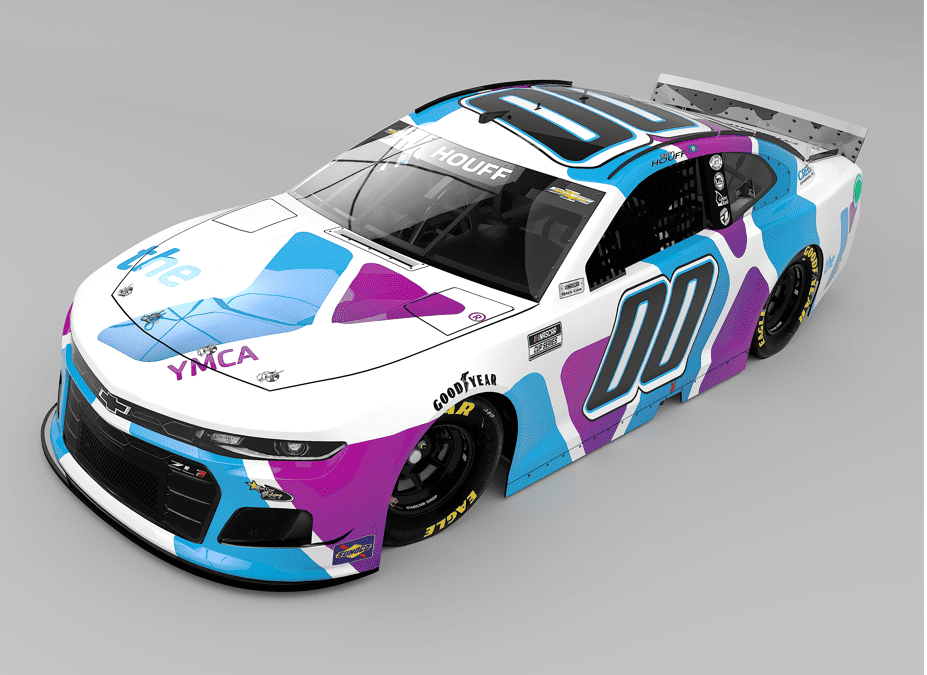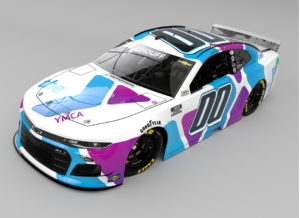 (Photo Credit: StarCom Racing)
"I am excited to get to Michigan. It is a [very] fast and wide track which creates fun multi groove racing, but it is very tough to pass so we will have to be on it," expressed Houff. "I'm also excited to have Creek Enterprise come back on board with us. They have partnered up with their local YMCA which will be on the car as well which looks awesome!"
In four previous Cup starts at Michigan, Houff has a best finish of 27th coming in the first of two races at the Brooklyn, MI track last season. Even so, Houff told Kickin' the Tires he will utilize iRacing as he does for any race whether he has run on it previously or not.
"I will race on iRacing at Michigan. Even tracks I have been too I still use iRacing to renew what I know about the track," said Houff. "Also, I can look back at past races, the data [and see] what I need to focus on to be better going into this weekend"
Quin Houff will roll off the grid from 31st on Sunday afternoon. The Firekeepers Casino 400 is scheduled for 3:00 PM Eastern on NBCSN, MRN and SiriusXM NASCAR Radio.
Feature Photo Credit: Nigel Kinrade Photography / NKP Photo