By Seth Eggert, Associate Editor
CHARLOTTE, N.C. – Last year the cheers of victory came from a competitor while in 2023, the eNASCAR Coca-Cola iRacing Series championship 'squeals' erupted from Steven Wilson.
Qualifying alongside pole winner, and Norse Force Racing alliance driver Donovan Strauss, Wilson was the best of the eNASCAR Championship Four drivers at the virtual Homestead-Miami Speedway. That gave the Stewart-Haas eSports driver a comfortable cushion over Garrett Lowe, rookie Tucker Minter, and 2020 champion Nick Ottinger.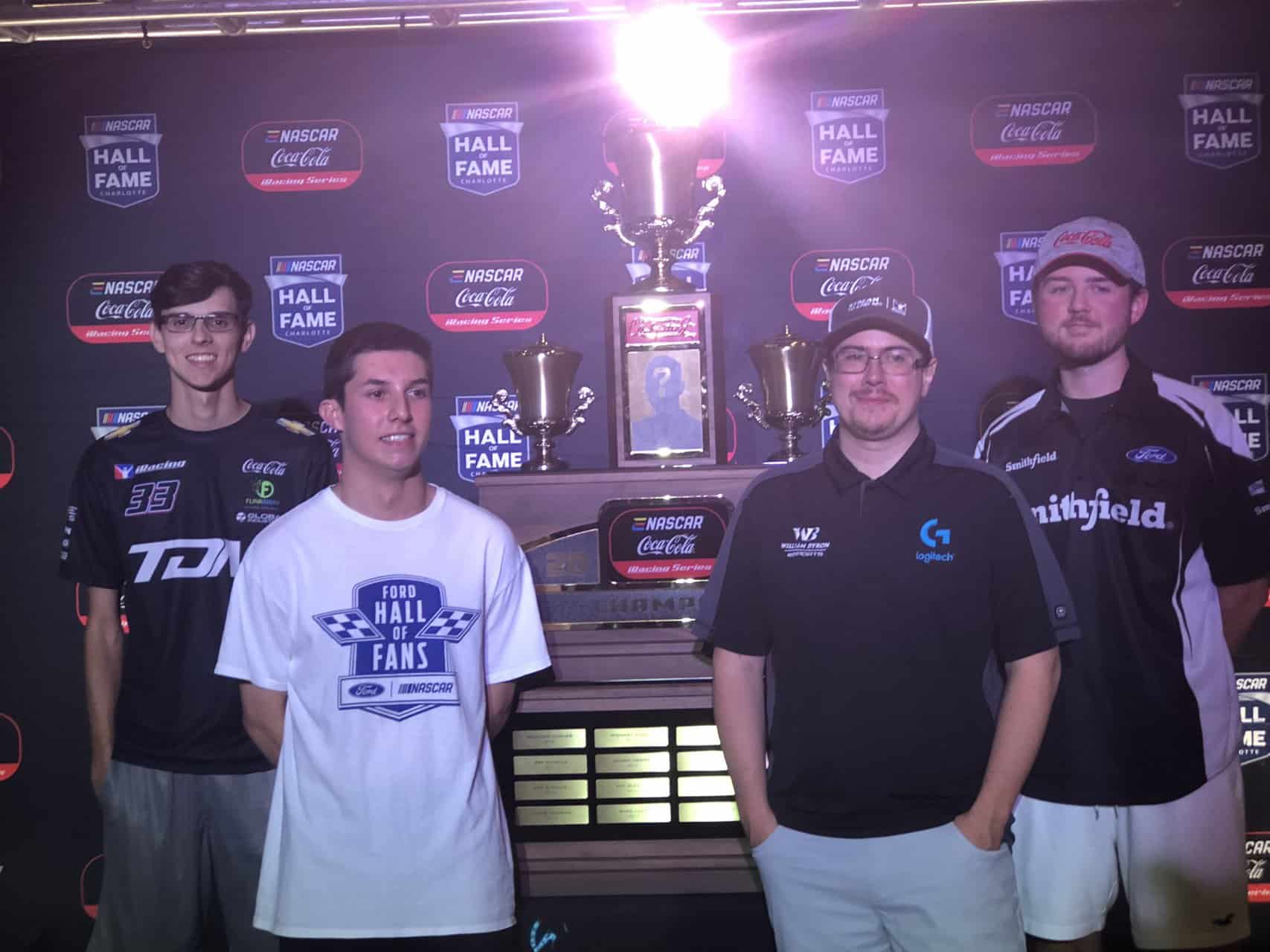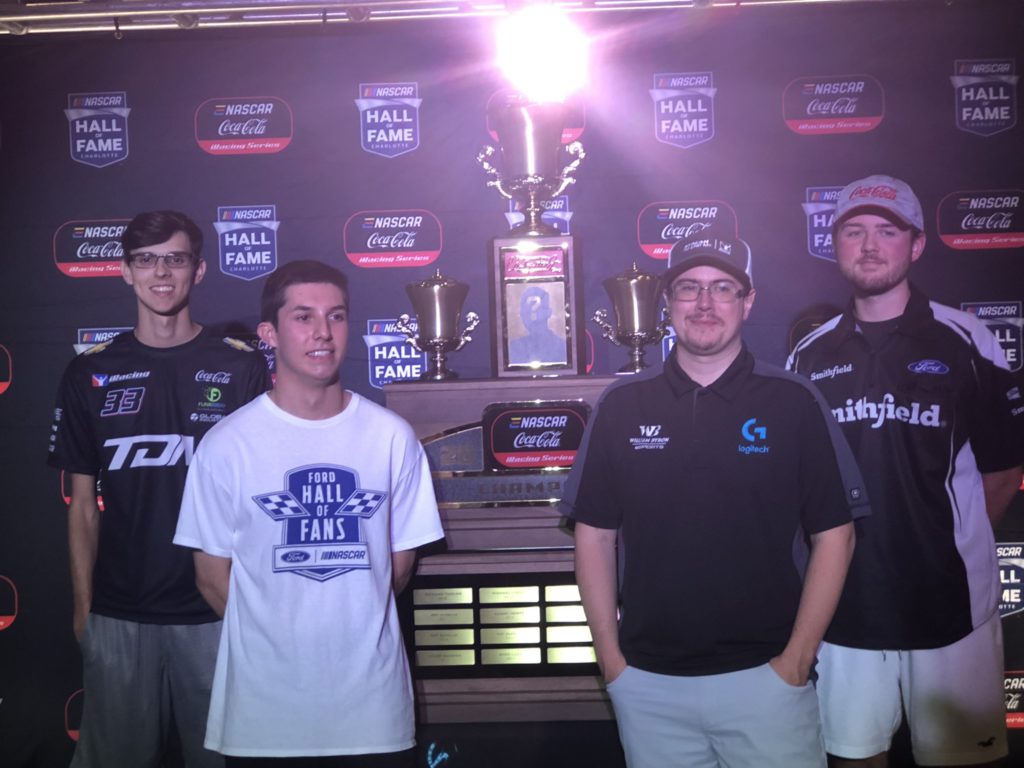 Wilson's other advantage came from being in the Championship Four for the inaugural battle at the NASCAR Hall of Fame last year. The Iowan knew the environment well, giving him a better feel of expectations for the stage he and his championship rivals were competing on. The one disadvantage that faced Wilson was that he was the only driver not using his own rig for the event.
"It feels awesome," Wilson said. "It's crazy, I never would have thought I would have been in an environment like this just for iRacing, but it's surreal and it's so awesome to have done it in front of the friends and family. I've had a lot of friends text me from back home in Iowa at college, so happy to get back to them this weekend and it's going to be a lot of fun."
The driver of the virtual No. 10 Smithfield Ford Mustang struggled in 2022. That shook his confidence until a win at Atlanta Motor Speedway propelled him into the eNASCAR Playoffs. Wilson was the only driver that made the Championship Four on points as each of his competitors earned their spot with a victory.
Wilson ran the entirety of the race in second behind Strauss. Both Minter and Lowe made challenges, but in a sea of Wilson's alliance teammates, they burned up their Goodyear Racing Eagles before they could launch a proper assault for the championship lead.
Strauss, meanwhile, handily earned his first career win, leading every single lap of the event. Wilson took the checkered flag in second, winning $100,000 and the Dale Earnhardt, Jr. Championship Trophy with his family in attendance in the front row. The cheers filled the room as Wilson briefly let go of the wheel, pumped his fists before grabbing the wheel to celebrate.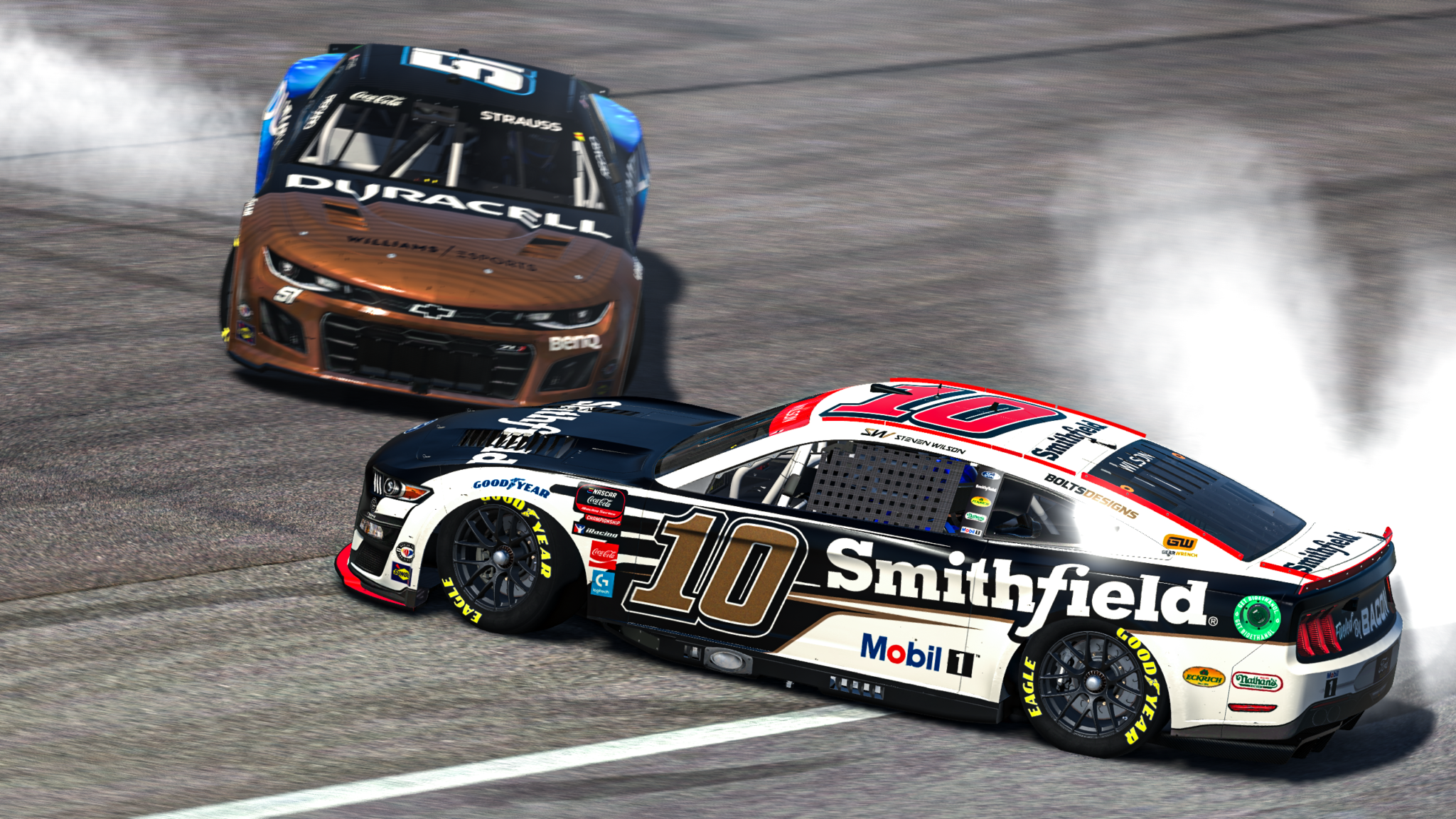 The green toy pig was not left out as Wilson put it on top of the trophy, which was presented by Hendrick Motorsports driver William Byron.
"Last year was pretty horrible for me, I was down in the dumps for a while," Wilson admitted. "I didn't really recover fully until I got my confidence back after getting that win in Atlanta this year. We've been really good speed with the guys at Norse Force (alliance team). I want to shout out Donnie for his win today. I'm super happy for him. He does so much work for us and yeah, I just got to thank him and super happy."
Minter finished seventh in the race, second in the championship, and won rookie of the year honors. Ottinger, who drives for Byron's eNASCAR team, was 13th, third in the championship. Lowe finished a distant 35th, fourth in the championship.
Completing the top-five were Parker White, Graham Bowlin, and Jordy Lopez. Femi Olatunbosun, Minter, Michael Cosey, Jr., Bobby Zalenski, and Brandon McKissic rounded out the top-10.
By virtue of the top-10 finishes by both Lopez and Minter, Team Dillon eSports won the eNASCAR Team Championship by 51-points over Stewart-Haas. William Byron eSports took third in the team standings.
The race at virtual Homestead was the final eNASCAR race for both Michael Conti and Allen Boes. Conti announced his retirement at season's end earlier in the year. The 2014 champion and JR Motorsports driver finished 30th, ending the 'It's Been Gr8' Tour 10th in points. Boes finished 38th in his final eNASCAR race.
On a tiebreaker, 2021 champion Keegan Leahy avoided relegation, finishing 20th in the standings. Rookie Wyatt Tinsley, however, must return to the eNASCAR iRacing Contender Series.
Joining Tinsley are Corey Vincent, 2019 champion Zack Novak, Dylan Ault, Kevin King, Timmy Holmes, Ryan Doucette, NASCAR driver Kaden Honeycutt, Kollin Keister, Olatunbosun, Darik Bourdeau, Cody Byus, McKissic, Derek Justis, Collin Bowden, Daniel Faulkingham, 2017 champion Ryan Luza, Vicente Salas, and Joey Brown.
The Results:
1. 51-Donovan Strauss [1], 2. 10-Steven Wilson ($100,000) [2], 3. 11-Parker White [4], 4. 48-Graham Bowlin [3], 5. 3-Jordy Lopez [22], 6. 43-Femi Olatunbosun [5], 7. 33-Tucker Minter [15], 8. 38-Michael Cosey, Jr. [7], 9. 18-Bobby Zalenski [9], 10. 36-Brandon McKissic [6], 11. 41-Dylan Duval [18], 12. 20-Wyatt Tinsley [8], 13. 25-Nick Ottinger [30], 14. 17-Kaden Honeycutt [20], 15. 66-Tyler Garey [10], 16. 23-Keegan Leahy [34], 17. 27-Cody Byus [32], 18. 42-Kollin Keister [33], 19. 14-Joey Brown [12], 20. 6-Timmy Holmes [13], 21. 77-Ryan Doucette [38], 22. 4-Ryan Luza [36], 23. 12-Garrett Manes [17], 24. 46-Jimmy Mullis [28], 25. 95-Casey Kirwan [29], 26. 2-Corey Vincent [27], 27. 7-Malik Ray [37], 28. 88-Kevin King [19], 29. 75-Zack Novak [26], 30. 8-Michael Conti [14], 31. 45-Michael Guest [31], 32. 97-Matt Bussa [16], 33. 54-Daniel Faulkingham [35], 34. 1-Darik Bourdeau [23], 35. 15-Garrett Lowe [24], 36. 40-Dylan Ault [25], 37. 69-Collin Bowden [39], 38. 34-Allen Boes [21], 39. 31-Derek Justis [11].
Lead Changes: Zero.
Lap Leader(s): Donovan Strauss 1-100.
Laps Led: Donovan Strauss 100.
Hard Charger(s): 23-Keegan Leahy, 23XI Racing, 16th (+18).
Rookie of the Race: 3-Jordy Lopez, Team Dillon eSports, Fifth.
Caution Flags: Two for Eight Laps.
Margin of Victory: 0.344 seconds.
Time of Race: 1:01:43.8.
Average Speed: 145.7962 MPH.
Pole Winner: 51-Donovan Strauss, Williams eSports, 32.492 seconds, 166.195 MPH.
Fastest Lap: 10-Steven Wilson, Stewart-Haas eSports, Lap 58, 32.816 seconds, 164.554 MPH.