By Seth Eggert, Staff Writer
In a caution-free race that came down to when to pit, Kollin Keister jumped ahead of the frontrunners to take the lead and the checkered flag in the eNASCAR Contender iRacing Series.
The driver of the virtual No. 8 SNG Graphics Chevrolet Camaro SS pitted for the final time with 43 laps to go. Prior to that final pit stop, Keister was running fourth behind race leader Kaden Honeycutt, Cody Byus, and Phoenix Raceway winner Parker Retzlaff. 15 laps later, the as the lead cycled from driver to driver, it ultimately landed with Keister.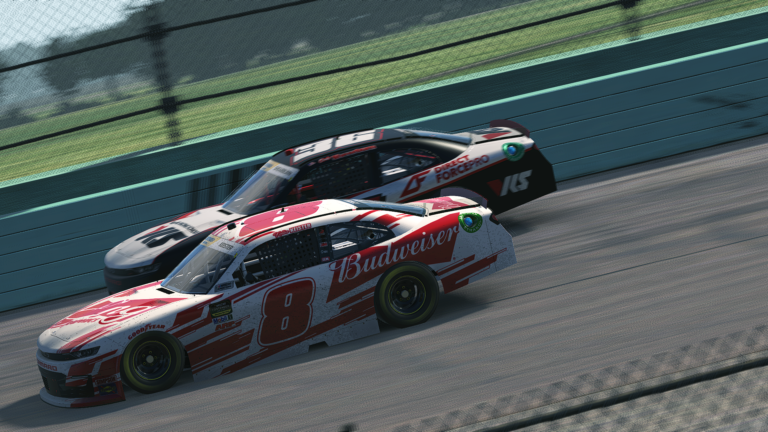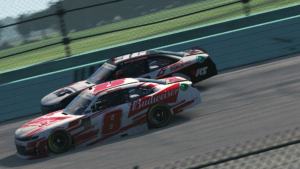 The pit cycle shook up the running order. Byus moved up to second with Donovan Strauss in third. The duo ran about one second behind Keister on track. As the leader was passed by those on fresher tires that pitted late, that lead was shaved down to about 0.75-seconds. However, the blistering track surface kept Byus, Strauss, and others at bay. Keister cruised to a 1.278-second victory.
"I decided to pit a lap earlier than everybody to try to get a jump on them," explained Keister. "I just sent it into pit road, and it stuck. Then we got a pretty good pit stop there and got out to a clean track. Put some good laps down. Those guys that came out behind, I was able to save a little tire while they were trying to caution up. It helped me out there at the end. I was able to keep the rear tires on it.
"I've learned to have a little bit more patience, not make evasive moves all the time, and let them come to me. That's helped me a lot. I've been a lot more consistent, kept the car clean."
Byus, Strauss, Retzlaff, and Allen Boes rounded out the top-five. Honeycutt, Kyle Peddle, Dylan Ault, Briar LaPradd, and Santiago Tirres completed the top-10.
Blake Reynolds ran the fastest lap of the race on lap 50, 33.232 seconds, 162.494 MPH. Reynolds took the checkered flag in 19th.
Several drivers initially attempted a one-stop strategy while others banked on a caution that would never come. Chris Shearburn and Casey Tucker were among those that ran on track as long as they could. Both drivers combined to lead 24 laps while up front.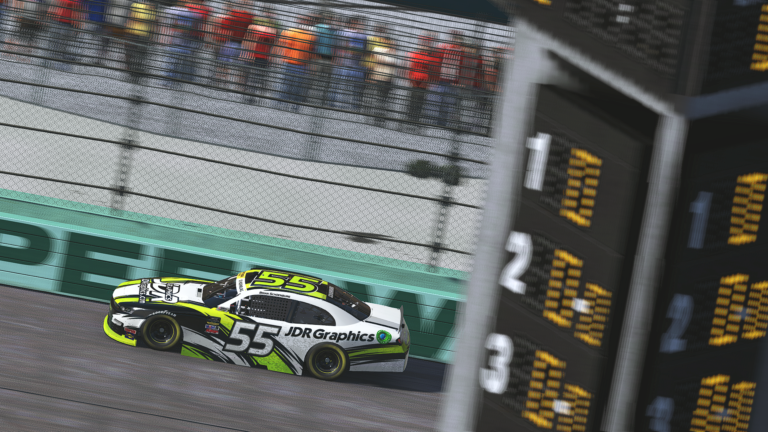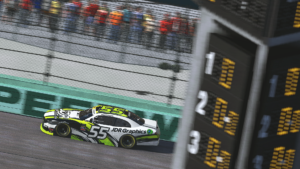 108 laps into the race, Brian Schoenburg pulled onto pit road and parked his virtual No. 55 JDR Graphics Chevrolet. After over 10 years competing in eNASCAR competition, Schoenburg decided to hang up his virtual helmet. When the eNASCAR Road to Pro Contender iRacing Series moves onto Auto Club Speedway next week, it appears the veteran iRacing driver will not be taking part.
It's been a hell of a ride, thank you for the more than decade of it @iRacing. (BTW, if you would still consider me in some form of broadcast role next year, I would enjoy doing that… if not, it's okay). I raced it up for over a decade with some of the best drivers in the world pic.twitter.com/m3U9ClWnHU

— Brian Schoenburg (@bschoon55) November 10, 2021
The results:
1. 8-Kollin Keister [18], 2. 27-Cody Byus [4], 3. 51-Donovan Strauss [8], 4. 42-Parker Retzlaff [1], 5. 21-Allen Boes [11], 6. 10-Kaden Honeycutt [2], 7. 54-Kyle Peddle [3], 8. 40-Dylan Ault [13], 9. 35-Briar LaPradd [9], 10. 17-Santiago Tirres [22], 11. 1-Malik Ray [16], 12. 46-Collin Bowden [10], 13. 74-Taylor Hurst [6], 14. 2-Jordy Lopez Jr [14], 15. 15-Blake McCandless [12], 16. 5-Nickolas Shelton [25], 17. 4-Darik Bourdeau [5], 18. 18-Femi Olat [21], 19. 66-Blake Reynolds [32], 20. 24-Jake Nichols [23], 21. 77-Ryan Doucette [33], 22. 62-Anthony Burroughs [29], 23. 6-Garrett Lowe [39], 24. 44-Zack Nichols [36], 25. 41-Brian Mercurio [17], 26. 53-Brandon McKissic [35], 27. 14-Justin Bolton [19], 28. 19-Liam Brotherton [20], 29. 31-Derek Justis [15], 30. 99-Michael Cosey Jr [27], 31. 90-Daniel Eberhardt [37], 32. 7-Blade Whitt [30], 33. 23-Christian Pedersen [34], 34. 52-Jake Matheson [31], 35. 28-Casey Tucker [7], 36. 36-Chris Shearburn [28], 37. 57-Seth DeMerchant [26], 38. 98-Ashton Crowder [40], 39. 88-Brad Davies [38], 40. 55-Brian Schoenburg [24].
Lead Changes: 15 among 10 drivers.
Lap Leader(s): Parker Retzlaff 1-2, Kaden Honeycutt 3-14, Kyle Peddle 15, Kaden Honeycutt 16-40, Cody Byus 41, Kaden Honeycutt 42-45, Donovan Strauss 46, Taylor Hurst 47, Casey Tucker 48-58, Chris Shearburn 59, Kaden Honeycutt 60-92, Parker Retzlaff 93, Nickolas Shelton 94, Casey Tucker 95, Chris Shearburn 96-106, Kollin Keister 107-134.
Laps Led: Kaden Honeycutt 74, Kollin Keister 28, Chris Shearburn 12, Casey Tucker 12, Parker Retzlaff 3, Cody Byus 1, Taylor Hurst 1, Kyle Peddle 1, Nickolas Shelton 1, Donovan Strauss 1.
Hard Charger(s): 8-Kollin Keister (+17).
Caution Flags: None.
Margin of Victory: 1.278 seconds.
Time of Race: One hour, 18 minutes, 49.433 seconds.
Average Speed: 152.999 MPH.
Pole Winner: 42-Parker Retzlaff, 32.650 seconds (165.391 MPH).
Fastest Lap: 66-Blake Reynolds, Lap 50, 33.232 seconds (162.494 MPH).
Strength of Field: 6,991 average iRating.
Featured Photo Credit: Photo by Seth Eggert / Kickin' the Tires.