By Seth Eggert, Staff Writer
Denny Hamlin Racing's Casey Kirwan overcame two overtime restarts in a wild Michigan International Speedway race to take the victory.
Early Race
Kirwan traded the lead with several drivers throughout the race. His virtual No. 23 Jordan Brand Toyota Camry drafted through the traffic to the lead of the pack often. The eNASCAR Coca-Cola iRacing Series package was reminiscent of the NASCAR Xfinity Series' race that featured aero ducts and restrictor plates several years ago.
Following mid-race pit stops, Kirwan briefly took the lead on lap 62 before sliding back. He again returned to the top spot in the closing laps, battling with Ray Alfalla. Kirwan took the lead with two to go when the caution waved for a spin by Phillip Diaz.
Overtime
On the first attempt at an overtime restart, a massive accident started mid-pack. As Alex McCollum was inches from the start-finish line and the white flag, Garrett Lowe, Graham Bowlin, and Justin Bolton collided. The trio swept up Nathan Lyon and Jake Nichols while Bolton and Lowe were sent sky-high.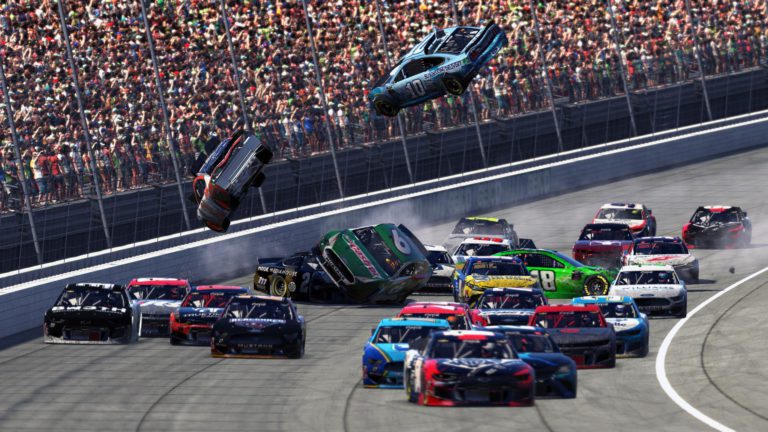 (Photo Courtesy of Justin Melillo / The Racing Experts)
Kirwan jumped to second and was challenging McCollum for the lead when the caution waved. During the second overtime restart, he flew by McCollum to take the lead. Kirwan picked his lanes tactically, keeping Alfalla and the G2 eSports driver at bay.
Checkered Flag
When the checkered waved, Kirwan edged McCollum by 0.093 seconds. Alfalla finished third as the field crashed across the line. Pole sitter Chris Shearburn and Christian Challiner completed the top-five.
"I had so much confidence coming into tonight," admitted Kirwan. "I knew we had a real good piece coming into tonight. It was going to be really hard to one-stop it, but once we had that quick caution. Then it was about going as far as you could so you could lead late. And you couldn't get away, so even if you wanted to burn your fuel off you would have roasted your tires off.
"I tried playing it smart there, waiting until it was 12 to go. Ray was really good through three and four, I didn't think I was going to be able to keep up. I went on the top, pinched him just enough, he got loose on the seam and broke the draft. Then the caution came out and my hopes and dreams were crushed.
"We pitted, still thought my hopes and dreams were crushed with everyone staying out. I was restarting on the outside. I got a big run, pushed McCollum off into three there, split Kollin. There was another restart and I don't really remember what happened."
McCollum's Finish
McCollum took the lead under the first overtime caution after an earlier mistake. During the round of green flag pit stops, he failed to put enough fuel in the car. McCollum narrowly stayed on the lead lap when the caution waved with two to go. The U.S. Legends Car racer restarted second to Kollin Keister, who was on old tires.
"I've never been up front, so I didn't know what the strategy was," admitted McCollum. "I'm very grateful for where I finished. This race was very intense, I came in with maybe five laps of practice. I was in North Carolina for the weekend, had no practice."
Notables
Corey Vincent, Caine Cook, Bobby Zalenski, Logan Clampitt, and Michael Guest rounded out the top-10.
Outside of the late-race incidents, the race only had one other incident. On lap two, Jeremy R Allen turned across the nose of Keegan Leahy. The contact sent his No. 47 Kroger Chevrolet Camaro ZL1 1LE into Nick Ottinger. The contact sent Ottinger flipping as the duo collected Malik Ray in the process.
Points
After Michigan, Shearburn is now tied with Bowlin for the final playoff grid berth. The Letarte eSports driver currently holds the tiebreaker with four top-five finishes to Bowlin's two. Kirwan's victory moved him to 13th in the standings, 32-points behind Shearburn and 107 behind teammate and leader Leahy.
Further down the running eNASCAR points standings, John Gorlinsky is on the relegation bubble. Burton-Kligerman eSports newcomer Bob Bryant is two points ahead with Bolton three ahead. Blake Reynolds is one point behind with Cook 11-points behind.
The Finish
1. 23-Casey Kirwan [4], 2. 54-Alex McCollum [14], 3. 2-Ray Alfalla [36], 4. 36-Chris Shearburn [1], 5. 37-Christian Challiner [19], 6. 27-Corey Vincent [18], 7. 55-Caine Cook [24], 8. 83-Bobby Zalenski [9], 9. 99-Logan Clampitt [21], 10. 33-Michael Guest [5], 11. 5-Matt Bussa [37], 12. 88-Brad Davies [17], 13. 3-Blake Reynolds [13], 14. 14-Brandon Kettelle [33], 15. 8-Michael Conti [22], 16. 32-Keegan Leahy [3], 17. 16-Chris Overland [38], 18. 77-Bob Bryant [16], 19. 15-Michael Guariglia [26], 20. 79-Brian Schoenburg [11], 21. 46-Jimmy Mullis [32], 22. 1-Steve Sheehan [39], 23. 9-Eric J. Smith [34], 24. 90-Zack Novak [29], 25. 41-Dylan Duval [31], 26. 4-Santiago Tirres [23], 27. 53-Ryan Luza [27], 28. 6-Nathan Lyon [6], 29. 18-Graham Bowlin [8], 30. 17-Kollin Keister [7], 31. 24-Jake Nichols [35], 32. 10-Justin Bolton [30], 33. 66-Jarl Teien [15], 34. 97-John Gorlinsky [28], 35. 75-Phillip Diaz [25], 36. 21-Garrett Lowe [20], 37. 25-Nick Ottinger [12], 38. 51-Malik Ray [2], 39. 47-Jeremy R. Allen [10]. 
Lead Changes: 29 among 15 drivers.
Lap Leader(s): Chris Shearburn 1, Casey Kirwan 2-6, Graham Bowlin 7-10, Chris Shearburn 11-13, Bobby Zalenski 14-22, Kollin Keister 23-26, Graham Bowlin 27-32, Kollin Keister 33, Casey Kirwan 34, Corey Vincent 35-37, Jarl Teien 38-48, Michael Guest 49-50, Casey Kirwan 51, Ray Alfalla 52, Phillip Diaz 53, Matt Bussa 54-55, Logan Clampitt 56-59, Ryan Luza 60, Corey Vincent 61, Casey Kirwan 62-70, Michael Guest 71-73, Caine Cook 74-85, Michael Guest 86, Caine Cook 87, Casey Kirwan 88-91, Ryan Luza 92-98, Casey Kirwan 99, Kollin Keister 100-102, Alex McCollum 103-106, Casey Kirwan 107-108.
Laps Led: Casey Kirwan 23, Caine Cook 13, Jarl Teien 11, Graham Bowlin 10, Bobby Zalenski 9, Ray Alfalla 8, Kollin Keister 8, Michael Guest 6, Alex McCollum 4, Chris Shearburn 4, Logan Clampitt 4, Matt Bussa 2, Phillip Diaz 1, Ryan Luza 1.
Hard Charger: 2-Ray Alfalla (+33).
Tough Break: 51-Malik Ray (-36).
Cautions: Three for nine laps.
Margin of Victory: 0.093 seconds.
Time of Race: One hour, 20 minutes, 50.240 seconds.
Average Speed: 160.322 MPH.
Pole Winner: 36-Chris Shearburn, 37.930 seconds (189.823 MPH).
Fastest Lap: 8-Michael Conti, Lap 108, 37.858 seconds (190.184 MPH).
Strength of Field: 6,868 average iRating.