By Seth Eggert, Staff Writer
A late-race pass earned Tate Lightle the 2022 Season B Elite Racing League JoinAPS.com Cup Series championship as his teammate, Josh Adams, took the race win.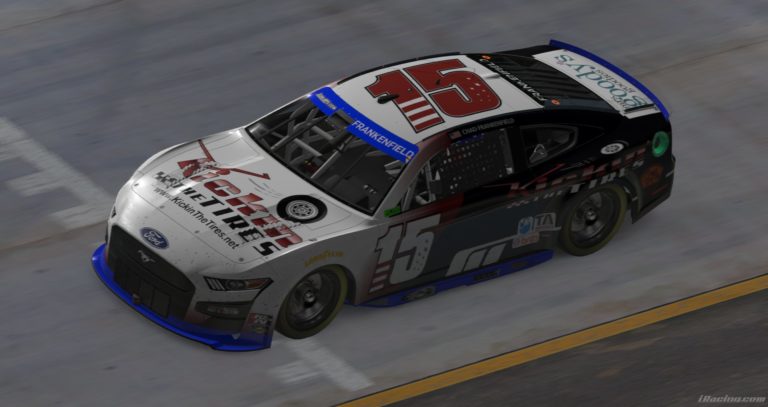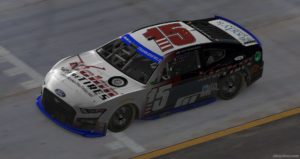 The battle for the championship ultimately came down to Lightle's No. 56 Dayz Gone By Vintage Toyota Camry and Chad Frankenfield's No. 15 Kickin' the Tires Ford Mustang. Frankenfield initially opted for a one stop strategy in the 150-lap race at Nashville Superspeedway.
However, with about 35 laps to go, Frankenfield's Ford drifted up the track exiting Turn 2 on old tires. The Championship Four driver clipped the left rear of Michael Goodman's car, sending the No. 44 spinning. The ensuing caution ensured Frankenfield the lead and a chance at the title.
Frankenfield launched well in the restart zone with under 30 laps to go. Though he was unable to shake both Adams and Lightle. The trio ran nose-to-tail for the first half of the final green flag run. As the tire wear increased, Adams' No. 1 Best Buy Chevrolet Camaro came to life.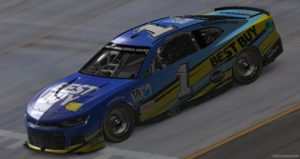 First Adams cruised by Lightle. He then dove by Frankenfield, opening the door for this teammate. With 11 laps to go, Lightle took second, and the lead in the championship, after a short battle with the Ford driver. Minor contact between the two Championship Four drivers allowed Adams to drive away.
Adams took the checkered flag 0.790 seconds ahead of his teammate, Lightle.
"It's pretty thrilling (to win the race)," Adams said. "Tate gave me the best compliment I've had all season. With five to go he said, 'Man, I'm glad he's not in the Championship Four.' It feels great to win one of these."
Meanwhile, Lightle took the checkered flag second, but was about two seconds ahead of his nearest Championship Four rival, Frankenfield.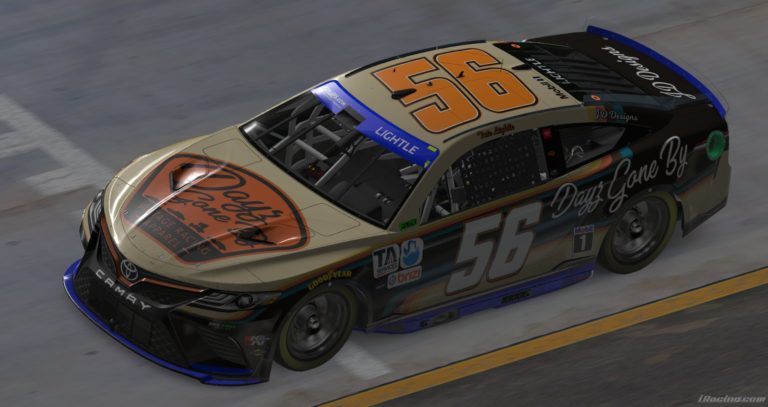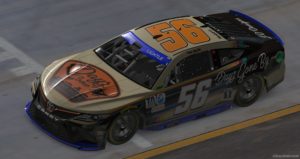 "I was pretty excited when we crossed the line," Lightle said. "It was a crazy race, felt like it was going to go green the whole way. I don't know what happened up there, sounds like there was a little contact, and the caution came out. I'm just thankful there wasn't any more cautions because I needed those 20 laps to get (Frankenfield).
"Adams was on another level. I made the decision with about 15 to go to just let him go because I knew he was going to go past Chad and give him the dirty air."
Nick Masse and NTT IndyCar Series driver RC Enerson completed the top-five. David Tooker, Elite Daytona 500 winner Tyler Foti, Mattieu Weeks, Chris Wright, and former NASCAR driver Jeff Green rounded out the top-10.
While the late-race caution changed the complexion of the race, the Championship Four drivers, Lightle, Frankenfield, Foti, and Weeks ran inside the top-10 throughout most of the race. Frankenfield was the only one to qualify outside the top-10. That left him at a disadvantage early on that eventually snowballed into the late-race contact with Goodman.
The Elite Racing League is already preparing for their next season on iRacing scheduled to start in a little over a month from now.
The results:
1. 1-Josh Adams [6], 2. 56-Tate Lightle [1] ($1,260), 3. 15-Chad Frankenfield [12] ($635), 4. 48-Nick Masse [2], 5. 50-RC Enerson [3], 6. 19-David Tooker [5], 7. 40-Tyler Foti [7] ($731), 8. 11-Matthieu Weeks [8] ($300), 9. 57-Chris Wright [22], 10. 38-Jeff Green [14], 11. 88-Tre Holmes [9], 12. 64-Andrew Rucker [13], 13. 01-Ryan Gavel [4], 14. 90-Scott Crump [24], 15. 28-Joshua Clark [19], 16. 18-Joshua Personette [21], 17. 70-Jesse Rasimas [10], 18. 84-Wyatt Knadle [17], 19. 27-Justin Fortener [15], 20. 89-Brent Jones [18], 21. 24-Michael Hossack [29], 22. 21-Justin Vandermaarel [20], 23. 44-Michael Goodman [11], 24. 16-Wesley Crump [16], 25. 9-Rusy Caple [25], 26. 81-Alexander Gray [23], 27. 23-Harrison Taillon [28], 28. 12-Zachary Rogers [27], 29. 969-Mark Murphy [26].
Lead Changes: Nine among four drivers.
Lap Leader(s): Tate Lightle 1-6, Nick Masse 7-24, Tate Lightle 25-45, Josh Adams 46-55, Chad Frankenfield 56-70, Nick Masse 71-75, Tate Lightle 76-77, Josh Adams 78-104, Chad Frankenfield 105-134, Josh Adams 135-150.
Laps Led: Josh Adams 53, Chad Frankenfield 45, Tate Lightle 29, Nick Masse 23.
Hard Charger(s): 57-Chris Wright (+13).
Caution Flags: One for four laps.
Margin of Victory: 0.790 seconds.
Time of Race: One hour, 22 minutes, 23.684 seconds.
Average Speed: 145.604 MPH.
Pole Winner: 56-Tate Lightle, 29.928 seconds, 160.345 MPH.
Fastest Lap: 1-Josh Adams, Lap 126, 29.958 seconds, 160.184 MPH.