By Seth Eggert, Staff Writer
Much like his NASCAR Cup Series counterparts, Ryan Luza spoiled the party for the eNASCAR Coca-Cola iRacing Series Playoff drivers, winning at Bristol Motor Speedway.
Life Imitates Art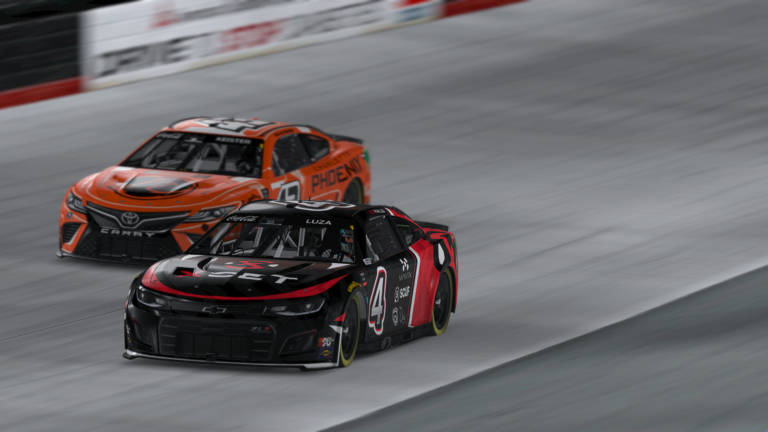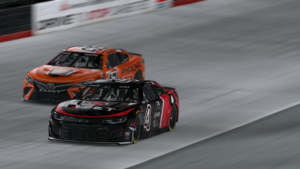 Life imitated art in more ways than simply a non-Playoff driver winning. Eight of the 10 eNASCAR Playoff drivers were swept up in incidents throughout the race. Only one Playoff driver finished in the top-five, Garrett Lowe. Steven Wilson was the only other Playoff driver in the top-10, finishing 10th.
Meanwhile, it was XSET's Luza that stole the show. Both him and Lowe were just a two of a handful of drivers that opted to pit for tires during the final caution. Though Luza only took two tires. With few drivers on the lead lap because of incidents, or other reasons, they lined back up inside the top-10.
Taking the Lead
Luza made quick work of Charlotte Phoenix's Kollin Keister to take the lead with just 24 laps to go. He was followed by a wave of other drivers on fresh tires. However, a brief struggle to get by Keister allowed Luza to breakaway. The former eNASCAR champion took the checkered flag with a little over one second to spare on Cody Byus. Ray Alfalla, Blake Reynolds, and Lowe completed the top-five.
"I thought there was plenty of time (to make fresh tires work)," explained Luza. "If it went green, I was just worried about not getting through (traffic) as fast as everyone else behind me. If I got caught up once, everyone else behind me was on four (tires). Luckily I was able to get through, and once in front had a 1.5-second gap to play with and save (fuel and tires) in case we got a caution late. Really cool, thought we were going to have a winless year for the first time. But we got it done. Can't believe it, but it came one race too late. It should solidify me inside the top-20."
Notables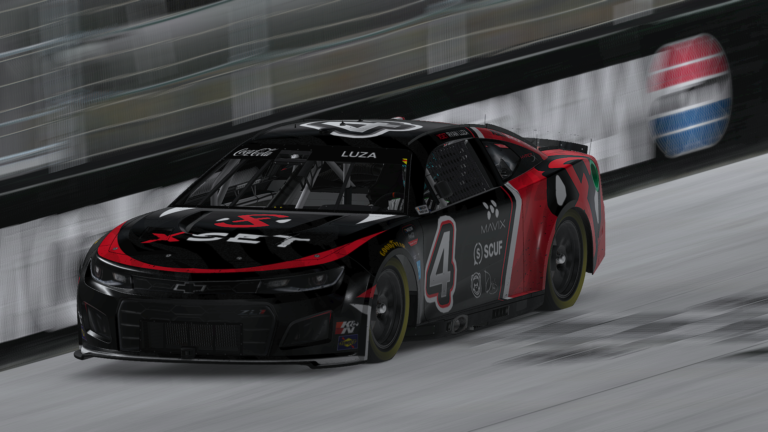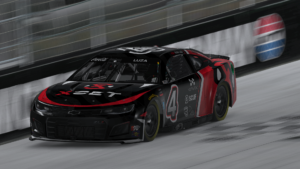 Brian Mercurio was the Rookie of the Race in sixth with Corey Vincent, Dylan Ault, Derek Justis, and Wilson rounding out the top-10. Polesitter and 2021 eNASCAR champion Keegan Leahy finished 23rd after being caught in one of the wrecks.
The first Playoff drivers to be swept up in an accident were Matt Bussa, Mitchell deJong, Casey Kirwan, and Wilson. The wreck happened just past lap 100 and was just the second caution of the night. Graham Bowlin, Michael Conti, Femi Olatunbosun, and Nick Ottinger were also swept up in accidents.
Though some lost laps getting repairs, others, such as Bussa and Kirwan lost laps to the leaders due to the previously mentioned other reasons.
Points Picture
Despite being swept up in a wreck, Wilson still holds the points lead by one over Lowe. Bowlin and Conti currently hold the final two spots above the eNASCAR Playoff cutline. Bobby Zalenski is five points below the cutoff, held by Conti.
Olatunbosun is seven points behind with Kirwan eight points back. 2020 eNASCAR champion Ottinger is 13-points below the cut with Bussa 14 and deJong 19 behind.
Next for the eNASCAR Coca-Cola iRacing Series is a trip to Talladega Superspeedway on Tuesday, September 27 at 9:00 p.m. ET. Coverage will be streamed on enascar.com/live and iRacing's social media channels.
The results:
1 4-Ryan Luza [14], 2. 24-Cody Byus [35], 3. 51-Ray Alfalla [31], 4. 15-Blake Reynolds [24], 5. 21-Garrett Lowe [18], 6. 36-Brian Mercurio [26], 7. 3-Corey Vincent [33], 8. 40-Dylan Ault [28], 9. 12-Derek Justis [36], 10. 10-Steven Wilson [2], 11. 48-Graham Bowlin [5], 12. 41-Dylan Duval [15], 13. 14-Nickolas Shelton [38], 14. 43-Kollin Keister [12], 15. 20-Donovan Strauss [37], 16. 18-Bobby Zalenski [3], 17. 8-Michael Conti [4], 18. 88-Briar LaPradd [23], 19. 31-Garrett Manes [11], 20. 19-Vicente Salas [30], 21. 79-Femi Olatunbosun [27], 22. 95-Casey Kirwan [29], 23. 45-Keegan Leahy [1], 24. 5-Zack Novak [13], 25. 6-Parker Retzlaff [10], 26. 97-Logan Clampitt [32], 27. 46-Jimmy Mullis [39], 28. 75-Matt Bussa [7], 29. 42-Darik Bourdeau [19], 30. 25-Nick Ottinger [9], 31. 17-Kaden Honeycutt [8], 32. 9-Michael Guest [17], 33. 23-Mitchell deJong [6], 34. 7-Malik Ray [16], 35. 69-Collin Bowden [34], 36. 16-Blade Whitt [22], 37. 2-Liam Brotherton [21], 38. 55-Allen Boes [25], 39. 33-Taylor Hurst [20].
Lead Changes: Three among four drivers.
Lap Leader(s): Keegan Leahy 1-101, Bobby Zalenski 102-138, Kollin Keister 139-151, Ryan Luza 152-175.
Laps Led: Keegan Leahy 101, Bobby Zalenski 37, Ryan Luza 24, Kollin Keister 13.
Hard Charger(s): 24-Cody Byus, Mode Media House (+33).
Rookie of the Race: 36-Brian Mercurio, Letarte eSports, sixth.
Caution Flags: Five for 25 Laps.
Margin of Victory: 1.324 seconds.
Time of Race: 57 minutes, 22.076 seconds.
Average Speed: 97.555 MPH.
Pole Winner: 45-Keegan Leahy, 23XI Racing, 14.361 seconds, 133.612 MPH.
Fastest Lap: 4-Ryan Luza, XSET, Lap 151, 14.765 seconds, 129.956 MPH.