By Seth Eggert, Staff Writer
The concept of 'Sim to Reality' can take many forms. As previously covered in this series, some have used it to hone their craft in the media and drivers have used it to practice for upcoming tracks. For Ryan Vargas however, 'Sim to Reality' is an expansion of his brand and a marketing tool.
Expanding His Reach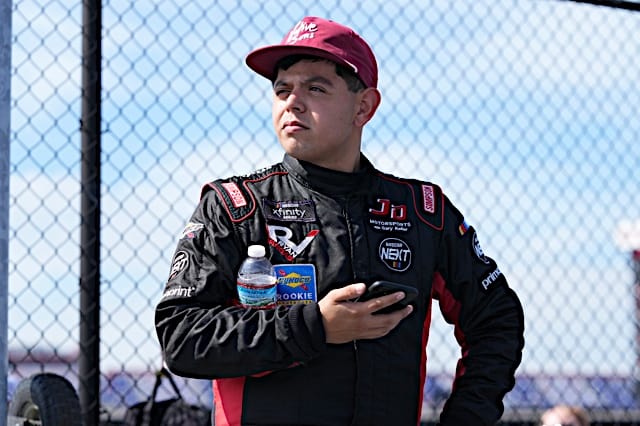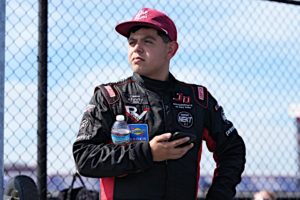 Between actually competing in real life, on iRacing, and streaming on Twitch, Vargas has worked on building up his brand. The La Mirada, Calif. native that started his career in real-life in Mini Stocks and Late Models at Irwindale Speedway expands his fan base every time he logs on to the motorsports simulator. Vargas attracts both fans of the sport as well as those interested in eSports. It provides an opportunity to introduce new fans to NASCAR and shows traditional fans what the 21-year-old can do on track.
"I think it's very natural for me to expand upon what I do and expand upon my reach," Vargas explained to Kickin' the Tires. "I think it's an important application to access, not just as a tool to get better behind the wheel, but as a tool to interact with other racers or fans. That's been a cool thing. I've been able to do a lot of these races, these iRacing deals. I've met so many really, really cool people and I probably would have never met had I not been on iRacing."
Interacting with Fans
Some of those fans have recognized Vargas at the track. As some fans have explained in the past, they weren't fans of NASCAR before iRacing. Or some have found a greater appreciation and understanding of the sport thanks to iRacing.
"I made a one-off start in the MPI Cup series and got a fourth-place finish, so that was fun," Vargas recalled."I did two races in a superspeedway league, and I won both of them. I've been fortunate to be invited to a lot of different leagues and be able to really try and basically perform in front of a new audience.
"A lot of people who watch them racing may not be full-blown racing fans that are there that might become race fans, and we've got to get them to watch racing. Then there are our regular race fans who may not have seen me race or may not see me race up front very often. This gives them an opportunity to see a little bit of some of the things I can do."
Sponsorship Opportunities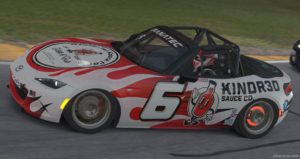 In addition to introducing fans to both himself and to the sport, Vargas uses sim racing to give an added value to companies. He often will use paint schemes that are identical, or inspired, by the same colors he runs on track in a given NASCAR Xfinity Series race. Vargas has also signed sponsors, such as Get Wet Sports, specifically for iRacing events.
The JD Motorsports driver is among the first to adapt to the changing landscape of sponsorship. Active on social media, Vargas often interacts with the fans. In the same vein, he utilizes iRacing to give that added value, noting that the world has changed in the past 15 years.
"The big thing is giving companies an added value," Vargas emphasized to Kickin' the Tires. "I put in all my proposals that, if they want me to do 'X' esports events or 'X' competitions on iRacing, I'm happy to do so because at the end of the day that's just a new platform.
"It's not 2006 anymore. We're not in the age of just putting a sticker on a race car and call it done. You have to be creative and during races on iRacing and put your car up front. I have this running joke every time I do Mooncar or any race really might have a superspeedway that I'm only there for TV time and TV time only and it ends up being pretty beneficial. I end up leading a bunch of laps getting the sponsor or whether they're real life or not a lot of recognition."
Sponsors From Sim to Reality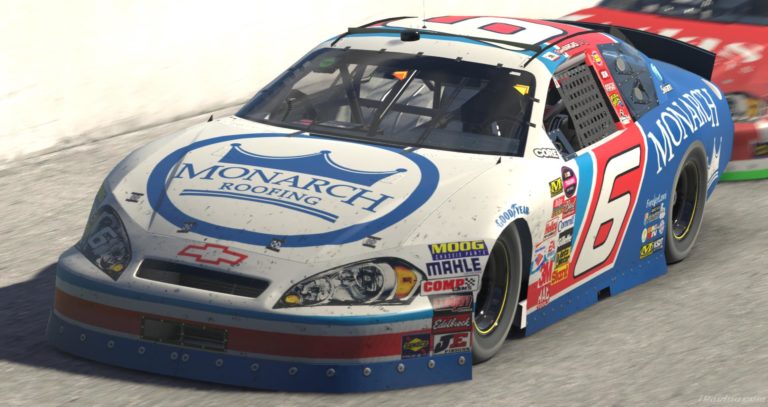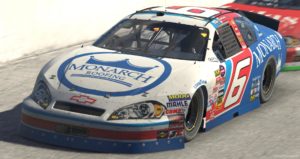 iRacing also provides an opportunity that is unique amongst eSports platforms. Graphic designers create fantasy paint schemes for many drivers, including Vargas. In 2020, one of those fantasy paint schemes caught the attention of TikTok. Several conversations later and Vargas was sponsored for several races by the social media giant.
Before he was 'put on the map' by the TikTok sponsorship, Vargas was already making waved in the sim racing community. During the COVID-19 shutdown, he organized the 'eTruck Series Night in America' events. That featured the virtually scanned replicas of the NASCAR Camping World Truck Series vehicles on traditional tracks. Vargas has also promoted the 'Street Stock Showdown' and 'Jumpy Cars' which featured unconventional car and track combinations.
"iRacing has been pretty fun," Vargas admitted. "Look at the many events we've put on, 'eTruck Series Night in America,' the 'Street Stock Showdown.' We've been able to take some pretty unconventional car and track combos and put on really, really big events that have raised a lot of money for charity. We've been able to give out massive cash prizes. I hope to do some more of these events, it's so time consuming, but it is also really fun hopping in these."
Racing Leagues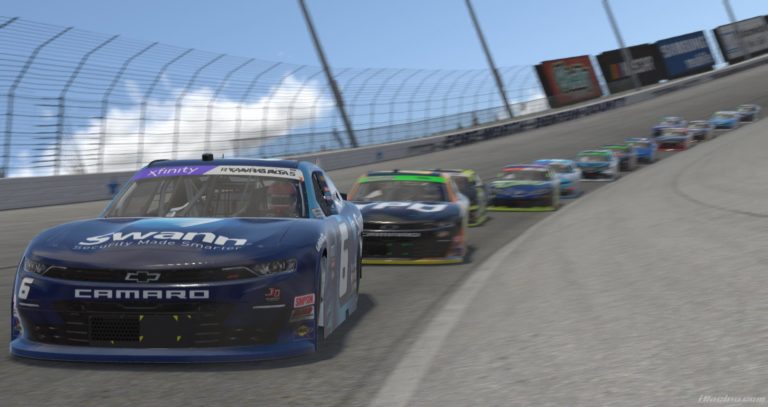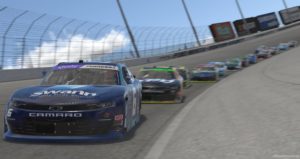 Besides the events that he has helped organize, Vargas has competed in multiple leagues on iRacing. He's a regular championship contender in Monday Night Racing. Vargas also has headlined the entries in IDK Player events and been a guest in the MPI Cup Series. He also races in Mooncar, the Untitled Friends League, CORE, and more. While the degrees of success vary, the time he spends on the sim racing platform allows him crucial time to interact with fans and have fun.
"In the races that I've taken part in, IDK Player events, Monday Night Racing, Mooncar, it's a lot of fun because it gives me an opportunity to be out there and have fun," Vargas stated. "There's no real stress. It's just, all about go out there do the best you can and if you're not able to, then just have fun and that's what I think that's what has been a lot of fun about iRacing is just going on there and trying to Just enjoy the feeling of really racing with little to no repercussion."
Team Bonding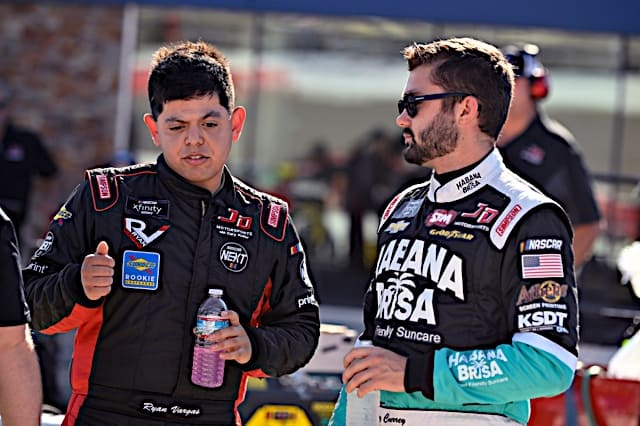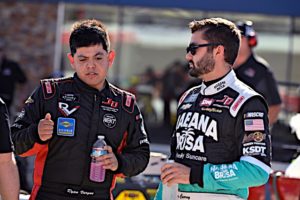 From a more practical perspective, sim racing offers a platform for a new form of team building exercises. In the various leagues Vargas competes in, he does so with his crew chief, Kase Kallenbach, and tire specialist Gabe Wood. The trio have often exchanged banter, playfully wrecked one another in practice or post-race, and bonded through their sim rigs. With Vargas' teammate Bayley Currey recently joining Monday Night Racing, iRacing only increasing the family atmosphere at JD Motorsports.
"The big thing is strengthening some relationships and friendships," Vargas explained. "I'm able to hop on iRacing with my crew chief. and my tire guy. and we're able to hop on there and exchange banter and go out there and race each other because it's fun and we enjoy what we do. It's definitely a new way to really build a team."
Virtual and Visual Practice
Another practical usage of iRacing for Vargas is as a visual aid. The highly detailed scans of racetracks by the motorsports simulation gives drivers a very accurate picture of what visuals the drivers can expect. Though, not all tracks are on the platform. To prepare for his start with Mike Harmon Racing, Vargas hopped on Brad Perez's rig to use rFactor 2, which had a mod that included Portland International Raceway.
"I use iRacing for the visual aspects," Vargas stated to Kickin' the Tires. "I use it so that I know what the tracklooks like. When you go out there in real life, it's a total shell shock. I mean, you're going 160, 170, 180, or 190 MPH going into these corners. It's something to adjust to. I feel like if I'm able to hop on, iRacing, get a bunch of laps, get used to running 190 MPH at these places it just makes me more able to comprehend what's happening a lot better versus entering completely green."
Ultimately, Vargas has found the camaraderie with his competitors, fans, and sponsors on iRacing as an expansion of his brand. Though he's not as well known for his sim racing prowess, having started as a short track racer on the West Coast, he is making the most of his 'Sim to Reality' opportunities.