By Seth Eggert, Staff Writer
After Joe Gibbs Racing's Malik Ray was relegated to the eNASCAR iRacing Pro Series, he controlled the season opener at the virtual Daytona International Speedway.
Right Place at the Right Time
A timely caution just before green flag pit stops gave the driver of the virtual No. 51 Rowdy Energy Toyota Supra track position on Lap 42. Ray lined up behind the Norse Force Racing cars that pitted off sequence earlier in the race. Although he couldn't work the draft back to the lead, the strategy put the 2020 eNASCAR Coca-Cola iRacing Series driver in position.
As the field attempted to lap Jose Solis Jr's damaged car, contact between Kollin Keister sent Derek Justis into the outside wall. Justis narrowly missed collecting Ray as he bounced back into traffic. When the leaders pitted, the Deadzone Racing driver jumped ahead of the Norse Force Racing machines as they needed to take on more fuel.
Dueling for the Lead
What ensued over the final 40 laps and several caution flags was a duel between Ray and those in the middle and outside lanes. Eddie Kerner, Isaac Gann, Michael Guest, and Donovan Strauss each edged ahead of the No. 51 for a moment. However, the strength of the inside lane often saw Ray surge back ahead after a lap.
Late charges from both Guest and Femi Olat forced Ray to defend multiple lanes, similar to Denny Hamlin and Joey Logano in real-life. As the laps wound down, the Rowdy Energy driver found himself in the middle lane with his teammate, 2020 eNASCAR iRacing Road to Pro Series champion, Allen Boes behind him.
Run to the Checkered
The duo pushed forward as the field crashed on the backstretch behind them on the final lap. As the leaders raced back to the checkered flag, the middle lane was the only one still with momentum. With the intensity increasing with every car length, Boes, Guest, and Olat began to bounce off one another. That allowed Ray to clear himself as the pack crashed coming to the line.
Ray took the checkered flag with Boes spinning 0.069 seconds behind him. Guest, Olat, and Eric J. Smith also finished inside the top-five. Zack Novak, Anthony Burroughs, Kerner, Dylan Duval, and Chris Overland completed the top-10.
"It just feels… it's just… I'm at a loss for words," a speechless Ray admitted. "The whole reason why I even won that race was all of my teammates, Allen Boes, Femi Olat, Michael Guest. It's a lot and I'm just really happy.
"Femi was up top, Allen had damage, and Michael Guest was on the bottom. I didn't want to leave Allen because he had damage. I just hoped we kept the momentum, stayed in the middle, and I just crossed the line first."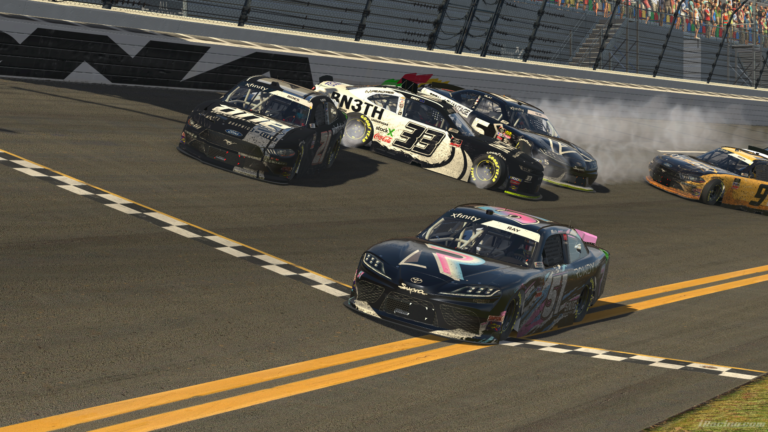 Big Race Winner
The eNASCAR iRacing Pro Series victory was the latest in a string of big event wins for Ray. Earlier this year he won Ryan Vargas' eTruck Series Night in America at Richmond Raceway. Ray also won the virtual Coca-Cola 600 and the Daytona 500. After each marquee win, the Deadzone driver has received a wave of support from competitors and fans alike.
"I honestly was just happy with the support that I have from everyone," Ray told Kickin' the Tires. "Every time I do something big on the sim, I get loads of support for it. And it's always from random people. Like, I don't know them and they don't know me. They're just happy to see me win and that'll always be something I love about iRacing."
Early Race Facts
In total, 14 drivers traded the lead 41 times throughout the 100 laps. Despite the intensity of superspeedway racing, the race was slowed just three times due to on track incidents.
While the inside and middle lanes dominated throughout most of the race, it was the outside lane that first got Ray up to the front of the field. Ray worked with fellow Coca-Cola Series alum Keister to move forward in the third lane. The driver of the virtual No. 17 Ford Mustang cleared both Seth DeMerchant and Boes to sweep ahead for the lead.
Notable Finishers
Both Burroughs and Jarl Teien were the hard chargers of the race. Both drivers finished 28 positions better than their starting spot.
Derek Justis and Keister both earned the tough break of the race, finishing 29 spots behind where they started.
Kerner had the fastest lap of the race on lap 26, at 45.652 seconds, 197.144 MPH. The quick driver is known for his speed as Eddie 'Ball' won the Landon Cassill Qualifying Challenge earlier this year.
Polesitter Brian Schoenburg finished 25th after being swept up in a late-race accident. 2020 Coca-Cola Series Talladega winner Brandon Kettelle was also swept up in a late race accident and finished 34th.
The Finish
1. 51-Malik Ray [23], 2. 21-Allen Boes [3], 3. 33-Michael Guest [18], 4. 5-Femi Olat [26], 5. 9-Eric J. Smith [27], 6. 90-Zack Novak [33], 7. Anthony Burroughs [35], 8. 21-Eddie Kerner [21], 9. 41-Dylan Duval [6], 10. 16-Chris Overland [22], 11. 6-Jarl Teien [39], 12. 12-Mitchell deJong [7], 13. 34-Matt Bussa [31], 14. 52-Jake Matheson [34], 15. 7-Blade Whitt [37], 16. 4-Santiago Tirres [16], 17. 77-Ryan Doucette [32], 18. 2-Garrett Manes [13], 19. 98-Ashton Crowder [10], 20. 47-Nathan Lyon [29], 21. 74-Taylor Hurst [5], 22. 42-Danny Hansen [14], 23. 20-Steve Sheehan [38], 24. 44-Brian Mercurio [36], 25. 55-Brian Schoenburg [1], 26. 24-Zack Nichols [12], 27. 45-Donovan Strauss [9], 28. 22-Isaac Gann [24], 29. 15-Michael Guariglia [11], 30. 46-Collin Bowden [30], 31. 14-Vincente Salas [17], 32. 57-Seth DeMerchant [2], 33. 31-Derek Justis [4], 34. 48-Brandon Kettelle [20], 35. 72-Michael Gonzales [19], 36. 1-Alex McCollum [25], 37. 17-Kollin Keister [8], 38. 32-Steven Wilson [28], 39. 75-Jose Solis Jr. [40], 40. 10-Justin Bolton [15].
Lead Changes: 41 among 14 drivers.
Lap Leader(s): Brian Schoenburg 1, Seth DeMerchant 2, Allen Boes 3-6, Seth DeMerchant 7, Allen Boes 8-11, Seth DeMerchant 12, Allen Boes 13-16, Seth DeMerchant 17, Allen Boes 18, Seth DeMerchant 19-20, Allen Boes 21, Kollin Keister 22, Allen Boes 23-28, Dylan Duval 29, Allen Boes 30-36, Malik Ray 37-40, Steven Wilson 41, Malik Ray 42-43, Zack Novak 44-45, Brian Schoenburg 46, Zack Novak 47-51, Brian Schoenburg 52, Zack Novak 53-55, Isaac Gann 56, Malik Ray 57-59, Eddie Kerner 60, Malik Ray 61-65, Eddie Kerner 66, Malik Ray 67, Donovan Strauss 68, Malik Ray 69-74, Jarl Teien 75-79, Malik Ray 80, Jarl Teien 81-82, Malik Ray 83, Michael Guest 84-85, Malik Ray 86-90, Michael Guest 91-92, Malik Ray 93-97, Femi Olat 98, Michael Guest 99, Malik Ray 100.
Laps Led: Malik Ray 34, Allen Boes 27, Zack Novak 10, Jarl Teien 7, Seth DeMerchant 6, Michael Guest 5, Brian Schoenburg 3, Eddie Kerner 2, Dylan Duval 1, Isaac Gann 1, Kollin Keister 1, Femi Olat 1, Donovan Strauss 1, Steven Wilson 1.
Hard Charger(s): 62-Anthony Burroughs and 6-Jarl Teien (+28).
Tough Break(s): 31-Derek Justis and 17-Kollin Keister (-29).
Cautions: Three for nine laps.
Margin of Victory: 0.069 seconds.
Time of Race: One hour, 26 minutes, 48.742 seconds.
Average Speed: 172.786 MPH.
Pole Winner: 55-Brian Schoenburg, 49.161 seconds (183.072 MPH).
Fastest Lap: 19-Eddier Kerner, Lap 26, 45.652 seconds (197.144 MPH).
Strength of Field: 6,553 average iRating.
Photo by Seth Eggert / Kickin' the Tires