By Seth Eggert, Staff Writer
Two-time NASCAR Cup Series champion Kyle Busch channeled his inner Dale Earnhardt, passing 24 cars in two laps to win Tufco Flooring Monday Night Racing's Season 2 opener at the virtual Talladega Superspeedway.
The Restart
After getting collected in a late race accident, Busch lined up inside the top-five with five laps to go. His virtual No. 51 Rowdy Energy Toyota Camry was down on power. A wreck in turn three allowed the Joe Gibbs Racing driver to use a fast repair and pit for fresh tires.
When Busch rejoined the field, he lined up 24th as the Bryant Shock Technology 200 went into overtime. After jumping to the middle lane, he drafted forward. Within a lap, Busch had moved back inside the top-15.
Run to the Finish
Exiting turn two on the final lap, Busch found himself just outside the top-10. As a multi-car wreck broke out behind him, the field raced back to the checkered flag. Busch lined up behind NASCAR Marketing Communications Manager Matthew Stallknecht's virtual No. 41. The duo tandem-drafted into the top-five. Entering the tri-oval, Busch sliced between Stallknecht and Motorsport's Nick DeGroot.
The six-car pack was cut in half as FOX Sports Digital and Monday Night Racing co-founder Ford Martin crashed with Steven Ellis and Gary Sexton. Their contact turned Stallknecht down into Busch. The Rowdy Energy driver bounced off of DeGroot and across Stallknecht's nose as the checkered flag waved. Despite crashing across the line, Busch edged Season 1 champion DeGroot by 0.023 seconds for the victory.
"I wish I had a plan, I had no plan, didn't know what the hell I was doing," Busch joked post-race. "I was banking on the fact that we were going to have more than one green-white-checkered. My car was too slow on the previous restart with five to go. I was like, 'I have no chance to win this thing at all.' I wasn't going to make my way forward, didn't have a fresh enough car.
"Ended up pitting, I knew it was a bad idea to pit, but I had no choice if I wanted to win or try to win. Came down, got a fresh car, fresh tires, and was able to work my way up through there. I was thinking that we were going to have a couple attempts and just prayed and hoped that I could miss the wreck and just have another crash repair, had two left at the end.
"When I just took the checkered flag, I'm crashing across the line. I come to a stop, I'm shaking because I was like 'holy cow, I just drove through 24 guys on a green-white-checkered and won the thing."
KFB 🔥

Watch @KyleBusch's in-car going from 26th to 1st in 2 laps to win the season opener at @TalladegaSuperS @iRacing | @tufcoflooring pic.twitter.com/4hfpwEb7wz

— Monday Night Racing (@MonNightRacing) November 17, 2020
Notable Finishers
While the field crashed across the line, Stallknecht, Ellis, and Motor Racing Network's Chris Wilner completed the top-five. Martin, Ryan Vargas, Sexton, Josh Slate, and Rob D'Amico rounded out the top-10 finishers.
DeGroot was the only member of last season's Championship 4 to finish inside the top-10. DJ Cummings and Michael Rossi finished 22nd and 35th after being involved in other incidents.
Former Supercross champion Chad Reed finished 16th with NHRA Funny Car champion in 20th. Kaulig Racing President Chris Rice finished 32nd. NASCAR drivers Josh Bilicki and Robby Lyons finished 23rd and 33rd respectively.
Gabriel Wood had the tough break of the night, finishing 34th, 22 positions behind his starting spot.
Busch's Previous iRacing Experiences
For Busch, the victory was his second in Monday Night Racing competition. Last season he won in the virtual NASCAR Camping World Trucks at Homestead-Miami Speedway, also beating DeGroot. In his debut in the series he finished runner-up to DeGroot in the Virtual NTT IndyCar Dallara at Auto Club Speedway.
During the COVID-19 shutdown, Busch participated in the eNASCAR iRacing Pro Invitational Series. In seven starts in the series, he earned a best finish of fifth at the virtual Richmond Raceway. In total, he earned two top-10 finishes. Busch also competed in the NTT IndyCar iRacing Challenge at Twin Ring Motegi, finishing 13th.
"I've had my not so fair share of iRacing when we had those Pro Invitational races," admitted Busch. "I would be mired in traffic, crashing a little bit, stuck back in the pack. Felt like I was decent, had good showings at Bristol, Texas, but wrecks would take me out. Racing with these guys, it was really fun. Thanks to Ford Martin and the guys at Monday Night Racing for giving me an opportunity to come out and just have some fun.
"With making the moves through the middle I was just like this was the only way to go if I was going to win this thing. Just had to be bold and try it, see if it would work. Fortunately, when I got to a couple of those positions, those guys were trying to close the gap. All of a sudden it was like I was there, and they gave me the room. It was a good race to come up through there like that."
Notable Incidents
The race was slowed eight times by incidents, most were multi-car wrecks. The wrecks started early as NASCAR Digital's DJ Cummings spun after contact from Xfinity Series driver Vargas. Cummings collected MRN and NASCAR on NBC's Dillon Welch as well as Devon Henry.
Bilicki, Rice, Kickin' the Tires' Seth Eggert and others saw their last fast repair be used in a wreck with nine laps to go. Contact between Bilicki and Eggert collected Cummings, Michael Massie, Michael Rossi, and others. It also set up the chain of events that allowed Busch to use a fast repair and charge through the field.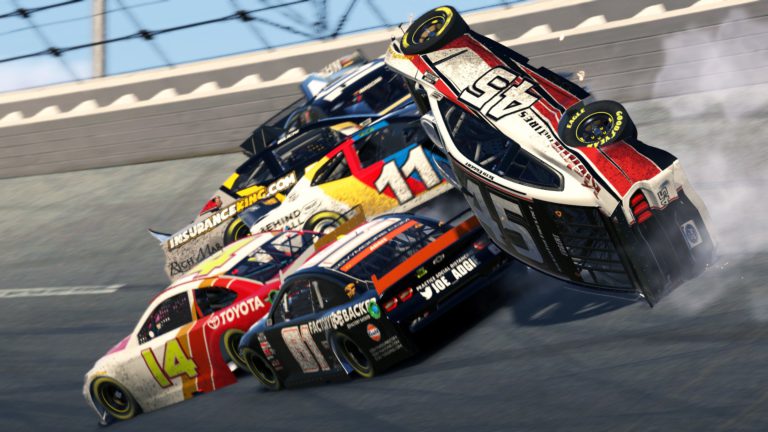 The final wreck started as D'Amico, Covy Moore, Josh Slate, and Jesse Vaughan went four-wide. Moore and Vaughan crashed, collecting Kyle McFadden, Brett Baldeck, Massie and others. At the same time, NASCAR Xfinity Series crew chief and driver Jeff Green was spun out of the lead. As Monday Night Racing co-founder Paul Sutton and others dove to the apron to avoid one wreck, they found themselves in another.
At the end of the backstretch, an awkward bump from Wilner sent Vargas onto the apron. That slowed the moment of the inside line, giving Stallknecht and Busch room in the middle lane.
The next race for the Monday Night Racing League will see the virtual NASCAR Camping World Trucks in action at Las Vegas Motor Speedway.
The Finish
1. Kyle Busch [5], 2. Nick DeGroot [30], 3. Matt Stallknecht [7], 4. Steven Ellis [21], 5. Chris Wilner [25], 6. Ford Martin [26], 7. Ryan Vargas [10], 8. Gary Sexton [1], 9. Josh Slate [18], 10. Rob D'Amico [39], 11. Noah Lewis [13], 12. Steve Auffant [29], 13. Maxwell Kennon [3], 14. Brendan Madonia [32], 15. Drew Welker [15], 16. Chad Reed [20], 17. Garrett Miller [9], 18. Greg Stumpff [28], 19. Mark Rebilas [27], 20. Ron Capps [14], 21. Seth Eggert [2], 22. DJ Cummings [6], 23. Josh Bilicki [8], 24. Jeff Green [4], 25. Kyle McFadden [23], 26. Paul Sutton [37], 27. Covy Moore [19], 28. Brett Baldeck [34], 29. Jesse Vaughan [11], 30. Michael Massie [17], 31. Jason Keffer [22], 32. Chris Rice [16], 33. Robby Lyons [31], 34. Gabriel Wood [12], 35. Michael Rossi [35], 36. Joe Adgie [33], 37. Devon Henry [36], 38. Dillon Welch [24], 39. Jerry Jordan [38].
Lead Changes: 30 among 11 drivers.
Lap Leader(s): Gary Sexton 1-3, Matthew Stallknecht 4-9, Gary Sexton 10-11, Matthew Stallknecht 12-13, Kyle Busch 14-16, Matthew Stallknecht 17-18, Chris Rice 19-20, Kyle Busch 21, Chris Rice 22, Kyle Busch 23-27, Jesse Vaughan 28-32, Kyle Busch 33, Ford Martin 34-38, Kyle Busch 39-40, Ryan Vargas 41-44, Kyle Busch 45, Jeff Green 46, Kyle Busch 47, Matthew Stallknecht 48, Josh Slate 49, Kyle Busch 50, DJ Cummings 51, Matthew Stallknecht 52-53, Kyle Busch 54-56, Matthew Stallknecht 57-60, Kyle Busch 61-62, Jeff Green 63, Kyle Busch 64-67, Jeff Green 68-77, Nick DeGroot 78, Kyle Busch 79.
Laps Led: Kyle Busch 25, Matthew Stallknecht 17, Jeff Green 12, Gary Sexton 5, Ford Martin 5, Jesse Vaughan 5, Ryan Vargas 4, Chris Rice 3, DJ Cummings 1, Nick DeGroot 1, Josh Slate 1.
Hard Charger: Rob D'Amico (+29).
Tough Break: Gabriel Wood (-22).
Cautions: Eight for 24 laps.
Margin of Victory: 0.023 seconds.
Time of Race: One hour, 37 minutes, 30.692 seconds.
Average Speed: 129.302 MPH.
Pole Winner: Gary Sexton, 51.005 seconds (187.746 MPH).
Fastest Lap: Ryan Vargas, Lap 16, 47.497 seconds (202.465 MPH).
Photo by Justin Melillo / The Racing Experts