By Seth Eggert, Associate Editor
It may have taken until the eNASCAR Coca-Cola iRacing Series Playoffs, but Nick Ottinger finally returned to victory lane.
The 2020 eNASCAR champion came close several times to victory lane. Most recently a final corner bump from Ottinger's William Byron eSports teammate Matt Bussa at Pocono Raceway kept the team out of the winner's circle.
Luckily for the driver of the virtual No. 25 Logitech G Chevrolet Camaro ZL1, the eNASCAR Playoffs took a trip to the virtual Dover Motor Speedway. Ottinger won the two most recent races at 'The Monster Mile,' earning himself the moniker 'Jimmie Johnson of virtual Dover.'
The Jimmie Johnson of virtual @MonsterMile has done it! Way to go @NickOttinger! On to the Final 4!

I finished 8th, but that doesn't matter. Need to find some mega speed for Phoenix. One more shot left. @iRacing | #eNASCAR

— Michael Conti (@MikeConti5) August 30, 2023
After an early caution, Ottinger relinquished the lead to Dylan Duval. Though that didn't last long, and the veteran driver recaptured the lead when Duval's tires started to fade. Ottinger cruised until pitting at the halfway mark of the race. Back on track, he battled Duval's teammate, Steven Wilson until a race changing caution waved.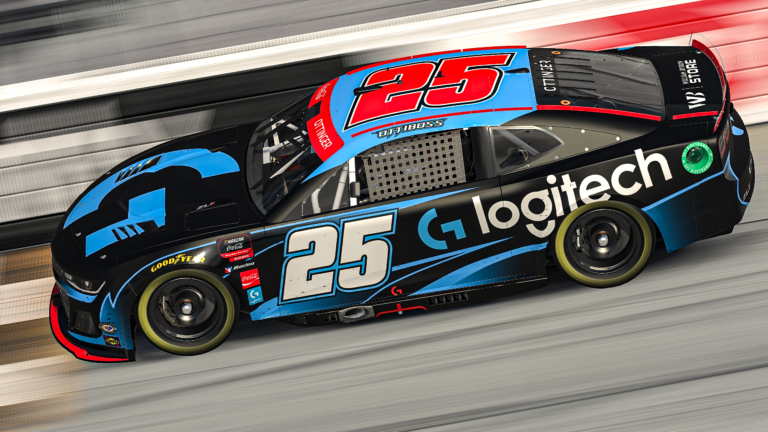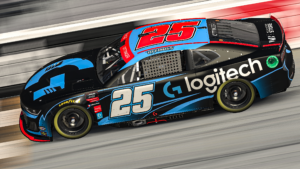 Michael Guest blew a tire as he tried to stretch the green flag run to the max. When the right rear tire failed, he couldn't get to pit road without potentially wrecking the leaders. The 23XI Racing driver fought hard to maintain control before spinning in Turn 1.
Garrett Lowe had yet to pit, cushioned by his win at Michigan Int'l Speedway two weeks ago, on an alternate strategy. That catapulted him, and others on the same strategy up the running order. However, the Jim Beaver eSports driver was unable to keep Ottinger at bay. The sheer speed of the active driver win leader gave the Claremont, N.C. native the lead with under 10 laps to go.
Ottinger cruised to victory with Wilson 0.236 seconds behind. The win locks Ottinger in the eNASCAR Championship Four and will compete for the Dale Earnhardt Jr. Championship Trophy and $100,000 at the NASCAR Hall of Fame. Lowe took third with Jimmy Mullis, the hard charger of the race in fourth. Tucker Minter was the rookie of the race in fifth.
"I have to give a huge shout out to my crew chief, Brandon Hastings, our race strategist on the No. 25 Logitech G team, he adjusted the car like we needed for the short run, and it played into our favor," Ottinger explained. "I was using the tires up quite a bit at the end but you're going for a spot in the (Championship) Four, you're going to go all out.
"I've got to thank our supporters, Logitech G, William Byron eSports. I'm glad we were able to get them a win this year, we've been knocking on that door forever. Entering into the playoffs there were some strong tracks for our team. We're looking forward to Homestead now because that's another strong track for our team."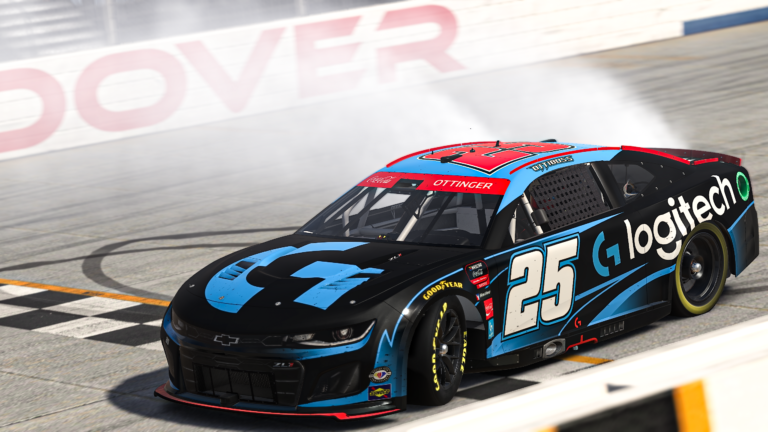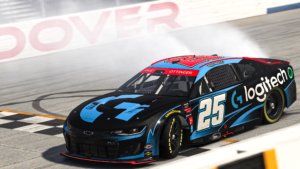 Jordy Lopez, Casey Kirwan, Michael Conti, Donovan Strauss, and Parker White completed the top-10. Guest and Bobby Zalenski were the only playoff drivers to finish outside the top-10 in 12th and 14th.
In total, the 120-lap race at the virtual concrete track was slowed five times by cautions. Unlike Michigan two weeks ago, the only incident that collected a Coke Playoffs driver was Guest's flat tire.
Wilson and Lopez hold the final two playoff spots, 11 and four points above the cutline respectively. Guest is currently the first driver out with defending champion Kirwan seven points out. Minter is 15 behind with Zalenski and Mullis 19 behind. Conti faces a must-win scenario, 26-points outside of the Championship Four.
The next eNASCAR Coca-Cola iRacing Series race is scheduled for Tuesday, September 12 at 9:00 p.m. ET at the virtual Phoenix Raceway. All eNASCAR races are broadcast live on enascar.com/live.
The results:
1. 25-Nick Ottinger [1] (P), 2. 10-Steven Wilson [2] (P), 3. 15-Garrett Lowe [14] (P), 4. 46-Jimmy Mullis [38] (P), 5. 33-Tucker Minter [4] (P), 6. 3-Jordy Lopez [9] (P), 7. 95-Casey Kirwan [18] (P), 8. 8-Michael Conti [11] (P), 9. 51-Donovan Strauss [7], 10. 11-Parker White [6], 11. 2-Corey Vincent [12], 12. 45-Michael Guest [23] (P), 13. 41-Dylan Duval [5], 14. 18-Bobby Zalenski [3] (P), 15. 88-Kevin King [8], 16. 55-Vicente Salas [30], 17. 36-Brandon McKissic [15], 18. 20-Wyatt Tinsley [31], 19. 23-Keegan Leahy [33], 20. 66-Tyler Garey [39], 21. 38-Michael Cosey, Jr. [32], 22. 75-Zack Novak [17], 23. 31-Derek Justis [25], 24. 34-Allen Boes [20], 25. 17-Kaden Honeycutt [34], 26. 69-Collin Bowden [24], 27. 40-Dylan Ault [26], 28. 7-Malik Ray [22], 29. 48-Graham Bowlin [16], 30. 43-Femi Olatunbosun [10], 31. 54-Daniel Faulkingham [21], 32. 27-Cody Byus [28], 33. 12-Garrett Manes [29], 34. 97-Matt Bussa [36], 35. 6-Timmy Holmes [37], 36. 77-Ryan Doucette [13], 37. 14-Joey Brown [19], 38. 1-Darik Bourdeau [27], 39, 4-Ryan Luza [35].
Lead Changes: Eight among seven drivers.
Lap Leader(s): Nick Ottinger 1-10, Dylan Duval 11-40, Nick Ottinger 41-61, Parker White 62, Bobby Zalenski 63, Michael Cosey, Jr. 64, Malik Ray 65, Garrett Lowe 66-113, Nick Ottinger 114-120.
Laps Led: Garrett Lowe 48, Nick Ottinger 38, Dylan Duval 30, Michael Cosey, Jr. 1, Malik Ray 1, Parker White 1, Bobby Zalenski 1.
Hard Charger(s): 46-Jimmy Mullis, Rise eSports (+34).
Rookie of the Race: 33-Tucker Minter, Team Dillon eSports, Fifth.
Caution Flags: Five for 19 Laps.
Margin of Victory: 0.236 seconds.
Time of Race: 58:38.331
Average Speed: 122.786 MPH.
Pole Winner: 25-Nick Ottinger, William Byron eSports, 22.536 seconds, 159.744 MPH.
Fastest Lap: 25-Nick Ottinger, William Byron eSports, Lap 115, 22.717 seconds, 158.472 MPH.