By Seth Eggert, Staff Writer
The journey into eSports broadcasting and in turn real world broadcasting can be a long, winding road. Some are able to hit the ground running. Others have to wait for the right equipment or the right opportunity. For James Pike, he first had to wait for the right equipment, then wait for his opportunity to perform in real-life.
A 'Sim 2 Reality' Beginning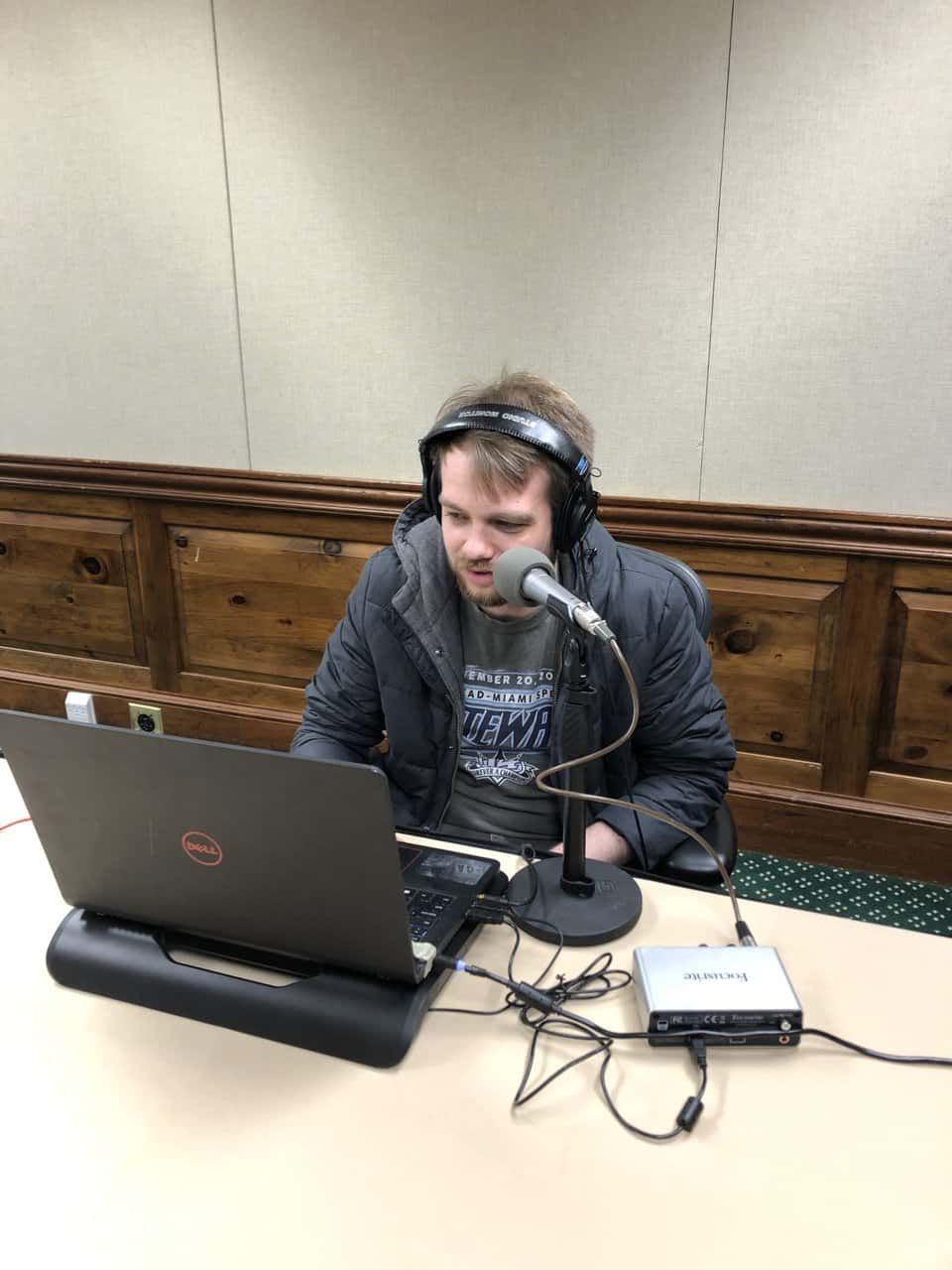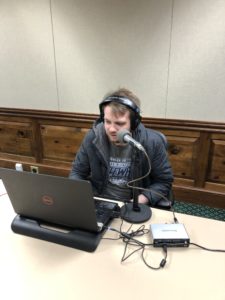 To look at where Pike is now, one has to turn the clock back to 2014. The Winston-Salem, N.C. native looked to join the broadcast team for the Real Sim Racing Full Throttle Cup Series. However, using a MacBook, the processing power was insufficient for Pike to join the broadcast crew. It would be another two years before he got his first opportunity in the virtual booth.
"Jacob Seelman wanted me to join him on the broadcast for the Full Throttle Cup Series from Real Sim Racing and we tried to do it in 2014 with my MacBook," reflected Pike. "But it didn't have enough processing power. I had to wait to get a Windows computer that had enough power. At the end of the 2016 season, Jacob needed to step away. He was too busy with other commitments and recognized that I would have time to do things.
"He brought me in as the analyst for the final two races of the 2016 season with the Full Throttle Cup Series. My first official broadcast ever was at Phoenix in November 2016. Then when we got to '17, I took over full-time in the winter and was lead for the 2017 Real Sim Racing Full Throttle Cup Series."
eSports Explodes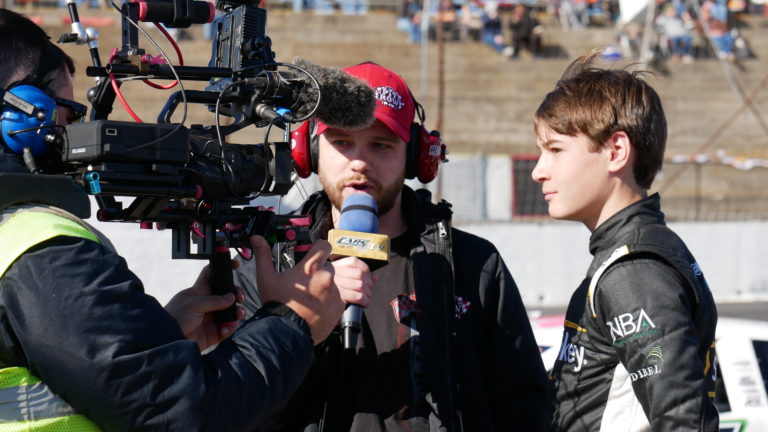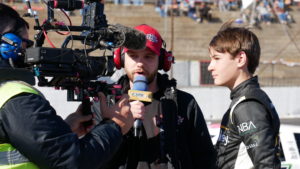 From those first broadcasts, Pike's presence in the sim racing community grew. While that growth was a little more niche at first, the COVID-19 pandemic brought his work and iRacing to the forefront. eSports exploded onto the scene in the motorsports world, offering an outlet during the shutdown. Though the platform has expanded, it is still finding its' place in the racing community overall.
"I don't think I expected the explosiveness, but I don't think any of us expected the pandemic either," admitted Pike. "There's no denying that the pandemic drove so much growth for so many people involved in Sim Racing and changed a lot of lives in so many different ways. That growth increased exponentially as a result of the pandemic. I figured it would grow over time, I just didn't think it would be where it is now, although I think there's still a long way to go with it too."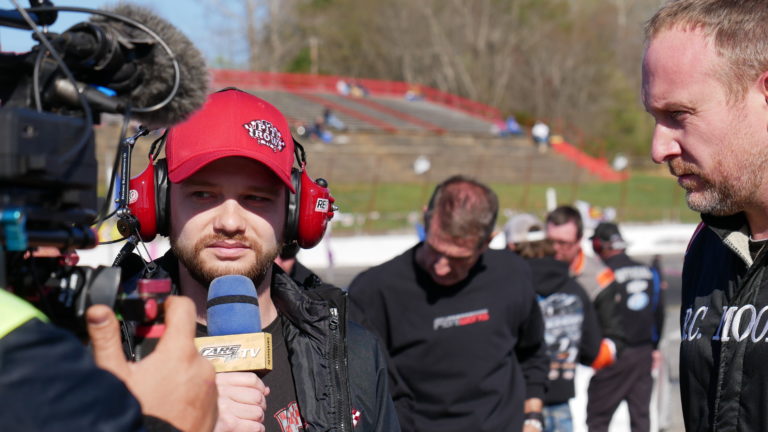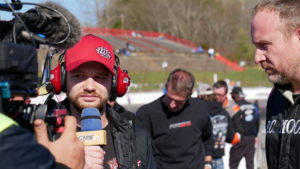 Pike found himself as the lead announcer for Podium eSports, most famously leading the broadcast of the Replacements 100 from the virtual Atlanta Motor Speedway in March of 2020, but also calling races from the Midwest Sim Racing Association to Monday Night Racing to various special events including the Podium 500 and Retro 500. In addition, he joined the broadcast team for the eNASCAR Coca-Cola iRacing Series, first as a part of the production team before joining the on-air talent as a pit road reporter for 2022 with Blake McCandless and Evan Posocco in the booth.
While the Belmont Abbey College graduate only recently has been on the Coke Series broadcasts as a pit reporter, he's worked behind the scenes for much longer. Pike has helped on the production side of iRacing's eNASCAR coverage over the past two seasons.
"I knew that I wanted to be involved with what is now the eNASCAR Coca-Cola iRacing Series," explained Pike. "I have been on the broadcast team working the production of the shows for the last two seasons. This is my third year on the Coke Series broadcast team in some way, shape, or form. Whether or not it's behind the microphone or "behind the virtual cameras" as it were, I knew I wanted to get involved with the best in the biggest series.
"In addition to the Coke Series, I cover other major series on iRacing as well. The eNASCAR Qualifier and Contender Series are important because they feed into the Coke Series. Monday Night Racing has a lot of weight because of the star power it has. It's one of the biggest independent leagues that you have to pay attention to in iRacing, especially on the Oval side of things."
Real-Life Coverage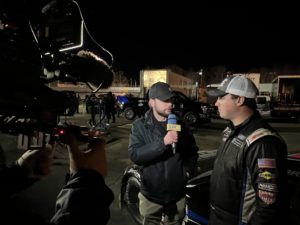 While he was in the broadcast booth during the week for Podium eSports, Pike was on the production team for the broadcasts of the Solid Rock Carriers CARS Tour on Pit Row TV – first as a cameraman, then as a graphics operator. He became their pit road reporter at the start of the 2022 season. Much like how Noah Lewis explained in a previous edition of this series, Pike has observed similarities and differences between announcing races in both the real and virtual worlds.
One of the key tools that Pike uses both in the real world and in sim racing is timing and scoring. The amount of information that can be found through that data and then translated to an audience is critical for any announcer or pit reporter. For example, the lap time differentials that two drivers allow announcers like Pike to explain when fans can expect a battle for position on track.
"It's weird because a lot of this blends together at this point for me," stated Pike. "It's certainly not quite the same, but it's closer than a lot of people would think. The biggest thing for me is being able to observe the little things that people might not necessarily notice and stringing those bits of data into relevant details and patterns that you can then illustrate for the viewers and build the bigger picture to help them understand the race.
"This matters especially when you're in the booth. I use timing and scoring so much. I think the ability to look at the data and pull-out patterns from that data and then come up with relevant pieces that you could tell somebody on air is a huge part of a lead announcer's job on a broadcast."
"When I'm watching a race on iRacing, I don't necessarily feel like I'm watching a race on iRacing. It's more that I'm just calling a race and the way I'm watching it might be a little bit different. It doesn't feel all that different from me calling the real-life thing in the booth. I think that's in part because the workflow from the booth is actually very similar between iRacing and real-life in that you'll have live timing and scoring, and you'll have cameras to look at if you're working for TV or radio that essentially are the same thing as the window of the sim that you'd have on a computer."
Differences in Sim versus Reality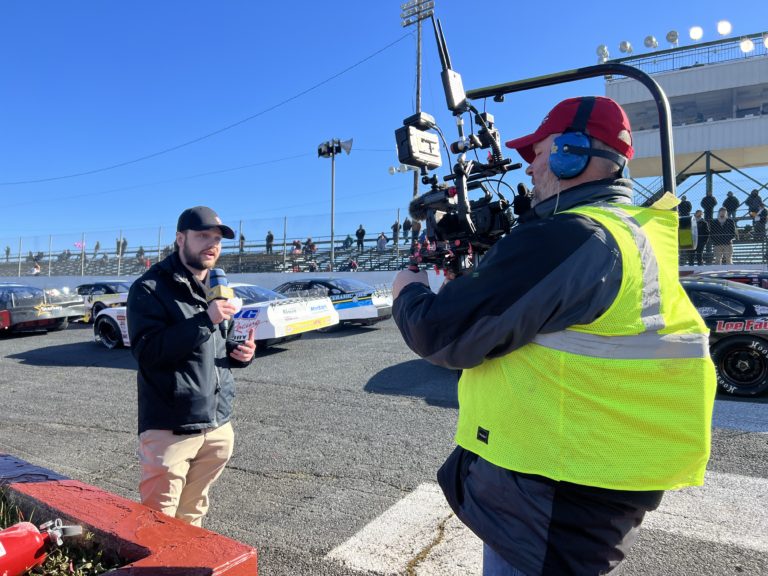 While there are differences between a real-life race and one on iRacing, Pike doesn't call them any differently. What decides his approach is not whether he is in person or behind a computer screen, but rather the role that he is assuming in the broadcast. Of course, the calls as the lead announcer in real-life are more measured simply because of the chaotic nature of some finishes in sim racing.
"Tony Stevens, my boss at Pit Row TV, would say that there's probably not as many peaks and valleys in my energy levels on my real-life calls as there are on my calls in iRacing, and I think there's some truth to that," admitted Pike. "I don't really approach them any differently. I'm going to call a race the same way and it doesn't matter whether or not it's real or virtual. I don't necessarily compare that side of things that much of anything.
"The comparison comes from where my role is and what I'm doing. My calls as a lead are probably a little bit different, maybe a little bit more muted in real-life compared to the calls I've made as a lead in sim, but that's because I've seen wilder finishes in the sim than I've seen in real-life!"
Pike's Approach to Calling Races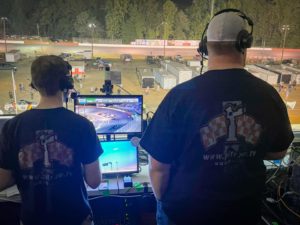 Though Pike is a pit reporter for the eNASCAR Coca-Cola iRacing Series and the CARS Tour, the role is different in the two series. In real-life, Pike is the eyes and ears for the broadcast team in the tower. Where he is essentially the 'runner' for the tower in real-life, the opposite is the case in the virtual booth. Two runners help filter information from the various teams on iRacing to Pike so he can then relay it to the broadcast team.
Being an intermediary, Pike is able to translate similar information in the virtual world that he would gather in real-life. Though mistakes by the pit crew, as well as mechanical failures, are few and far between on iRacing, Pike does have the ability to help relay pit road penalties and the occasional equipment failure to his colleagues in the booth.
"It's interesting how the workflows are different between the sim and real-life down on pit road. When I am on pit road with the CARS Tour, I am more just watching what's happening in front of me, essentially being the eyes and ears, relaying back to the booth things that they might not necessarily be able to see from their position in the tower. I have the ability to describe smells, sights and sounds better because I'm closer to them and can experience them more than our team in the booth could."
"On the other hand, my (eNASCAR) reports usually are a synthesis of things that either I have heard or one of my runners have told me. The skill set definitely is a little bit different. I think with the Coke Series, it's more about collecting all the information and sorting through the raw data to pick up what you think is best and then presenting what is best to the viewer. It's usually either something that I've heard, or something that has been picked up by one of my runners, relayed to me and then filtered and cleaned up. I'm usually looking for indicators as to how a car is handling, perspectives regarding on-track incidents, or descriptions on feelings between drivers. Anything that could potentially explain why a driver charges through the field, fades to the back or gets into it with someone else – if I have reported on that and explained the "why" before it happens on-track, then I've done my job well. That's my goal, at least."
Using iRacing to Your Advantage
Where Justin Melillo viewed his advantage in iRacing as giving him a niche to work in within the industry, Pike points to the technology driven aspect of the platform. Overall, the broadcast and media industry within motorsports is becoming more technology driven, more technology intensive. However, the adaptability from a sim racing broadcast to a real-life broadcast is smoother than the reverse.
On iRacing, and sim racing overall, there's an infinite amount of camera angles (explained in an article by Melillo on Traxion.GG). Meanwhile, in the real world, that number is limited. In addition to the limited number of camera angles, some broadcast teams don't have the same luxury of replays compared to others. Pike viewed the exposure to that technology on iRacing as an advantage.
"Absolutely (being an eSports broadcaster has given me an advantage) because I think it's so much easier to go from iRacing to real-life than it is to go from real-life to iRacing," observed Pike. "We saw that especially with the production side of the televised series in 2020. It took a decent amount of rehearsals for the folks at FOX (with NASCAR) and NBC (with the INDYCAR Series) to really understand how to broadcast iRacing on television properly because they just hadn't worked with the technology before.
"I think we're more adaptable to real-life technology because we work with high-end technology all day long on iRacing. It's very technology intensive, technology driven, and that prepares us well because there are complex systems in real-life, but they never have felt any more excessively complex to me than what you have in iRacing. Conversely, the workflow coming from real-life to iRacing definitely is very different. It takes a while for people to get used to that.
"Going forward, I think it's going to be easier to transition from sim racing to real-life broadcasts. You're only going to see more people come from iRacing. The Mike Joys and Allen Bestwicks of our industry talk about how they got their start at Riverside Parks, the Seekonks, the New London-Waterfords, the Staffords of the world – all real-life race tracks. For me, iRacing has been my Riverside Park and my Seekonk."
Connections Made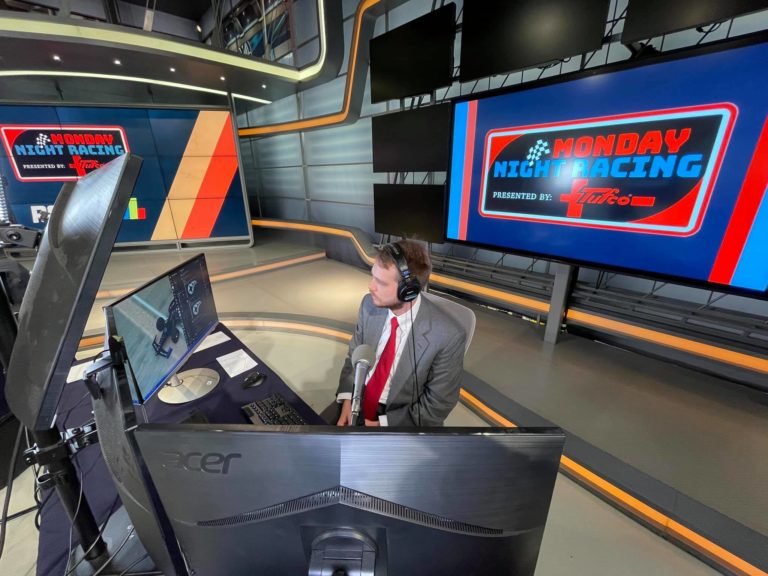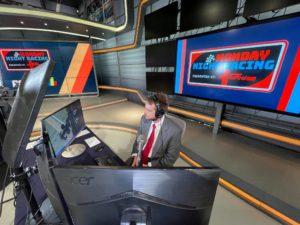 iRacing has worked as a training ground for Pike and other broadcasters. Not only has he been able to hone his skills in the booth and on pit road, but he's also had the opportunity to work alongside many of the real-life greats. Pike was joined in the Monday Night Racing booth by Adam Alexander, Alex Hayden, Bob Jenkins, Bobby Labonte, Darrell Waltrip, and Dave Moody, among others. The up-and-coming announcer was able to gleam information off of each legendary guest in the virtual booth.
"(Something) that stands out to me is the connections I've made and the people that I've met and worked with over the course of my time in sim racing," reminisced Pike. "I've worked with some of the best that have ever done it, like the late Bob Jenkins, Allen Bestwick, Adam Alexander, Darrell Waltrip, Bobby Labonte, Dave Moody, folks who have been on TV who have done this for a long, long time."
"I can't forget about Rob Howden, who's the voice of the Road to INDY and does a great job. I've worked with top-level talent pretty much at every corner of the sim, in some way, shape or form. I can't forget Alex Hayden either, and all the work that he's done with the Motor Racing Network throughout the years. Being able to connect with those people has helped propel my career forward and helped me make some connections on the real-life side as well."
Each connection that Pike has made has helped him both add various skills and ideas to his repertoire. They have also helped him move closer and closer to his real-life broadcast coverage goals within motorsports. In the meantime, Pike will continue his calls for eNASCAR and the CARS Tour. Broadcasts of the eNASCAR Coca-Cola iRacing Series can be seen on select Tuesdays at 9 p.m. ET on eNASCAR.com/Live, while live and archived streams of the CARS Tour broadcasts are available at CARSTour.TV.
*Editors' Note: This is the latest in a series of articles on both drivers and journalists using sim racing and 'Sim 2 Reality' to advance their careers.
Featured Photo Credit: Photo by Jacob Quick / Quick Design, Courtesy of James Pike.