By Seth Eggert, Staff Writer
Matt Stallknecht was in the right place, at the right time, to capture the Monday Night Racing Season 3 opener in a five-wide battle at the checkered flag.
Closing Laps
On the final restart of the Sim Seats 250, Stallknecht lined up fourth. The race went into overtime after a multi-car pileup took out many of the lead contenders including NASCAR Xfinity Series driver Ryan Vargas and polesitter Gary Sexton. The jockeying for position saw Maxwell Kennon and James Bickford spinning into the infield on the final lap in turn one.
On the backstretch, Justin Melillo jumped to the outside with a push from Ruben Garcia Jr. However, the move ended in disaster as Melillo's virtual No. 53 NASCAR Xfinity Series machine got hooked into the outside wall. While the rest top-10 runners avoided the iRacing reporter and Garcia, league co-founder Paul Sutton had nowhere to go.
Chaotic Finish
In the mad scramble to the finish, NASCAR Drive for Diversity competitor Rajah Caruth, Xfinity Series driver Robby Lyons, and NASCAR Cup Series rookie Anthony Alfredo battled for the lead. Contact sent eight of the top-10 drivers out of control in the tri-oval. NASCAR's Stallknecht emerged out of the smoke and in control. The virtual No. 41 Chevrolet Camaro SS barely beat Lyons to the line by 0.007 seconds.
"This is awesome," admitted Stallknecht. "This league has been so much fun this past year. Getting the chance to work with all these guys, Ford Martin (league co-founder), DJ Cummings, TJ Majors, Ron Capps, they did good work out there tonight. I'm speechless. That was such a crazy finish. Honestly that last lap there I was really committed to the 19 (Lyons). I felt like it was my best shot to get a good finish. Saw a hole forming up high so I took it and they all wrecked below me. Their momentum got killed. I was there. This is just crazy, I'm so overjoyed."
Notables
Crashing across the line in the top-five were DJ Cummings, Caruth, and Josh Slate. Mike Clay, Steve Auffant, Alfredo, Gabriel Wood, and Seth Eggert completed the top-10 despite being swept up in the wreck.
TJ Majors finished 12th with James Davison 14th, and Vargas in 18th. Vargas ran the fastest lap of the night while pushing Eggert on the 33rd circuit, 46.320 seconds, 194.301 MPH.
Season 2 champion Will Rodgers took the checkered flag in 23rd with Garrett Smithley in 24th, Garcia 25th, Shane van Gisbergen 29th, Preston Pardus 30th, and Ron Capps 32nd.
Parker Kligerman finished 33rd. The NASCAR Camping World Truck Series driver and NASCAR on NBC pit reporter ran out of tires. For Season 3, Monday Night Racing introduced tire limits. At the virtual Daytona International Speedway, drivers had just three sets of tires, the one they started on, and two sets in the pits.
On-track incidents
Motor Racing Network's Dillon Welch finished 39th. He was disqualified after an incident under caution. Welch didn't brake entering the pits and slammed into both Bickford and Drew Welker. The damage effectively knocked Welker out of contention for the victory.
In total, the Sim Seats sponsored race was slowed by caution flags nine times for a total of 28 laps. The biggest incident took place late in the race, including the one that knocked Kligerman out. A block by Caruth caused a chain reaction that sent the virtual No. 77 Valvoline machine into the wall and then spinning in front of the field. Eggert, Rodgers, Smithley, Vargas, and others were swept up in the melee.
Monday Night Racing's New Partnership
Following the season opener, Monday Night Racing announced a new presenting sponsor, NAPA Auto Parts. The partnership includes a new season-ending purse and prize money for select races. Future endeavors include NAPA streaming select Monday Night Racing events.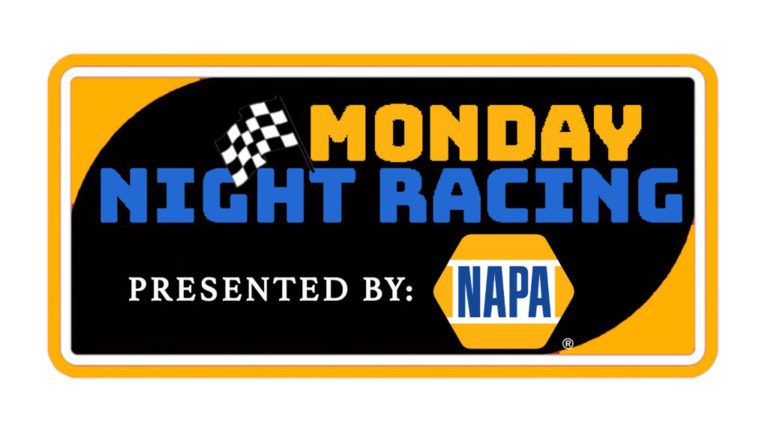 The Finish
1. Matt Stallknecht [7], 2. Robby Lyons [3], 3. DJ Cummings [33], 4. Rajah Caruth [14], 5. Josh Slate [17], 6. Mike Clay [22], 7. Steve Auffant [12], 8. Anthony Alfredo [15], 9. Gabriel Wood [28], 10. Seth Eggert [8], 11. Greg Stumpff [21], 12. TJ Majors [34], 13. David Schildhouse [18], 14. James Davison [10], 15. Brett Baldeck [35], 16. Maxwell Kennon [6], 17. Garrett Miller [23], 18. Ryan Vargas [13], 19. Chris Wilner [26], 20. Mark Rebilas [37], 21. Justin Melillo [11], 22. Paul Sutton [39], 23. Will Rodgers [2], 24. Garrett Smithley [4], 25. Ruben Garcia Jr. [19], 26. James Bickford [9], 27. Gary Sexton [1], 28. Michael Massie [20], 29. Shane van Gisbergen [5], 30. Preston Pardus [31], 31. Adam Cabot [29], 32. Ron Capps [24], 33. Parker Kligerman [30], 34. Steven Ellis [36], 35. Devon Henry [16], 36. Drew Welker [27], 37. Brandon Brown [32], 38. Ford Martin [38], 39. Dillon Welch [25] (disqualified), 40. Nick Sanchez [40] (did not start), 41. Rob D''Amico [41] (did not start).
Lead Changes: 34 among nine drivers.
Lap Leader(s): Garey Sexton 1, Robby Lyons 2-3, Gary Sexton 4-5, Will Rodgers 6-7, Anthony Alfredo 8, Robby Lyons 9, Anthony Alfredo 10, Robby Lyons 11-20, Gary Sexton 21-25, Anthony Alfredo 26, Gary Sexton 27, Anthony Alfredo 28-31, Robby Lyons 32, Anthony Alfredo 33-34, Robby Lyons 35, Anthony Alfredo 36-39, Will Rodgers 40, Anthony Alfredo 41-42, Gary Sexton 43-45, Anthony Alfredo 46, Gary Sexton 47-49, Anthony Alfredo 50-51, Gary Sexton 52, Anthony Alfredo 53-54, Gary Sexton 55-60, Will Rodgers 61-63, Adam Cabot 64, Will Rodgers 65, Adam Cabot 66-70, Will Rodgers 71-73, Preston Pardus 74-78, Rajah Caruth 79-84, Parker Kligerman 85, Rajah Caruth 86-92, Matt Stallknecht 93.
Laps Led: Gary Sexton 22, Anthony Alfredo 20, Robby Lyons 15, Rajah Caruth 13, Will Rodgers 10, Adam Cabot 6, Preston Pardus 5, Parker Kligerman 1, Matt Stallknecht 1.
Hard Charger: DJ Cummings (+30)
Cautions: Nine for 28 Laps.
Margin of Victory: 0.007 seconds.
Time of Race: One hour, 40 minutes, 55.501 seconds.
Average Speed: 138.221 MPH.
Pole Winner: Gary Sexton, 50.433 seconds (178.455 MPH).
Fastest Lap: Ryan Vargas, Lap 33, 46.320 seconds (194.301 MPH).
Feature Photo Credit: Photo by Seth Eggert / Kickin' the Tires