By Seth Eggert, Staff Writer
Spilt strategies between the leaders in the closing laps of the Come to Richmond 150 earned Dylan Roberts his first Legends of the Future victory.
Strategy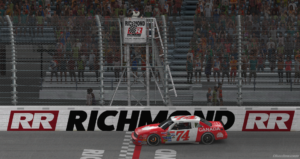 A late-race caution brough the bulk of the Shenandoah Shine Legends of the Future Series field onto pit road with 21 laps to go. Race leader and eNASCAR Coca-Cola iRacing Series driver Tyler Garey led all but two drivers onto pit road. David Brown and Michael Cosey Jr took the gamble, staying on track.
While Brown and Cosey betted on more cautions, Garey, Kevin McAdams, and Roberts focused on the race going green to the checkered flag. The difference in tire wear meant the first driver on fresh tires able to work his way by Brown and Cosey would have a huge advantage.
Battle for the Win
Roberts' No. 74 Canada Buick LeSabre made quick work of Cosey's No. 99 Logitech G Altus Chevrolet. As he set his sights on Brown, those behind him, McAdams, Daniel Faulkingham, and Michael Frisch struggled to work their way by Cosey.
With seven laps to go, Roberts snuck by Brown for the lead. Initially he was able to gap Brown and McAdams by several car lengths. However, just one lap after the No. 26 Publix Buick cleared Brown, Roberts broke loose. Though he maintained control, it brought McAdams within striking distance.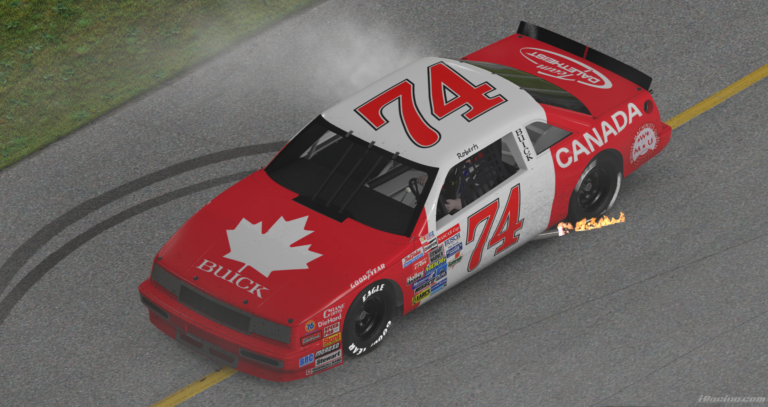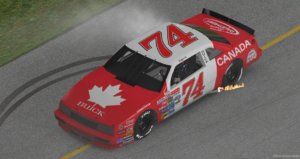 Over the final five laps McAdams closed in on corner entrance. On corner exit Roberts would claw back the ground he had lost. Ultimately, McAdams didn't have enough time, and finished a couple car lengths behind Roberts. Faulkingham, Frisch, and Brown completed the top-five.
"It was definitely not easy (holding off McAdams, getting by Brown), these are guys that know how to drive this car," Roberts said. "They are really fast. I'm coming in here with not a lot of experience this season, trying to learn something every week. To finally get a win, that's crazy. They're really good drivers and that was an insane battle to finish the race.
"I knew that (McAdams) had that little extra edge on me in pace. If I drove it clean, I was good, but if I made any mistakes he was there. Then with four to go I had that big moment in Turn 1 and that brings him there. All of a sudden, you're up on the wheel, white knuckling it, just hoping he doesn't get there."
Notables
Cosey, Sean Peleg, Garey, Michael Sturgill, and Gabriel Mauricio rounded out the top-10. Polesitter Seth DeMerchant finished last after exiting the race early.
McAdams' runner-up finish padded his points lead over Frisch. Though the gap is small, it means that with one race left in the season that the championship comes down to the two drivers. McAdams, unofficially, can finish 11th or better and win the championship no matter what the Speedway Children's Charities World 600 winner Frisch does in the race at Charlotte Motor Speedway.
The race at the virtual Richmond Raceway was slowed 13 times for a total of 60 laps. While DeMerchant and Davis Warren were the only two drivers out before halfway, the attrition ramped up after Lap 100. Eight drivers retired from the race in the final 90 laps.
The results:
1. 74-Dylan Roberts [2], 2. 26-Kevin McAdams [8], 3. 39-Daniel Faulkingham [20], 4. 58-Michael Frisch [19], 5. 83-David Brown [7], 6. 99-Michael Cosey Jr [13], 7. 17-Sean Peleg [4], 8. 86-Tyler Garey [21], 9. 90-Michael Sturgill [22], 10. 04-Gabriel Mauricio [10], 11. 14-Chris Jahnke [11], 12. 87-Adam Martin [14], 13. 79-Danny Thomson [17], 14. 49-Ary Rymer [15], 15. 53-Justin Melillo [26], 16. 63-Logan Helton [5], 17. 22-Alex Kolonics [6], 18. 1-Trent Curtis [18], 19. 09-Mitchell Riggs [9], 20. 97-Jackson van Volkinburg [16], 21. 60-Tyler Dubosh [3], 22. 69-Ashton Schleiss [24], 23. 818-Ethan Courter [25], 24. 45-Lucas Ploessl [23], 25. 70-Davis Warren [12], 26. 057-Seth DeMerchant [1].
Lead Changes: 13 among eight drivers.
Lap Leader(s): Seth DeMerchant 1-13, Sean Peleg 14-33, Logan Helton 34-93, Art Rymer 94, Daniel Faulkingham 95-128, Tyler Garey 129-180, David Brown 181-193, Dylan Roberts 194-200.
Laps Led: Logan Helton 60, Tyler Garey 52, Daniel Faulkingham 34, Sean Peleg 20, David Brown 13, Seth DeMerchant 13, Dylan Roberts 7, Art Rymer 1.
Hard Charger(s): 39-Daniel Faulkingham (+17).
Caution Flags: 13 for 60 Laps.
Margin of Victory: 0.209 seconds.
Time of Race: One hour, 46 minutes, 45.717 seconds.
Average Speed: 84.300 MPH.
Pole Winner: 057-Seth DeMerchant, 23.294 seconds, 115.910 MPH.
Fastest Lap: 057-Seth DeMerchant, Lap 2, 23.530 seconds, 114.747 MPH.