By Seth Eggert, Staff Writer
An all-star line-up of drivers will campaign NASCAR's Garage 56 entry in the 2023 24 Hours of Le Mans.
Returning to Le Mans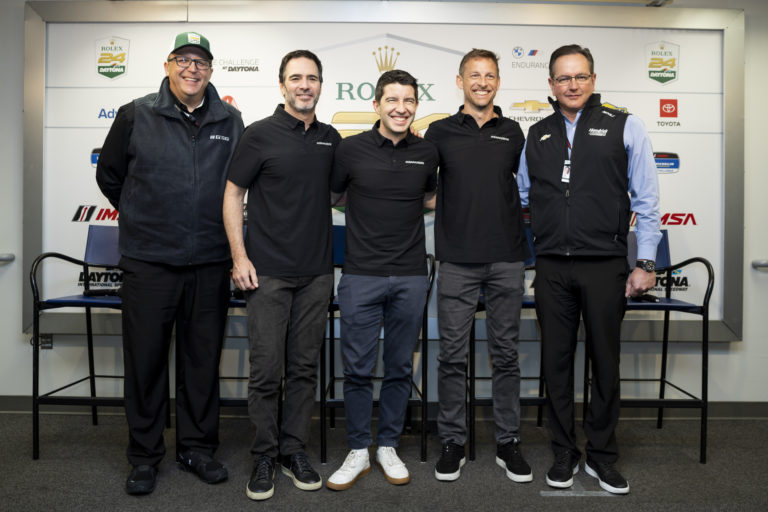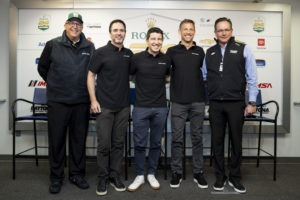 Representing NASCAR's storied 75-year history is seven-time Cup Series champion Jimmie Johnson. The co-owner of LEGACY Motor Club rejoins Hendrick Motorsports, which with Chevrolet, is spearheading the Le Mans effort.
The last time NASCAR-style cars were on the 24 Hours of Le Mans grid was 1976. 2023 NASCAR Hall of Fame inductee Hershel McGriff fell out after two laps due to a piston failure. Junie Donlavey's No. 90 Ford Torino lasted until Lap 104 when the gearbox failed a third of the way into the race.
"When Bill France Sr. wanted to put NASCAR on a global stage in 1976, he did a little bit of his own Garage 56 project," John Doonan, Garage 56 President and Project Leader said. "He took two NASCAR teams over to compete in what we all know is the most iconic 24-hour race in the world, including, of course, our own Rolex 24 at Daytona.
"Jim France, our chairman, decided he wanted to recreate that same story. A special opportunity to put NASCAR on a global stage. He certainly had an opportunity to do that with the new Next Gen Cup car. Then he said, 'let's bring a team of All-Stars together,' the winningest race team in NASCAR history with 14 Cup championships, the winningest auto manufacturer in NASCAR history, Chevrolet, NASCAR's tire partner since 1954, Goodyear, and working with our partners at the ACO.
"I had to do a costume change from IMSA to Garage 56, but Pierre Fillon and his board have been open to this idea."
Jimmie Johnson
Johnson only recently returned to NASCAR competition. The El Cajon, Calif. native spent the last two seasons in the NTT IndyCar Series. Johnson tested the Gen 7 Next Gen NASCAR Cup car at Phoenix Raceway earlier this week.
The 83-time Cup Series winner has 16 starts in endurance racing. In those 16 races Johnson has earned eight runner-up finishes in the Rolex 24 Hours of Daytona.
"I'm so pleased to be here and be a part of this program," Johnson said. "When Rick (Hendrick) called, I couldn't resist the opportunity. It's been a big dream of mine to go to Le Mans and compete and be in Le Mans and experience what it's all about, and to have the experience I have had here, I know how special this event is, and I'm sad that I'm not out there today.
"But to know that I'm going to Le Mans with this great group of drivers, this great team, the collaboration between GM, NASCAR, everybody involved, it's really a special, special opportunity."
Mike Rockenfeller
Where Johnson represents NASCAR in the Garage 56 effort, Mike Rockenfeller represents endurance racing and Le Mans. The German driver has two class wins and an overall win in the twice around the clock race in 2010. Rockenfeller also has a win in the Rolex 24.
While Rockenfeller is highly experienced in endurance racing, the 2013 DTM champion is not a stranger to NASCAR. In 2022 he made two starts with Spire Motorsports. At Watkins Glen International he was a part of the most diverse field in NASCAR history in terms of driver nationality.
"It's an incredible group of partners on this project," Rockenfeller said. "To be involved from day one is just a great honor, a lot of fun, and I can't wait now to share the car with these two especially young teammates."
Jenson Button
Representing open wheel racing, is 2009 Formula One Driver World Champion Jenson Button. The veteran driver rounds out the all-star driver lineup for the Garage 56 project. The partnership with NASCAR is Button's second attempt at Le Mans. He last competed at the Circuit de la Sarthe in 2018.
Button is also the only one of the three drivers that has not driven a NASCAR-style stock car. Though he will test the Garage 56 car soon, the closest vehicle that the British has driven are GT cars from Super GT where he won the 2018 championship in the GT500 class.
"It's really, really special to be here," Button admitted. "Seriously, I've always thought of myself as a racing driver, and I've finished my F1 career, and I look for new challenges. This is definitely an exciting challenge, to work alongside these two. Very excited to work with this All-Stars team, and I think we can achieve something very special.
"As you can see already there's some good banter here with Jimmie dreaming that he's the youngest. I think it just shows that that teamwork that we will need to go to Le Mans and to perform as we would like."
Hendrick Motorsports
Hendrick Motorsports holds 14 owner championships in the Cup Series. The team also leads NASCAR in all-time wins in the Cup Series. Goodyear, which is supplying the tires, has been the primary tire supplier of NASCAR since the 1950s and the exclusive supplier since 1994.
"I want to say on behalf of Hendrick Motorsports we couldn't be (prouder) of this driver lineup that's going to go forward and represent this great, monumental effort, that we've been working on for quite some time," Jeff Andrews, GM of Hendrick Motorsports explained.
"We know they're going to represent NASCAR, Hendrick Motorsports, Chevrolet, and Goodyear. This is going to be a great opportunity not only for us but for them, and we're looking forward to our trip to Le Mans here in June.
"From a vehicle side, everything is coming along well. We've got a test down here Tuesday and Wednesday. We're looking forward to that, on-track time and first time to get these three guys in that car consistently and get their feedback."
NASCAR Reaching New Audiences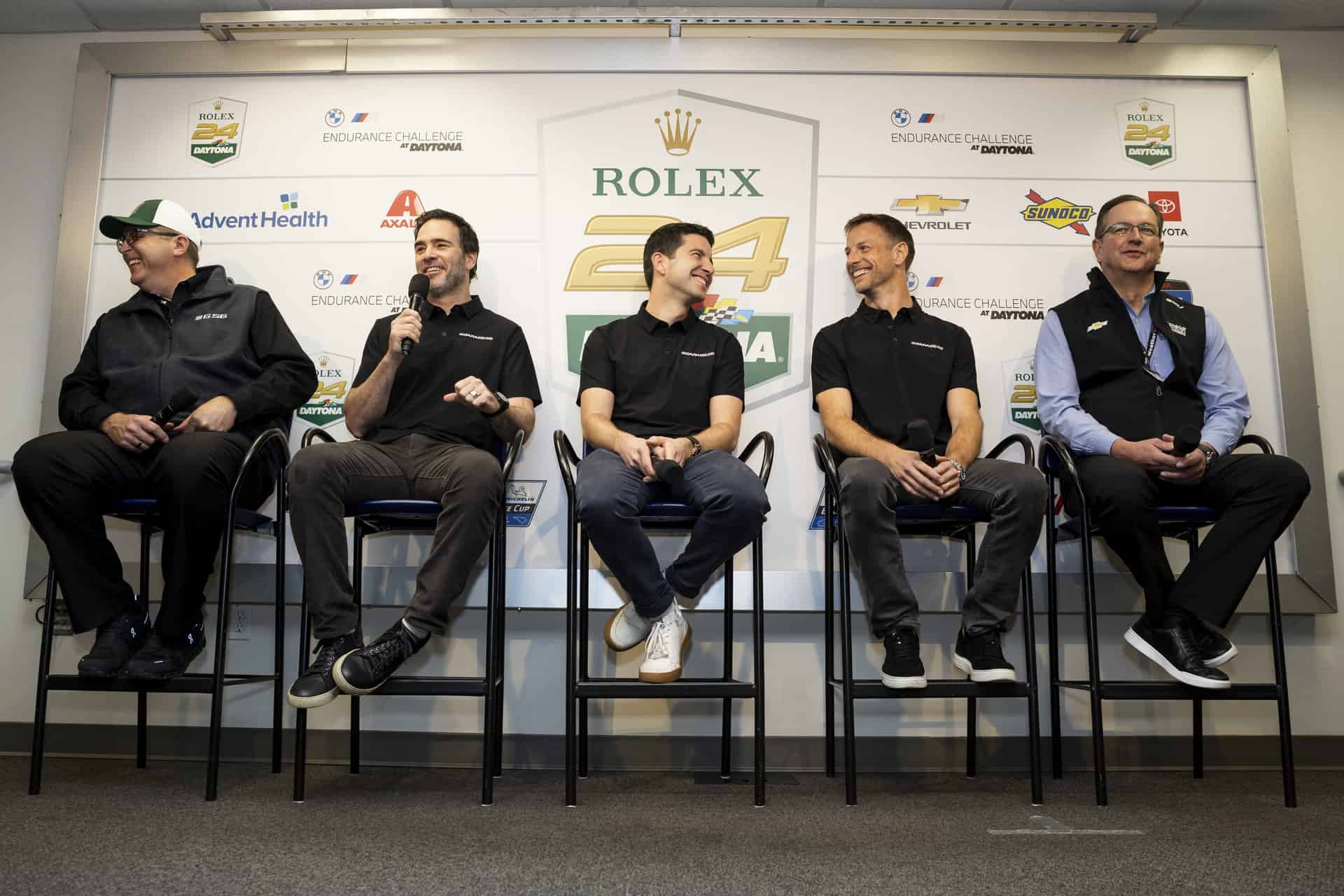 While driving a NASCAR-style stock car might be out of his element, Button won't be the first former F1 driver to buckle in. Last season Kimi Raikkonen became the most recent, running inside the top-10 at Watkins Glen in Trackhouse Racing's Project91 car at one point.
To get acclimated to the NASCAR vehicles and the Garage 56 project, Button visited the Hendrick campus. He was surprised by the detail that the world class facility that he found. Button went as far as comparing the facility to the world class F1 teams he competed with, which includes what is now known as the Mercedes AMG F1 team.
"I wanted to understand the project a lot more and I wanted to spend a bit of time with the team, speak to these two drivers," Button recalled. "I visited Hendrick Motorsports, and I have to say I was blown away at the facility. I've raced for some of the best Formula 1 teams in the world, and it still surprised me how good the facility was, the intrinsic detail that goes into everything they do within the team.
"I knew they would be developing and producing a fantastic car for us to race at Le Mans. Still a lot of work to do, obviously, but it's a great base, and something that us three with our involvement, and Jordan (Taylor, driver coach), we should be able to make something that is nice to drive at Le Mans and also competitive to race at Le Mans."
Adjusting for Le Mans
The significance behind NASCAR's Garage 56 project was not lost on any of the drivers. The project, much like Trackhouse Racing's Project91 highlights NASCAR to new audiences. It also showcases a modern stock car that incorporates many similar features to the GT3 cars competing worldwide.
Though the Garage 56 car has modifications, at its heart, it is still a NASCAR-style stock car. The hybridization of the car with the prototypes and GT3s that it will share the track with offer a small glimpse into what could be the future for the NASCAR Cup Series.
"Huge honor to represent NASCAR, Hendrick Motorsports, all the partners involved, Goodyear, Chevrolet," Johnson humbly said. "I have a lot of history with all the people involved, so it's very meaningful to me to be invited to come do this and to represent everyone.
"The car is different than your typical NASCAR vehicle. There have been some modifications made. But it's really a fun car, and I'd put it somewhere in between what a NASCAR vehicle is capable of and maybe one of the prototypes that are on track here this weekend. It's kind of a hybrid of the two."
Lessons Learned
Lessons from the Garage 56 project have already been used in testing at Phoenix Raceway. NASCAR is looking to improve the road course and short track packages, leaning on what their Le Mans effort has already learned.
Because Garage 56 is used to highlight new racecars, fuels, and other technological advancements, Button, Johnson, and Rockenfeller technically will race in a class of their own. However, they still have the opportunity to race for positions overall as they help usher NASCAR onto the world stage.