By Seth Eggert, Staff Writer
HOMESTEAD, FL – While Steven Wilson dominated the race at the virtual Homestead-Miami Speedway, chaos reigned, determining the final spot in the Championship Four for the eNASCAR Coca-Cola iRacing Series.
Battle for the Win
Stewart-Haas eSports' Wilson and XSET's Casey Kirwan traded the lead back and forth. Between the two drivers, they combined to lead 86 of the 110 laps.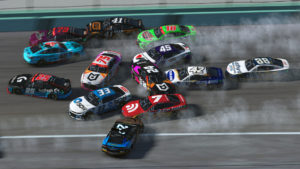 Wilson's win came down to a strategy call with under 10 laps to go. A caution for Parker Retzlaff brought the field onto pit road. Wilson opted for two tires on his virtual No. 10 Smithfield Ford Mustang. The move won him the race off pit road.
Once in the lead, Wilson never looked back. Two more cautions pushed the race into two overtime restarts. That pushed some to the limit. 2020 eNASCAR champion Nick Ottinger ran out of fuel on the final lap, sparking a massive wreck.
While the field wrecked behind them, Wilson took the checkered with Michael Guest two car lengths behind. Kirwan, Mitchell deJong, and Kollin Keister rounded out the top-five.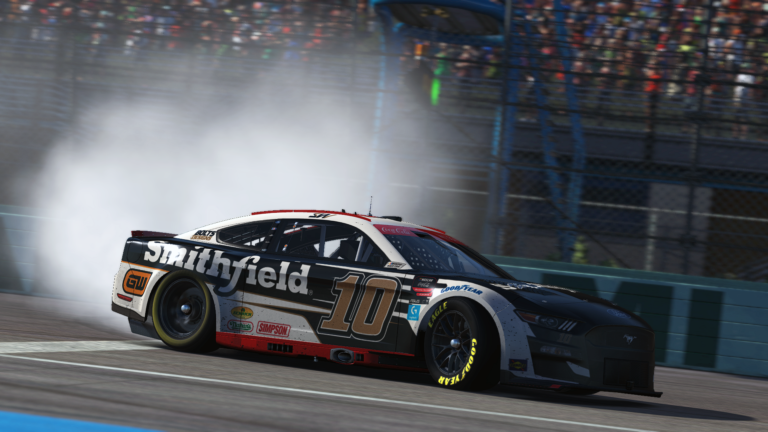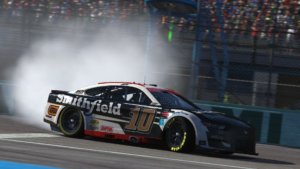 "I've got to shout out my brother, he loaned me his computer for this week after mine was having some issues," Wilson admitted. "Thank you to everyone that's gotten me here, Stewart-Haas eSports, Deadzone Racing, Smithfield, Gearwrench, everyone that's a part of this team. It's just so awesome that we'll be racing in Charlotte in two weeks.
"Most of the time I was saving (fuel and tires) pretty good at the start of runs. The last run when I was fighting with Mitchell, I was just trying to get in front of all of the cars that stayed out. Then I worried about tires and fuel after that. We had a really good car.
"If that race had went green, I think we would have had second, Casey had me beat. We got the caution, that's seemed to go my way a lot this year. Just had the right strategy again."
Michael Conti finished sixth but missed the Championship Four due to a drop week implemented after the race at Bristol Motor Speedway. Ray Alfalla, Zack Novak, Brian Mercurio, and Dylan Duval completed the top-10.
Championship Four Set
Bobby Zalenski, already in after his win at Talladega Superspeedway, finished 11th. Joining Kirwan, Wilson, and Zalenski in the eNASCAR Championship Four was Graham Bowlin, who finished 26th at Homestead.
Bowlin, Conti, and Ottinger had been battling for the final transfer spot on the final lap. When the No. 25 Logitech G Chevrolet Camaro ZL1 ran out of fuel, it was shoved hard. The hit made Ottinger lose control, turning him into Bowlin.


Though Conti snuck through, the drop week pushed the JR Motorsports driver out by three points. Without the drop week, Charlotte Phoenix's Bowlin would have missed the Championship Four by six points.
"We didn't qualify well and that's on me," Conti admitted. "The car just didn't do what I wanted it to do in Turns 1 and 2 and then it compounded itself in Turns 3 and 4. I just put together a terrible lap. It wasn't for a lack of effort. This week alone we put in about 2,000 laps for a 100-lap sprint race.
"It just shows the prep we put in knowing what was on the line. That prep was seen throughout the year. That's why every week the No. 8 car was up there. Disappointment would be an understatement. I just can't believe that it didn't work out. It should have worked out. Unfortunately, there's just things sometimes that are out of your control that you can't do anything about.
"I can only hope that next year is a little bit better for us. Hopefully we can get into the Championship Four for JR Motorsports. I can't see myself anywhere else but there, they've always been great to me. Had a lot of fun this year. Tonight stings a lot. Grateful to be in this series."
With Conti out, the eNASCAR Coca-Cola iRacing Series is guaranteed to have a new champion. The four drivers will compete on stage at the NASCAR Hall of Fame for the newly christened 'Dale Earnhardt Jr Championship Trophy.'
Relegation Fight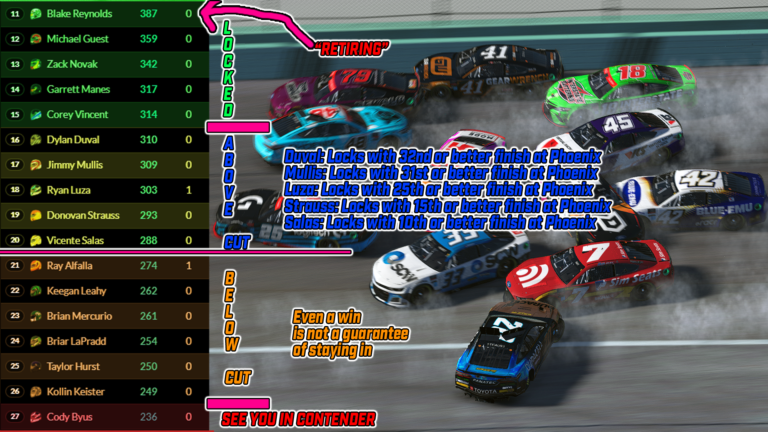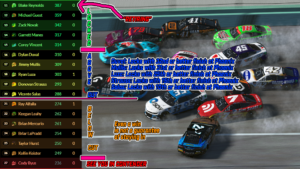 Several drivers also unofficially locked themselves into the Top-20 in points. Blake Reynolds, Guest, Novak, Garrett Manes, and Corey Vincent are unofficially safe from relegation.
Dylan Duval, Jimmy Mullis, Taylor Hurst, Kollin Keister, along with champions Keegan Leahy, Ryan Luza, and Alfalla, and rookies Briar LaPradd, Donovan Strauss, and Mercurio are still mathematically eligible to make the top-20 in points.
However, those 11 drivers are vying for just five spots to avoid having to return to the eNASCAR iRacing Road to Pro Contender Series, which everyone beyond 26th in points already must do.
The eNASCAR Coca-Cola iRacing Series season finale at the virtual Phoenix Raceway is Tuesday, October 25 at 9:00 p.m. ET. The race will be streamed at enascar.com/live and iRacing's social media channels.
The results:
1. 10-Steven Wilson [7], 2. 9-Michael Guest [12], 3. 95-Casey Kirwan [1], 4. 23-Mitchell deJong [37], 5. 43-Kollin Keister [6], 6. 8-Michael Conti [27], 7. 51-Ray Alfalla [35], 8. 5-Zack Novak [18], 9. 36-Brian Mercurio [33], 10. 41-Dylan Duval [4], 11. 18-Bobby Zalenski [16], 12. 79-Femi Olatunbosun [5], 13. 55-Allen Boes [20], 14. 54-Kyle Peddle [39], 15. 69-Collin Bowden [26], 16. 4-Ryan Luza [34], 17. 46-Jimmy Mullis [21], 18. 17-Kaden Honeycutt [29], 19. 25-Nick Ottinger [3], 20. 40-Dylan Ault [23], 21. 19-Vicente Salas [2], 22. 2-Liam Brotherton [25], 23. 45-Keegan Leahy [17], 24. 16-Blade Whitt [28], 25. 97-Logan Clampitt [19], 26. 48-Graham Bowlin [14], 27. 88-Briar LaPradd [15], 28. 21-Garrett Lowe [36], 29. 31-Garrett Manes [31], 30. 42-Darik Bourdeau [24], 31. 7-Malik Ray [11], 32. 33-Taylor Hurst [13], 33. 24-Cody Byus [32], 34. 75-Matt Bussa [22], 35. 20-Donovan Strauss [9], 36. 15-Blake Reynolds [10], 37. 12-Derek Justis [38], 38. 3-Corey Vincent [8], 39. 6-Parker Retzlaff [30], 40. 14-Nickolas Shelton [40].
Lead Changes: 10 among six drivers.
Lap Leader(s): Casey Kirwan 1-16, Malik Ray 17-20, Casey Kirwan 21, Steven Wilson 22-34, Dylan Ault 35-38, Bobby Zalenski 39-44, Steven Wilson 45-46, Mitchell deJong 47-56, Steven Wilson 57-76, Casey Kirwan 77-95, Steven Wilson 96-110.
Laps Led: Steven Wilson 50, Casey Kirwan 36, Mitchell deJong 10, Bobby Zalenski 6, Dylan Ault 4, Malik Ray 4.
Hard Charger(s): 23-Mitchell deJong, 23XI Racing (+33).
Rookie of the Race: 36-Brian Mercurio, Letarte eSports, ninth.
Caution Flags: Five for 20 Laps.
Margin of Victory: 0.167 seconds.
Time of Race: One hour, 16 minutes, 45.590 seconds.
Average Speed: 128.974 MPH.
Pole Winner: 95-Casey Kirwan, XSET, 32.569 seconds, 165.802 MPH.
Fastest Lap: 55-Allen Boes, Spacestation Racing, Lap 85, 32.998 seconds, 163.646 MPH.
*Race scheduled for 100 Laps, extended due to Overtime.