By Sarah Handy, Staff Writer
With seven top-10's on the season, JR Motorsports driver Michael Annett captured his first top-five of 2021 on Saturday at Road America.
Annett began Saturday's 45-lap race in the 12th position but quickly gained valuable positions in the first stage, working his way up to an eighth-place finish. During stage two, a lap-14 caution waved for a crash involving teammate Sam [Mayer]. That's when Annett came down pit road for four tires and fuel. Returning to the track in 29th and sporting fresh tires, Annett was able to move up 12 positions to 17th once the stage concluded.
As stage three kicked off, Annett's No. 1 Allstate Peterbilt Group 50th Anniversary Chevy dropped from ninth to 15th. 35-year-old Annett would come [back down] pit road after a lap-27 caution for a crash in turn 1 for four tires and fuel. Restarting in 22nd, Annett wouldn't stay there for long, grabbing five positions over the next three times around the track.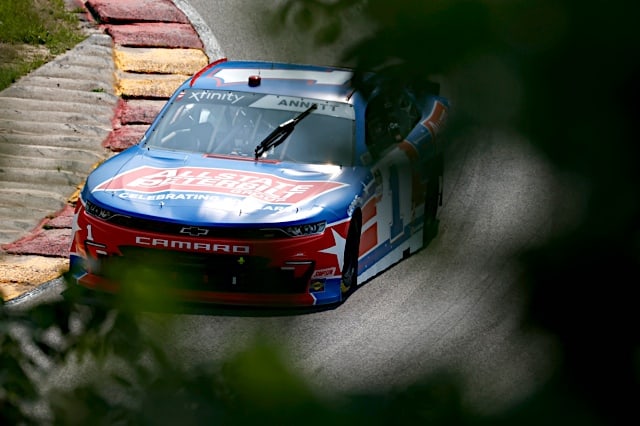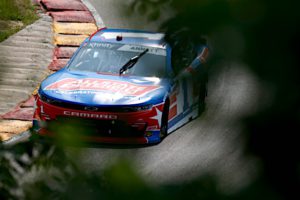 Yet another caution would wave on lap-36, with the No. 1 hitting pit road for his final set of tires and a splash of fuel. Furthermore, Annett was able to avoid a 10-car crash at the end and make it through unscathed.
In final restart of the day in Saturday's Henry 180, the JR Motorsports driver fired off from 11th gaining eight positions. He would take the checkered flag in third-place and lead the way for the organization.
"One of the keys to today is that all the fenders are still on the Allstate Peterbilt Group 50th Anniversary Chevrolet and there's not a whole lot of damage on it," said Annett in a post-race press release. "Bummy (crew chief Mike Bumgarner) made a great strategy call and put tires on late in the race."
"You never know if the caution is going to come out or not. And I told him with 10 to go, we're not going to have a long green-flag run. The 54 [Kyle Busch] had a heck of a restart there at the end. Then the 18 got me there at the end. I didn't think our first top-five of the season would come at a road course [but] we'll take it and the momentum on to Atlanta next week."
Best race of 2021 for @MichaelAnnett.

He finishes 3rd, making @roadamerica the first #XfinitySeries track that he has two podium finishes at. pic.twitter.com/7eWQm1FkNh

— Xfinity Racing (@XfinityRacing) July 3, 2021
Annett's third-place finish is his first finish in the top-three since Chicagoland in June of 2019. With the series heading into next Saturday's Credit Karma Money 250 from Atlanta, Annett will seek his first win of the season and his third top-10 at the [Hampton] Georgia track.
In Annett's last three starts at Atlanta, he has earned finishes of 12th, 11th and seventh. His best finish in the NASCAR Xfinity Series at the track to date is his seventh-place finish earlier this year.
The 163-lap / 251 miles Credit Money Karma 250 is scheduled for 3:30pm Eastern on NBCSN.