By Vincent Delforge, special to KickinTheTires.net
September 11, 2021, Portland 112 at Portland International Raceway, Portland, OR (57 laps/112 miles)
This weekend of September 10 and 11 will be the sixth of the nine races of the season in the ARCA Menards West Series. It will be the second and last on a road track. It is in Oregon at the Portland International Raceway that the 18 registered drivers will battle for victory.
But before that, a little history.
Track History
Oregon has already hosted many West Series races on the many ovals that are the Jantzen Beach Arena, Eugene Speedway, Medford Speedway, Salem Speedway, and until last year in Roseburg on the Douglas County Speedway. But Oregon has already hosted road races. The first in 1964 on the Oregon International Raceway in Goshen which had seen the victory of Ron Hornaday, Sr. and then in the 2000s on the circuit that interests us today, the Portland International Raceway located not far from the city of Portland and opened in 1960.
The city of Portland has a long history with the West Series since it has already hosted the current ARCA Menards West Series 55 times on its speedway (Portland Speedway, previously known as Rose City Speedway) between 1956 and 2000 but also on its road circuit, the Portland International Raceway on five occasions. The first time in 1986 then between 2009 and 2012.
However, in collective memory, this track is known more for his IndyCar, IMSA or GT races than for NASCAR. Besides, the West Series will be one of the races organized this weekend with the NTT IndyCar Series.
Yet there was a period between 1995 and 2000 when NASCAR came there every year. In the NASCAR Northwest Series (seven times) and in the NASCAR Camping World Truck Series twice in 1999 and 2000.
ARCA West at Portland
Yet it was the West Series that was the first NASCAR series on this road track in 1986 with the victory of Hershel McGriff. An important victory which will propel him towards his only championship. Hershel having won all three road races that year at Tacoma, Portland and Lancaster.
We had to wait until 2009 for the West Series to return to it. The series established its quarters there four years in a row until 2012. Jim Inglebright (2009), Patrick Long (2010), Luis Martinez, Jr. (2011) and Greg Pursley (2012) having joined McGriff in the winner's circle. Among manufacturers, Ford leads the way with two victories ahead of Chevrolet, Pontiac and Dodge, one victory each.
The Portland International Raceway is a 12-turn, 1,967-mile road course. This will be the first time the West has used this configuration. Previously it was the 1,950-miles or 1,980-miles. A route made up of two long straightaways and a very technical winding section. It will have to be covered 57 times to complete the distance of 112-miles.
As is also the case in Sonoma, Calif., Bill McAnally Racing has never known the joys of winning on this road track. Eric Holmes twice finishing second in 2010 and 2011. Conversely, the great rival Bob Bruncati met with success there in 2011 with Luis Martinez, Jr. Joe Nava and his Performance P-1 Motorsports team having never driven there. But among the drivers entered, several have already raced there in the past, such as Dave Smith or Todd Souza.
Among the 18 registered drivers is newcomer Caleb Costner and it was with pleasure that we learned of Stafford Smith's return to competition in the ARCA Menards West Series this weekend on the Portland road track with Kart Idaho Racing. We invite you to learn a little more about Stafford Smith, for that we interviewed him.
Get to know Stafford Smith
Vincent Delforge: Stafford, can you tell us more? How did this opportunity with Kart Idaho Racing (John Wood's team) come about?
Stafford Smith: "Well, we have kept in contact with the team while I focused on school, and raced at the kart track that we built a few years back. Travis (Milburn, co-owner and driver) is hosting a giant event there this weekend, the Spud Cup, and so the seat was open. Now graduated, I have some time to dedicate back to that."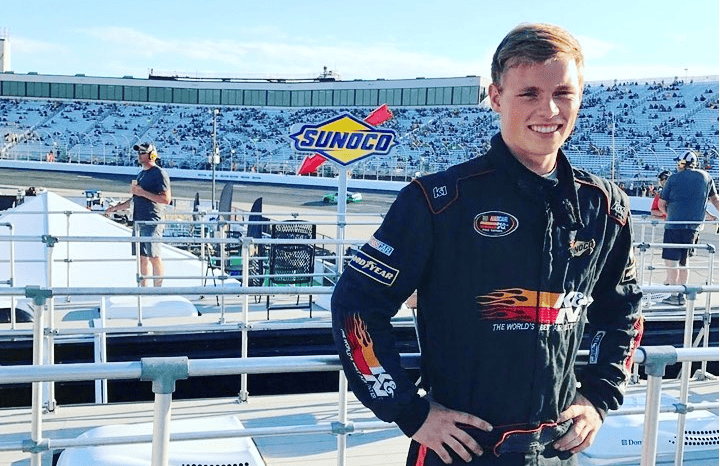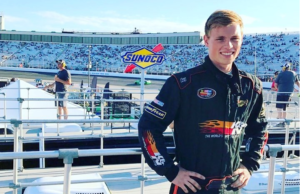 VD: You already have good experience with this type of car. You've run 21 races in the West Series and three in the East Series between 2016 and 2017 for John Wood and Mike Holleran. With four top-10s including a seventh position at Meridian as the best career result. But you also scored a top-10 on the Tooele road course that year. Which is your preference, the races on ovals or the races on road tracks?
SS: "Ha! Both. They are obviously very different types of races, but racing is racing and I'll take whatever chance I can get. They say on road courses you race the track; on ovals you race the other cars. Either way it's challenging and fun."
VD: You also have West Series experience as a crew chief. Since you held this position a dozen times between 2016 and 2019. With two top-10s. Among the drivers you competed with were Jesse Iwuji, Dan Phillippi, Will Rodgers, Taylor Canfield and Keith McGee. With Iwuji, Canfield and McGee, can we say that you specialize in coaching army veterans?
SS: "The whole point of John's team was to give folks a chance to race at that level and see how it goes. A LOT of people started that way. It so happened we had veterans, who were all great to be around; Taylor, for example, provided a whole type of energy and commitment stemming from days as a Navy Seal. We also worked with Olympians and other high achievers. I learned as much from them as they did from me. Some have continued, others have moved on, others keep trying – money is always the biggest barrier, of course, but that is part of the game."
VD: More seriously, you put car racing on hold to study and you obtained a degree in mechanical engineering and applied mathematics, as well as a certificate in machine design, all with distinction. Congrats. How much the fact of knowing the driving, the mechanics (from the kart to the West Series stock car) of racing cars could have served you in your studies. And conversely, what could your new knowledge bring to your return to competition?
SS: "A lot of people approach racing as if making it to Cup, Indy, or F1 is the only definition of success. I never say it that way. I wanted to do something challenging and unique and see where I could take it. Turned out that the experience I gained working on and racing karts and then cars became a living classroom, the ultimate lab, internship, or practical. It allowed me to 'see' the forces and other aspects we modelled in school. I'd encourage anyone in racing to see it for more than just driving or wrenching, it's great training ground for a lot more. And what I've learned in school, the mathematics and modelling of all, has direct application at all levels of racing. My suggestion for colleges and universities is to get more involved with the sport."
VD: What is your goal this weekend in Portland?
SS: "Have fun, enjoy the very unique experience. I have never forgotten I get to do something that most people will only dream about. Hopefully we finish well, and keep the car in once piece. Spectators only see the racing but there's all the work up and pitlane stuff that is about friendship and shared challenges. It's funny, I remember that stuff more. It's unique, quality time with my father and friends. Portland – it's really to enjoy the experience again, catch up with some old friends."
VD: And for the future, are other races in the West Series planned?
SS: "Who knows? We will see, this year, next. I have the experience now so I can take advantage of whatever opportunity presents or we can create. I do a lot of cycling in the Malibu hills and Santa Monica mountains, so the next race I'll be in is at Laguna Seca – but not in a car, instead riding a bike. I'll be in Europe for a little while and then it's about finding the profession that, if not in the racing world, at least gives me the opportunity to do things that are different, that are more an adventure than a job. That's one thing I picked up from the great people I worked with in racing – none of them settled for just anything."
A Detailed look at the entry list:
No. 08 Stafford Smith (Kart Idaho Racing)
As we have just mentioned, he is making his comeback after two years away from the circuits. He already got a top-10 in Tooele, UT on one of the other road tracks previously used by the West Series. The Ford used this weekend is a chassis specifically built for road circuits. The top-10 is a realistic goal. Mike Holleran will be his crew chief. Rumor has it that Smith is also competing in one or two more races later in the season. He will be one to watch!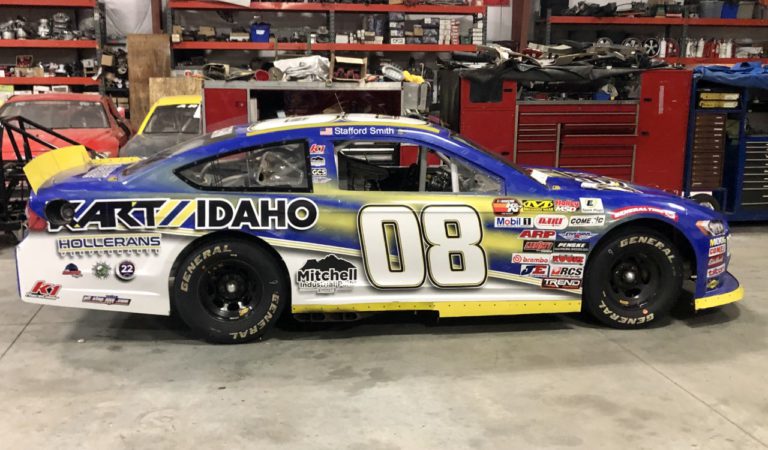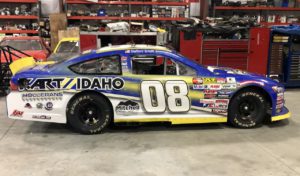 No. 4 Eric Nascimento (Nascimento Racing)
At Sonoma, on the other road race, he had a very good race for his debuts behind the wheel of the No. 19 BMR Toyota before encountering a mechanical problem at the end of the race. For the past two races he has competed in the series with the former Velocity Racing car, the team of Don Wood, Jack's father, now in the Camping World Truck Series. A good car. His father and crew chief Mike Nascimento allowed Eric to finish fifth in Colorado and ninth in Irwindale.
No. 6 Trevor Huddleston (Bruncati Racing)
Not really up to speed in Sonoma in June, Trevor is having a very difficult season, one of bad luck as with each race a mechanical problem slows him down. The comparison with his teammate, the rookie Jake Drew even seems cruel if we only look at the raw results. But Trevor is better than that. Bill Sedgwick, its crew chief, remains a major asset in raising the level.
No. 7 Takuma Koga (Pitts Racing)
Honestly, everyone was expecting Takuma to raise his level of play this year by joining Jerry Pitts' team. The Pitts team that was before the ARCA era, the absolute reference on the road circuits obtaining almost all the victories between 2015 and 2019 in both West and East Series. This season is however a succession of disillusion for Takuma. Only one top-10 since the start of the year. Despite his long history in the series, he never raced in Portland.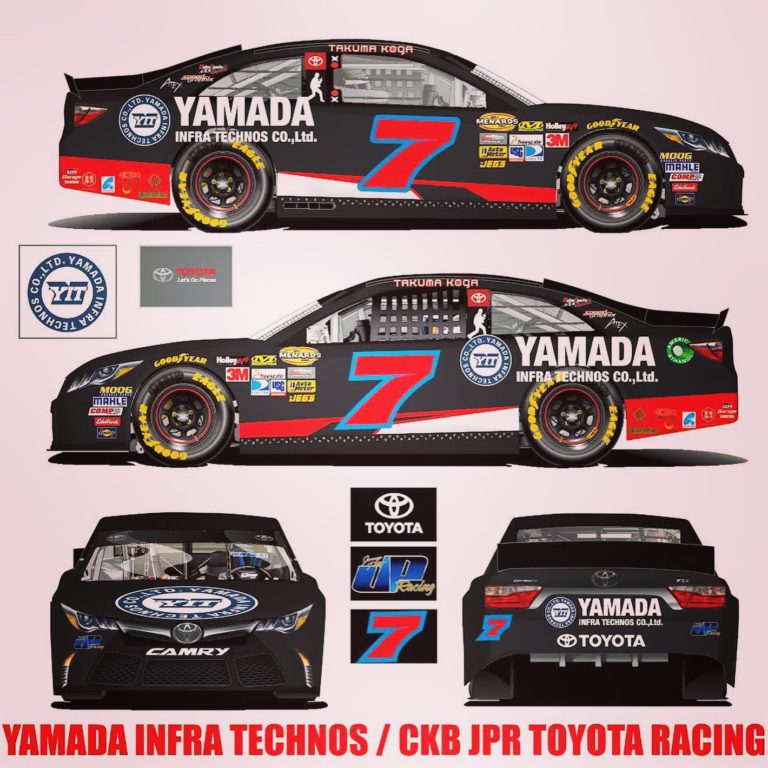 No. 9 Jake Drew (Bruncati Racing)
A flamboyant rookie, he is third in the championship with four top10s including three top-fives. And he's excellent on the road track. As proof, he had taken pole at Sonoma. Communication seems perfect with his crew chief Jeff Schrader. He is gaining momentum as he has just finished fourth (Irwindale), third (Colorado) and second (Irwindale) respectively. He will be one of the favorites for the victory.
No. 13 Todd Souza (Central Coast Racing)
The veteran is having a very good season. Along with his loyal crew chief and friend Michael Munoz, he remains in contention for the league title in fourth place in the championship tied on points with Jake Drew. He has already raced three times in Portland with as best result an eighth position in 2009. As a reminder, on the road track, the CCR team benefits from a technical partnership with DGR.
No. 16 Jesse Love (Bill McAnally Racing)
It's rare to see Jesse in trouble. Yet in Sonoma in June he had made a rather disappointing copy. Accidented during the practice, he had repeated this "kind of shit" in the race before having to give up due to a mechanical problem. His Toyota Camry can no longer be abused! And that's his only "failure" since making his West Series debut last year. His first career victory was in Tooele, UT, on a road circuit. No doubt he will be a candidate for victory. Travis Sharpe, his crew chief, will guide him in the right direction. Jesse remains on three excellent races as he won both races at Irwindale and finished second at Colorado. The 2020 champion only wants one thing, to double the stake in 2021!
No. 17 Taylor Gray (David Gilliland Racing)
Small escapade in West for Taylor and DGR. He will discover the track. Along with crew chief Chad Johnston, he finished ninth in Phoenix for his only start of the year in the series. Last year he secured a fourth and eleventh position in the two races on the Tooele road course. He will be one to watch closely.
No. 27 Bobby Hillis, Jr. (Fierce Creature Racing)
The veteran will use his new road chassis. In Sonoma when the seat was not suited to his body type, he was able to finish in the top-10 despite muscle cramps at the end of the race. Here, the problem has been solved and on the strength of his experience he hopes to do as well and even better by aiming for neither more nor less than the top-five. Ed Ash, his usual crew chief, is back after missing the last race at Irwindale for family reasons. This will be his first race in Portland. At the time (2009-2012) its program did not include road races.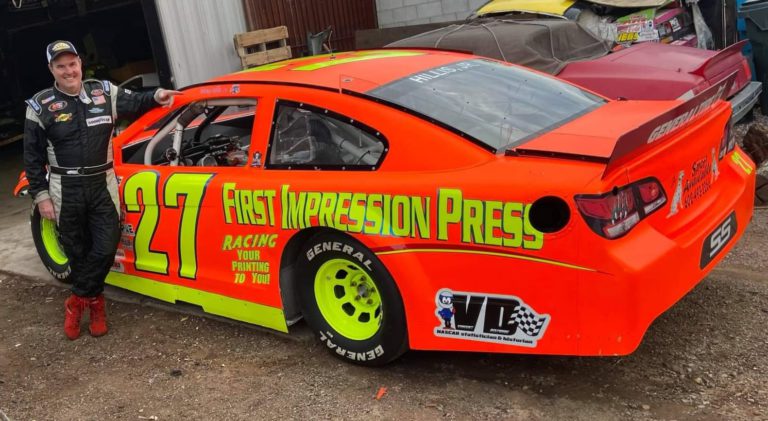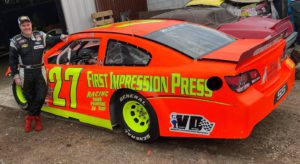 No. 31 Paul Pedroncelli (P.J. Pedroncelli Racing)
For his West Series debut in Sonoma, he surprised everyone by driving cleanly and consistently. Allowing him to finish 13th! The goal will be to do as well, or even better. Its crew chief should be Mike Regelman as in Sonoma since Rodd Kneeland who held this position during the last three races on ovals will be this time on the track at the wheel of his own car.
No. 33 Paul "P.J." Pedroncelli, Jr. (P.J. Pedroncelli Racing)
Who could have imagined the great adventure that P.J. would experience in 2021 for his return to the West Series? Not many people. Yet by looking more closely he had prepared his return with meticulousness. New car and recruitment of the excellent crew chief Ty Joiner. From Phoenix we felt the potential of the team. P.J. being dazzling in Sonoma, he's been riding the right wave ever since. And in the last race at Irwindale, he got his first career pole before securing his second third position of the year. Fifth in the championship, 20-points behind leader Jesse Love. The dream continues. Although he already competed in the West Series sporadically between 2009 and 2011, he never raced in Portland.
No. 38 Dave Smith (Kart Idaho Racing)
After competing in Sonoma's race for PP1M this year, the road ringer from Novato, CA, returns to replace Japanese Hiroyuki Ueno in the No. 38. The Japanese having a program focused on the ovals this season. He knows the Portland track well and even got a fifth-place in 2011 when he was driving for Naake-Klauer Motorsports. The crew chief is yet to be determined, but it wouldn't be surprising to see Mike Holleran take care of two cars here as well as he has in the last two races.
No. 54 Joey Iest (Naake-Klauer Motorsports)
Very fast in Sonoma, he is one of the riders who climb this year. Recent winner in Colorado, he remains on three consecutive top-five. In addition, he is behind the wheel of a team car used to performing on the road circuits. Mike Naake and Tom Klauer having previously won at Sonoma in 2012 with current East Series owner David Gilliland. The team has already raced in Portland with the best result being fifth position obtained in 2011 with Dave Smith. Tom Klauer, then driver of his own team, also finished in the top10 in ninth position. Also finishing 14th in 2012. Mike Naake will of course be the crew chief.
No. 68 Rodd Kneeland (Kneeland Racing)
A specialist in road circuits and particularly in Sonoma, Rodd takes the wheel of his usual blue and red No. 68 Chevrolet to discover Portland in the West Series. Tony Caputo will be his crew chief.
No. 77 Caleb Costner (Performance P-1 Motorsports)
As we announced exclusively in the article dedicated to Joe Nava (Joe Nava, A true racing enthusiast!), The pilot from Dallas, NC. will debut at the wheel of the iconic No. 77. The "Lawman" has experience in Late Models on ovals but also on road in the NASA series. Dave McKenzie will be his crew chief.
No. 86 Tim Spurgeon
Another road ringers since of its 13 carrier races in West Series, 11 have been on road tracks. He knows the Portland International Raceway for having raced there in 2012, obtaining the 17th position. His best career result remains his eighth position obtained in 2016 in Tooele, UT. In June of this year, he finished 15th in Sonoma. Its crew chief will be former champion Mike David. Mike has never raced in Portland in West Series, but he was very good on the roads getting Tooele a pole, a second and a third position and also a ninth position at Sonoma in the mid-2000s.
No. 88 Bridget Burgess (BMI Racing)
One of Sonoma's revelations. Bridget has faculties as a driver on road tracks. Her team is based at the UTAH Campus in Tooele, and she rides there very often with all types of cars. At Sonoma she was a top-five candidate but tangled with Jesse Love. In the end, she was so fast that she was able to move up to eighth position after restarting from the back of the pack. She will be a candidate for the top-five. Her mother Sarah being both owner and crew chief.
No. 99 Cole Moore (Bill McAnally Racing)
The rookie is consistent and now sits second in the championship just eleven points behind his teammate Jesse Love. With his crew chief Mario Isola, Cole had found his way to the top 5 in Sonoma by crossing the finish line in the fourth position. Like the majority of the other pilots, he will discover the Portland track. Who of him or Jesse will give BMR the first road track victory?
A word about the absent…
No. 51 Dean Thompson (High Point Racing with Bruncati Racing)
This is the big missing from this meeting. Tested positive for Covid-19, he had already been replaced at short notice by Ryan Partridge in Irwindale on August 21. It's a shame because in Sonoma he had turned heads by riding throughout the race for the top-five. Finally getting the 6th position.
No. 52 Ryan Philpott (Philpott Racing)
Excellent 9th with his small family team in Sonoma, it would have been interesting to see him in action on a circuit which he had already attended twice in 2011 and 2012, obtaining a top-10 in 2011 when he drove for the team of John Wood and Mike Holleran.
No. 80 Brian Kamisky (Kamisky Racing)
Surprising not to see it, because this road tracks specialist had not missed a single one since 2020 and his debut in the ARCA Menards West Series. Getting two top10s at Tooele, UT last year and a 16th place at Sonoma this season following an accident. He had just bought a new car (from Dave Reed) and made his oval debut at Irwindale.
The Portland 112 is scheduled for Saturday, Sept. 11, with a start time of 5:00 p.m. PT / 8:00 p.m. ET. The race will be shown live on NBC Sports Gold's TrackPass with a live audio feed available on ARCARacing.com. A delayed broadcast of the event will air on NBCSN on Saturday, Sept. 18, starting at 12:00 a.m. ET.
Two practices will be organized on Friday, Sept. 10. Qualification will take place on the Saturday before the race.
Now it's time for the show.
All results here: www.racing-reference.info/entrylist/2021-06/AW/
Featured Photo Credit: Photo Courtesy of Joe Nava via Vincent Delforge