By Seth Eggert, Staff Writer
Amber Slagle will make her ARCA Menards Series West debut at Irwindale Speedway.
Slagle's ARCA West debut will come in the No. 17 MMI Racing Chevrolet SS for McGowen Cook Racing. Zane Smith drove the No. 17 Chevrolet at Sonoma Raceway and Phoenix Raceway earlier this year. Will Rodgers has also competed with the team in previous years.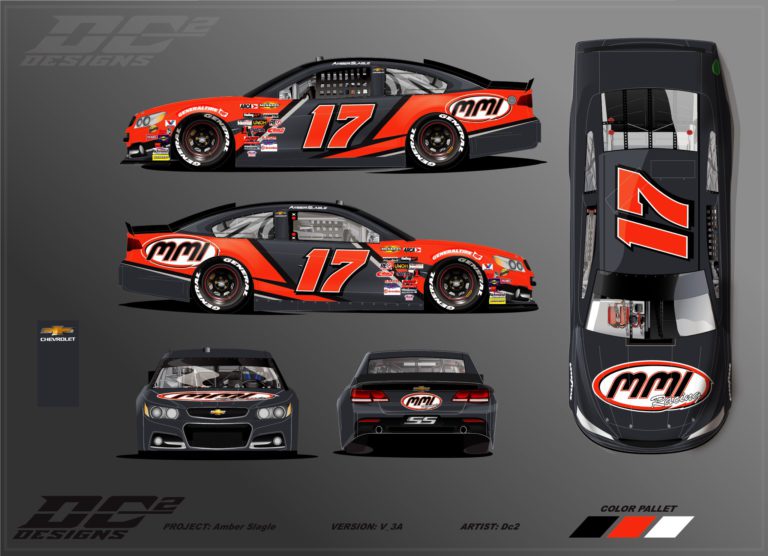 The NAPA Auto Parts 150 at Irwindale on July 3 will be Slagle's first race at the half-mile track. ARCA West has been competing at the Irwindale, Calif. track since 2014. The series' first competed at the track in 1999 until a three-year hiatus in 2011.
"I have never been to Irwindale before," admitted Slagle. "It will actually be my first time even seeing the track when we get there."
Slagle has competed in various Late Model divisions across the midwest and southeast. The Waterford, MI native has six starts in the CRA JEGS All-Stars Tour. She has also competed in the Southeast Limited Late Models Series and the SpeedFest Pro Late Model 125.
Slagle's day job is as a mechanic for Cook Racing Technologies. She has worked in the shop and at the track as a crew chief on the No. 42 ARCA Menards Series East entry driven by Parker Retzlaff. In her time as a mechanic working for Bruce Cook, the No. 42 has earned eight top-10 finishes in 10 starts.
"With the knowledge I have gained from working as a mechanic and crew chief the past few years it's going to benefit a lot heading into Irwindale," Slagle explained. "It helped me learn what I want out of the car, to better understand changes that are being made and what to expect from it. I believe it has also given me more confidence in myself and as a driver."
The ARCA Menards Series East crew chief and Late Model racer is the fourth woman to compete in the ARCA West division this year. Slagle joins Toni Breidinger, Bridget Burgess, and Gracie Trotter as having made starts in the series this year. Burgess is the only one competing full-time in the series this year.
In Slagle's eyes, the opportunity she's been presented is due to the same advice she would give other women looking to compete in ARCA and NASCAR, to never give up.
"My best advice to give to young female drivers would be never give up!" stated Slagle. "I have worked so hard for this opportunity, and you just never know when you might get that one shot! Always stay determined, work hard and never give up on your goals and dreams because you never know who is out there watching you!"
Coverage of the NAPA Auto Parts 150 at Irwindale will be streamed live on NBC Sports TrackPass. It will be aired on a tape-delayed basis on NBCSN. The date and time of the tape-delayed airing is currently to be announced.
Featured Photo Credit: Photo Courtesy of Amber Slagle (Twitter: @AmberSlagle)